Happy Friday y'all! Today I decided to do something a little different. I'm sharing with you some of my favorite posts this week from other bloggers. Blogging has become such a huge part of my life and something I truly love! I've learned so much over the last few months from blogging and have gained some great friendships as well. I love the way bloggers support each other and help one another achieve their goals. It's incredibly fun to "work" and connect with so many wonderful people.
As I mentioned in Monday's post Sunday I had my first bloggers date. I had the best time getting to know a fellow fashion blogger, hear her stories, and gain some advice from her as well. Each day is a learning experience in blogging and the opportunity to meet someone new thus keeping things very interesting!
Since this blogging community is all about helping each other I wanted to share my favorites from this week with you and maybe help you discover another exciting blog to follow, beauty item to use, recipe to make, or piece of clothing to add to your closet. Be sure to let me know what you think!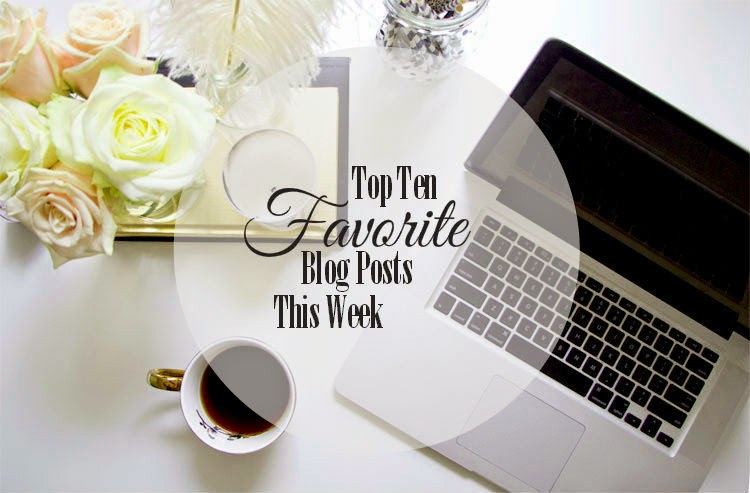 Image background: How To Style Your Desk 
1. Sequins & Stripes, BaubleBar x Pantene Hair Tutorial
If you do follow along on Louella Reese daily you know I have a great love for Sequins & Stripes. Liz's blog is a daily must read for me. I love her style, personality, and she lives in Chicago, one of my favorite cities. This particular post is a step by step guide for crown braids, a look I just might be trying out this weekend!
2. Glitter and Gingham, Venice Graphic T-shirt
Shelby has killer style and this look is no exception.
3. Poor Little It Girl, Pink Peplum Dress
Cathy is killin' it in this hot pink dress and having a blast while doing it!
4. Cupcakes and Cashmere, An Announcement
Ok first click the link, no really click it first before you read the rest! Ok now, is that not the cutest baby announcement you've ever seen?
5. Little Blonde Book, Back to School Style
I might be going back to school (thank God) but this is a look I'd definitely love to rock this fall.
6. Life with Emily, Orange Crush to say that Emily has me crushing on this top is a total understatement!
7. Turquoise and Teale, BeautyCounter
One of the best giveaway I've seen thus far – click and enter gals!
8. Paper & Stitch, S'more Ice Cream Sandwiches
I just posted this to my boyfriend's facebook and said we have to make these next weekend, how incredibly do that look?
9. Peaches to Pearls, A Beautiful Mexican Sunrise
Luisa looks just as gorgeous as her background in this embroided maxi dress!
10. The Classy South, Lace Shorts with Louella Reese 
I might be a little bias as to why I liked this post best 🙂 but really I'm loving these lace shorts and Corbin's Sweet Peach t-shirt is adorable!