Happy Friday y'all! This week my full time job held a meeting here in Charlotte. So this gal turned into a little event planner and was designated tour guide. Ahh the pressure! I wanted to make sure my coworkers saw the best of Charlotte and really enjoyed themselves. We have meetings everyday from 8-5pm so the nights were my chance to let Charlotte shine. Delicious dinners, exciting bars, views of the Charlotte skyline, and a team building event. After brainstorming a bit I had tons of ideas and was ready to start planning! I figured I'd share these ideas with you, just in case you are making your way to the Queen City anytime soon. P.S. if you ever have questions or need recommendations for things to do in Charlotte please e-mail me, I'd love to hear from you!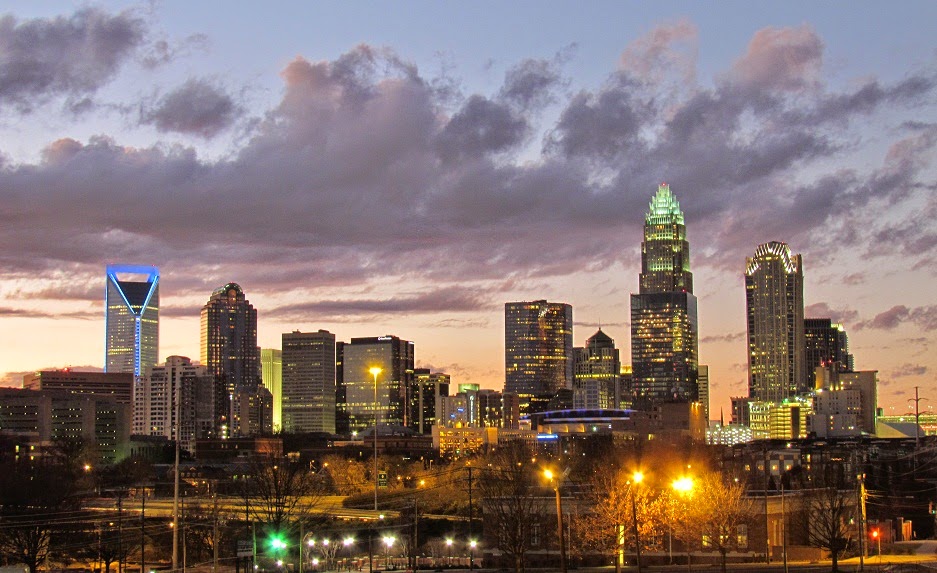 Restaurants 
Peculiar Rabbit – some of their items may look a bit peculiar but they are delicious! It's a brunch favorite of mine. Not to mention you can see the Charlotte skyline from their gorgeous rooftop. Favorite Dish: It's a toss up – if I'm behaving it's the Mediterranean Plate but if I'm indulging it's Biscuits and Sausage Gravy.
Tupelo Honey – definitely in my top three picks for favorite restaurant in Charlotte. Southern cooking with a bit of a twist! Favorite Dish: Charleston Chicken Sandwich with Sweet Potato Fries or Scratch Made Mac'n'Cheese. Dessert: Banana Pudding
5Church – another brunch favorite of mine (notice a trend here) scrumptious options and a very chic atmosphere. Bottomless mimosas are a must! Favorite Dish: Make Your Own Omelet with Home Fries.
Midwood Smokehouse – in my opinion the absolute BEST barbecue in Charlotte. It's incredible! Y'all I don't mess around when I go here, there's some serious indulging going on! Favorite Dish: Pimento Cheese Fries Loaded with BBQ. Dessert: Peach Cobbler. And if you really want to go all out PBR is $1.5o on draft 🙂
Luna's Living Kitchen – now that we've (I've) super indulged it's onto my favorite healthy restaurant in Charlotte. Everything is completely organic and for the most part raw. You walk out of this restaurant after your meal feeling refreshed and energized. Favorite Dish: Lunasagna. Dessert: Chocolate Chip Cookies
Cabo Fish Taco – THE. BEST. EVER. It's been on Diners, Drive Ins, and Dives so you know it's incredible. They also have the best margaritas in Charlotte, hands down. My top pick is the Pomegranate then The Purple Haze and if I'm being frugal El Cheapo. Favorite Dish: Grilled Serrano Chicken Tacos with rice and beans or if it's on special Jalapeno Mashers.
Bars
Howl at the Moon – I know they have these all over the country but it's my absolute favorite so there's no way it couldn't be on my list! There hasn't been a single time that I haven't had a crazy good night when I've gone here. The musicians are beyond talented and very personable.
Tyber Creek – exciting atmosphere with outdoor games like corn hole and kanjam . Great place to catch whatever game is going on that day and grab a few brews with friends. In case your craving some eats after a couple of drinks this place will not disappoint!
Ri Ra Irish Pub – two stories of bars plus a rooftop patio. Also conveniently close Prohibition, where you'll be headed if you're at all in the mood for some late night dancing!
Blind Pig – the place to go when you're in the mood for drinks and games. Your inner child will definitely be making an appearance if you stop in this bar. Jenga, skeeball, foosball, the claw, and more are set up all around the bar. Perfect place to go if you decide to eat at Cabo Fish Taco.
Dandelion Market – another uptown bar with a cozy atmosphere downstairs and a high energy weekend party space upstairs. Delicious tapas (Fried Beet Falafel and Market Mac & Cheese) if you want to grab a bite, snazzy cocktails, and dancing, what more could you want?
Things To Do
Panthers Football Game – football season has officially begun and the stadium is located right uptown, walking distance from most hotels, lots of bars, and restaurants.
Knights Baseball Game – although the season is over (maybe you'll be here next time they're playing) the stadium is definitely worth walking by. It's a gorgeous new stadium surrounded by the Charlotte skyscrappers where the Knights played for the first time this season.
Hornets (Newly Minted) Basketball Game – their first season back as the Hornets and they're ready to bring it! Again right uptown, steps from the EpiCenter. An area filled with bars, restaurants, and entertainment.
NASCAR Hall of Fame – Our Sport. Our House. NASCAR Hall of Fame representing a major draw to Charlotte. Find out about the history and heritage of the sport as well as participate in some interactive activities like seeing how fast you'd be as part of the pit crew team.
U.S. National White Water Center – a man made white water rafting park filled with enough activities to keep you busy from morning to night. Ropes courses, zip lines, rock climbing, mountain biking, trails, paddleboarding, a restaurant, lots of brews, and more. Plus live music on Thursdays and Fridays.
Daniel Stowe Botanical Gardens – I have to be honest I still have not made my way here yet but it's on the top of my to do list. I have heard wonderful things about this place and how incredibly gorgeous it is. Filled with gardens, trails, and a perfect place to set up a picnic.
Rent a bike and cruise around uptown – there are areas set up all around uptown to rent bikes and cruise around to check out the scenery and pop into a few shops, bars, or grab lunch. Decked out with a basket to place your purchases or fresh baked good from Amelie's Bakery.