Happy Friday y'all! Isn't it crazy how holiday weeks always end up feeling even longer than normal ones? I don't know about you but this week has been a serious struggle for me. Living for the weekend was legit my line since Tuesday at 9am. So thank goodness Friday has arrived! I decided to do another Friday Favorites post sharing some of my favorite posts this week as y'all seemed to really like it last month.
This week had such an array of wonderful posts from clothing to DIY to recipes to beauty finds. So many good things I had to share them with all of you! I hope you find a new blogger to follow, item to try, or recipe to make this weekend. Definitely let me know if you found some of these to be your favorite posts this week too! Have a great weekend y'all!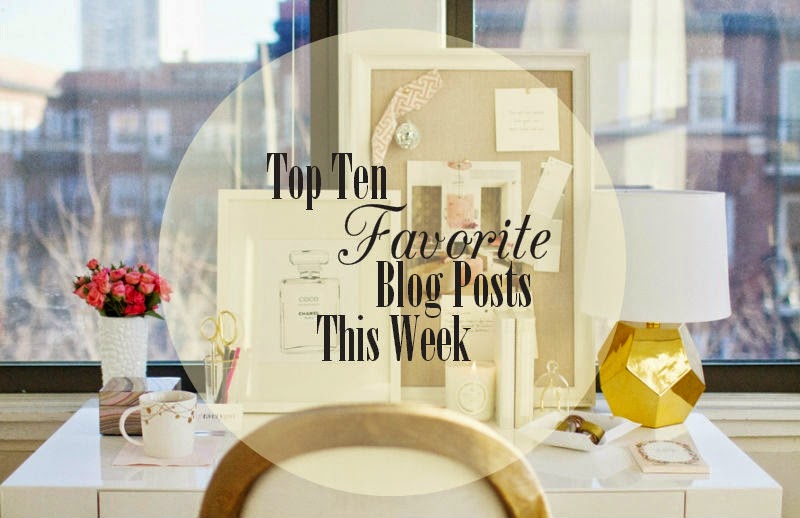 Image background: How to Style the West Elm Parsons Desk 
1. The Twin Crowd, The Flared Effect
This is the perfect transition outfit between summer and fall. Not to mention it proves you can very much wear white after Labor Day and completely ignore the old fashion rule! Gabrielle also shows one of falls biggest trends, flare jeans. Giving them a very classic chic feel, no seventies vibe here.
2. Gal Meets Glam, Color Wall
First off the background of this photo shoot is one of the most fun I've ever seen. Second, Julia kills it in a totally causal chic look with shades of gray and one seriously drool worthy fall hat…oh and her Chanel bag too, of course!
3. Living in Color Print, Birthday Tulle
Y'all Kristin is living out the inner little girl in all of us that still loves to dress up for our birthdays, indulge in cupcakes, and throw confetti all around because HELLO today is our birthday! She looks beyond flawless, she'll definitely be sparking a few ideas for the next time you blow out you candles on your birthday cake!
4. Here & Now, Better Everyday
This post is short and sweet! Talking about Murad currently my favorite beauty line that has done wonders for my skin and now Jess will be talking about her experience using it.
5. Burlap and Lace, How To: DIY Ikea Hacked Shelving Unit
This gal knows how to decorate and is quite handy too! Here she's showing how to DIY and create a wall of shelves. Not only do you want to look at this post to save you a few bucks but you'll also be seriously inspired by the way she decorated her unit. Gorgeous!
6. Turquoise and Teale, Corn and Cotija Guacamole
I'm a guacamole girl. Actually I'm addicted to guacamole. If a restaurant has it, I have to try it. Especially if it's one of those where they make it at the table. I definitely think those are the best. This recipe from Ashley looks incredible and she has a little secret ingredient I've never tried in guac before. Bottom line I'll be trying it this weekend!
7. Look Linger Love, Coats for Fall
The perfect breakdown of coats for the upcoming season. I've been absolutely drooling over the grey hooded Vince coat. Donations to the cause are gladly accepted!
8. The Sweetest Thing, Incognito
Who doesn't love wearing this husband/boyfriend's button down shirts? Their comfy and make you feel a whole different kind of beautiful. Emily makes it totally okay for you to rock it all day long!
9. The Glitter Guide, Fun + Feminine Desk Organizing
Still searching for the perfect desk and this post has me dying to find it so I can hurry up and decorate it! So many fun + feminine ideas has this girl itching to finish my office makeover!
10. Darling Be Daring, Bonjour, It's Brunch!
Drooling, just drooling! These recipes look incredible and seriously y'all what's better than brunch? Go ahead, take a look at these recipes, head to the grocery store after work, and host a fabulous brunch this weekend for all your gals.