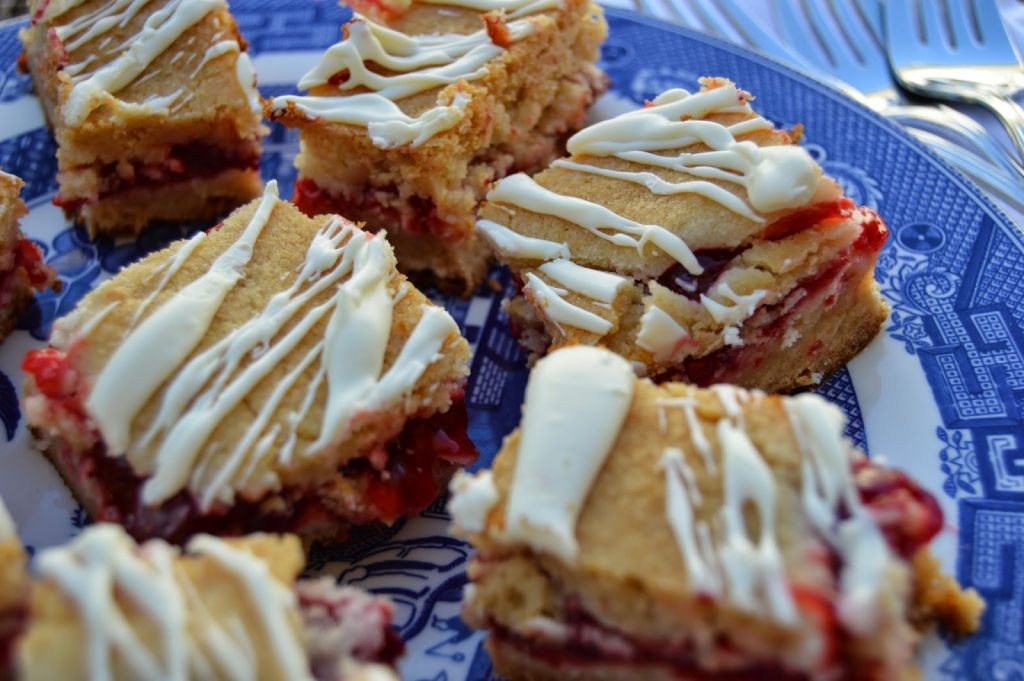 Another occasion, another sweet treat! This time it was a tailgate for the Carolina Panther's game last Thursday hosted by Josh's work. Every year they have an annual chili cook off where anyone in their office or their office mates can enter with their delectable chili recipe. Usually the chili cook off takes place at work and all their family and friends miss out big time but lucky us, this time it was held at the tailgate! Since Josh had the chili under control I was in charge of bringing dessert. And since it was his work event I asked him what he would like. With no surprise he said cherry pie, his favorite.
I wanted to make something that would be a little easier to cut, grab, and go for everyone so cherry pie in bar form it was! Pies can be a little overwhelming and quite the time stealer but these delicious bars are quick, easy, and seriously sinful! They taste incredible coming straight out of the oven but also super tasty after being in the fridge a bit. A perfect sweet treat if you need to whip something up quick or are a huge cherry pie fan! The "crust" is the easiest part and a little bit of a surprise…
Ingredients 
2 pouches Sugar Cookie Mix
1 tablespoon Flour
2 stick Butter, softened
2 Eggs
2 teaspoon Vanilla
1 (21 oz) can Cherry Pie Filling
1 jar Cream Cheese frosting (you will only use about 1/4-1/3 of the jar)
Directions
Preheat oven to 350 degrees
Grease a 13×9 inch baking dish
Mix together pouches of cookie, flour, butter, eggs, and vanilla with an electric mixer
Mix until there are no longer any lumps
Spread half of the cookie dough into baking dish
Spread the cherry pie filling over the cookie dough
Create cookie balls with remaining cookie dough
Flatten out the balls and lay over to of the cherry pie filling
Bake 42-46 minutes or until golden bar
Let cool on wire rack
Place 1/4 – 1/3 of the frosting into a small microwave safe dish and cook 10 seconds
(the frosting just needs to be softened not liquid)
Drizzle the frosting over the top of the bars
Cut into bars
Enjoy!!