Answering all of the photography, editing, and aesthetic questions y'all sent my way via Instagram. So let's dive into my blogger photo editing tips and more!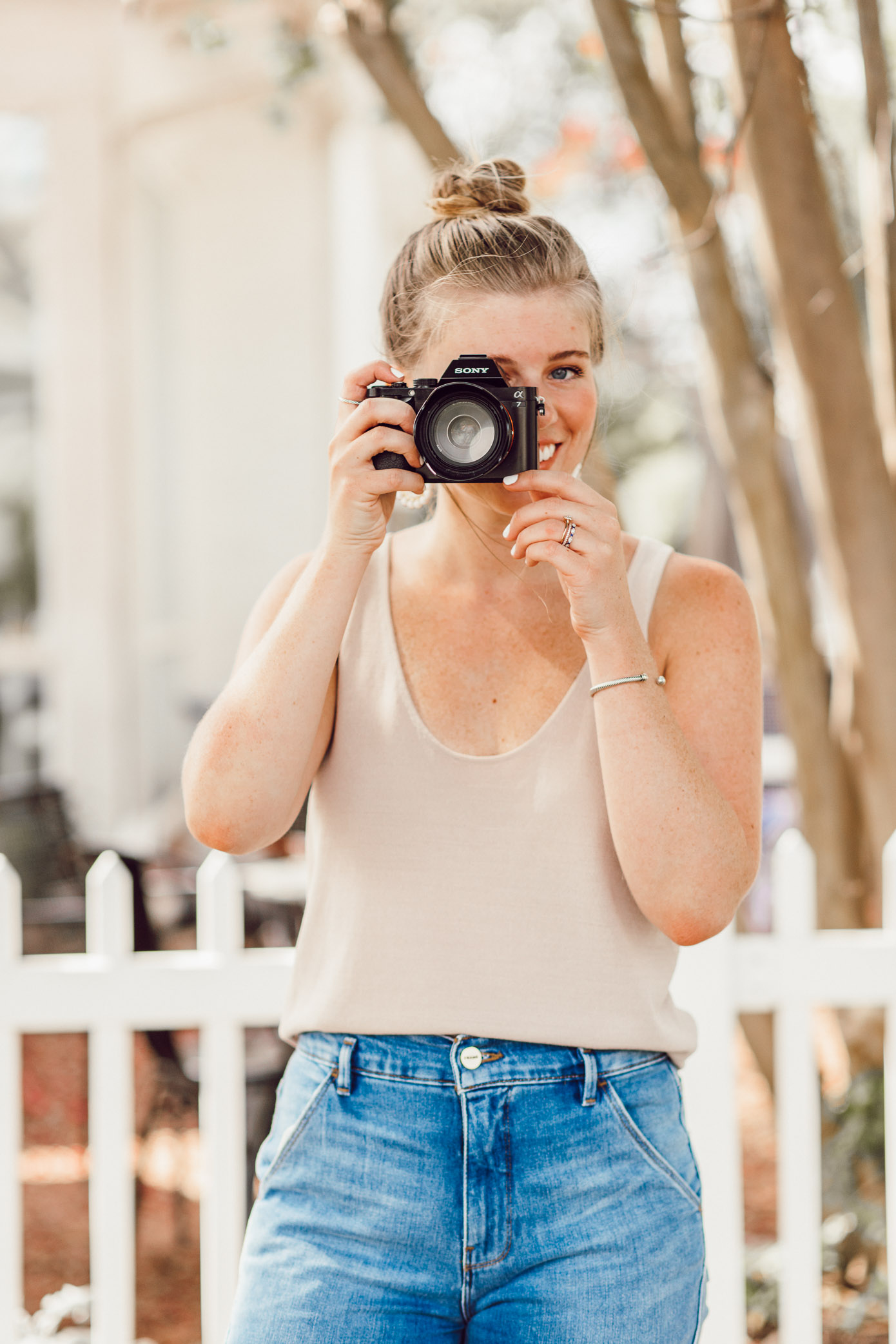 Hope y'all had an amazing weekend! We had our first UNCC football game of the season (that we could attend, missed the actual first one). We played against Appalachian State University which my sister-in-law and future brother-in-law attended. So they attended the game with us along with my mother and father-in-law. Sunday we went river tubing with my family! Which turned out being the perfect way to spend a sunday, laying in a tube, floating down the river, soaking up lots of rays! What did you get into this weekend?
On to today's post, it has been one of my most requested posts as of late. Also, one I'm super excited to share and had a great time putting together for y'all! Earlier this summer I took a social media detox which included a break from blogging. During that time, I focused on figuring out what I wanted the Louella Reese brand to look like. From my personal style to brand color palette to photo aesthetic. Following that break and brainstorming session, I really changed my brand aesthetic and photography style. Since then, I've been receiving lots of comments and questions asking about my photographing and editing style (which makes me so happy that y'all are loving it). So I'm excited to share all of that with y'all today and answer your questions! 
Camera Equipment
What camera did you start with when you started blogging? 
So I originally started Louella Reese with my iPhone. Which I believe at the time was a 5 or 6. The camera in the phone wasn't too great (the camera quality of iPhones is WAY better now) and I really didn't know how to edit at all, so the photos were quite underwhelming.
After a few months of using that and realizing I needed to step up my photography game, I purchased a Nikon D3200. Which I used until February of this year. I originally purchased a 50mm lens and later upgraded to a 35mm lens. 
What is your favorite camera?
My favorite camera is my current camera, Sony a7. I am truly obsessed with this camera and cannot say enough great things about it! While there was a learning curve at first, I was going from a DSLR camera to a Mirror-less camera and a Nikon to a Sony. So there were quite a few differences at first and it definitely took me some time to get use to the Sony. However, now I'm obsessed and you couldn't pay me to go back to the Nikon. The Sony a7 is easy to use, lightweight, the color is incredible, and there's wifi! So great for travel which is the main reason I wanted a new camera and opted for a mirrorless (they're much lighter).
What is your favorite lens? 
I have two 35mm lens and 24-70mm lens. 
I own a 35mm lens for my Sony a7 and as mentioned above, had one for my Nikon D3200 as well. It is my favorite lens for everyday use and for shooting styled looks. This lens allows you to stand closer to your object (or your photographer to stand closer to you) than a 50mm lens. It is a fixed lens, meaning you have to move or your object has to move rather than you being able to zoom in or out. Which can be a pain at times but 99% of the time you can work around it! Additionally, the bokeh look is easier to accomplish with this lens (more on this below). 
Last summer, I rented a 24-70mm lens for my Nikon D3200 and absolutely fell in love! This lens is perfection! Amazing for distance and close up shots. Being that it's a zoom lens, it allows you to zoom in on your object vs. having to move closer to it. Bokeh is also incredible with this lens! Definitely on my wish list for my Sony a7. 
If you were buying a new camera today, what camera would you buy? 
Again, I have two. One I would use for fun and one for blog purposes. 
Fujifilm Instax Mini 9 for fun! This little camera has been on my wish list for a couple of months and I'm thinking this month will be the one I pull the trigger. One the little camera is adorable and perfect for travel. Two it is a great way to limit yourself to just a few photos while still being able to capture the fun! I want this one to take on day trips or little dates with Joshua. 
The other would be an upgrade to the one I have now, the Sony Alpha A6500. And of course, I would choose the 24-70mm lens.
Does your photographer use the same camera you use?
She does not. The photographer I have been using since May is Kristen Bishop Day. She is the sweetest lady and we have SO much fun shooting together! She is always up for the adventures I take her on and captures the prettiest of shots. She uses a Canon cameras. 
Do you use any camera equipment besides the camera body + lens?
Absolutely! I have a remote to take photos myself when Kristen or Joshua aren't available to shoot for me. Typically, just a shot or two around the house (I used it for one of my two summer hairstyles with Conair). I have to be honest, I don't use this enough. This is something I want to work on doing more often and to work on this skill. Bloggers that take their own outfit photos blow me away! Y'all rock! 
Additionally, I have a couple of box lights for indoor shoots as our home does not receive a lot of natural light. These things are LIFE SAVERS! Seriously completely change the look of my indoor photos and give our home so much additional light. They're incredibly easy to move around and store.
Finally, I have a tripod. Again, I use this around the house a lot. Helps to keep the camera steady as well as shoot when Joshua and I both want to be in the shot. We used the tripod and the remote for our recent wine picnic.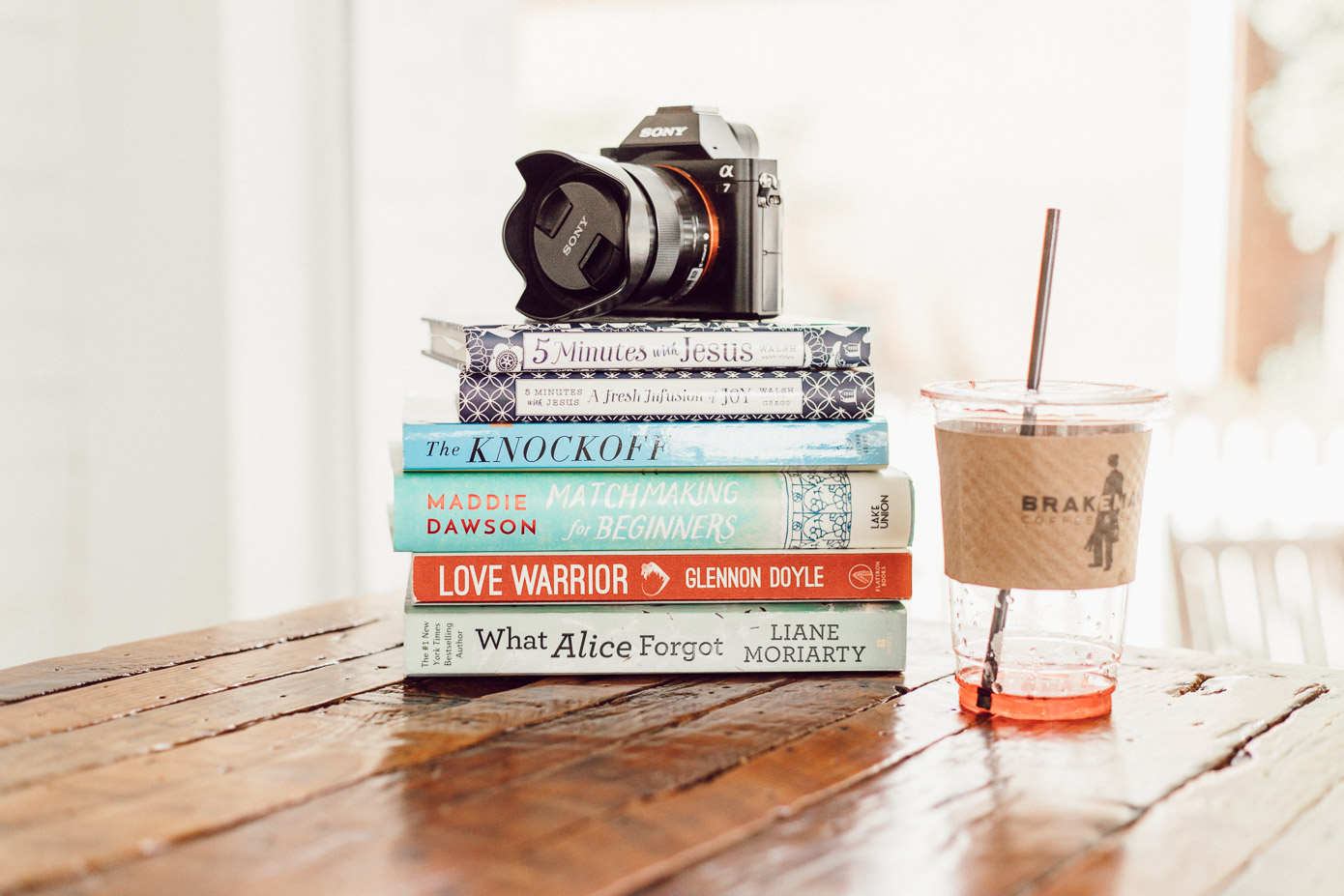 Photography
Were you into photography prior to blogging?
Yes and no! I always loved having a Digital camera to take photos on trips and in college with friends. However, these were all just for full and to document memories. I never took the style of the photos too seriously or learned much at all about shooting other than point and shoot! 
How do you blur the background of your photos?
This blur is called bokeh and it is actually created by your lens and the settings you choose on your camera body. 
Therefore having a lens with a fast aperture is a must! An aperture of f/2.8 is great (and what I often use) but for the great bokeh affect f/2, f/1.8, or f/1.4 are ideal. However, with those you'll want to focus on a particular part of your subject. Such as the photos in today's post, they focus on my upper body only. They aren't trying to capture my whole body. f/2.8 does work well when trying to capture the full body though!
Another way to make it happen if you're using a smaller aperture, say f/5, is to make the distance between your subject and the background larger. So if you're shooting a person and there's a flower field behind them and you want the flower field to blurry, you'll need to put distance between the person you're shooting and the flower field. 
How do you instruct/train someone to take photos for you? 
Lots and lots of trial and error and practice! You can't expect your significant other or BFF or mom to become a pro over night. It takes time! Also, it may not be something they're passionate about as you are, so have patience! 
I start by having them be my subject and setting the camera settings exactly how I want them. I then take a few snaps of them, have them walk over to me, show the snaps to them and explain what I want. Then have them stand EXACTLY where I was standing. That way they're sure to get the angle I want. 
Sometimes I will show examples of what I want. Meaning I'll screenshot some photos from past posts or bloggers I have and explain to the person shooting how I love that angle of that shot or how it was framed. This really helps when shooting with someone new or someone who isn't too into photography and just helping you out!
What time of day do you shoot?
In the summer I shoot in the early morning. Mainly to beat the heat + humidity but also the light is typically pretty beautiful during that time. This summer I have shot at 7:30am basically every single time. 
However, when traveling I will shoot throughout the day. When I travel with a blogger girl friend we'll typically start in the early am shoot a look or two each then break for breakfast. Following breakfast we'll change a couple times, shooting two or three looks each break for a bit. Then shoot one or two more in the late afternoon.
I personally stay clear of the early/late evening. For some reason I just really don't like the lighting in my photos and don't like how sunlight is fading, stresses me out haha.
Do you prefer to shoot when it's sunny or cloudy out?
I use to prefer shooting when it was cloudy out as it is easier when you're just starting out with a camera. You don't have to play around with settings as much and you don't have to find the perfect place to stand, pretty much everywhere works because it's cloudy. There aren't shadows and bright spots to worry about. 
However, now I love shooting on sunny days. Yes, some clouds are still ideal but I love having the sun shining through and the depth it gives my photos. So I would opt for a sunny day 9 times out of 10 now!
What is your biggest photography tip?
Patience! Be patient with yourself and whomever is shooting you. Photography is a learning process and one that never ends. You can always learn something new about your camera, your lens, or how you frame an image. So be patient as you learn more and as you teach whomever is shooting you (unless it's a pro-photographer, they're skills will blow you away).
Also, invest in a lens! Lenses are what really make the difference in photography. They are worth the investment! If you're thinking of upgrading your camera vs. upgrading your lens, always go with the lens! You'll be amazed at how much a new upgraded lens changes your images!
Photo Editing
What photo editing program do you use?
I use Lightroom and have been using it for a little over a year now, religiously. Yes, it took me far too long to jump on board with Lightroom. If you aren't using it, I would recommend signing up for it stat and start learning! 
It is a game changer! It is also a learning process so give yourself some grace while you learn what everything means and how it changes your image. Also, watch youtube videos – they will help you SO much! I probably watched 50 of them when I first started using Lightroom and still to this day watch some here or there to learn a new trick
What photo editing apps do you use on your phone?
I actually don't use any. Mind blowing right?! I use to use VSCO, Lightroom, Photoshop, and few others when I first started. But I have found I really like to edit my photos on the computer. It allows me to see the image, the coloring, and the details better. So I edit every image on my computer. Even if it's an iPhone photo. That is 100% preference though! With the Lightroom app you could easily edit your images the same as you do on your desktop with the Lightroom program. 
I also know so many bloggers love VSCO and use that often on their phones. I do use it personally for my personal account and love how easy it is. 
What preset do you use? 
I do use a preset/filter on all of my images. This has been a battle for me over the last two years. Finding a preset/filter and aesthetic I truly loved. If you look back at my Instagram feed you'll see the look of my photos changed often until about May of this year. I have FINALLY found a look #praise! 
Honestly, finding one I loved and I felt really fit my personal brand and aesthetic was a whole lot of trial and error. I tried a VSCO cam filter originally then had one created for me by Allie of Prêt-à-Provost (you can purchase the exact preset). After using that preset for a few months, I took my social media detox and during that time created my own preset using a VSCO preset as the base. And that is the preset I use today on all of my photos!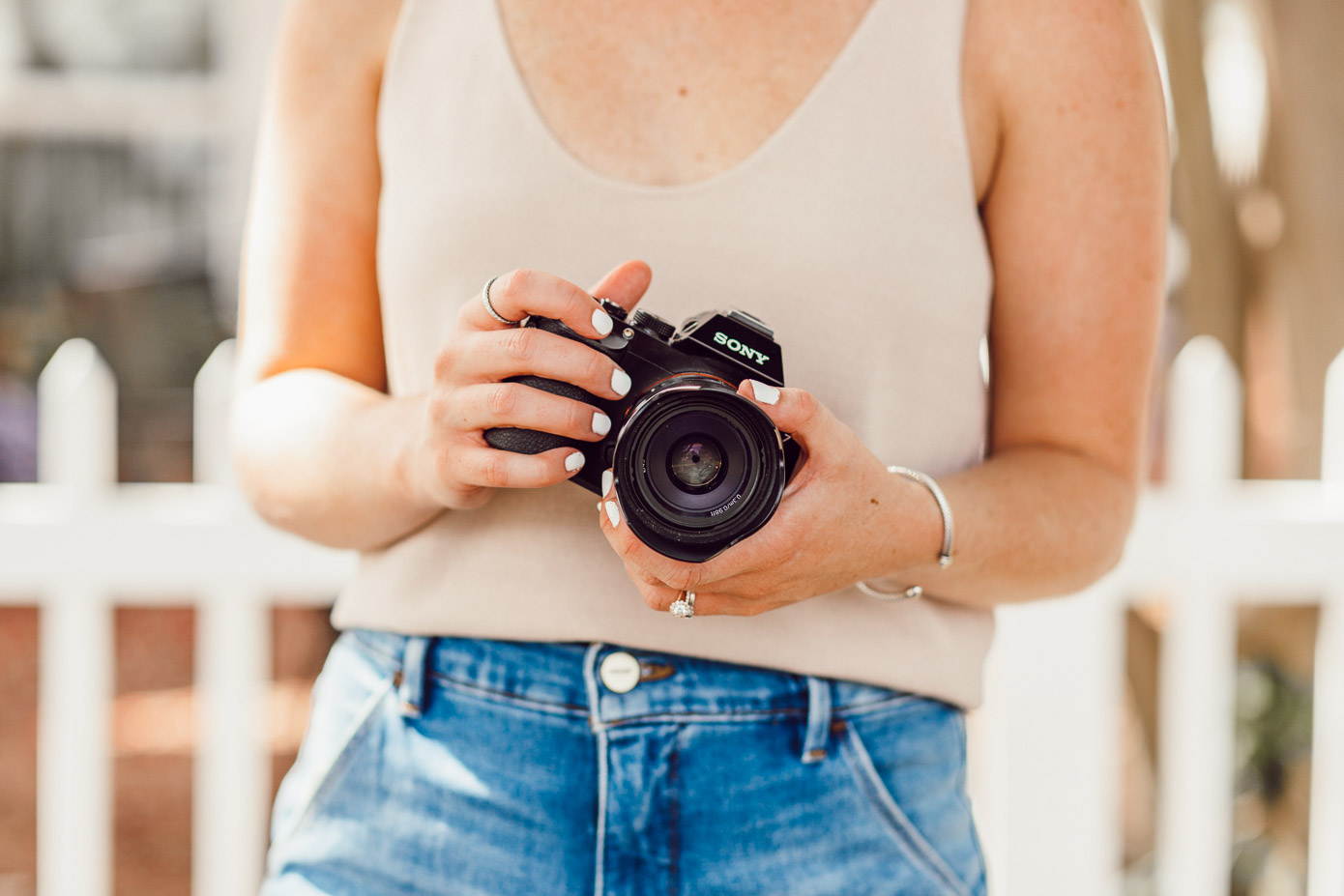 Miscellaneous Questions
How to do plan where to shoot your looks?
I have been getting asked this question a lot and it makes me SO happy! The reason it makes me so happy is that I have spent a lot more time lately thinking about where I am going to shoot and planning ahead of time. Previously, I had about 3 places I shot at and just rotated. Sure that was easy but those spots didn't necessarily compliment my look or create too much excitement on my feed. So I decided to change that!
Now I spend about an hour prior to a shoot (a week or so in advance) scouting locations. And by that I mean I drive around Charlotte, popping into random neighborhoods, checking out areas I've never been before, or turning down a street I somehow never saw previously. This has turned into one of my favorite parts of my job! 
I couldn't recommend doing this more! You will find so many unique spots and be able to cater your location to your look. Which in turn creates beautiful images for your site and Instagram feed. Truly, this has been a big game changer to me and it has brought a lot of additional excitement when the time to shoot arrives. Also, my photographer and I have so many laughs about it. She often texts me and asks what crazy, random place am I taking her to next. Or it better be good lady! 
Tips for making your Instagram stories look cohesive.
There are a couple of ways:
Always choose backgrounds with a similar look or color scheme 
Wear pieces in the same color family 
Have a filter or preset you use on every single photo – photos shot with your camera and iPhone 
Create a color palette for your brand and make sure those colors are included one way or another in your images (doesn't have to be all of the colors but maybe 2-3 of them).