Let's talk fall wardrobe classics! The items you need in your closet to build your fall wardrobe!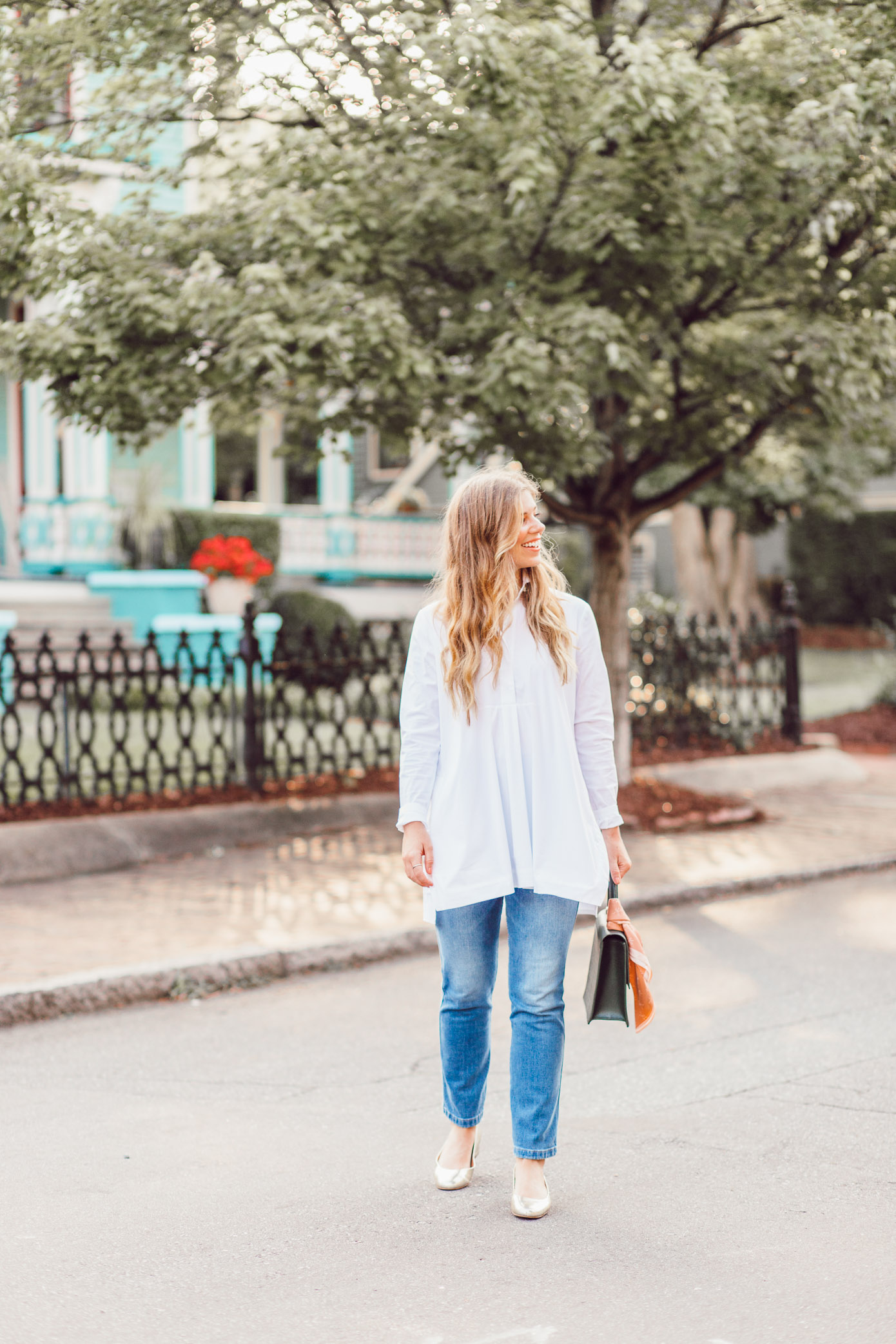 Can you tell I'm excited for Fall? It's really all I can talk about and I apologize it's all you're going to hear from me from now until mid-November. So hopefully you're a big fan of the season as well! I've talked a little about shopping for fall here and there (most recently, what I'll be wearing this fall) but wanted to really focus on the classics, staples if you will of a fall wardrobe. These are must have items to build your fall wardrobe off of. 
Today, I'm highlighting the top five fall wardrobe classics. These include a classic white shirt, a great pair of jeans, neutral close toed footwear, a rich tone handbag, and sweaters (of, course). So let's dive into why each one is important and my top picks for the season for each item. 
White Shirt
A white shirt is an absolute classic. An item that will never go out of style and is truly in style all seasons of the year. Come fall, it's an amazing piece to have as it's so easy to layer with. Whether you simply wear a denim jacket over it or wear it under your favorite oversized cardigan. There are endless ways to style a classic white shirt! There are always so many fun variations of the classic out there so this season, maybe invest in one a little different. 
Great Pair of Jeans
A great pair of jeans is obvious, right? Their an item you'll reach for almost daily. Therefore, having a pair that fits you perfectly is a must! I've sung the praises of the jeans I'm wearing in today's post several times (exhibit a and exhibit b). And truly couldn't recommend them enough! But what works for me might not work for you so it's important to try on several styles, colors, and cuts to find your great pair of jeans!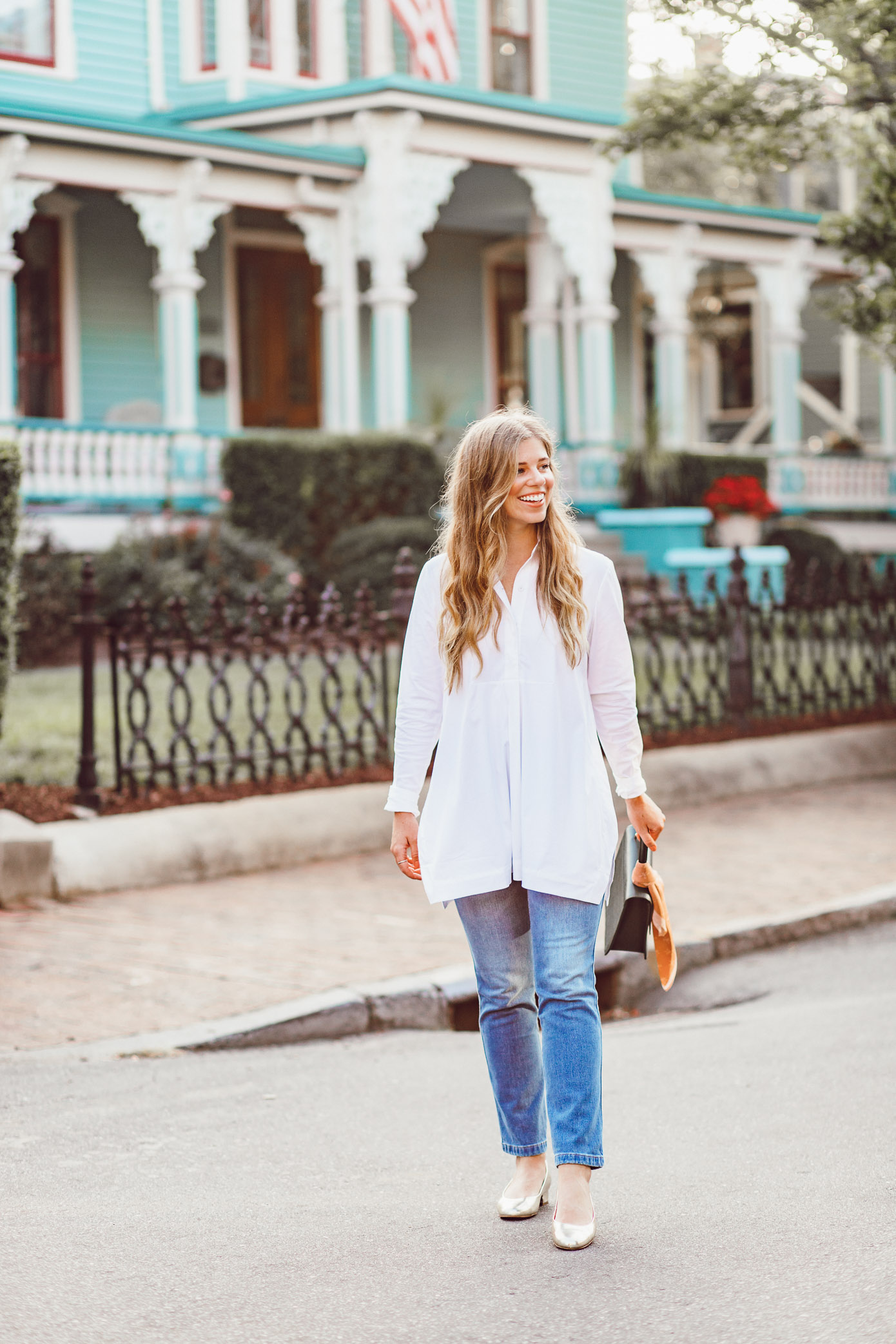 Neutral Close Toed Footwear
Time to hide the toes and rock some fabulous pumps, loafers, oxfords, and ballet flats! Soon enough boots, too. Definitely recommend opting for one or two neutral pairs that you can wear with just about everything! This helps limit the number of shoes you have (you'll thank me when you're packing to go somewhere) and also makes outfit planning a lot easier. Last year I bought a pair of oxfords and absolutely wore them to death! Couldn't recommend more! They look so cute with jeans, skirts, dresses, and corduroys.
Rich Tone Handbag
This one may seem a little trendy but honestly rich tones are always in for the fall season. Think emerald/forest, navy, wine, marigold – all great options for a fall handbag. They're neutral enough to go with most items why also packing a bit of a punch. Emerald/forest has always been my go to personally but marigold is really stealing my heart as of late (perfect example).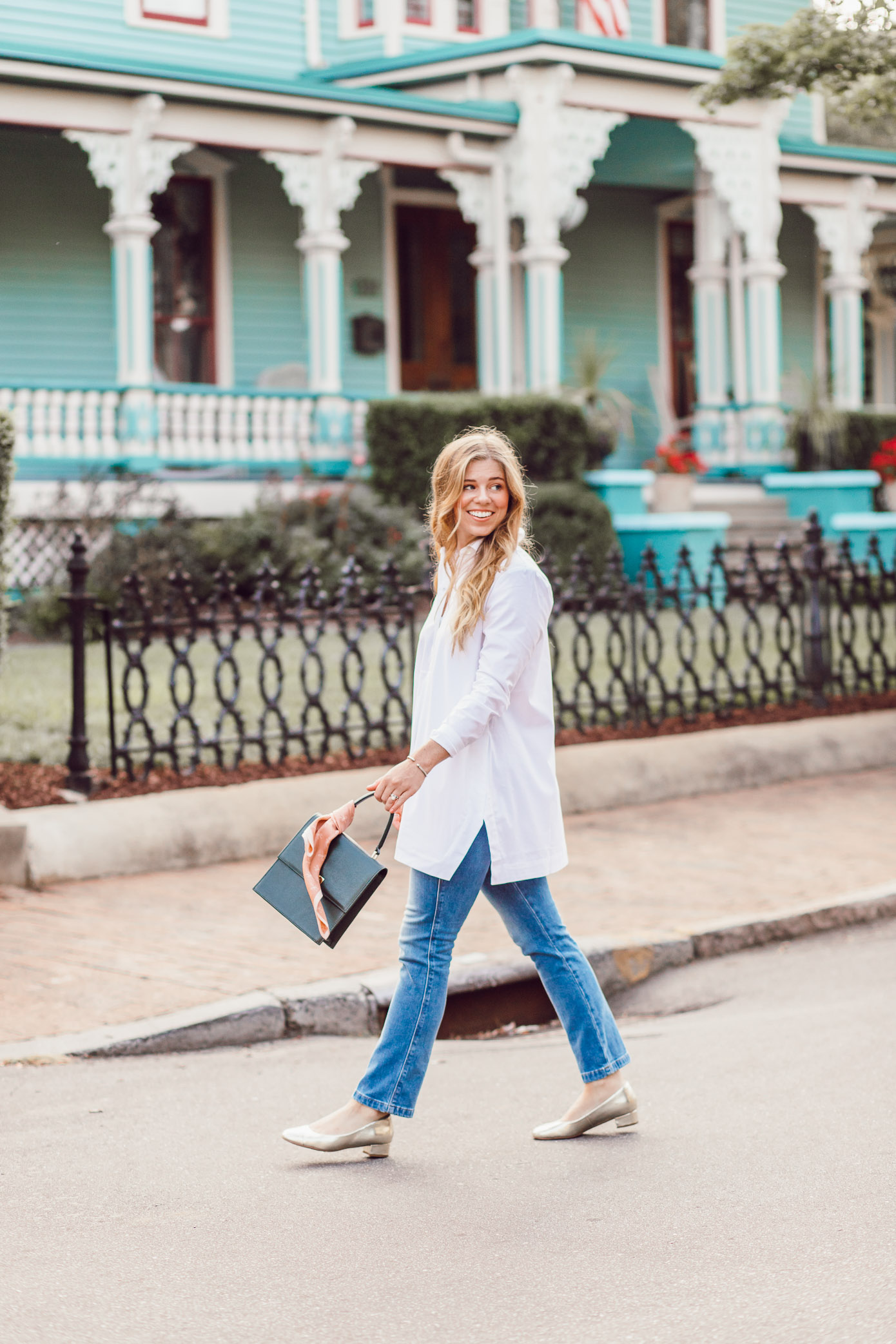 Sweaters
The most exciting clothing item for fall, am I right? Cannot wait to pull out all of the sweaters and add a few new ones this year. I always thinking adding a few neutrals is a good idea – beige, ivory, camel, blush, navy, black, and grey. You'll be able to wear year after year and they'll go with everything! Have fun with a coupled pattern ones too – maybe grab a striped or floral one.