Styling the most versatile wrap midi skirt for a late summer, early fall look! Plus some of my favorite ice cream shops because we need to eat all of the ice cream before summer comes to a close!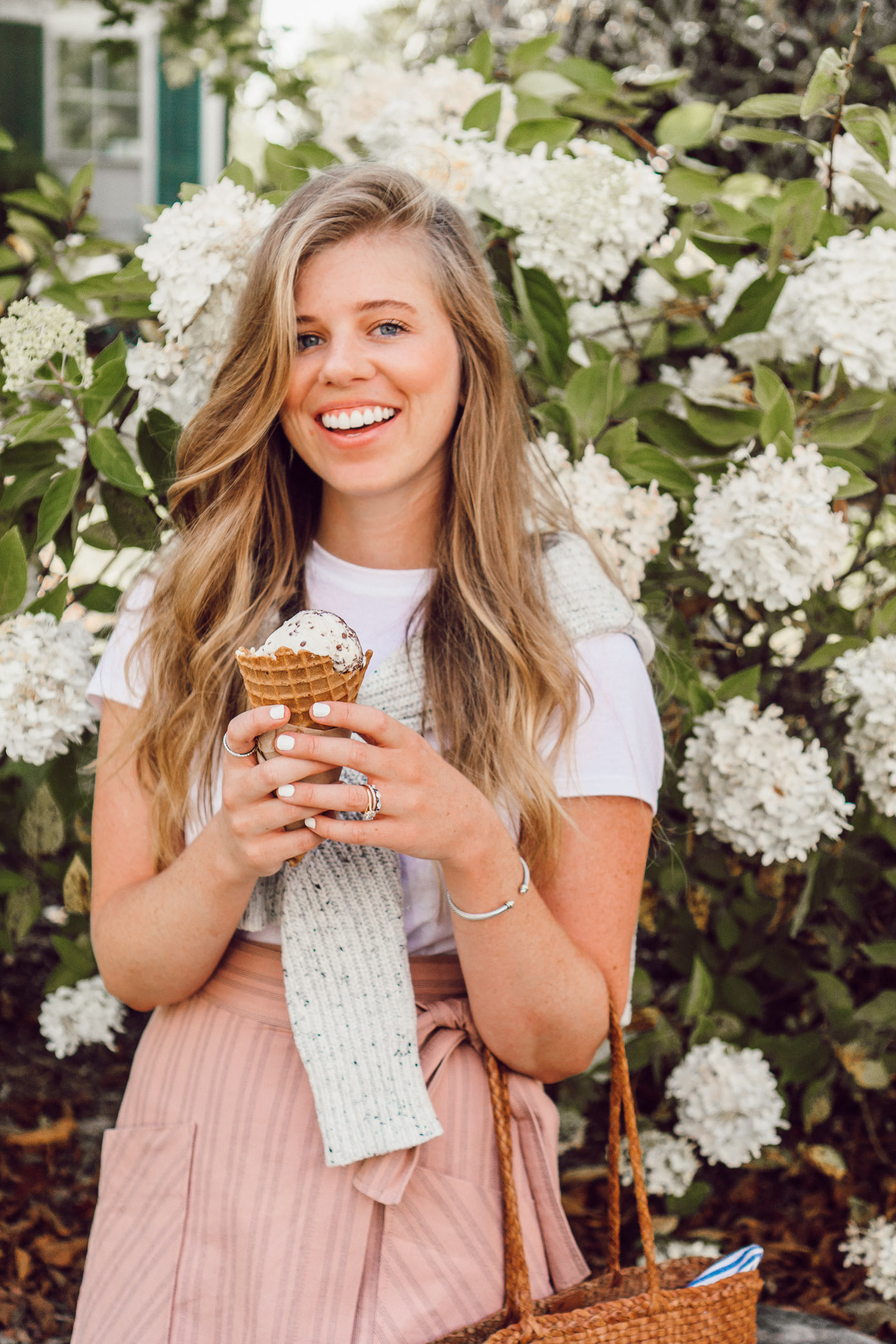 First off, sorry this post is a day late. Coming back after seven days off absolutely kicked my butt! And while outfit posts are usually Tuesday and Thursday, this one just didn't make it up yesterday. Hopefully, you'll forgive me and enjoy today's fun topic(s). The most versatile wrap midi skirt and  ICE CREAM! Yep, I'm writing a post about ice cream when fall is right around the corner. Not the best timing but if you're anything like me, you're happy to have ice cream well into the fall season. 
So first, let's talk about this wrap midi skirt. I am currently renting it from Rent the Runway's Unlimited program (1. I'll be sharing a recap of my experience at the end of September 2. use code LOUELLAPERK40 to get 40% off your first month of RTR Unlimited​). By far my favorite item I have rented thus far. While I wasn't 100% sure about it when I said yes, ship to me, I am totally sold on it now! While on a recent trip to Blowing Rock (more to come on that soon too) I styled the skirt three ways, yes three ways in three days – that's how much I love it!
The skirt goes with just about everything and is the perfect weight/style for this in between season. Check it out in last week's post where I styled the skirt with a classic chambray and mules.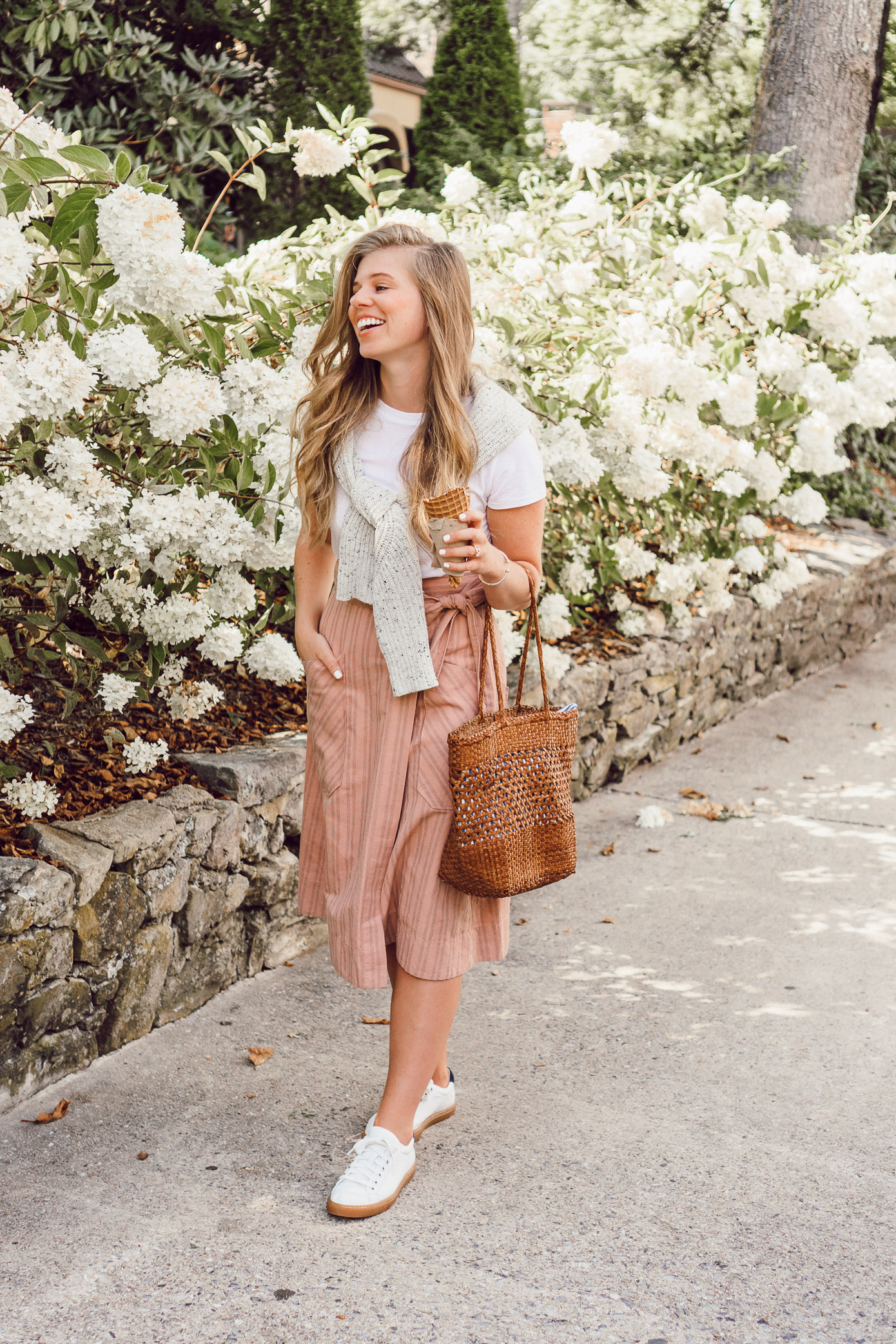 Now onto the ice cream. Every time I go to Blowing Rock I have plans to stop into Kilwin's and I make sure those plans become a reality…EVERY. SINGLE. TIME. The ice cream at Kilwin's is just too good to pass up! So in today's post, I'm enjoying a waffle cone full of Marsh-Mallow S'more. Y'all it was so good!!! I'm literally drooling while looking at these photos and writing this post. 
Ice cream has been a favorite of mine since my Grandpa introduced it to me as a tiny tike. He loved having create your own sundae evenings and always had several varieties of Klondike Bars in his freezer. So my love for ice cream really did come naturally! Since then, I rarely pass it up and am often on the look out for it! Therefore, I decided to share some of my favorite chain & local ice cream shops with y'all! 
Favorite Chain Ice Cream Shops
Kiliwin's – my absolute favorite! Probably in part because of the sentimental memories going to this ice cream shop in several small towns as a little one. And also because of their amazing flavors + waffle cones. Oh and they have fudge!
Jeni's Splendid Ice Creams – a semi-new favorite. I first tried Jeni's in Nashville two years ago and fell in love! Then again in Charleston during a Blog Societies Conference with some of my blogger besties. And now, there is one in Charlotte. Right now, Brambleberry is my favorite flavor – SO good y'all! I've heard the Frosé is pretty amazing too. 
Shake Shack – another pretty new favorite! I had my first Shake Shack in NYC last year with Morgan doing NYFW. We opted to have their concretes for dinner our last night and we were both extremely happy campers! Again, there is now one in Charlotte and I have indulged twice thus far!
Cold Stone Creamery – a classic! Can't go wrong with Cold Stone! 
MaggieMoo's Ice Cream & Treatery – I honestly haven't had MaggieMoo's in forever but this was my favorite spot in Cary (where I grew up) and it is a chain. I use to get their sweet cream with Oreos and chocolate chips, yum!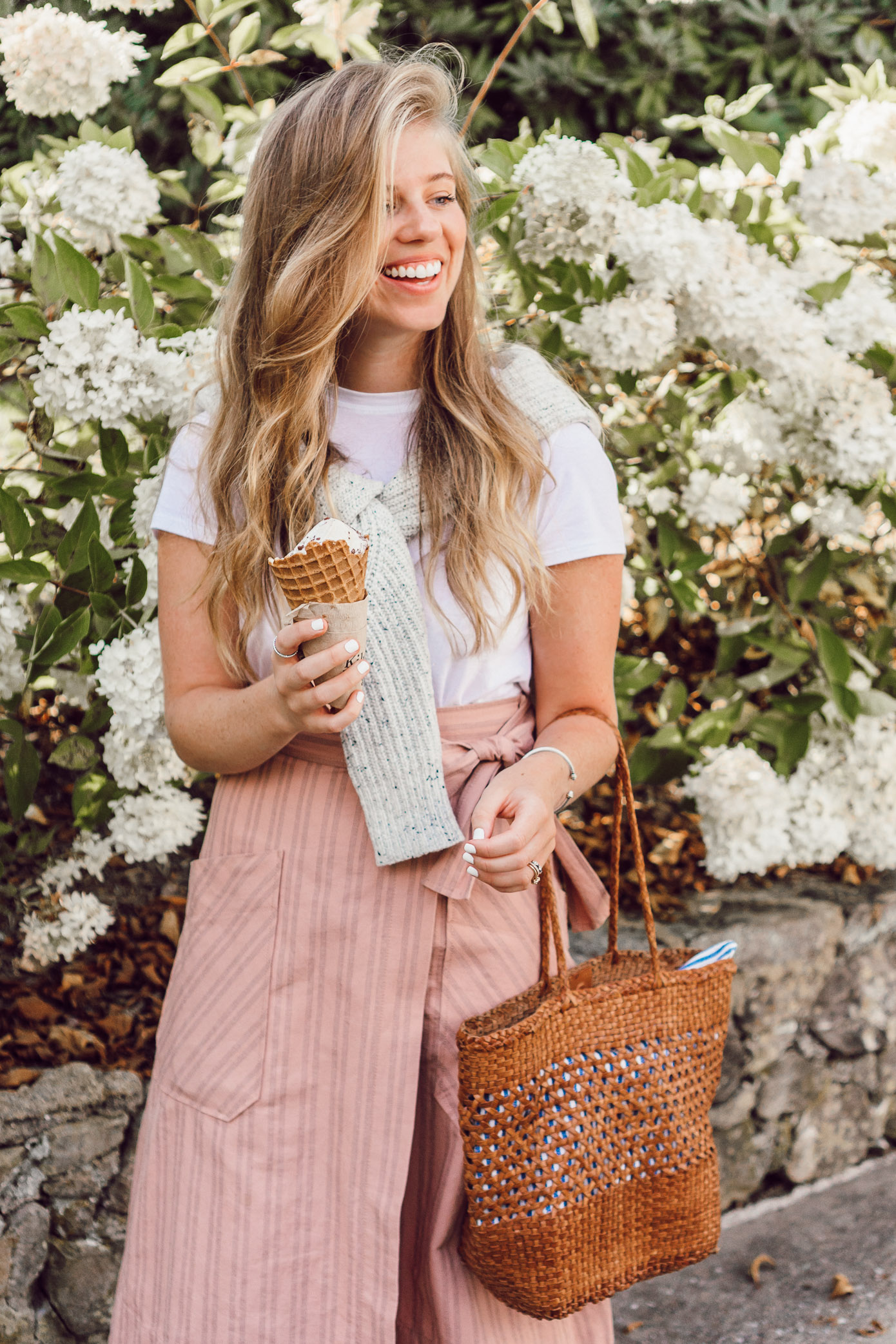 Favorite Local Ice Cream Shops
Goodberry's Frozen Custard – If you follow me on Instagram you've had to deal with me rant and rave about Goodberry's every single time Joshua and I go to Raleigh/Cary. I wish for a second I could feel bad about it but I don't haha. Only because it is SO good! I go for the chocolate with Oreos and bananas. Sounds like a funky pairing, I know but it's amazing! 
Golden Cow Creamery – Oh my goodness this place rocked my world! Joshua and I stopped in here during one of our recent date nights and Y'ALL they have Dunk-a-roo ice cream. 90s babies you're welcome! 
Mr. K's Soft Ice Cream – this place reminds me of the ice cream joints in Pennsylvania where I grew up. It's soft serve ice cream on a classic cone. Chocolate, Vanilla, or Twist. A classic! 
Two Scoops Creamery – Okay truthfully I haven't been here yet but I have had so many people rant and rave about it to me. Also, I've heard they have fruity pebbles ice cream and I'm like yes please!
Now it's time for you to spill! What are some of your favorite chain & local ice cream shops? Comment below and share so I can stop in when I'm in your area! Maybe we can meet for a scoop!