With the best season of the year on us, let's fall fall bedroom decor and how to bring the fall into your room! Thank you to Joss & Main for sponsoring this post! All views and opinions are of course my own. 

Oh fall, you are so wonderful! While in Chattanooga this past weekend we experienced full on fall weather. With beautiful crisp mornings and evenings, and warm afternoons. While the leaves were reflecting the season all around us. Now I am even more excited for those days in Charlotte – fingers crossed the leaves change before they drop! 
With that said, I've been savoring fall as much as I can and that includes bringing it indoors. We recently moved our guest room furniture into our room (we sold our old bedroom set) and moved my grandparents furniture in. With the change of the furniture, we needed to update the rest of the decor (of course!) and it came at perfect time, I could add some fall touches to reflect the current season.
So today, I'm sharing…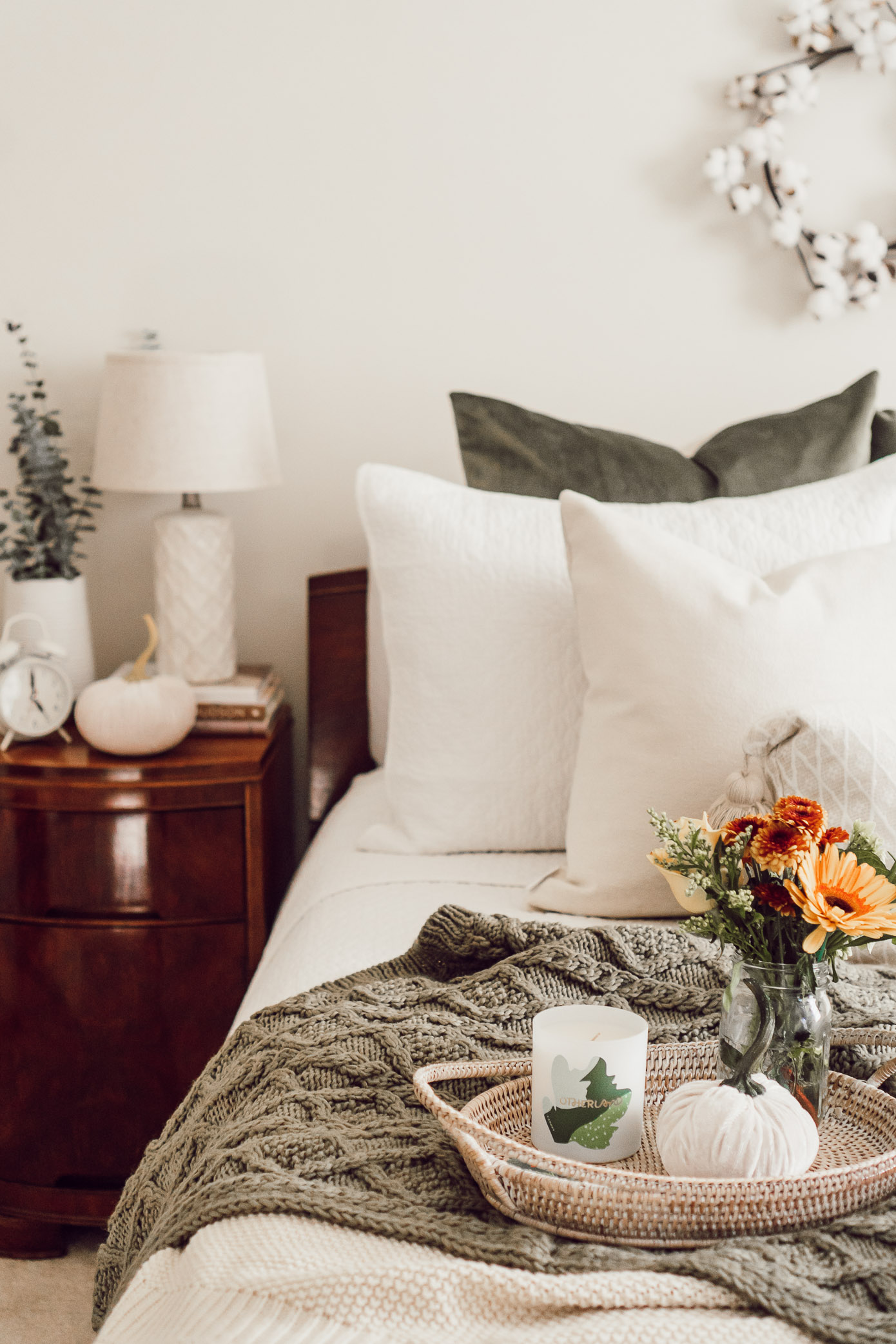 4 Essentials for Decorating Your Bedroom for Fall
Cozy Throws 
My number one favorite item to buy for the home come fall is a new cozy throw (this year, I went with this chunky knit and couldn't be more in love). To me fall (and winter) call for chunky, knit and/or faux fur throws. The textures invite you to curl up and cozy in. Since fall evenings can be cooler, I recommend layering two over your bed. That way you can reach for an extra if additional warmth is needed. While the layered look provides an even more warm, cozy feel. Opt for two different colors or two blankets in the same hue but different textures. 
Pumpkins 
An obvious choice when it comes to fall decor, right? I don't know about you but I find pumpkins to be just too cute. Aside from being cute, they instantly provide fall vibes to your space. While I love the real deal, decorative pumpkins are also a great option as you can use them year after year. These velvet pumpkins are just about as cute as they come! They come in a variety of colors and sizes so you can find one (or two, or three) that work best for your space. For reference, I ordered the 6.5" H and 7.25" H.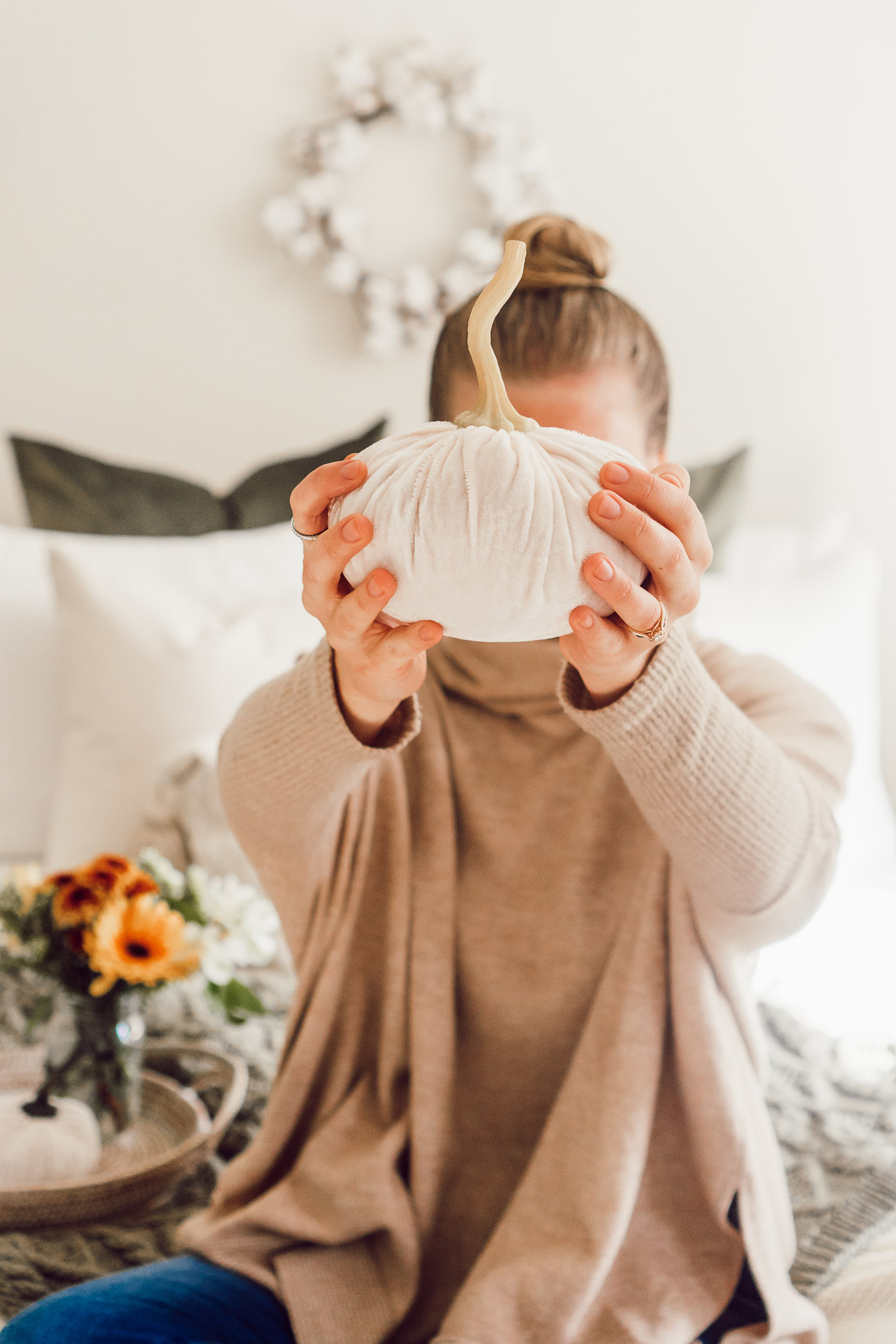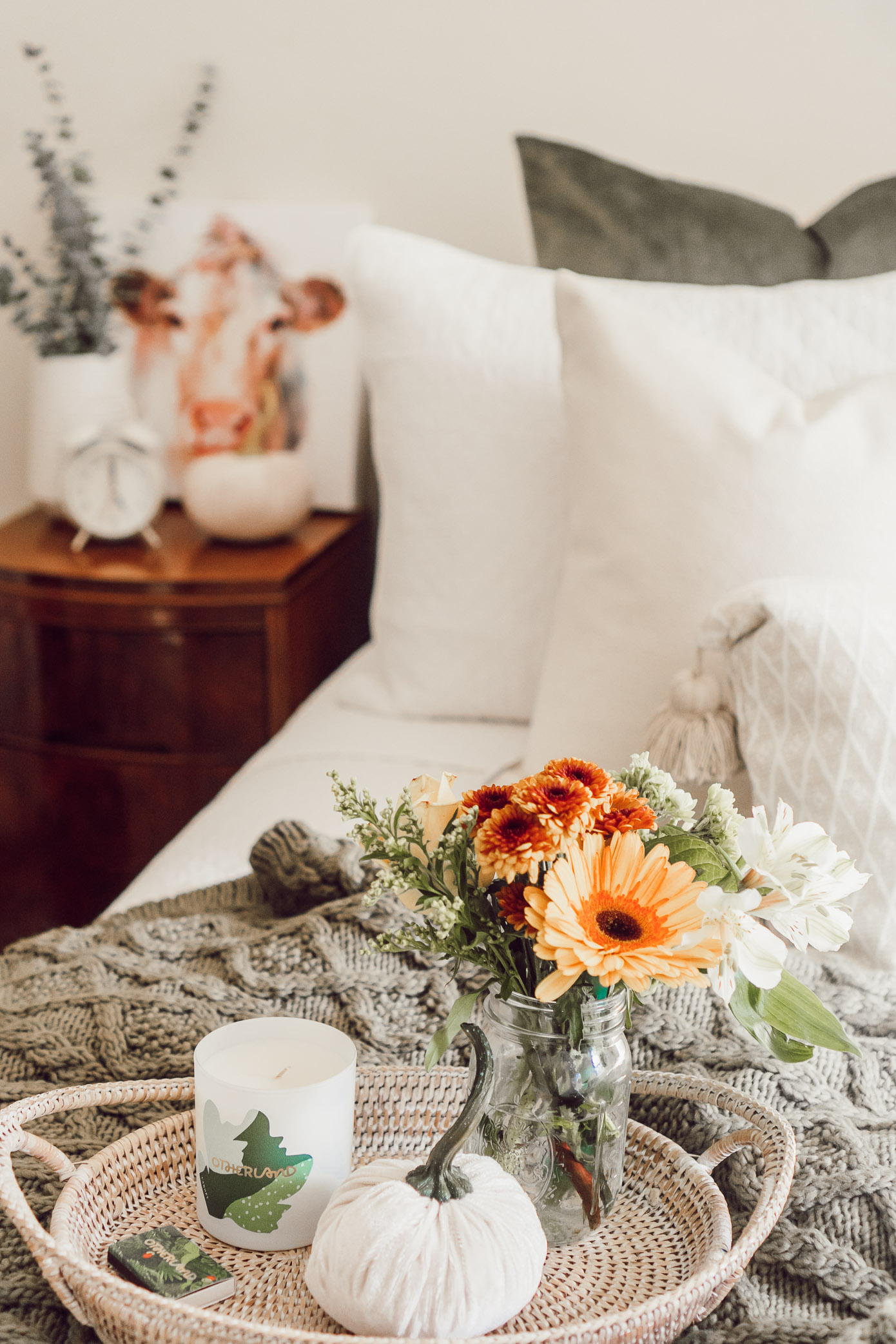 Fall Inspired Wall Art
Fun fact: I have wanted a cotton wreath FOREVER. So when decorating our guest room for fall, I jumped on the opportunity to purchase one. Cotton is such a beautiful natural element to use when decorating! While it adds a lot to your space, it also keeps things natural and isn't "too loud" – a cotton wreath or cotton in a vase would be a great way to add a little fall touch to your bedroom. 
Also, fall inspired artwork is an easy way to update your space for the autumn season. If you're new to Louella Reese, you may not know this but I have a very large obsession with cows. I absolutely adore them. We have a cow print in our dining room and she even has a name, Loretta. So when I spotted this neutral cow canvas, it was immediately in my shopping cart. To me it definitely has a fall vibe.
If farm animals aren't your cup of tea, art work that includes greenery, mountains, wood, or leaves would be a perfect way to add a touch of fall to your wall. 
Fresh Greenery (Fall inspired flowers)
Fresh greenery is the perfect way to complete your space. The natural addition makes such an impact! Eucalyptus is a great option as it lasts long and even looks great dried. Joshua and I had lots of eucalyptus at our wedding, both silver dollar and baby blue so having it around the house is extra special. If you want to add some color or you're just more of a flower gal, opt for florals in fall hues – think rich burgundy, yellows, and orange.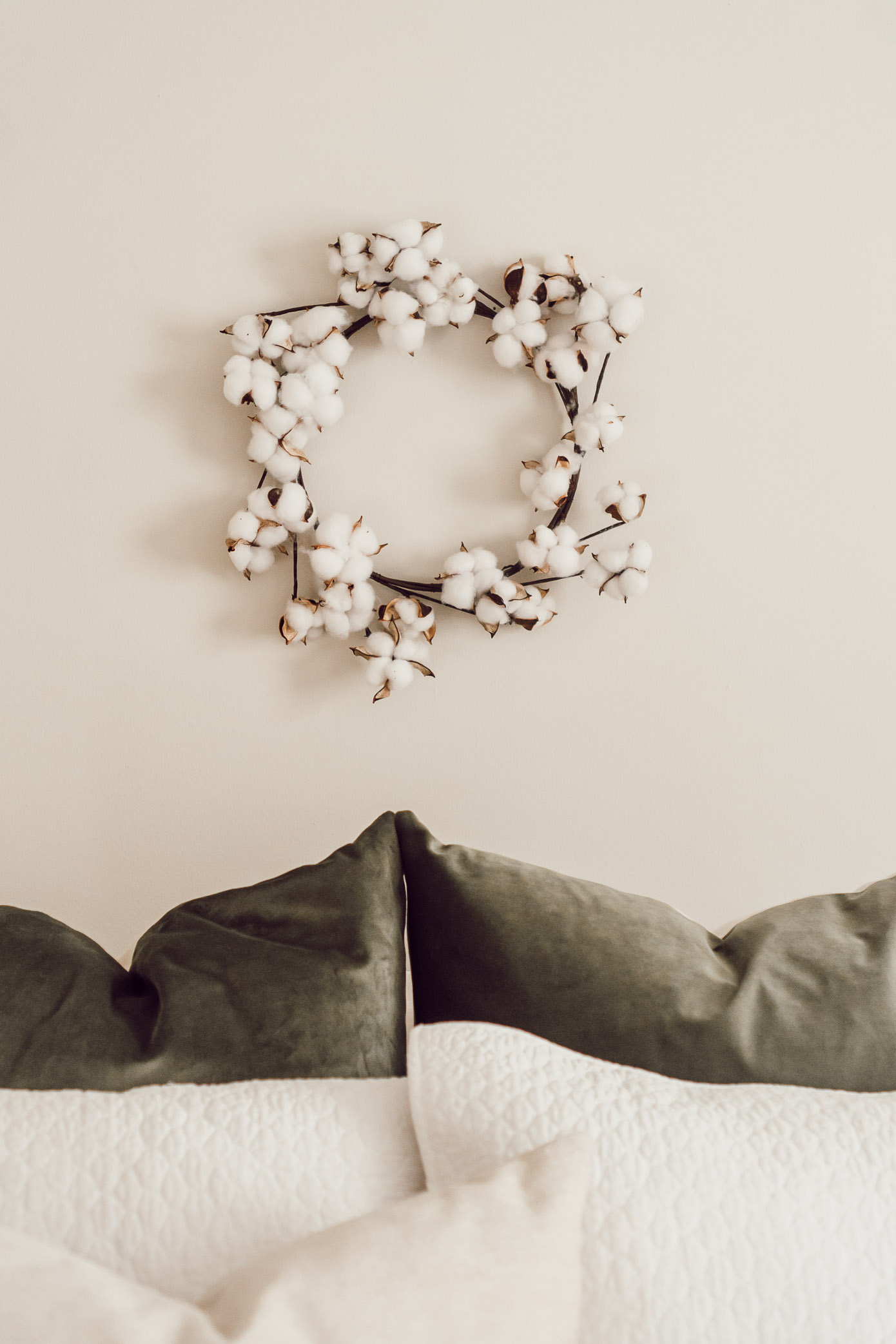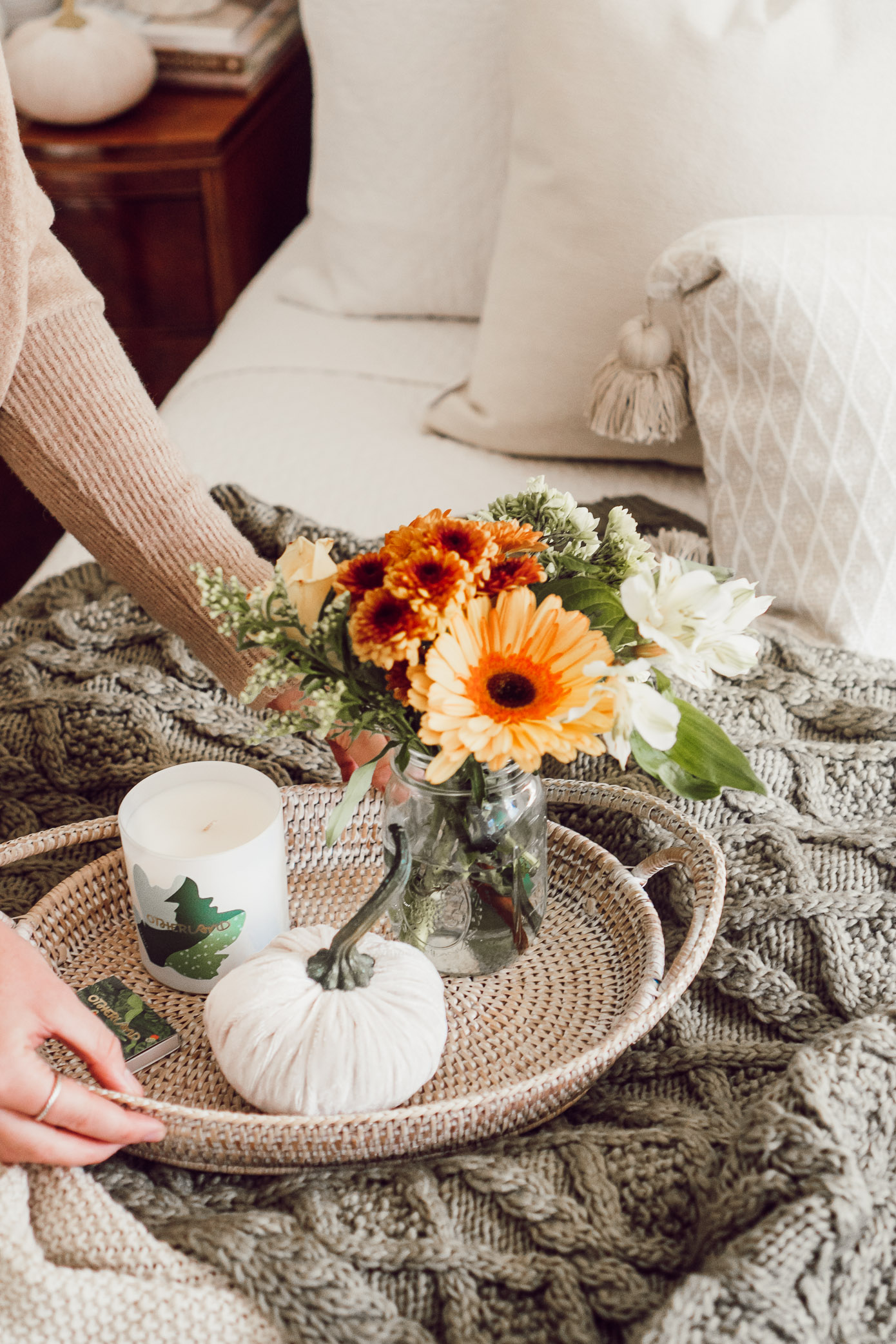 If you're currently on the search for fall decor at reasonable prices, Joss & Main is your one stop shop! They have a whole fall decor section full of adorable pieces for the autumn season.