Thank you to AVA Grace for sponsoring this post! All views and opinions are of course my own. Thank you for supporting the brands that make Louella Reese happen!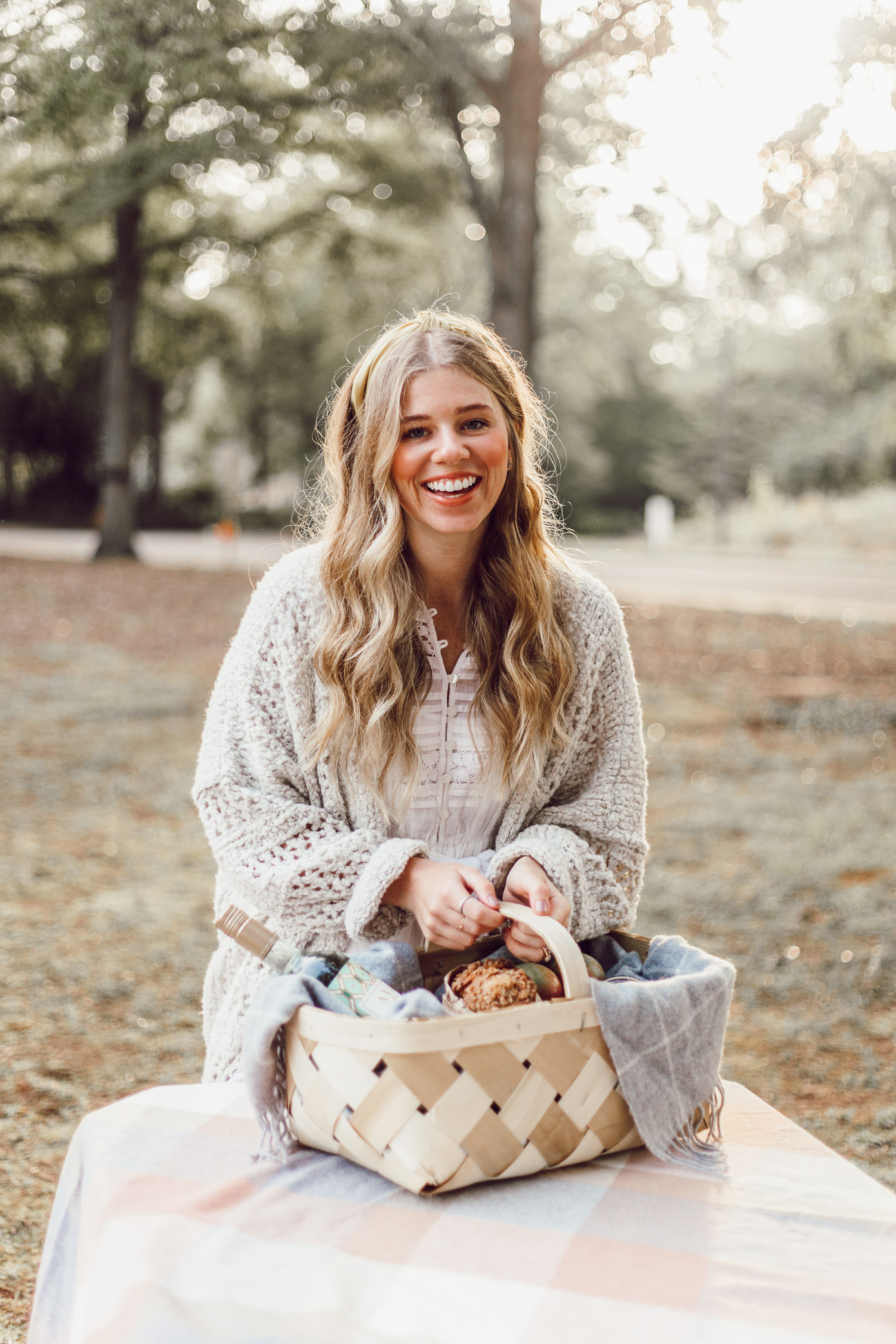 One of my favorite things about fall is the fact that everyone wants to get together to enjoy the outdoors. Whether it's for a hike, picnic, football game, wine on the porch, or dinner alfresco in a friend's backyard. We are all about celebrating the new season, crisp autumn air, and quality time together. Personally, my friends and I love to enjoy weekly picnics or wine dates on one of our porches. Both are great ways to catch up with one another while soaking in fall and all of its glory! Plus, they're fun ways to share your favorite wines with each other and celebrate little victories from the previous week. As well as celebrate the weekend arriving! Who doesn't love doing that? 
If you are like me and find yourself heading over to a friend's house for a wine on the porch date most weekends or attending several small get-together in someone's backyard, I have created the perfect fall hostess gift to bring your friends! Today, I am partnering with AVA Grace Vineyards to share four key elements needed to put together the ultimate fall hostess basket that is sure to award you best guest! One that will also making fall entertaining easy for the hostess while spoiling them a bit.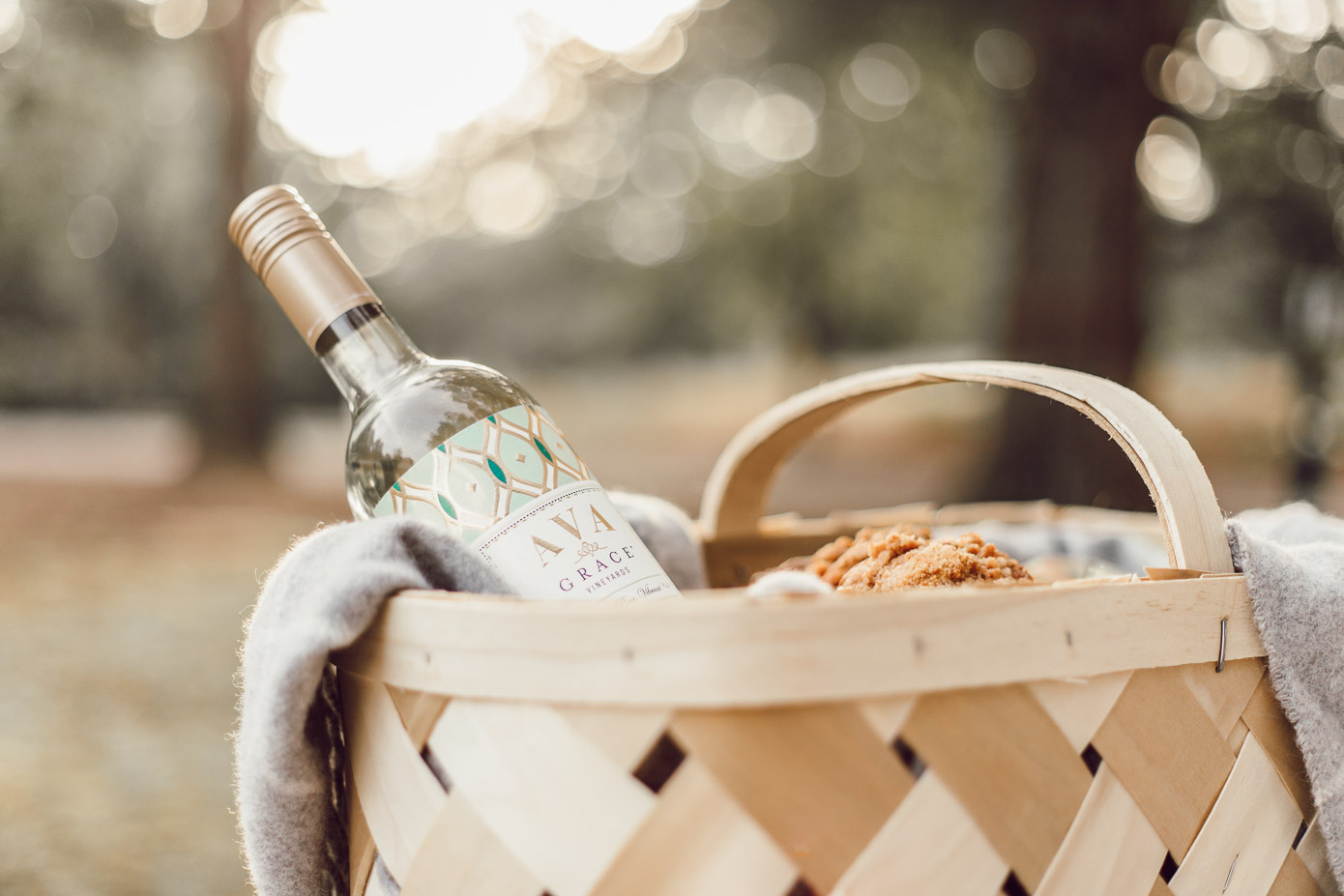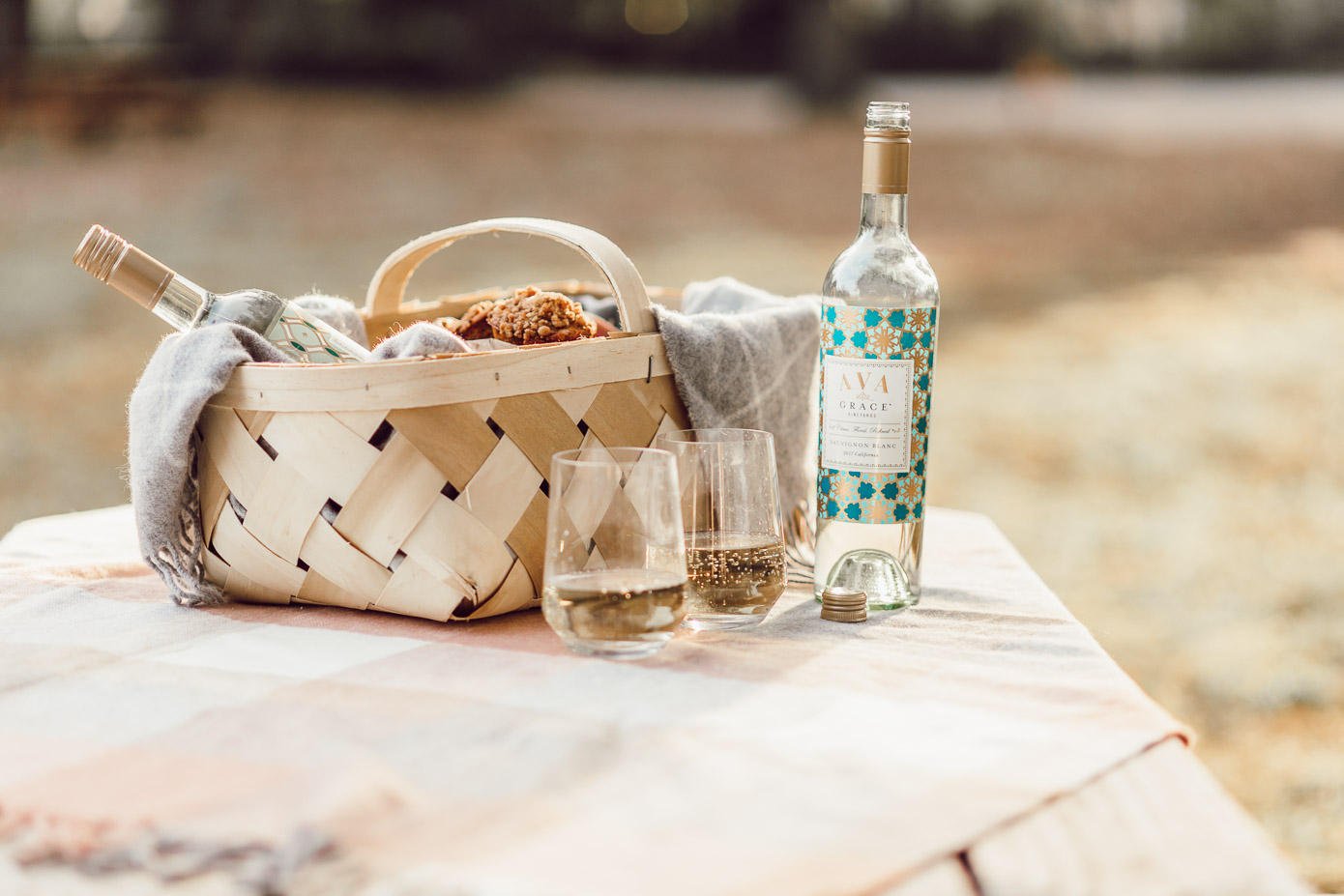 1. Baked goods
As soon as October begins it seems everyone cannot wait to get their hands on everything pumpkin and apple! Can you blame them? Fall is also the perfect season to bake with cooler temperatures and cozy days inside. Plus, we all know that food is the way to most of our hearts. So pull out your grandma's famous pumpkin or apple recipe or visit Pinterest for some new inspiration. My recommendations: cinnamon apple muffins, pumpkin bread, or apple cider donuts. Fresh baked goods are such a great way to add a personal touch to the gift and treat someone, to something sweet! 
2. Delicious wine
Fall entertaining is only complete with a few bottles of wine. While most people gravitate towards reds as the temperatures cool, I still find myself reaching for whites. Right now, my personal favorites are Pinot Grigio and Sauvignon Blanc from AVA Grace Vineyards. Both wines are so smooth and easy to drink. The Pinot Grigio is vibrant with hints of fresh citrus and pear and on the drier side, which is typically the direction I lean. While the Sauvignon Blanc boasts notes of tropical fruit flavors (grapefruit, gooseberry, and melon) and a rich body. 
Both wines offer exceptional quality and promise graceful moments with every long-lasting sip, making AVA Grace wine the perfect gift to bring to every fall get together. Additionally, they are reasonably priced and over deliver on taste – another reason AVA Grace wines are my top choice for entertaining and gifting! As if you need another reason, their beautiful labels are sure to make an impression!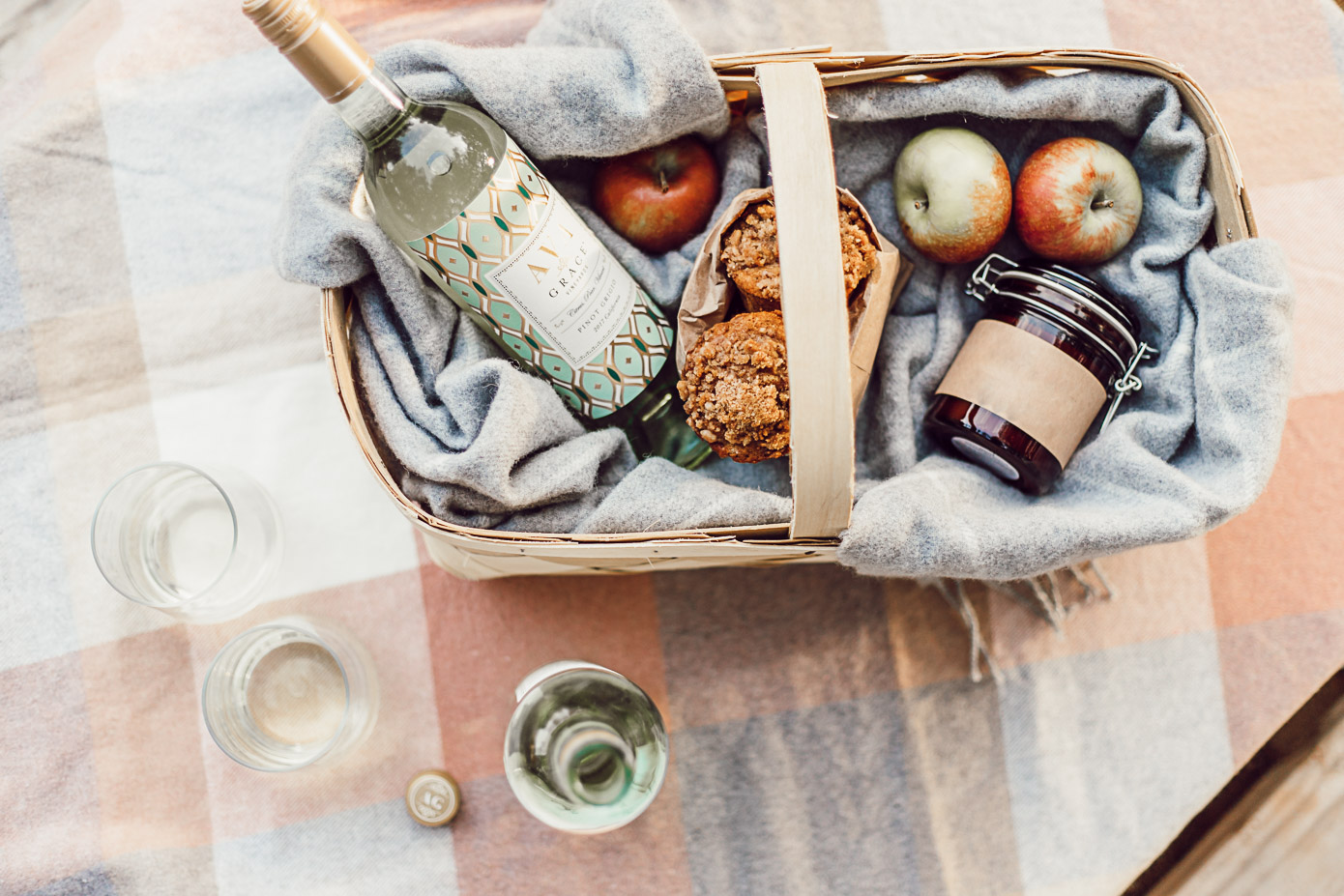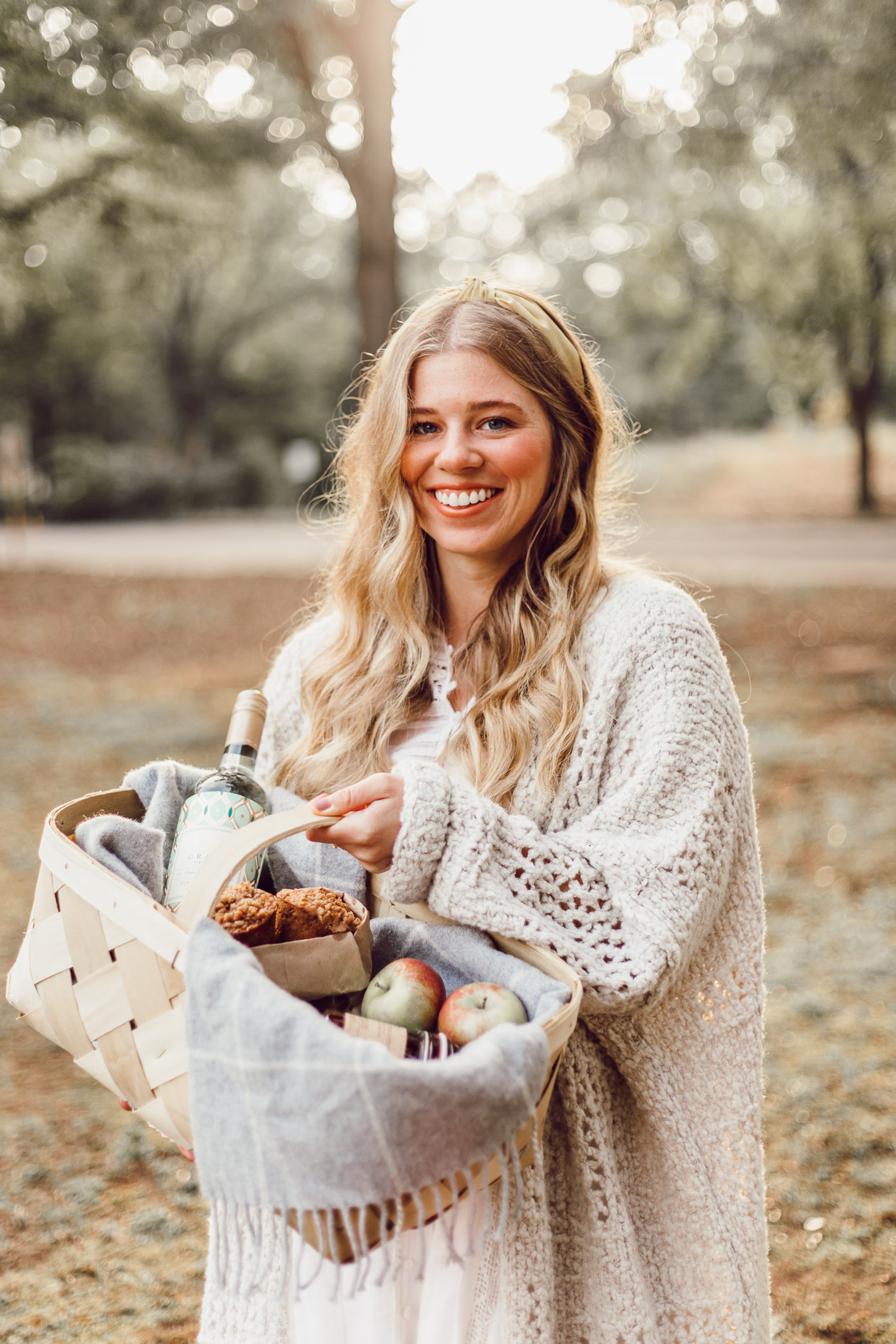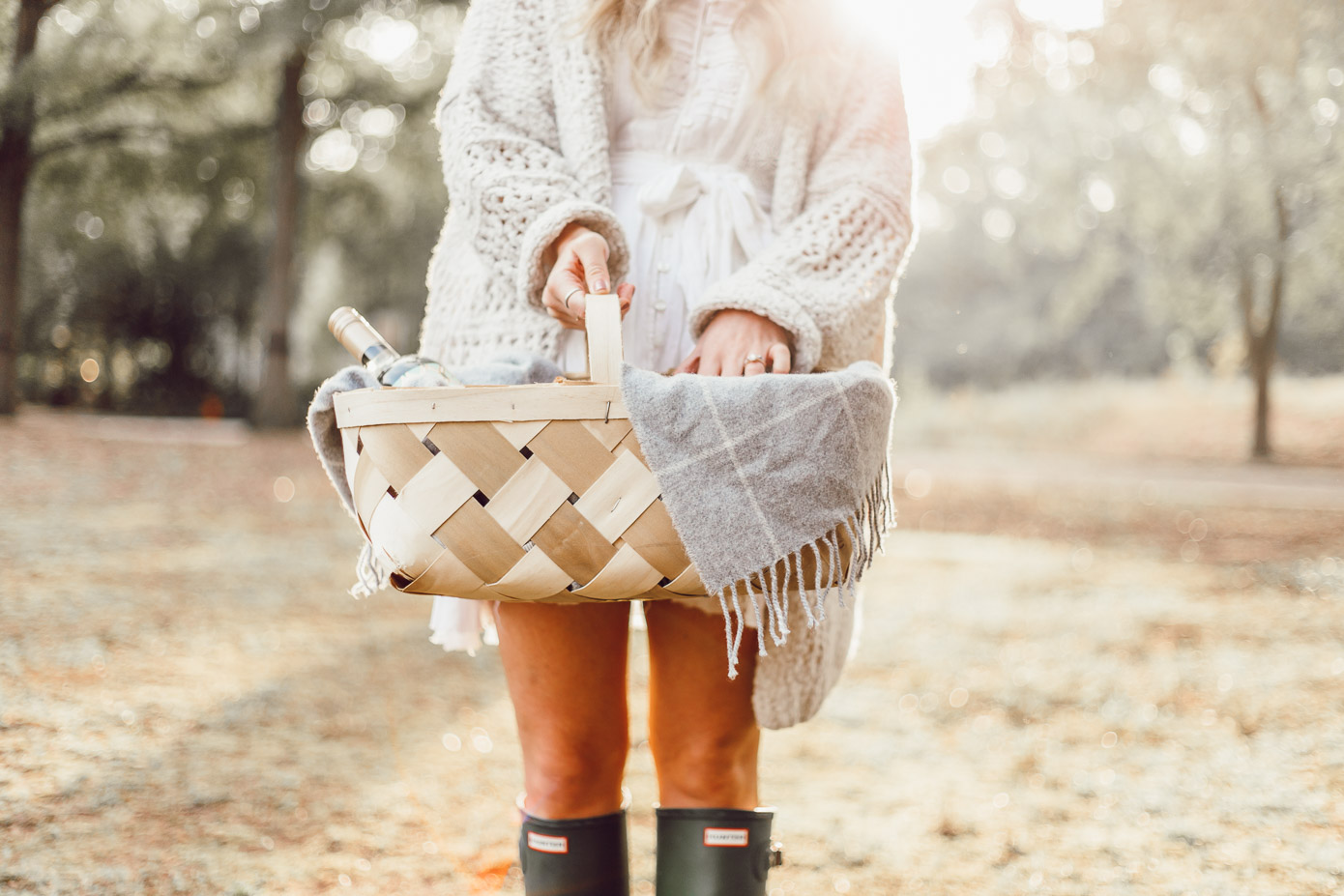 3. A touch of fall
You are celebrating the season and attending a fall gathering after all! Wrap everything in a cozy blanket or chunky blanket scarf. If you've been apple picking, add a few of the fresh apples you collected.  Or add an additional gift for your hostess, such as a pumpkin, apple, or pine candle. If you want to go the traditional route, include a small boutique of fall blooms such as dahlias, sunflowers, or celosias. 
4. The perfect basket
Now of course, you need something to place all of these items in. A basket is the perfect way to display everything you've put together for the hostess and brought with you to the get-together. Again, if you've gone apple picking, a great option is to use the basket you used to collect and carry all of the apples in. This basket adds another great fall touch and is large enough to hold everything while also displaying it. 
If an apple basket isn't available, opt for an open, wide basket. That way you can easily display your AVA Grace wine, fresh baked goods, and fall touches! 
Now that you're basket is complete, you're ready to impress and spoil the hostess celebrating the fall season and life's little moments together! 
To find where to buy AVA Grace Vineyards wine near you, you can find their store locator 
here
.