Brewery hopping on a Saturday is one of my favorite activities. I love trying out different local brews and mingling with friends. And if the breweries in Charlotte on any weekend day are any indictation, so do a lot of y'all! So I wanted to share a simple winter brewery hopping outfit. One that's easy to put together, cozy, and will keep you looking stylish as you find your new favorite brew!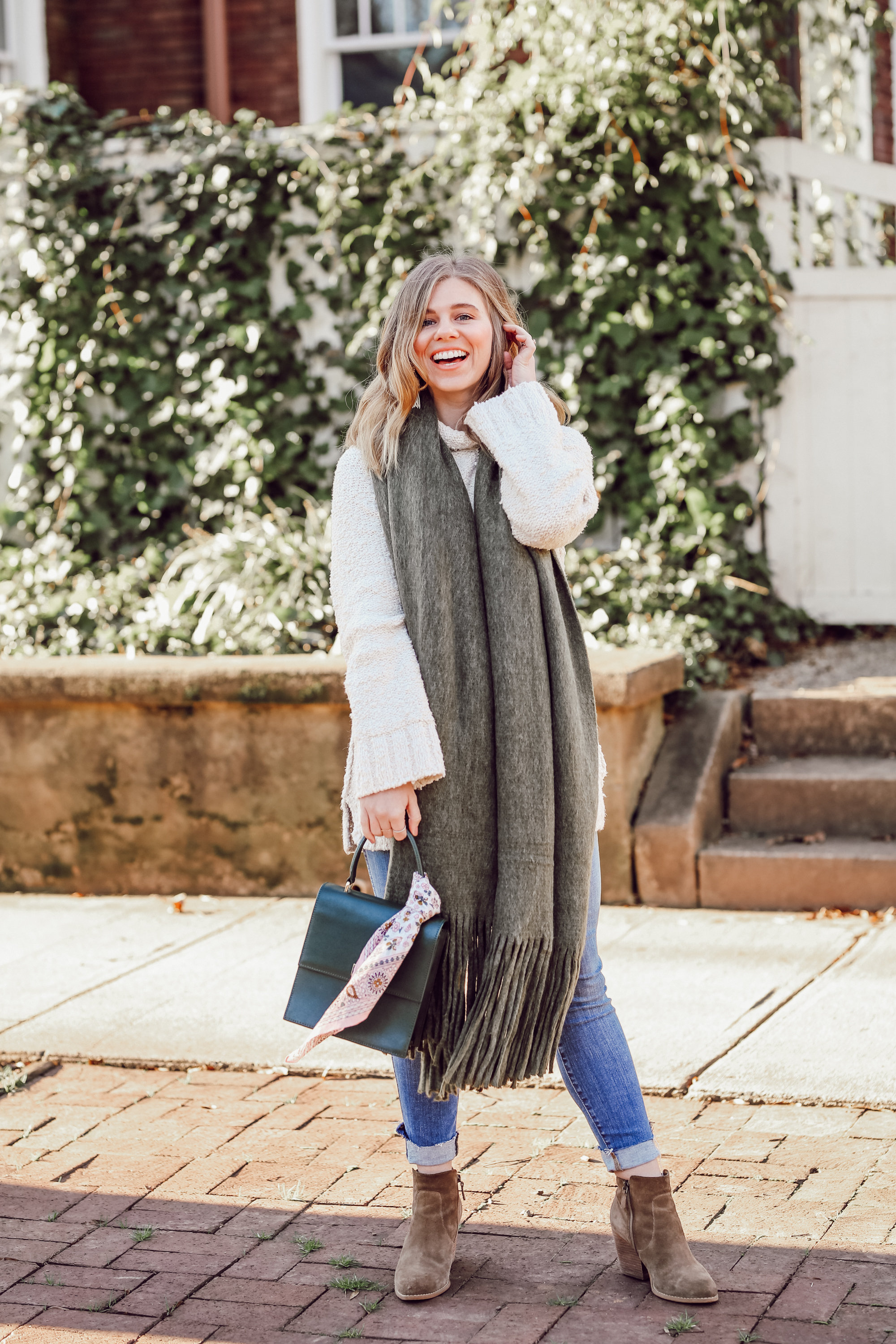 Just this past Saturday we spent the day at a local brewery. We were celebrating one of our best friend's birthdays (the big 3-0) were able to enjoy the "outdoor" area – soaking up rays, catching up with friends, and sipping local brews (although I was sick, so it was hot tea for me). The brewery scene in Charlotte is pretty intense. There are over twenty four breweries within Charlotte with new ones popping up constantly! So when someone asks what you want to do on Saturday or Sunday, there's a good chance one of the brewery names (or multiple) will be mentioned. 
If it's rainy, you may spend the day at cozied up at a table at one brewery or make your way to a couple different ones. If it's sunny, you'll probably brewery hop from one to another. Soaking in the rays on each breweries unique patios/outdoor spaces (each one has such a different atmosphere, I love it). 
With that said, I know Charlotte isn't the only town booming with breweries. When you visit most towns people will list off a handful breweries as recommendations for places to hang out and/or dine at. Therefore, we're all picking out what to wear to breweries. Whether it's to check out one or to visit several, brewery hopping. So today, I'm sharing my go to winter brewery hopping outfit!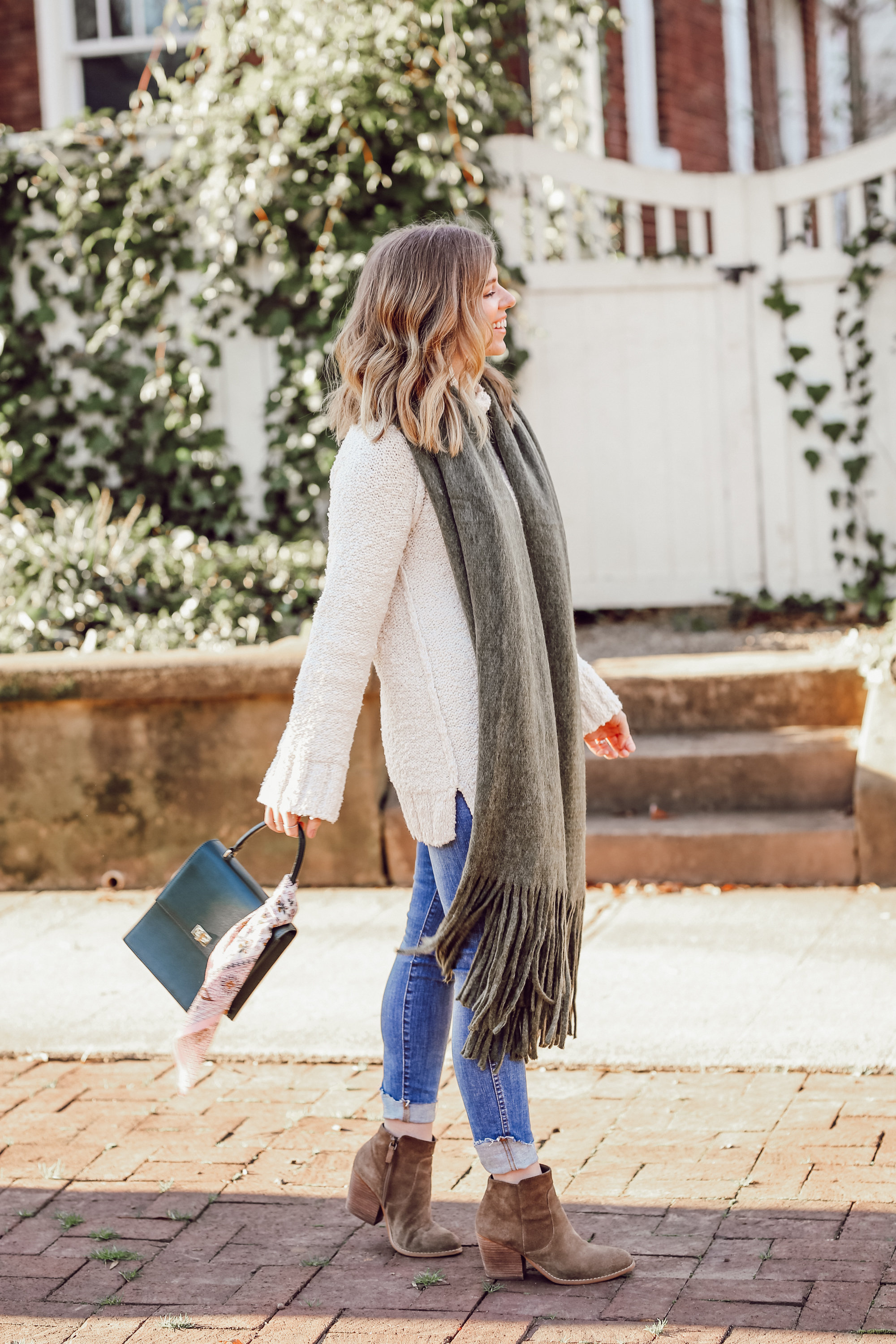 Five Best Charlotte Breweries 
Suffolk Punch – hands down my favorite brewery in Charlotte. I could not be more obsessed with the atmosphere and overall feel of this brewery/restaurant/coffee shop. Yes, it really does include all of that. Aside from the brews, their food is also amazing. Brunch would be my number one recommendation! 
brew of choice: Backwoods Pale Ale
Legion Brewing – another great spot with an amazing atmosphere. Two actually! Legion Brewing has a location in the Plaza Midwood area as well as the Southpark area. We just visited the Southpark location last week and y'all it is beautiful! Also, you have to try the Amy's Ice Cream Sandwich (vanilla ice cream sandwiched between peanut butter cookies, dipped in chocolate and drizzled with caramel sauce) it is like WHOA!
If you're looking for a more laid-back atmosphere, I would visit the Plaza Midwood location.
brew of choice: Freedom Park Pale Ale
Lenny Boy Brewing Co. – Very open, laid-back atmosphere. Located in the South End area of Charlotte. When Lenny Boy Brewing Co. originally started they only brewed Kombucha. In January of 2013, Lenny Boy became the only Certified Organic kombucha producer in the Southeast – YOU GO LENNY BOY! Therefore, Lenny Boy is my favorite place to go for kombucha aka I'm obsessed with theirs! 
For those of you that choose to skip kombucha, they have great regular brews as well! 
brew of choice: Lavenderade Kombucha 
Olde Mecklenburg Brewery – OMG was one of the first breweries on the seen here in Charlotte. It is also MASSIVE and has the largest outdoor space. Set up very much like a German beer hall. A great spot to go and spend the day – especially if you have kids. There is so much room for them to run and play. Also, do yourself a favor and get a pretzel + beer cheese. Thank me later! 
brew of choice: Captain Jack
Sugar Creek Brewing Company – Sugar Creek stole my hear the second I walked in. Their decor is blue and white and oh so Instagram-worthy. Yep, I just went there. It is on the smaller side, so I highly recommend getting there at a decent time if you're visiting on the weekend and want a spot to sit. 
Their food is also amazing! Lots of apps, paninis, and salads. 
brew of choice: Sugar Creek White Ale
honorable mention Tripe C Brewing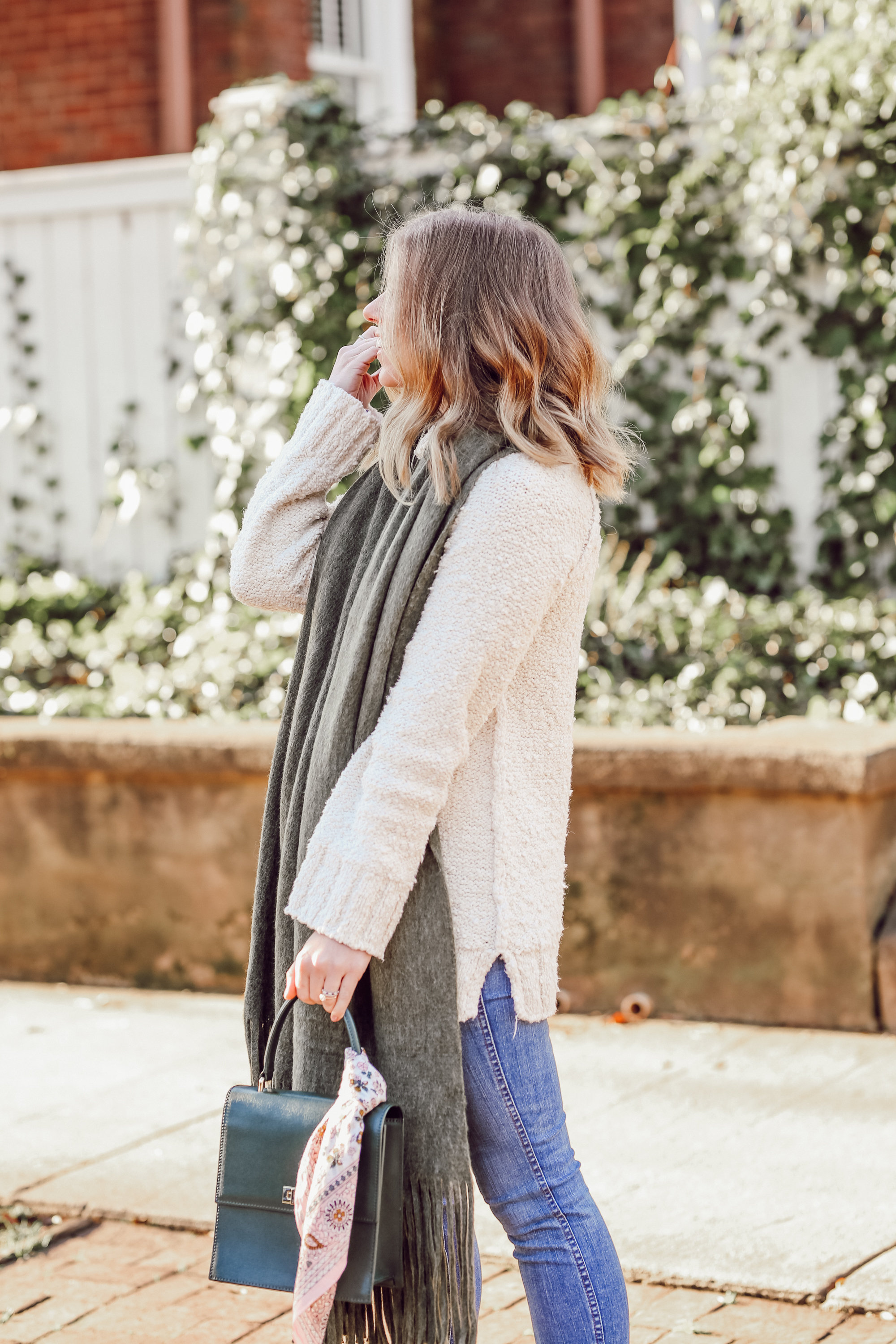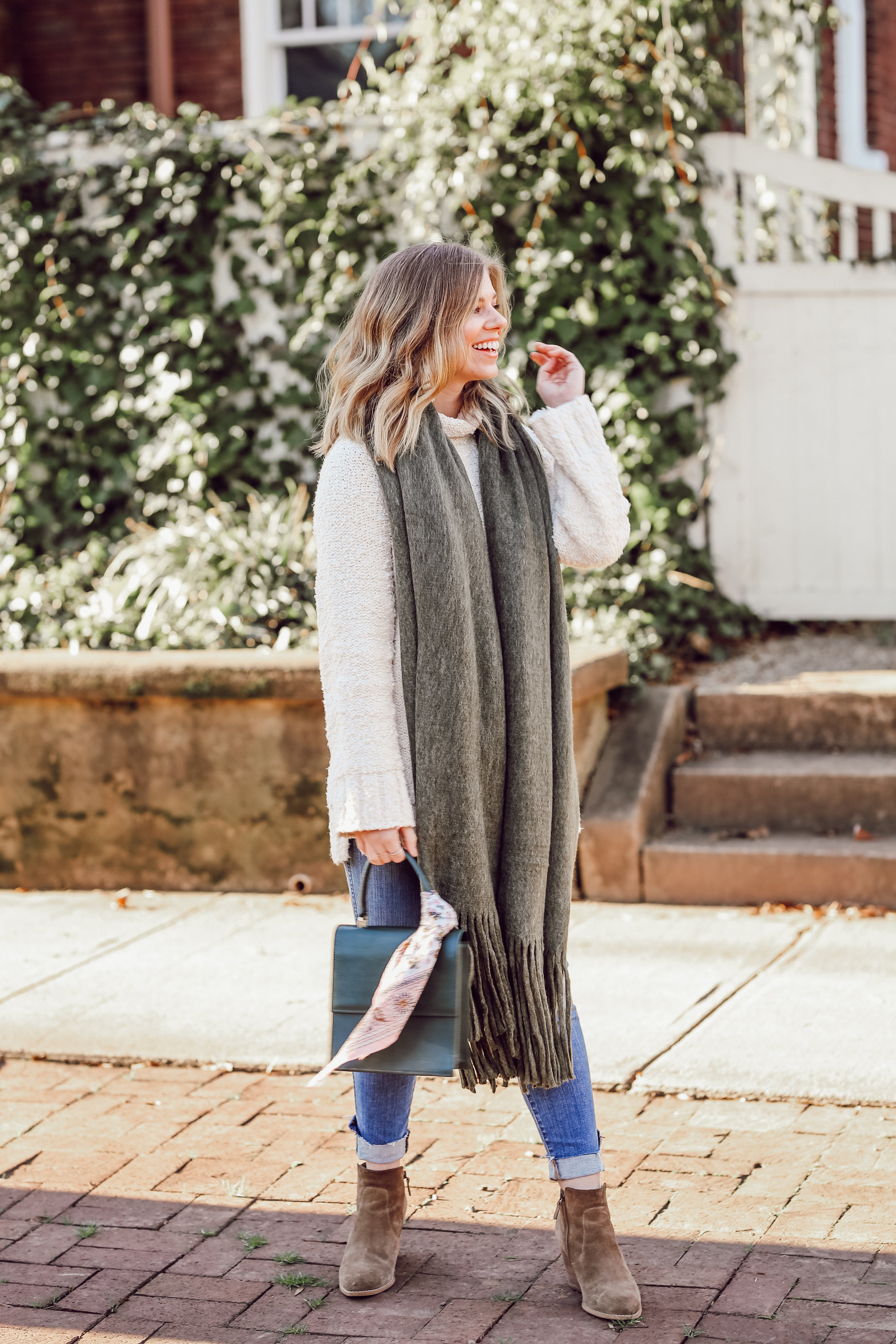 Go to Winter Brewery Hopping Outfit
So the reason for this post and to finally talk about this look…this combination is my go to when visiting breweries in the winter.
In Charlotte, so many breweries are within walking distance to one another so typically you visit one for a bit then walk over to another. Therefore, being warm and having layers is a must. Inside they're usually quite warm (from all the people) so I don't like to bring a coat/jacket. Chances are I'll leave it on a chair or not have a place to put it and end up holding it the whole time. So I opt for a comfy, cozy sweater and scarf instead. Scarves are easy to tuck inside your bag or wrap around it. 
Jeans are always a go to – comfortable, warm, and just plain ole easy! This past weekend, I went with overalls. I 100% do not recommend that. With drinking, whether it's water, tea, or beer you obviously have to go to the bathroom a lot and that is zero fun in overalls. Especially when you have a sweater over top. You basically have to get undressed every time you go to the bathroom. No fun!
Also, booties or sneakers every single time. Again, comfortable, warm, and easy. These gals rocking stilettos to the breweries, I will never understand you, never! For brewery hopping, comfort is key! And you can easily look stylish while drinking your beer and being comfortable if you're rocking your favorite sweater, cozy scarf, go to jeans, and sneakers or booties! 
Five Charlotte Breweries I Want to Visit
Resident Culture Brewing Company 
If you're local to Charlotte or have visited any of these while in the Charlotte area, which one is your favorite? Comment below and share. Would love to hear and maybe add a few more to my must visit list!