Sharing a couple recent looks including my favorite spring dresses & skirts. Plus sizing information and styling recommendations.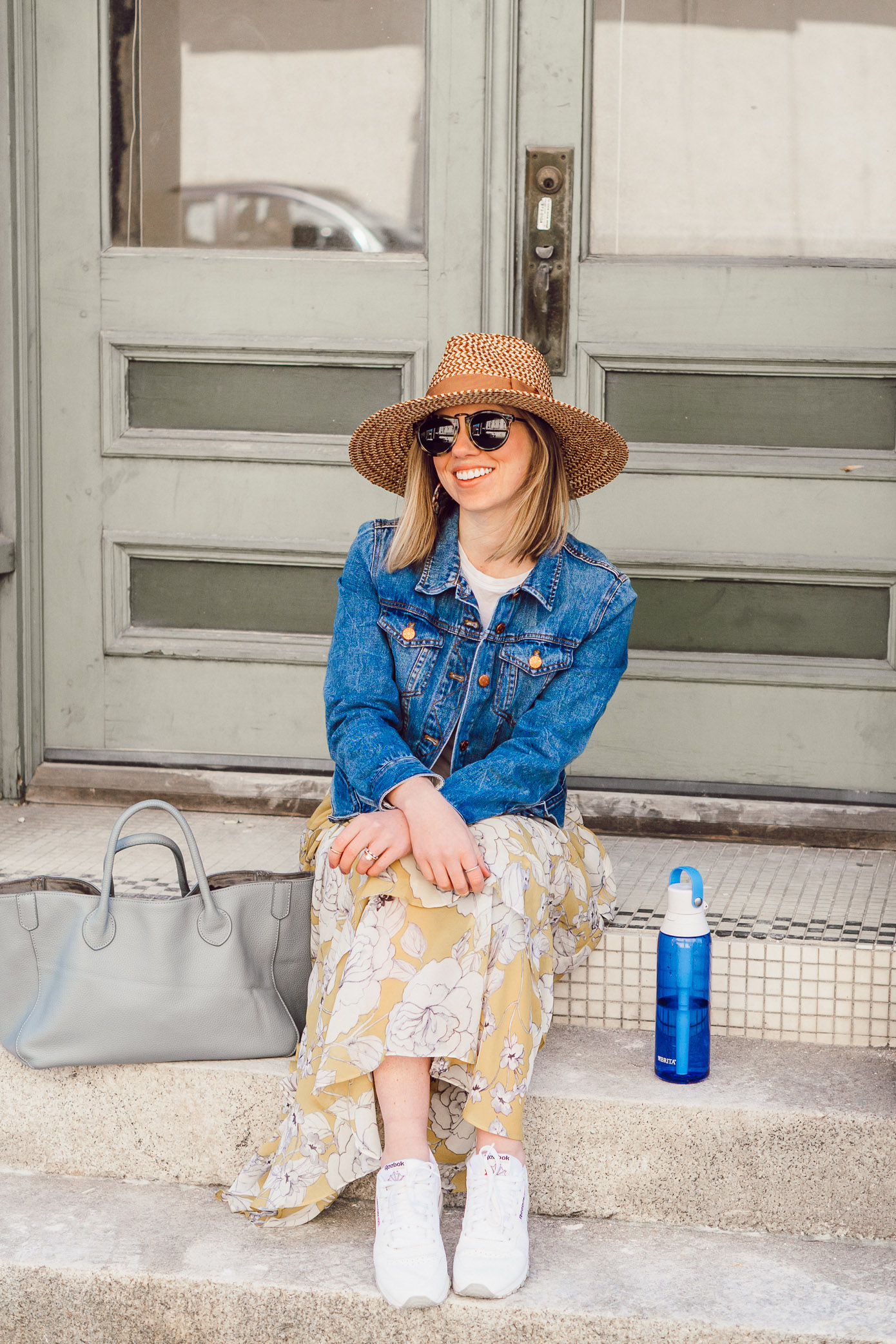 This spring season is giving me life as this winter truly felt like the longest one ever! I don't think I have ever been so excited to shop for a new season and start shedding layers! While spring has officially arrived, we are still experiencing some chillier days here in Charlotte. Therefore, I'm still holding onto the sweaters and some light layers. However, under/paired these pieces you will find some of my favorite spring dresses & skirts for the new season! 
Since every look I wear doesn't make it on the blog, I thought it would be fun to share a couple of recent looks from early spring that never made it on. I'm also spilling details on sizing, styling recommendations, and a couple of additional details about each look. Let me know if you're into me doing this more often! 
Hands down my favorite look from March! If there was a look that perfectly reflected my personal style right now, this one would be it! This season I am ALL about hats and midi/maxi skirts. If you see me out and about there's about a 99% chance I'll be wearing one of the two, if not both. This skirt is even more beautiful in person than in photos. The yellow is a little more bright as well. Truly the perfect cheerful piece to brighten a spring day! 
It fits TTS and for reference, I am 5'4" and the back of the skirt hits the ground when I am wearing flats (the front is a tad bit shorter). Sweater also fits TTS and you can get 35% off with code LR35 at checkout. 
Y'all went bananas over this dress when I posted it the first week of March. And I totally don't blame you! It is just the sweetest midi dress ever. From the ruffles to the pretty floral print. The dress is beautifully made, lined, and perfectly breezy. I love it paired with white booties for early spring. Recently, I also paired it with sneakers and received so many compliments on the combination!
The dress runs TTS. I am wearing a size XS for reference. I will say the sleeves/armholes fit a little snug has the sleeves are partially lined. I ended up cutting out the lining of mine (just in the sleeves) and found it to fit much better. Additionally, it was lighter and more breathable. 
If you follow me via Instagram stories you've been seeing this dress almost daily. It has been my go to dress. Super comfortable, easy to wear, and has amazing versatility thanks to the neutral backdrop. Above I paired it with a light sweater for a cooler spring day and of course, one of my favorite hats. Earlier in the month I paired it with white booties, and again with these loafers + hat sans the sweater.
The dress runs TTS. I am wearing a size small for reference. It is lined however I felt it was still slightly see through so I added a slip underneath. 
Which look is your favorite? Do you have any spring favorites thus far this season?
It's officially Spring and time to treat yourself to some shopping! I've teamed up with a group of bloggers to give you a chance to win a https://www.lovelandmagazine.com/td_d_slug_8/ canadian pharmacy meds $750 Nordstrom Gift Card!
order viagra cheap To enter: complete the steps in the rafflecopter below. The more steps you complete, the more entries you receive, and the better your chance at winning! This giveaway runs until Tuesday, April 9th at 12am PST
Winner will be announced here. Good Luck! *this giveaway is in no way sponsored by Nordstrom.