Sharing everything we did, ate, visited, watched, and more in a May 2019 recap!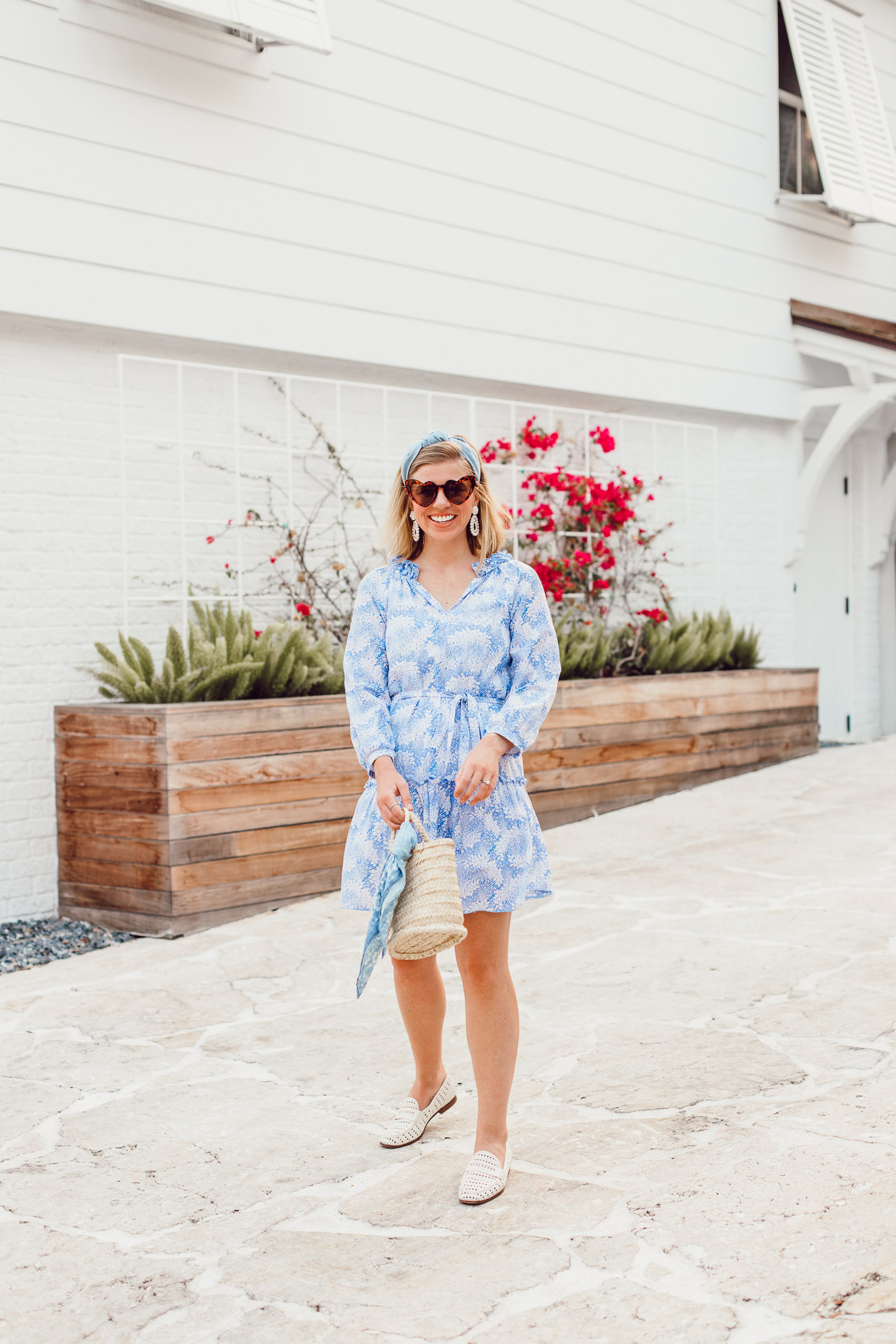 WHAT I BOUGHT
R.Vivimos Long Sleeve Floral Print Maxi Dress
Madewell Polka Dot Bandana
Madewell Floral Bandana
Birkenstock Arizona Big Buckle Sandal
FOR THE HOME
Only flowers this month.
WHERE I WENT
Oak Island, NC – My aunt and uncle rented a beach house in this charming NC coast beach town for a full week. And we were lucky enough to spend a full weekend there visiting with them and soaking in some beach time. This was our first time visiting Oak Island and we were both very impressed. It is the perfect beach town to rent a home in if you're looking for a very laid-back, relaxing experience. Which is what Joshua and I are all about when going to the beach. The home my aunt and uncle rented was absolutely precious – here is the listing for it if you'd like to check it out to rent!
Atlantic Beach, FL – We FINALLY made the drive to Atlantic Beach to see some of our sweet friends. They had been asking us to come for probably over a year and when we had no plans for the long Memorial Day weekend we decided it was the perfect opportunity to do so! We spent ALL of Saturday and Sunday on the beach soaking up as much sun and salty beach air we could. As well as explored the Atlantic Beach area a bit – dining at a few restaurants, visiting the fish market, walking around the little beach shopping/dining area, and hit a few shops. It was a lot of fun and great to catch up with our friends!
MOVIES WATCHED
Green Book – AMAZING MOVIE! An absolute must watch in my opinion. It is available on-demand right now as well as at the RedBox. The dynamics of the two main characters is incredible – both actors played their roles to perfection. You laugh, feel angry, want to cry, and end with a smile. Truly one of the best movies I have seen in a long time. A good movie to watch this weekend with your better half or with family.
The Upside – Another amazing movie! This month we really got it right with our movie selections haha. Kevin Hart played a very different role in The Upside – not his typical crazy, funny, goofy character. He was still very sarcastic and humorous but there was a tough edge to him we haven't seen before. Definitely liked seeing him in this type of role – a little more serious. As with the Green Book, the dynamics of the two main characters is everything. Couldn't recommend it more!
RECIPES TRIED
With this month being so busy, I really did not play around with recipes too much. I have come up with a really yummy overnight recipe though. I will be sharing that here on Louella Reese soon – stay tuned!
WHERE WE ATE
The Pickled Peach – My FAVORITE casual dining spot in the Charlotte area. It is actually located in Davidson which is just a short drive from Charlotte so we're calling it the Charlotte area. The atmosphere is adorable – very well thought out and filled with character. While the food is incredible! For the most part, everything is very healthy and locally sourced. They offer several vegan and gluten-free options as well. And y'all they have the BEST white bean hummus sandwich that comes with either fresh mozzarella or avocado, spinach, and balsamic reduction on grilled sourdough. Oh it is so good! As well as, homemade oatmeal cookie sandwiches. Last time we went they were sold out and I literally almost cried. I had been dreaming about it for weeks! So I'm already pestering Joshua to go back!
Hello Sailor – A super fun, Instagram-worthy restaurant on Lake Norman. We dined here for Mother's Day brunch with Joshua's parents. And y'all Hello Sailor brought their A-game! There were so many tasty dishes, sides, desserts, and more. Basically everything you could think of for brunch was there! The absolute best being the milk bread French toast – WOW is all I have to say. Well that and you need to plan to go there next year for Mother's Day brunch!
FAVORITE BLOG POSTS ON LOUELLA REESE
Readers Favorite: My Everyday Look with Scalloped Hem Jeans
My Favorite: Celebrate Warm Temps on Charlotte's Best Patios
FAVORITE BLOG POSTS
My Veuve Clicquot Polo Classic Outfits & What You Should Wear – The Champagne Edit
My Favorite Chopped Salad + Healthy Lunch Ideas – Hello Adams Family
Our Entryway Design Reveal – Glitter & Gingham
DIY Bug Spray – Pure Joy Home
FAVORITE SONG
Whiskey Glasses – Morgan Wallen
WHAT I WATCHED
Joshua and I finished up Designated Survivor. We both really loved it! A great series to watch for both parties. I also started watching Dynasty on Netflix and cannot get enough of the character Fallon. She is such a hot mess and so incredibly entertaining! Riverdale season three has hit Netflix so I will definitely be jumping on that ASAP! Cannot wait to see my Jughead haha.
FAVORITE FINDS
the cutest boxy crochet mini tote that comes in four different colors
a knotted denim headband just like my favorite one I where ALL of the time – worn above and last styled with a floral tee & denim
my all time favorite loafers back in stock (limited sizes) in three colors and on sale – last styled with a striped tee & yellow midi skirt
the most perfect fray boater hat you ever did see
FITNESS UPDATE
Still following FASTer Way to Fat Loss and have finally been able to get back to doing leg workouts. I am still only doing one a week + normal cardio. Hopefully building up the muscle around my knee more to get it ready for full on leg workouts (2-3 a week). My macros were a little all over the place this month as well due to two trips and LOTS of blog events. Hoping to get back on track regularly this month. I'm still maintaining the weight and clothing size FWTFL brought me to but feel if I get back to regular tracking, I drop a few more inches and tone up more! If you're interested in finding out more about FWTFL you can read about my FWTFL experience, FWTFL vs. BBG, and low carb day tips/recommendations – all on my health & fitness page. More recipes coming in June as well!
Thanks for reading my May 2019 Recap. Take a look back a previous monthly recaps here.