Bring on all of the casual vibes for summer! Sharing some affordable casual summer style with Versona today. Including adorable straw bags under $25.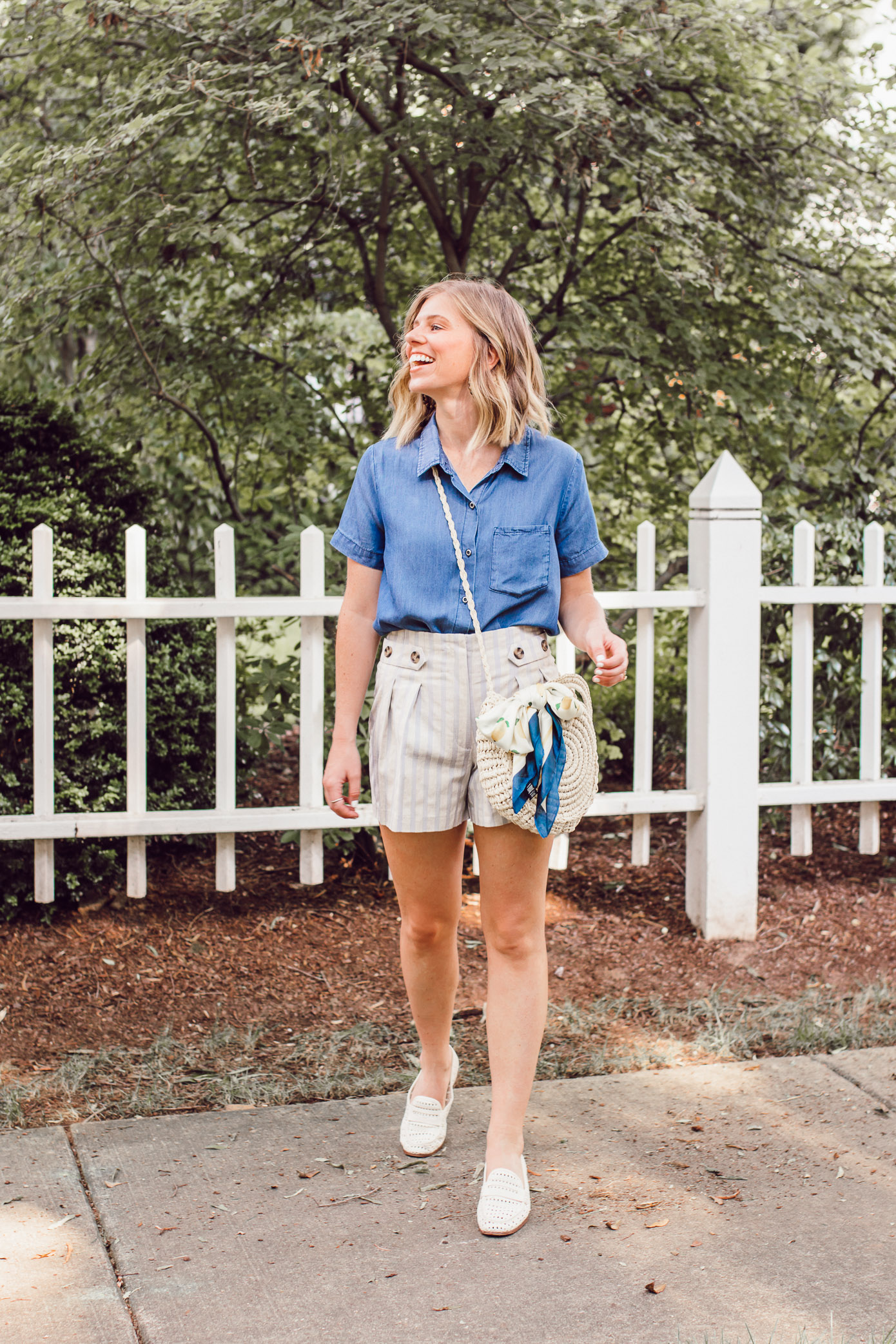 Back with a styled post after what seemed like forever! Took a little styled post hiatus to share a variety of posts – hope y'all enjoyed that switch. But also, super excited to get back to sharing some summer looks. Today, I'm sharing an easy casual look perfect for wearing on your next vacation or this coming Saturday when you visit your favorite brewery or head out to the U.S. National White Water Center for River Jam.
I had been wanting a short sleeve chambray button down shirt for years but had been unable to find a reasonably priced one that was great quality, lightweight, and comfortable. Finally, I found one at Versona and it checks every box y'all! If you've been on the search with me, I highly recommend scooping this one up before it's gone – at under $30, I'm sure it isn't going to last long! 
To keep the casual vibes going, I added these stripe linen shorts (under $25). Are they not so stinking cute?! Lightweight, comfortable, and adorable. A total win!
Keep reading for more casual picks from Versona plus tips on how to style and put together casual looks for summer…
Casual Summer Style WITH VERSONA
Summer is all about casual style to me. Whether you're at the beach, cruising around the lake, visiting your favorite brewery or exploring a new town. Being casual and comfortable is a must! Sure I love to throw on a summer dress at times but a great pair of shorts and easy top is a classic summer combo. One that works for so many occasions and keeps you ready for being on the go. 
So I'm excited to be partnering with one of my favorites, Versona, to share some affordable casual summer pieces that'll keep you feeling cool and comfortable!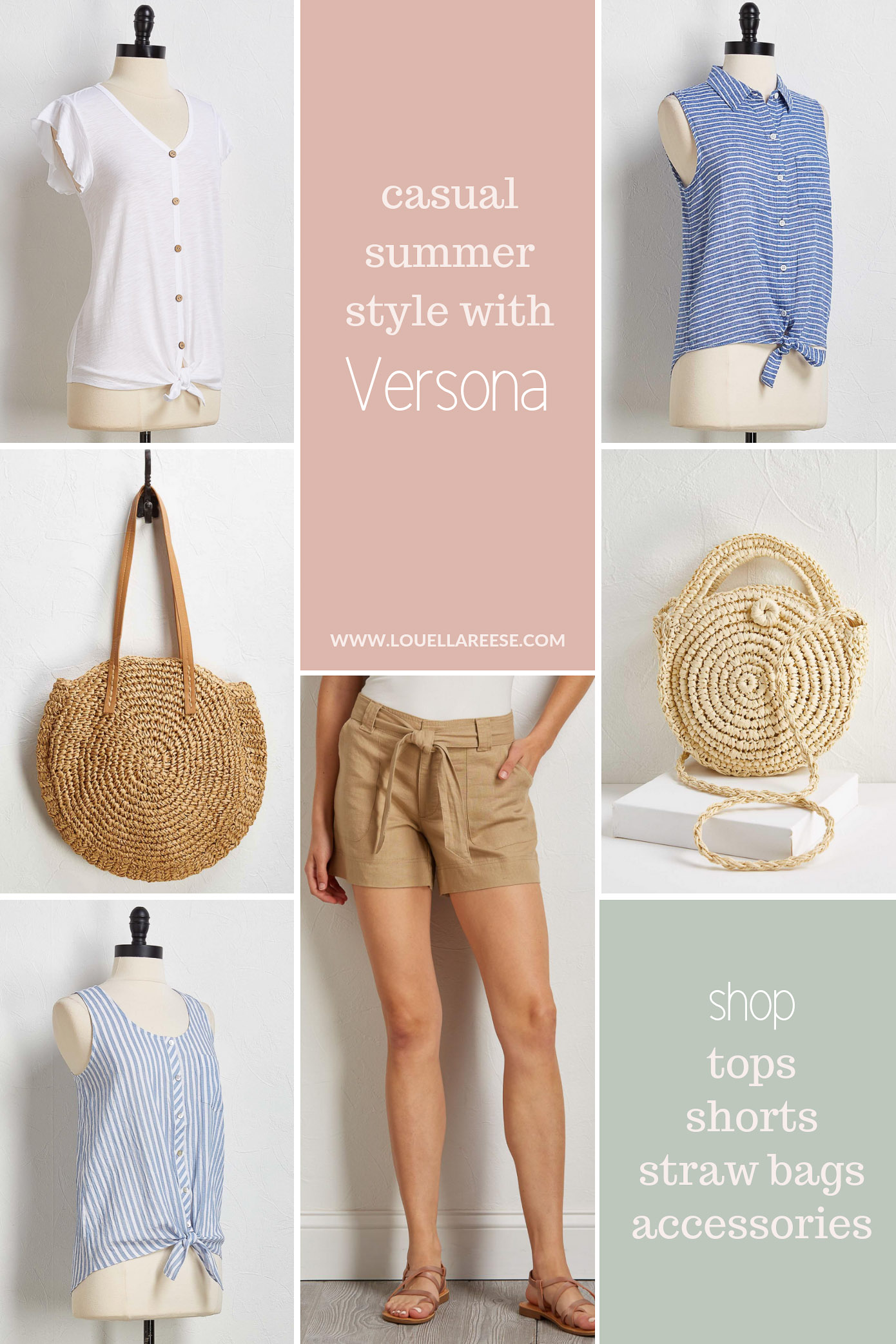 Casual Tops
Casual tops are probably the number one must have piece for your summer wardrobe. You'll wear them to every spot/activity mentioned above plus so many more. For me, I typically opt to purchase several white ones – that way they'll go with everything. Not to mention a white top instantly gives off summer vibes. 
Additionally, I love picking up a few in my favorite pattern + color combination – blue and white stripes. My recommendation is to do the same. Pick tops in your favorite color that you'll be able to pair with several of your favorite bottoms. Opt for solids or play with stripes or polka dots – they're the easiest to pattern mix with. 
My Versona Favorites: knot front white tee, linen stripe tie tank & stripe button down tank
Casual Straw Bags
Straw bags is a trend that is going nowhere fast. Having a casual version of the trend is a must. One that you can throw on and go. While being able to carry everything you need – no micro bags for everyday! 
A cross body or larger tote you can throw over your shoulder would be my top recommendation. Both are easy, typically very light, and give you the ability to carry everything you need. 
My Versona Favorites: round packable straw tote, metallic straw crossbody bag, & tasseled round jute bag (on sale, under $17)
Casual Accessories
With summer comes the blazing sun! Why not protect your face + eyes while looking cute with an adorable baseball cap. The perfect casual summer accessory to add to your look. 
My Versona Favorites: dog mom baseball cap & state baseball cap
Casual Shorts
I've never been a real shorts gal. However, the high-waist trend has totally changed that for me. Especially when the shorts are paper-bag style or offer a little more space around the thighs. Praise this trend! Shorts like these are so incredibly flattering while being perfectly comfortable. 
Definitely be sure to add a solid pair to your wardrobe and if stripes is your thing, a pair of those as well! Both look great with button down shirts, tanks, blouses, and simple tees tucked into them. And again, super flattering as they highlight your waist! 
My Versona Favorites: tie-waist utility shorts, scallop chambray shorts, & slimming denim shorts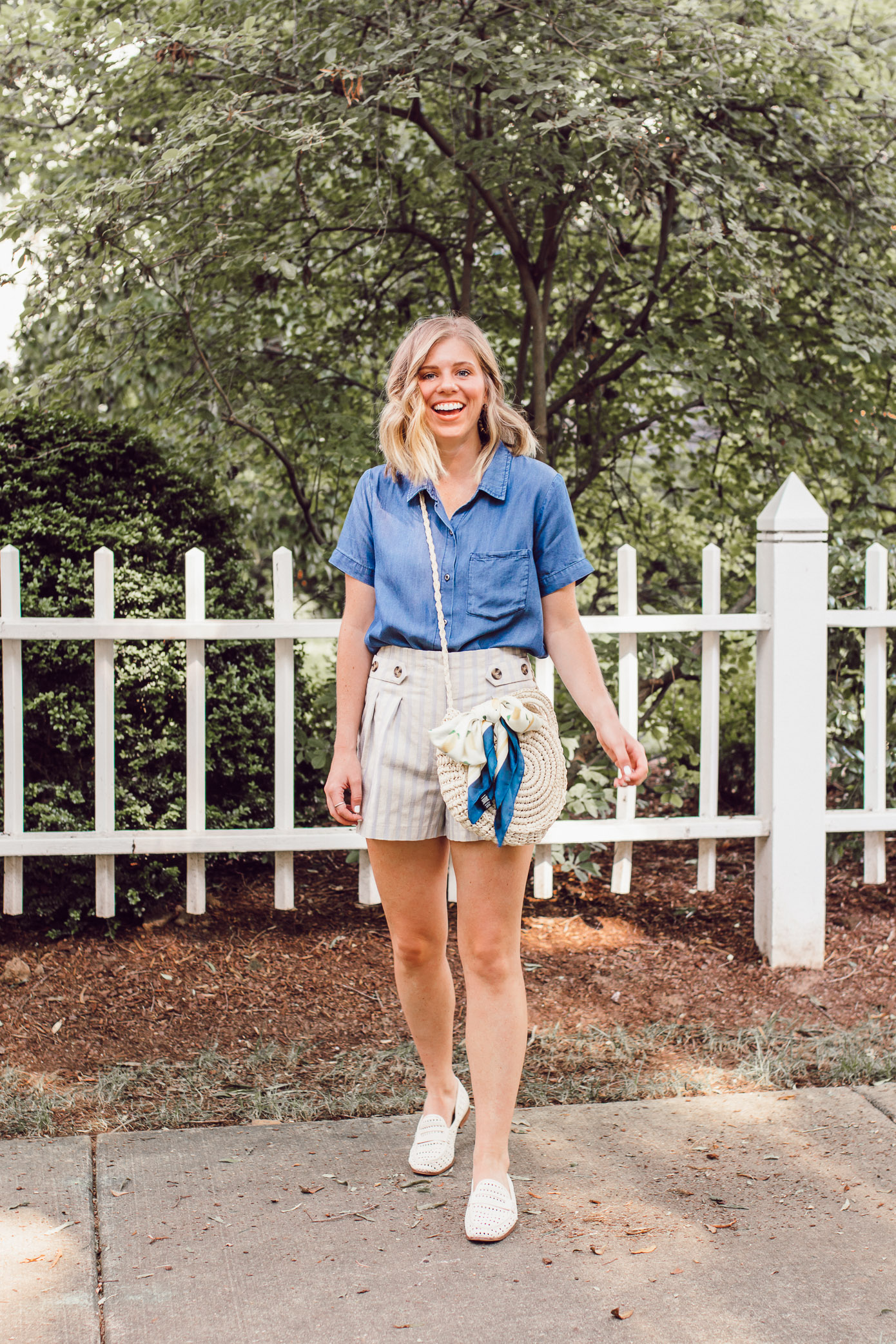 So above I chatted about the base pieces of my look, let's take a second to talk about the accessories! They're kind of the most fun part of the look, after all! To keep the look easy and functional for walking around, I added this lightweight straw cross-body bag. Seriously the lightest bag ever and will carry everything you need. Another plus, it has a zipper across the top – don't have to worry about your things falling out of this one! 
And to finish of the look, the cutest lemon scarf you ever did see! Literally couldn't be more in love with lemon print this season and oh my goodness this one takes the cake with the blue border. Adding a little scarf/bandana to your handbag is such a great way to elevate your look and add a little extra personality!
p.s. take a look back at my spring styled post with Versona – it is one of my favorites!
Thank you to Versona for sponsoring this post. All views and opinions are of course my own! Thank you for supporting the brands that make Louella Reese happen!