Spilling all the details about the ultimate puffer coat for winter – trust me, it is a game changer!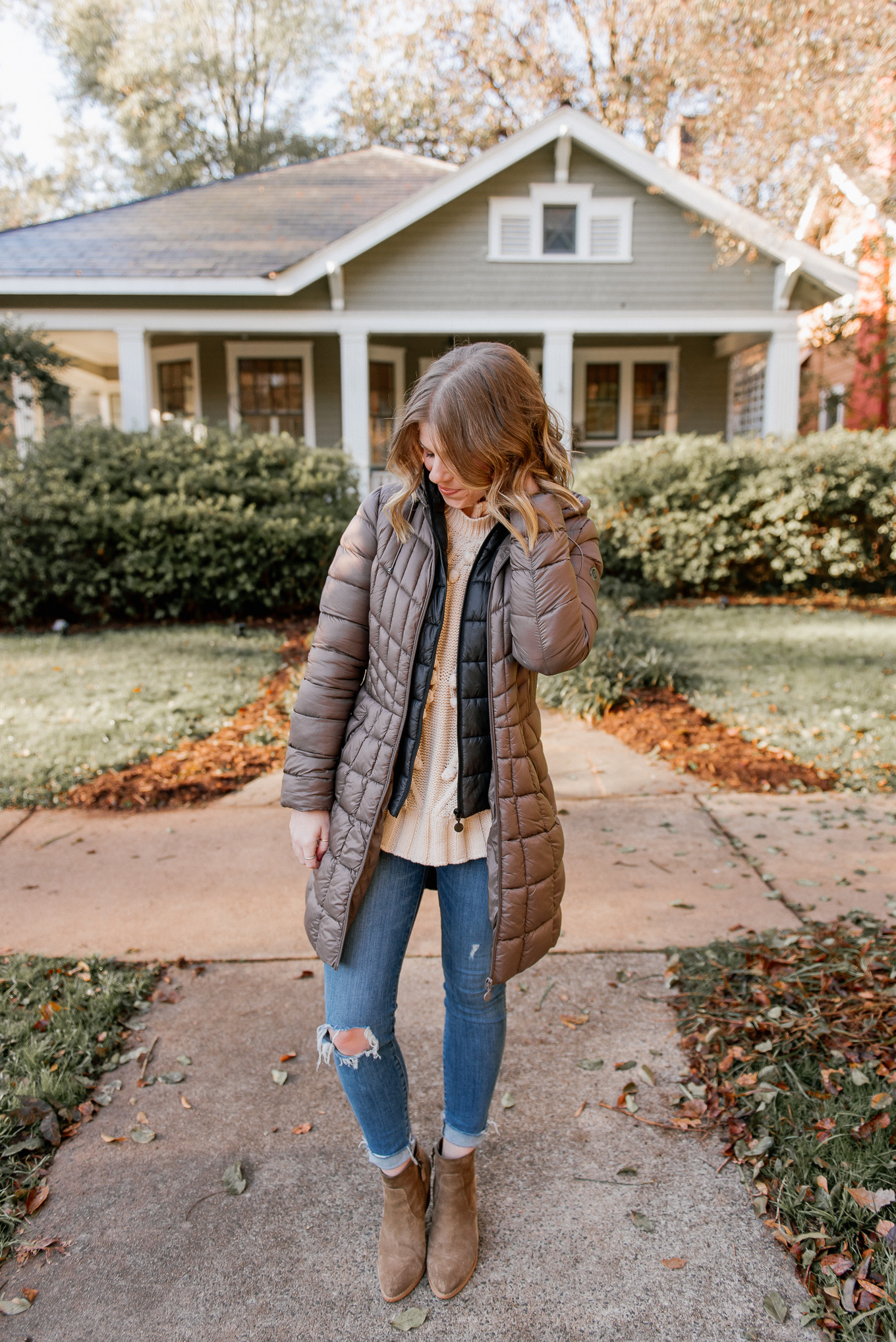 Winter has officially set into to Charlotte. Nights have been in the 30s for almost a week now. With the highs for days somewhere between 45 and 60. Which for us is quite cold! This southern belle requires quite a few layers and warm coat for temps like these! Are you with me on that? If so, I have a recommendation for you! Get yourself a puffer coat. A game changer for the always cold! Specifically, buy a the ultimate puffer coat filled with EcoPlume™. 
What the heck is EcoPlume™ you ask? It is cruelty free insulation. The insulation is made from 100% recycled plastic bottles. 1kg of EcoPlume™ filling is made of 40 bottles in size 500 ml. AND is recyclable after it has been used. How cool is that? 
Additionally, this insulation is Bluesign® approved. Meaning it is a system that provides safer and more sustainable environments for people to work in and everyone to live in. Bluesign® traces each textile's path along the manufacturing process, making improvements at every stage from factory floor to finished product. Even further, Ecoplume™ is GRS certified (Global Recycled Standard). The standard applies to the full supply chain and addresses traceability, environmental principles, social requirements and labeling.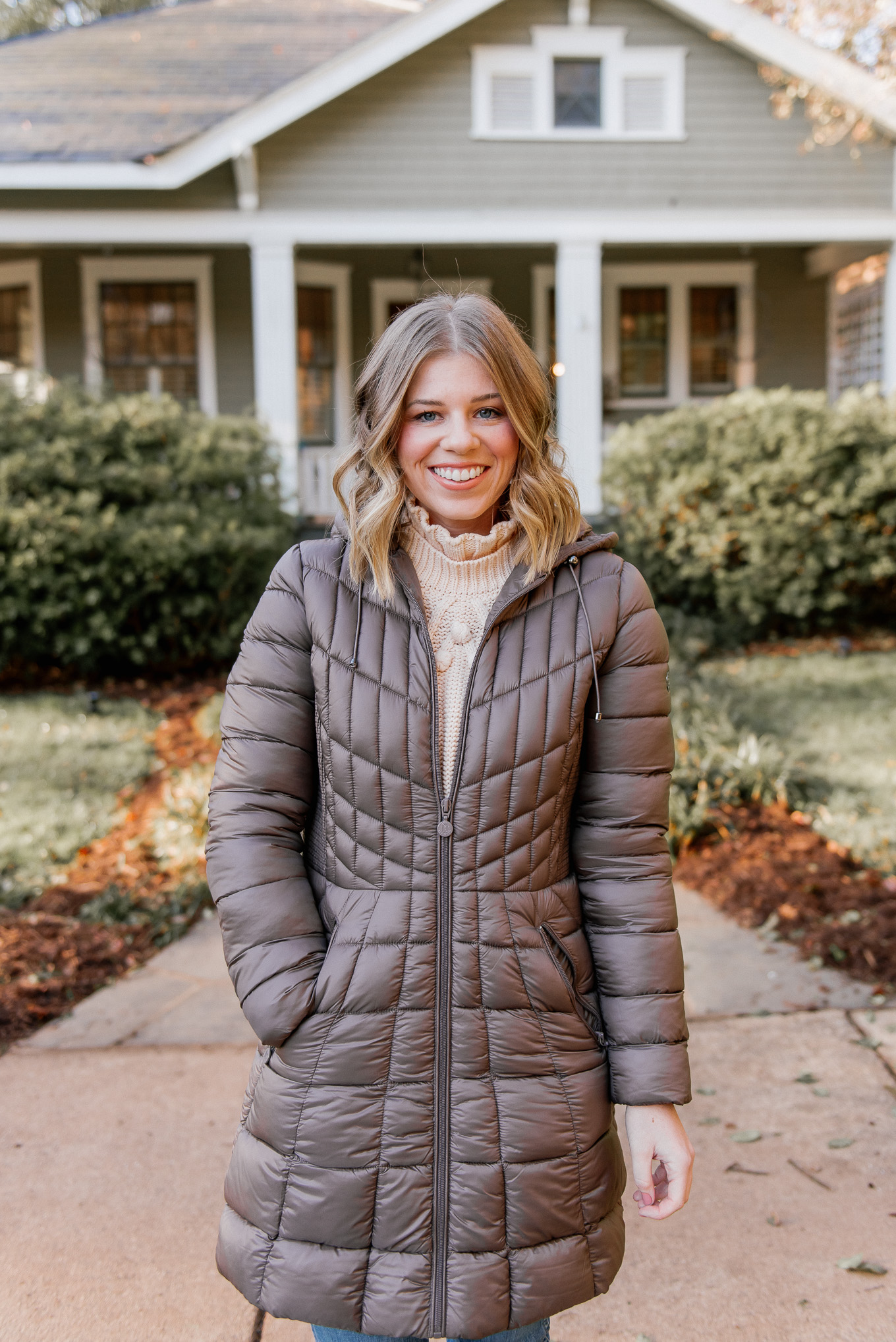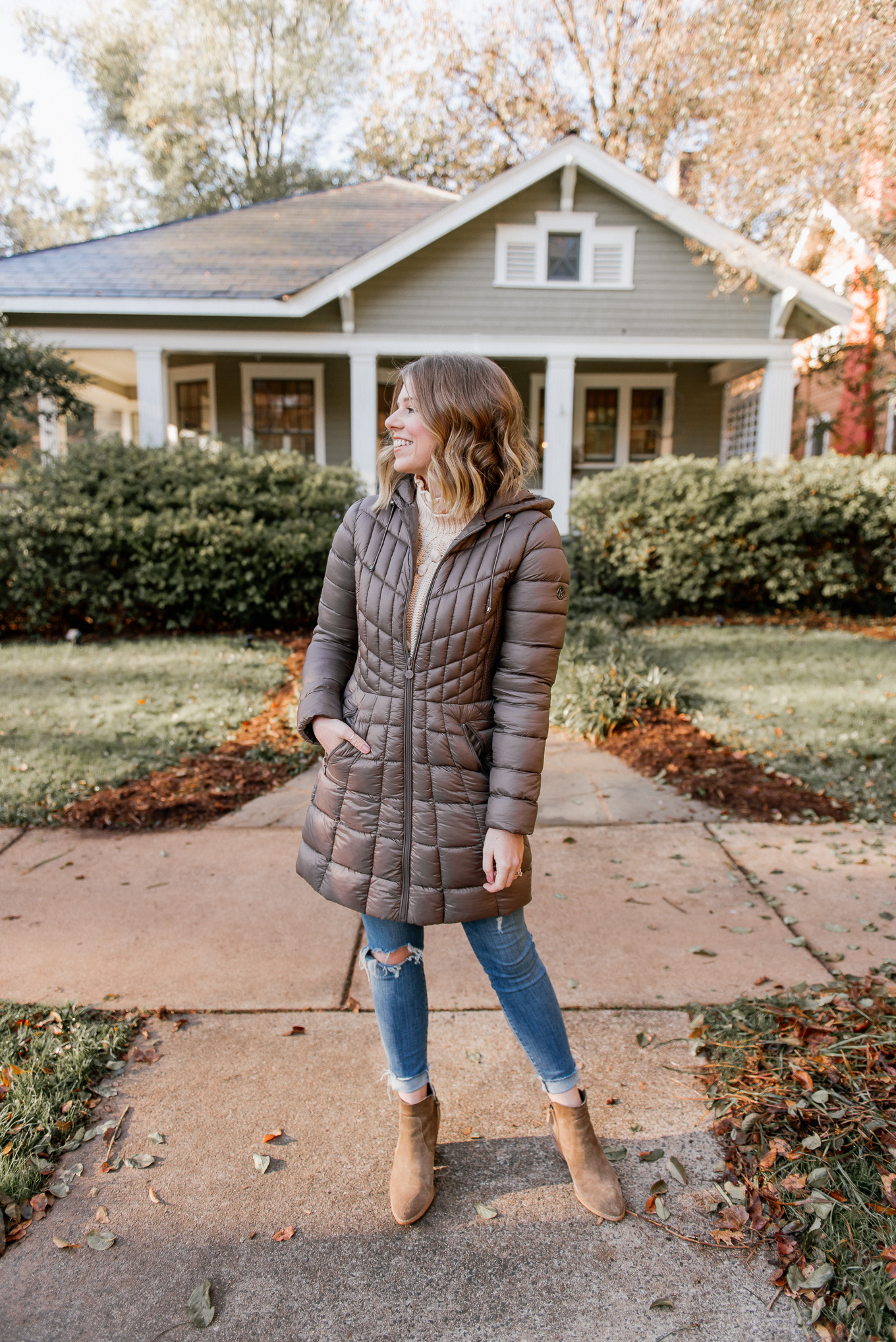 Impressed? I know I am! So when I say ultimate puffer coat I don't only mean for warmth but also for our environment. By purchasing an EcoPlume™ puffer coat vs. a traditional one you're taking steps to do better for our environment! So you get to be warm, stylish, AND environmentally conscious – a three in one deal!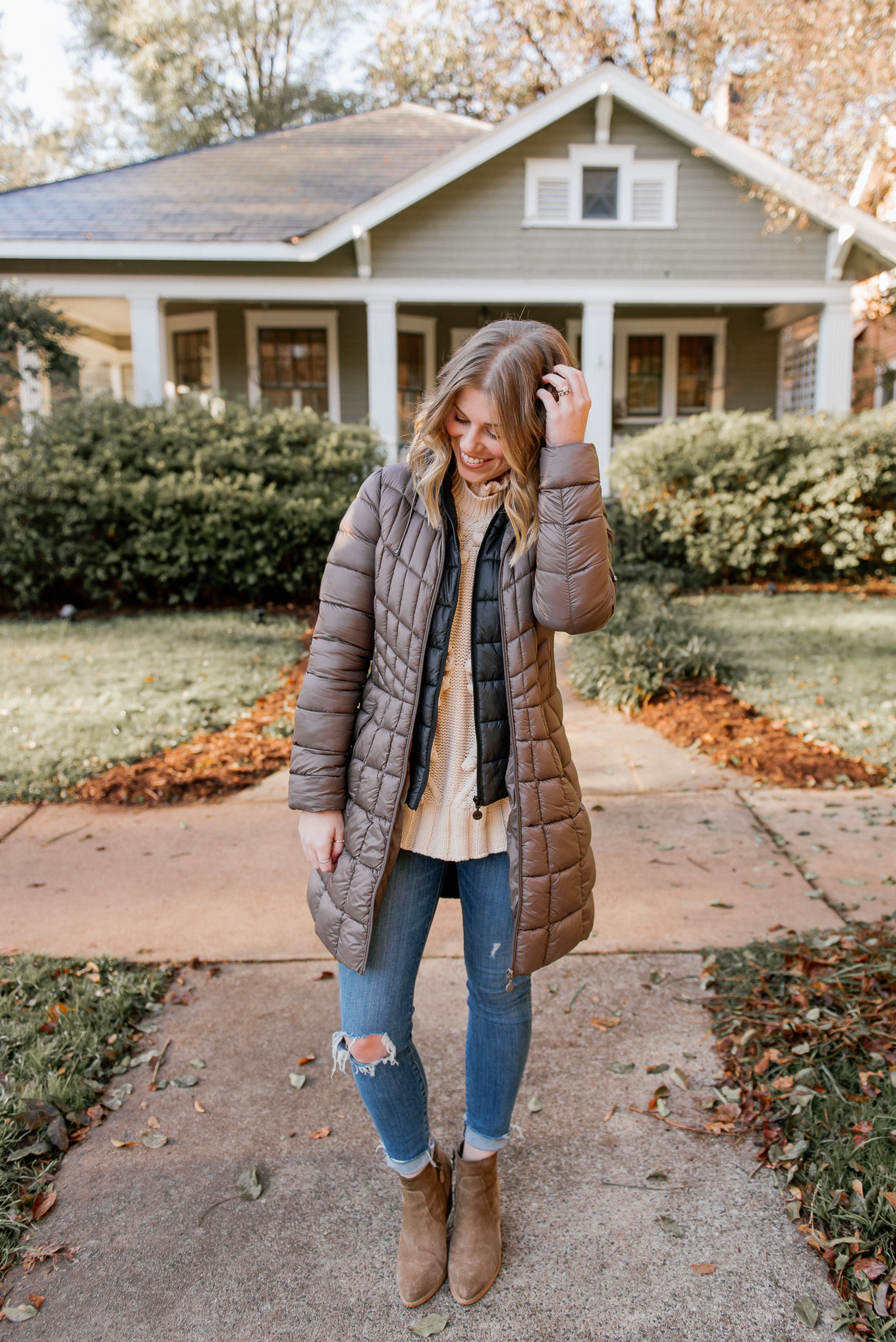 My top recommendation and the newest addition to my closet, the EcoPlume™Bib Hooded Walker from Bernardo. I recently chatted about Bernardo being my favorite place to shop for affordable quality coats and quite honestly I am hooked on them! After adding the Ecoplume™ Fitted Packable Coat to my fall wardrobe I wanted a longer version for the winter season and the EcoPlume™Bib Hooded Walker fit the bill perfectly! This coat is lightweight yet extremely warm! It offers the same fitted flattering silhouette as the Ecoplume™ Fitted Packable Coat while having the additional feature of a bib that zips out for the look of two jackets in one! 
Rather than going with my typical blue (mood indigo) I switched things up with their Antique  – a great neutral color. The coat is also available in berry jam (red) and black. A couple of additional features to mention, the drawstring hood and the fact that it is water repellent. Making it the quintessential coat for unpredictable weather aka winter! 
If you're in the market for several coats or a different style, a few of my other favorites include the Ecoplume™ Printed Jacket (love the floral, leopard available too), Ecoplume™ Soft Touch Block Quilted Walker, and Ecoplume™ Tie-Dye Printer Packable. FIY everything on their site is up to 50% off right now!
Thank you to Bernardo for sponsoring this post. All views and opinions are of course my own. Thank you for supporting the brands that make Louella Reese happen!