Sharing my February 2020 recap – including LOTS of new purchases, a movie you MUST watch, and my new favorite restaurant in Charlotte!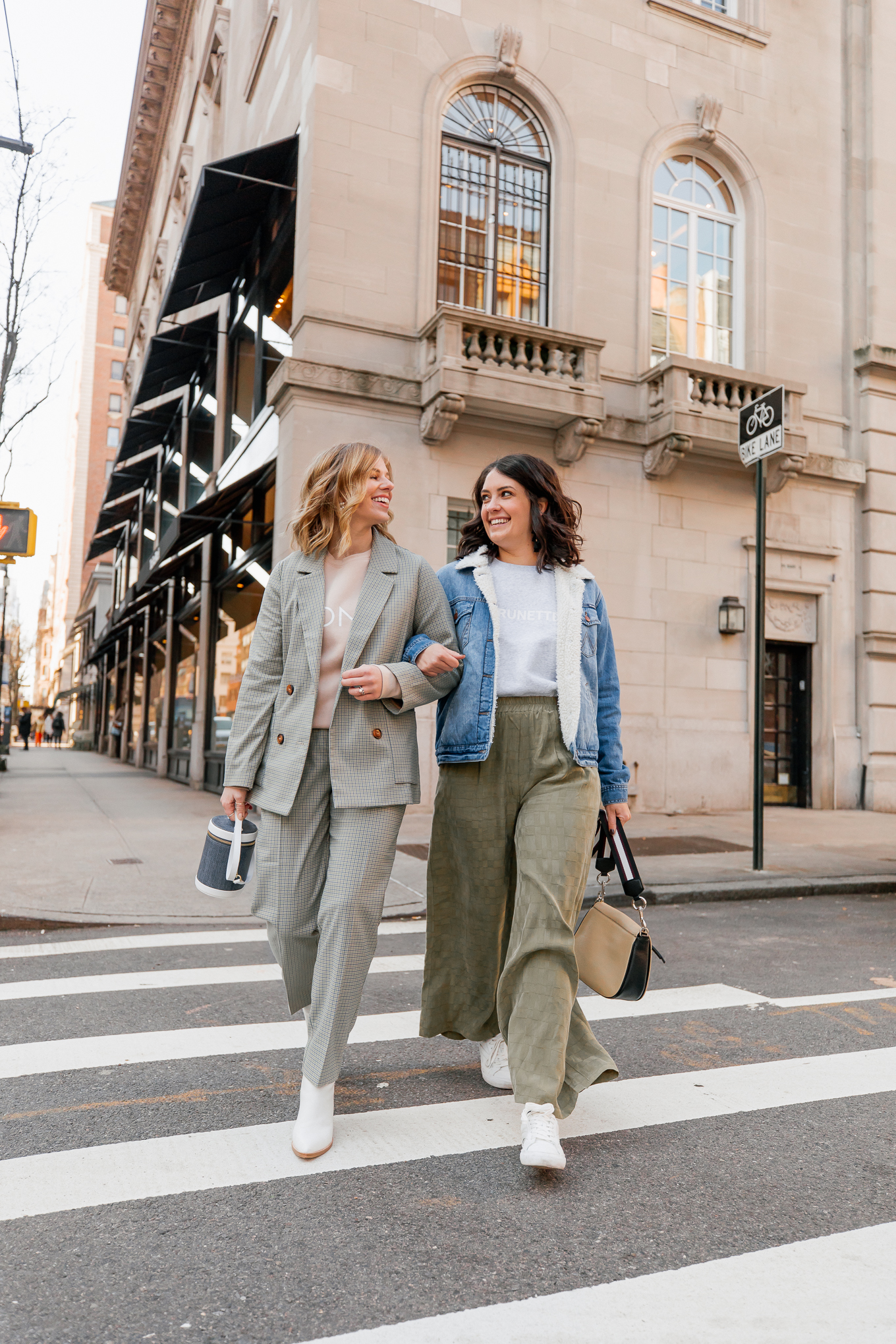 February 2020 Recap
WHAT I BOUGHT
Puff Sleeve Sweatshirt (styled here)
Everlane Straight Leg Pants (styled here)
Green Plaid Double Breast Blazer
Green Plaid Tapered Pants (styled here)
Green Puff Sleeve Maxi Dress (styled here)
Denim Midi Shirt Dress (styled here)
Green Faux Fur Coat (styled here)
Blue and white striped one piece
Navy and white off the shoulder high-waisted bikini set
Blue scallop high-waisted bikini set
Smocked high-waisted bikini set
FOR THE HOME
Bench for dining table
Cushion for bench
Several items for our kitchen c/o of Joss & Main – see all in this post
WHERE I WENT
New York, New York – Morgan and I headed to NYC for our third season of NYFW. We had a jam packed schedule of meetings, showroom visits, presentations, and media meals. It might have been our best year yet! Minus all the rain we had the first two days! Plus Sunni joined us – which was so nice!
Memphis, Tennessee – Currently in Memphis for the first time ever with Pettigrew Adventures! So excited to explore this blues town with 9 other blogger gals! I will be putting together a travel guide shortly after the trip so be on the lookout. And if you have any Memphis recommendations be sure to shoot me a DM on instagram. I'll be there through Monday.
MOVIES WATCHED
Ford v Ferrari – Joshua and I both absolutely loved this movie! We agreed it is the best we have seen in a very long time and both don't understand why it wasn't up for more awards during award season – the movie overall and the incredible actors. While joshua and I are both racing fans, I don't think you need to be one to enjoy this movie. In fact, on Rotten Tomatoes 98% of viewers gave the movie a positive review. Which is a pretty big deal! A great movie for date night in.
RECIPES TRIED
With all the travel no new recipes were tried! Hoping to really spice things up in the kitchen in March with several new recipes. As well as finding a few healthier alternatives to some favorites. Will keep you posted!
WHERE WE ATE
JP Charlotte – Joshua and I had the opportunity to try out JP Charlotte last weekend and wow! We had quite the meal and such a wonderful experience. The staff at JP Charlotte could not be any sweeter! We indulged in anson mills cornbread skillet, local daily greens salad, shrimp & NC stone ground grits, grass-fed 18oz ribeye steak, pork mac & cheese, banana pudding and cookies & milkshake. We basically rolled ourselves out of there! My favorites: anson mills cornbread skillet, shrimp & NC stone ground grits, and YOU HAVE TO GET the cookies & milkshake – literally my ideal dessert – it was incredible!
Indaco – OH MY OBSESSED! Indaco is my new favorite restaurant in Charlotte. My mom and I actually dined at their Charleston location around this time last spring. We both absolutely loved it! We definitely ranted and raved about it to every one that would listen to us. So to say we're excited to have Indaco in Charlotte now would be a huge understatement!
Joshua and I had an amazing meal here the week after Valentine's Day and couldn't have loved everything they presented to us more. We tried the focaccia, burrata, fried artichokes, black pepper fettuccine, keegan filion farms pork, tiramisu, and apple crost. We truly loved everything but if I had to pick a few favorites/top recommendations I would say the foaccia, fried artichokes, black pepper fettuccine, and tiramisu. Fun fact, I have never liked tiramisu until trying Indaco's version of the traditional Italian dessert. Now I am hooked!
El Valle – our neighborhood mexican restaurant. We basically go here once a month. We're both completely obsessed with mexican food and El Valle never disappoints. Plus it's quite cheap – so a total win!
FAVORITE BLOG POSTS ON LOUELLA REESE
Readers Favorite: Ultimate Guide to Low Carb Days
My Favorite: Having a Gossip Girl Moment in NYC
FAVORITE BLOG POSTS
Everything New From February – Hello Adams Family
Homemade Chicken Soup – Pure Joy Home
Five Reasons You Should be Doing Yoga – The Champagne Edit
How Changing My Eating Habits Helped with My Anxiety – Southern Pearls & Curls
FAVORITE SONG
More Hearts than Mine – Ingrid Andress
WHAT I WATCHED
Still watching This Is Us, Riverdale, and Dynasty. And still feeling the same as I did last month about all three of them. This Is Us and Dynasty are thriving, Riverdale not so much. We also started watching Deputy – we're definitely hooked as I think we caught up to where the show is now within a week or two.
FAVORITE FINDS
bright blue tote that looks incredibly similar to my favorite beck bag
the cutest polka dot one piece ever that's under $25
the prettiest feminine blouse you've ever laid eyes on
under eye masks that immediately make a difference
FITNESS UPDATE
Still doing FWTL and trying to be a little more strict lately. The holidays and all of the exciting travels definitely had me indulging extra on regular macro days. So tightening things up a bit more and also making sure I get in more weight lifting workouts. Didn't do yoga at all in February but plan to buy a 10 class pass when I return home from Memphis. My hip and knee are definitely feeling the lack of yoga.
Thanks for reading my February 2020 Recap. Take a look back a previous monthly recaps here.