LIKEtoKNOW.iT is an amazing program that generates ready-to-shop links. These links can be sent directly to your inbox or you can manually type the links into your browser. Which ever one you prefer! So you may notice on Instagram links that look like this: http://likek.it/2oVNc (just an example link). Links like this are shoppable through LIKEtoKNOW.it! My favorite part about LIKEtoKnow.it is you're able to instantly find out what I'm wearing and where you can get it. Tell me that's not fabulous! We're all about instant answers right?!
So have you signed up yet? No, well then you need to!! I promise you'll love it + it's super easy!
How to sign up:
First, submit your email to register here.
"LIKE" an Instagram photo that has a LIKEtoKnow.it link in the caption.
Receive ready to shop product links directly to your inbox.
The photo below give you an idea of what the email will look like: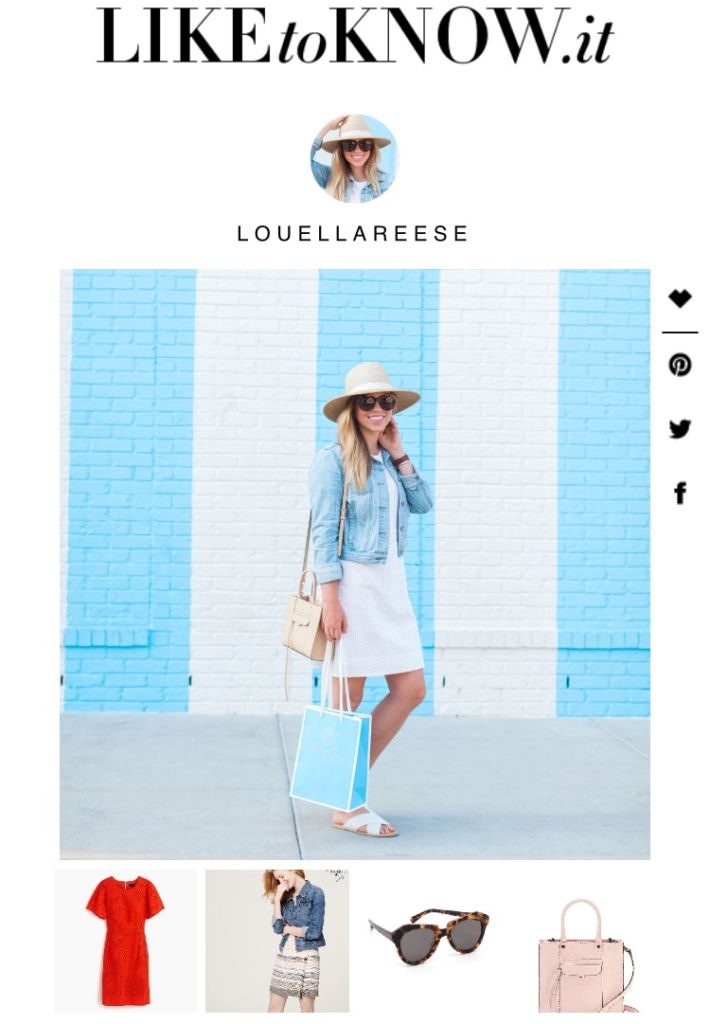 If you want to check out my full LIKEtoKnow.it page you can check it out here or shop my favorites here.
Not a fan of getting lots of emails? I for one totally understand as I am constantly cleaning mine out. LIKEtoKnow.it luckily understands that and has come up with a solution! It's completely your decision how often you'll receive emails. Whether you want to receive them instantly following hitting the "LIKE" button on instagram or only once a week. It's a setting you can choose, so it's totally up to you!
NEW LIKEtoKNOW.it App makes life even easier! This new app gives you the ability to simply shop your screenshots and discover even more ready-to-shop photos.
How it works:
Download the LIKEtoKNOW.it App from the App Store.
Screenshot a LIKEtoKNOW.it App – enabled photo on Instagram, Snapchat, Pinterest, and across the mobile web, and receive push notifications when they are ready to shop.
You can then instantly shop the products featured in your screenshots.
Additionally, from the LIKEtoKNOW.it App app you can discover even more ready-to-shop photos.
You can also find all of your screenshots and likes within the app.
If you have any questions about LIKEtoKnow.it please feel free to shoot me an email at louellareese@gmail.com and I'll be happy to help you out!