Chattanooga, the Tennessee town that stole our heart! Sharing a full recap of our trip and a Chattanooga travel guide for your next vacation!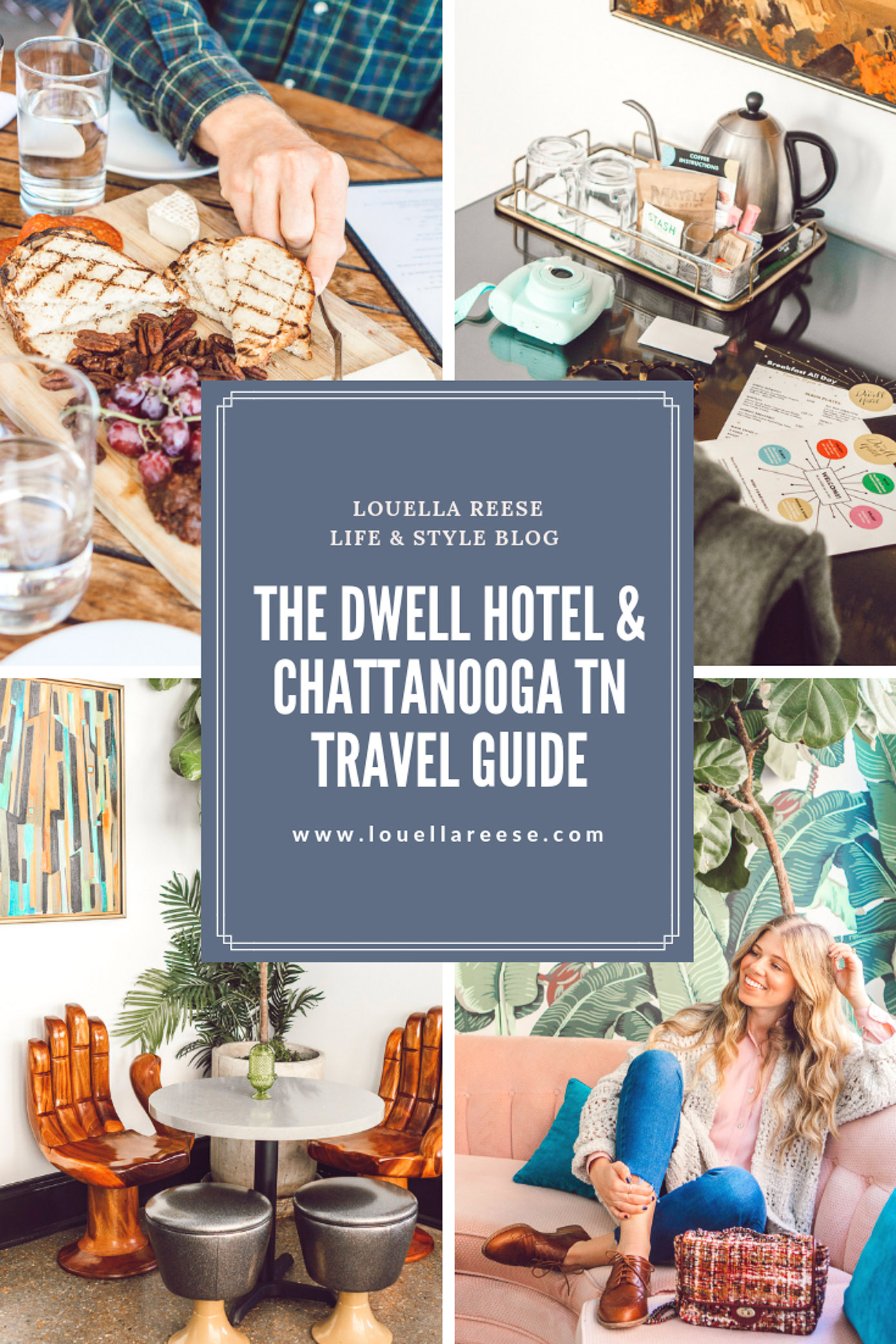 I have been so excited to put this travel guide together for y'all. One so I could relive our anniversary trip and two so I could share such an amazing town with y'all. Hopefully, introducing it to a few of you and convincing the rest of you to plan a trip there stat. 
Chattanooga, Tennessee is just 5.5 hours from Charlotte, NC. I say just because the drive went so fast and was incredibly easy. Also, for a long weekend/four day trip, 5.5 hours really isn't too bad. If you're in Atlanta it's a breeze for you, just under 2 hours. And from Louisville, Kentucky the drive is under 5 hours. Pretty easy all around! 
This Tennessee town is full of character, charm, and so much to see! Definitely a place to plan a long weekend in and stay longer if possible. We stayed for four days and could have easily stayed another. We planted ourselves at The Dwell Hotel in the heart of downtown Chattanooga which made it easy for us to walk to so much and truly explore the area. And now I'm spilling all the details for you to plan a trip of your own…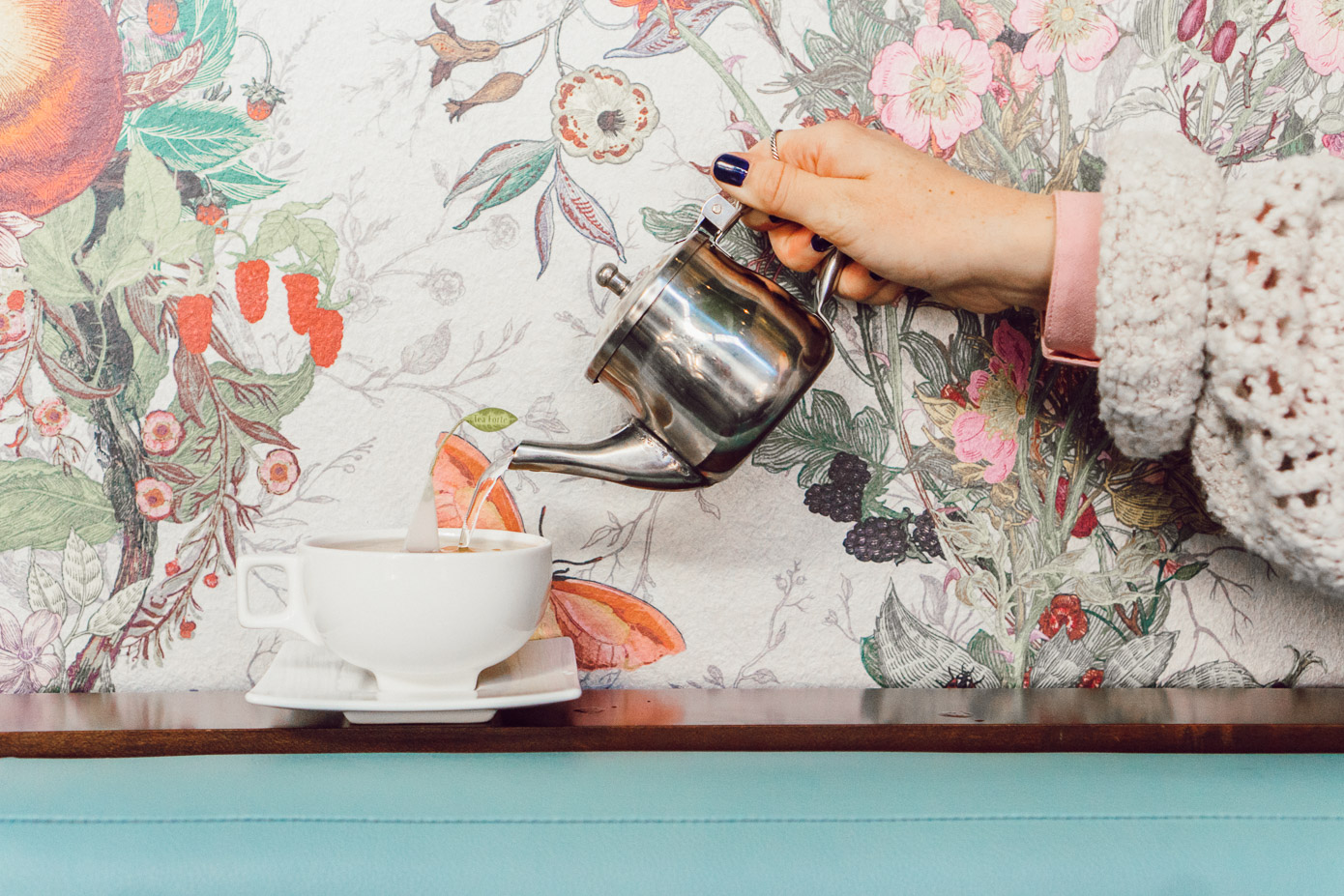 What to Do in Chattanooga Tennessee
Explore the Neighborhoods – Downtown Chattanooga is divided into several neighborhoods. These include Northshore, Riverview, Southside Historic District, Downtown, and St. Elmo. Each of these neighborhoods have a little something different to offer and are all walkable. I mean, you might have to walk a mile or two to get from one or the other but there's lot to look at in between. Our favorites were Southside Historic District, Downtown, and Northshore. 
Go for a Hike – Joshua and I did this on our second day in Chattanooga. Which also happened to be the most beautiful day we were there. We hiked just under two hours and soaked in a lot of beautiful scenes. The trail we went on was a little more adventurous then we had planned but we loved it. It was a fun experience and a great workout! We ended up taking about 9,000 steps during the hike. 
Find out more about the hiking trails and which one would be best for you on Roots Rated.
Brewery Hop – Chattanooga has a pretty great brewery scene. Up and coming for sure! While we only had the opportunity to visit a few, they were all pretty great. Our favorite was definitely Heaven & Ale Brewing. We loved the atmosphere and both really enjoyed the brews we picked. 
Others we recommend or were recommended to us: Hutton & Smith Brewing Co., Chattanooga Brewing Co., and Naked River Brewing.
Shop – Each Chattanooga neighborhood offers a variety of shops. From home decor to clothing to gifts. I highly recommend popping into most of them. They are filled with local fare, beautiful antiques, and so much more! Even Joshua enjoyed stopping in a few of them. 
Visit the Aquarium & Museums –
Tennessee Aquarium – While we didn't end up having time to visit, the Tennessee Aquarium is a must see. I actually visited in my early teens and was in heaven! The aquarium is home to sharks, otters, butterflies and penguins as well as 10,000+ other animals in two separate buildings located on the Chattanooga waterfront. We will definitely visit on our next trip! 
Hunter Museum of Art is built on a ninety-foot limestone bluff overlooking the Tennessee River – it is absolutely beautiful! The museum is comprised of a 1905 classical revival mansion, a low-slung 1970s building and a 2005 contemporary structure. It is pretty interesting to see the three right next to one another. Hunter Museum of American Art showcases 100 years of architecture and houses the finest collection of American art in the Southeast. 
Walk & Bike – There is so much to see in Chattanooga that it's hard to see it all in a long weekend. We were there for four days and still feel as though there is SO much we didn't see. But to try and see as much as we could, we walked or biked everywhere. Which meant we 100% hit our 10,000 steps each day (hit 20,000 one day) and could indulge when it came time to eat! 
For real though, I really do recommend walking as much as you can or using the city bikes. We used them one afternoon to explore the Bluff View Art District and also cruise along the trails there too. There were some beautiful river scenes to stop and soak in along the way.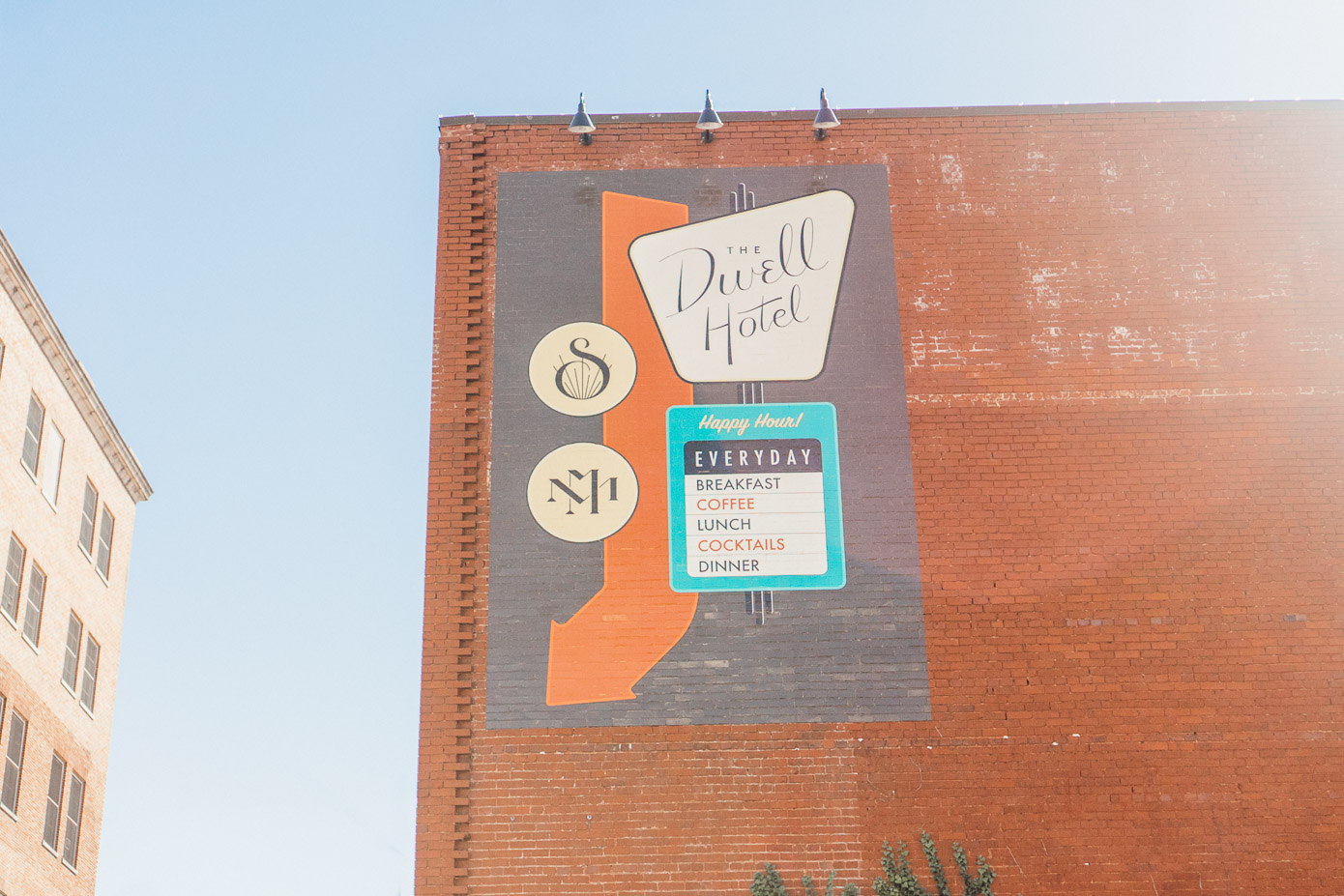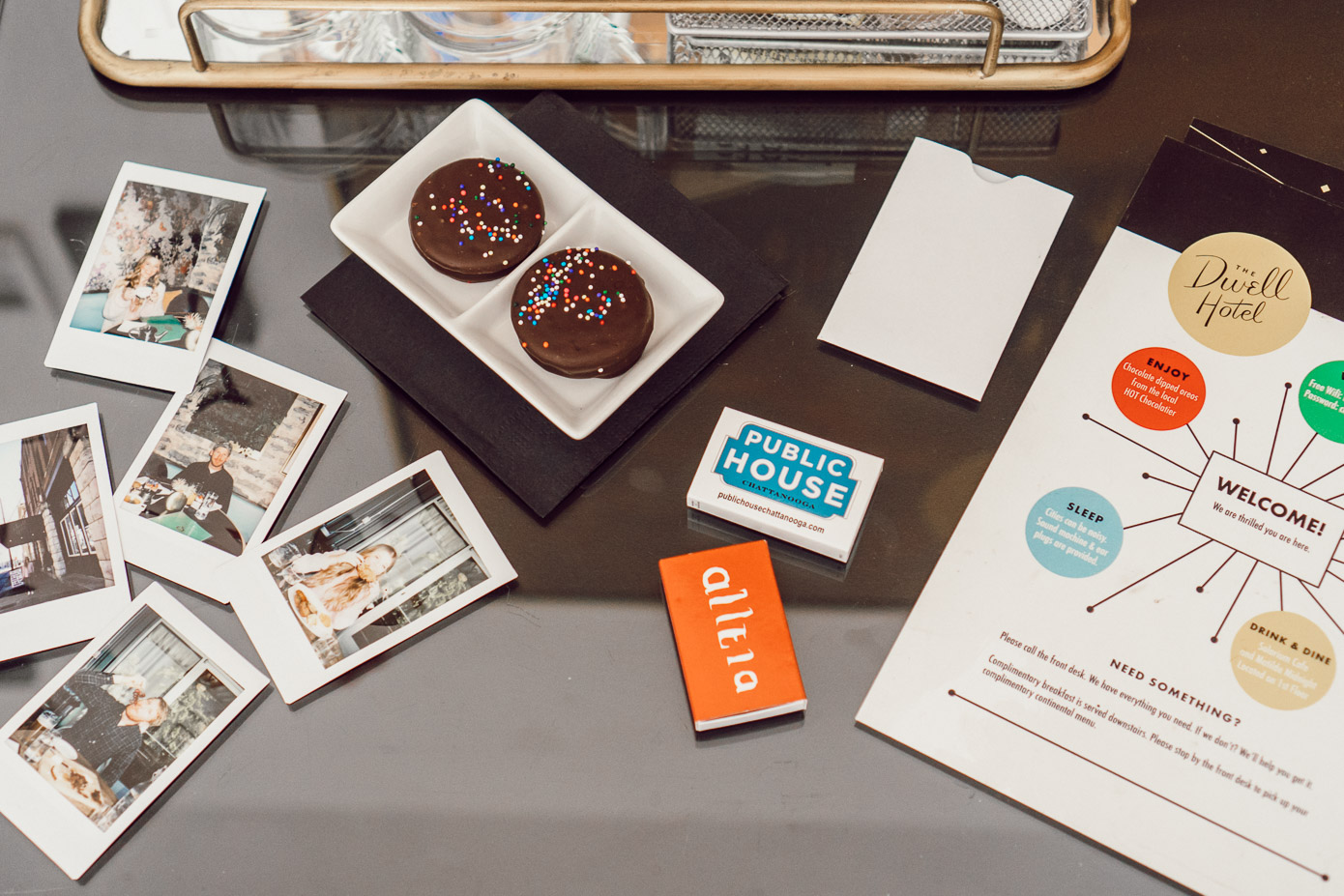 Where to Stay in Chattanooga Tennessee 
The Dwell Hotel end of story! Taking this line straight from their website because I love it so much and feel is perfectly describes The Dwell Hotel – A swanky take on mid-century modern, where luxury meets retro, and high class meets high comfort. Yes, yes, and yes! That is The Dwell Hotel. 
After seeing The Dwell Hotel on Instagram earlier this year, there was no question, this is where we wanted to stay to celebrate our two year anniversary! By far the most unique, decorated hotel I had ever seen and now, have ever stayed in. Every little spot of this boutique hotel is decorated. And not just decorated with whatever but rather perfectly thought out and unique. I'd like to say there's one spot in particular that showcases this but it is truly the whole hotel! From their restaurants to the guest suites to the cozy nooks on each floor. This hotel is something special! 
For reference, we stayed in The Europa King Suite. Which included the most perfect soaking tub (check out a snap of me enjoying it) and rain shower. Also, beautiful natural sunlight. The room is so fun with pops of orange against black and white wallpaper. Another bonus of staying at The Dwell Hotel, they deliver chocolate covered Oreos to your room each day. Probably Joshua's favorite part. 
Aside from our room, my top picks include The Palm Springs Suite and The Flamingo Suite. Both are so fun and right up my alley. If you're looking for a room with a little more of a masculine feel, The New Yorker, The Convex, The Bee, or The Autumn are great options.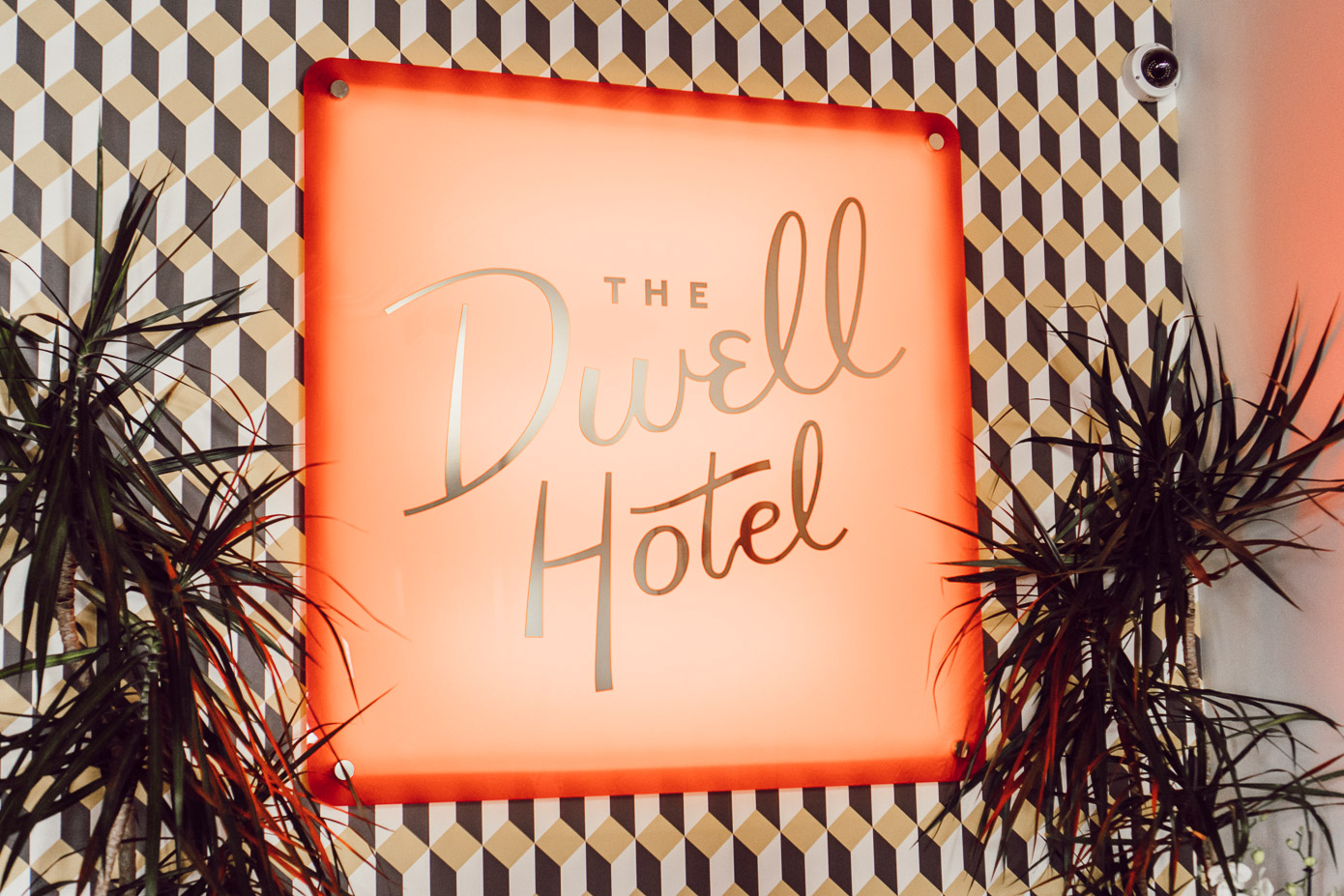 Where to Eat in Chattanooga Tennessee
The Public House – Joshua and I could rant and rave about The Public House for hours. This was hands down our favorite restaurant we dined at while in Chattanooga. From the food to the service to the atmosphere. We loved it all! Truly, if you dine at one restaurant while in Nooga, The Public House needs to be it. 
To start, Joshua and I went for the meat & cheese small plate (see below). Which had a beautiful presentation and tasted even more delicious than it looked. From there, I ordered the Quinoa Salad which was a fall dream. Healthy, filling, satisfying, and flavorful! Joshua went all out with the PH Fried Chicken with fried green tomatoes and roasted butternut squash. He said their fried chicken was one of the best he had ever had! The sweet tea brine absolutely made it! 
To finish off the meal, we heard we HAD to try their key lime pie, so of course, we did! My mouth is literally watering as I write this, thinking about this incredible key lime pie. We both agreed, it was the best we had ever tasted and wish we could have it delivered weekly! Seriously, you do have to order it when visiting The Public House. 
Alleia – This is where we dined to celebrate our anniversary. One of the coolest restaurant interiors I have seen. Fit perfectly with the romantic night we had planned. They have a wall of candles burning and the wax drips onto the candles below, those that have already burned out. It's a beautiful sight and again, very romantic. 
I will say, we did not have the best server experience while here. Our waitress seemed very bothered by us and for some reason, really didn't seem to be a fan of me (maybe she had a crush on Joshua 😉 ) Aside from that, we had a wonderful experience and really enjoyed our food. 
We started with the hand dipped ricotta bruschetta with truffle honey. Which we loved so much that we finished every last crumb of it. Seriously the plate was so clean it looked like it had never been used. For our entrees, I choose the gorgonzola, fig, and prosciutto pizze while Joshua had the venison with fregula sarda and blackberry. For dessert, flourless chocolate cake and cinnamon gelato. Y'all, I never knew I needed cinnamon gelato in my life until I tried this. Now I daydream about it.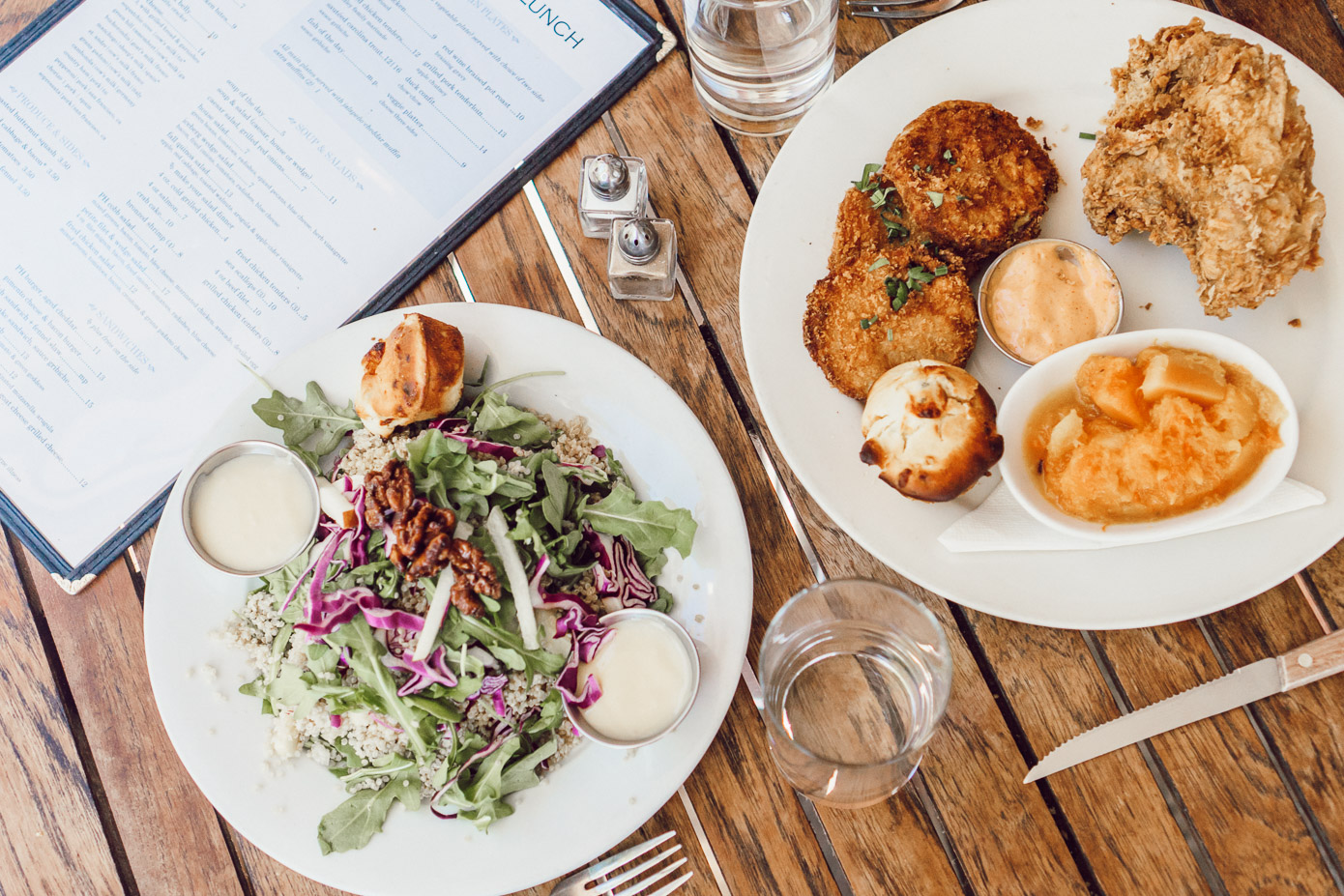 Solarium Cafe – Located within The Dwell Hotel we dined here each morning and grabbed a late night snack here one evening. Truly the cutest restaurant! The interior decor is worth a visit alone. However, the food is just as drool-worthy! Each morning we had a muffin or cinnamon roll, yogurt parfait, hot tea, and fresh squeezed orange juice (which was out of this world fresh and tasty!).
For our late night snack, we had clumpies ice cream, a local ice cream shop. So yummy and the perfect night cap after an evening out. 
Matilda Midnight – Also located within the Dwell Hotel. Matilda Midnight is the moodier of the two. With a darker atmosphere and more a of a retro bar vibe. While we didn't dine here, you can find the same lunch, dinner, and snacks items on the menu from Solarium Cafe here.
Taconooga – This was one of the most recommended restaurants prior to us visiting. Everyone who had visited Chattanooga previously said Taconooga was a must. Mainly due to their guacamole and being the guacamole lover that I am, I had to try it. Absolutely did not disappoint! The bowl of it was quite large and we ate ever last drop of it. A definite must try when in Chattanooga. Perfect spot for a casual, quick lunch or dinner. Also, budget friendly!
Parkway Pourhouse – We picked this restaurant on a whim one evening for a late dinner. It's newer to Chattanooga and offers a pretty laid-back atmosphere. We were lucky enough to have great, warmer weather while in Chattanooga so we dined outside that evening. They have an awesome outdoor space and are dog friendly. 
I wasn't too hungry so I ordered roasted cauliflower off their app menu and a side of fries – it's all about balance y'all. Joshua had the pepperoni and sausage flatbread and fries. Personally, I would skip the roasted cauliflower, it wasn't my favorite. But 100% you should order the fries – they were SO good!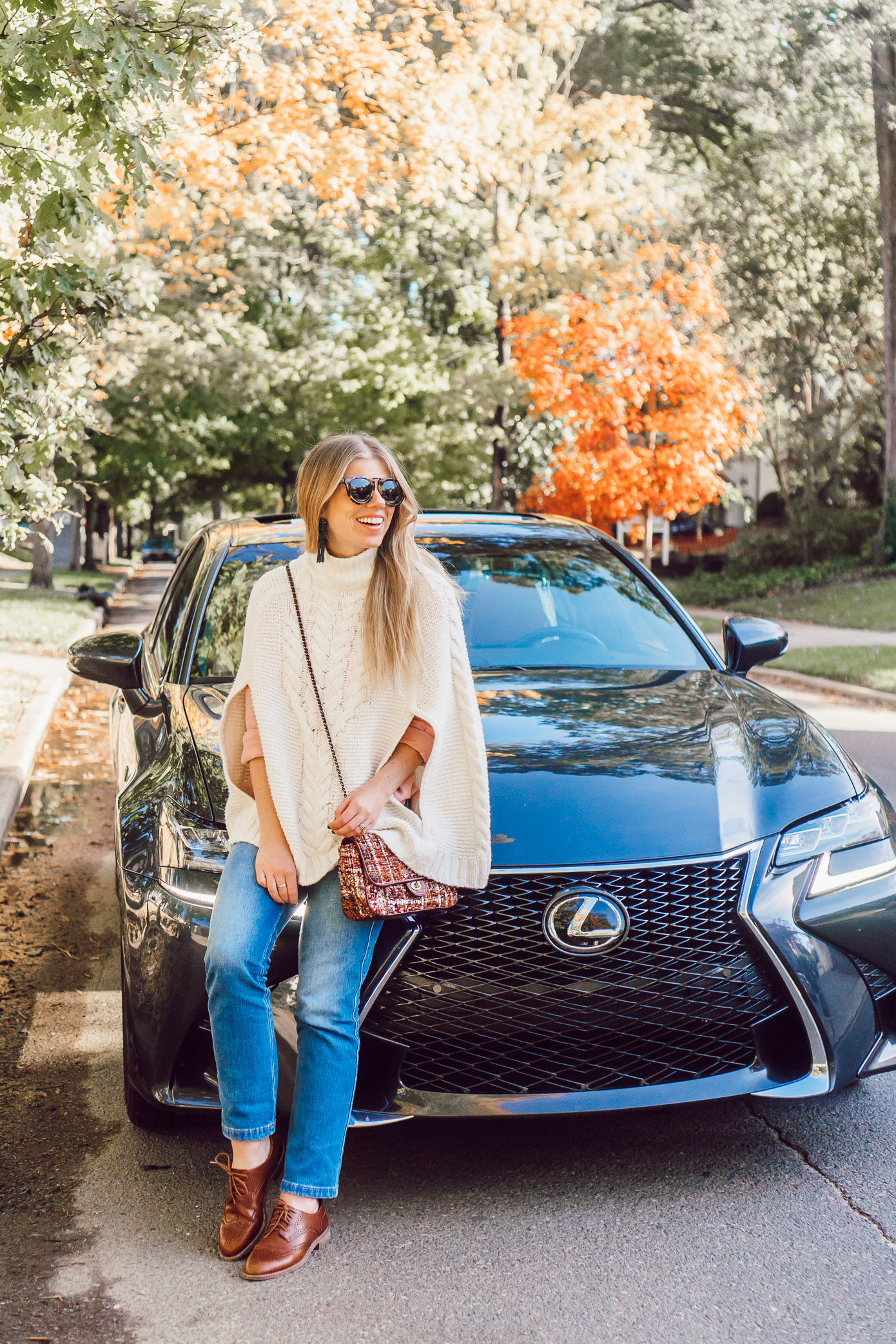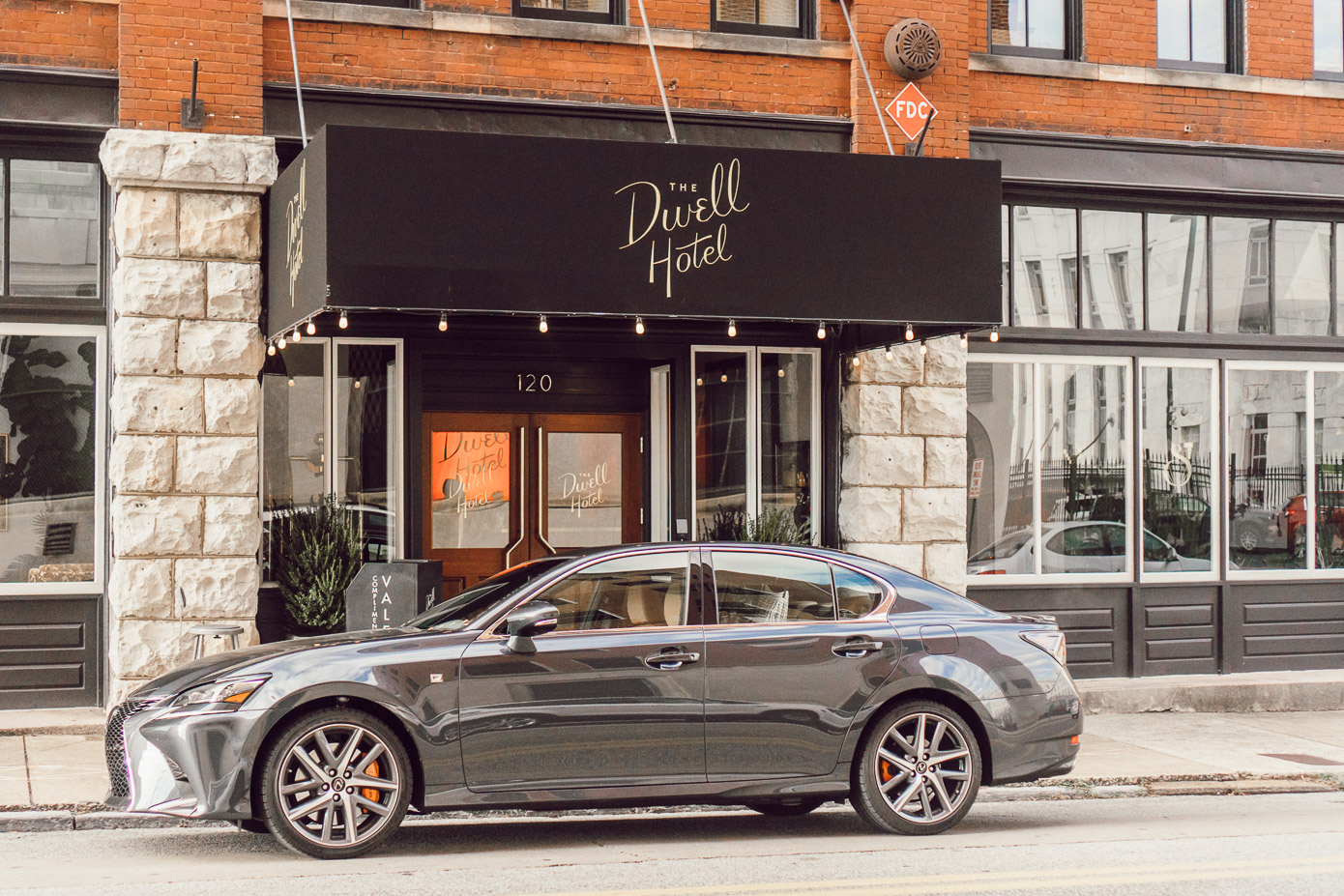 Now the icing on top of the cake, was the opportunity to drive the above Lexus GS350. Hands down the nicest car I have ever driven. The ride was so smooth, even through the round curves of the mountains. The heated seats (and ventilated seats) were my absolute favorite! The day we rode up to Chattanooga it was quite cold and the heated seats were a lifesaver for me. Another feature I absolutely loved, was the power rear shade. This is one of those features you never knew you needed, until you experience it. This rear shade reduces unwanted glares. When you're in reverse the shade temporarily lowers for added visibility. 
Truly, we both loved this car so much and could not get over all of the added features and the smooth ride of the vehicle. If you're in the market, I highly recommend taking this car of a test drive. Giving the Lexus GS350 back was not easy! Now I'm hoping my life is a Christmas commercial and this car will arrive Christmas morning with a bow on top in front of our house.
Thank you to The Dwell hotel, The Public House, and Lexus for making this trip possible and one we'll never forget! All views and opinions are of course my own!