Sharing my Winston-Salem travel diary + guide after visiting the charming North Carolina town last month.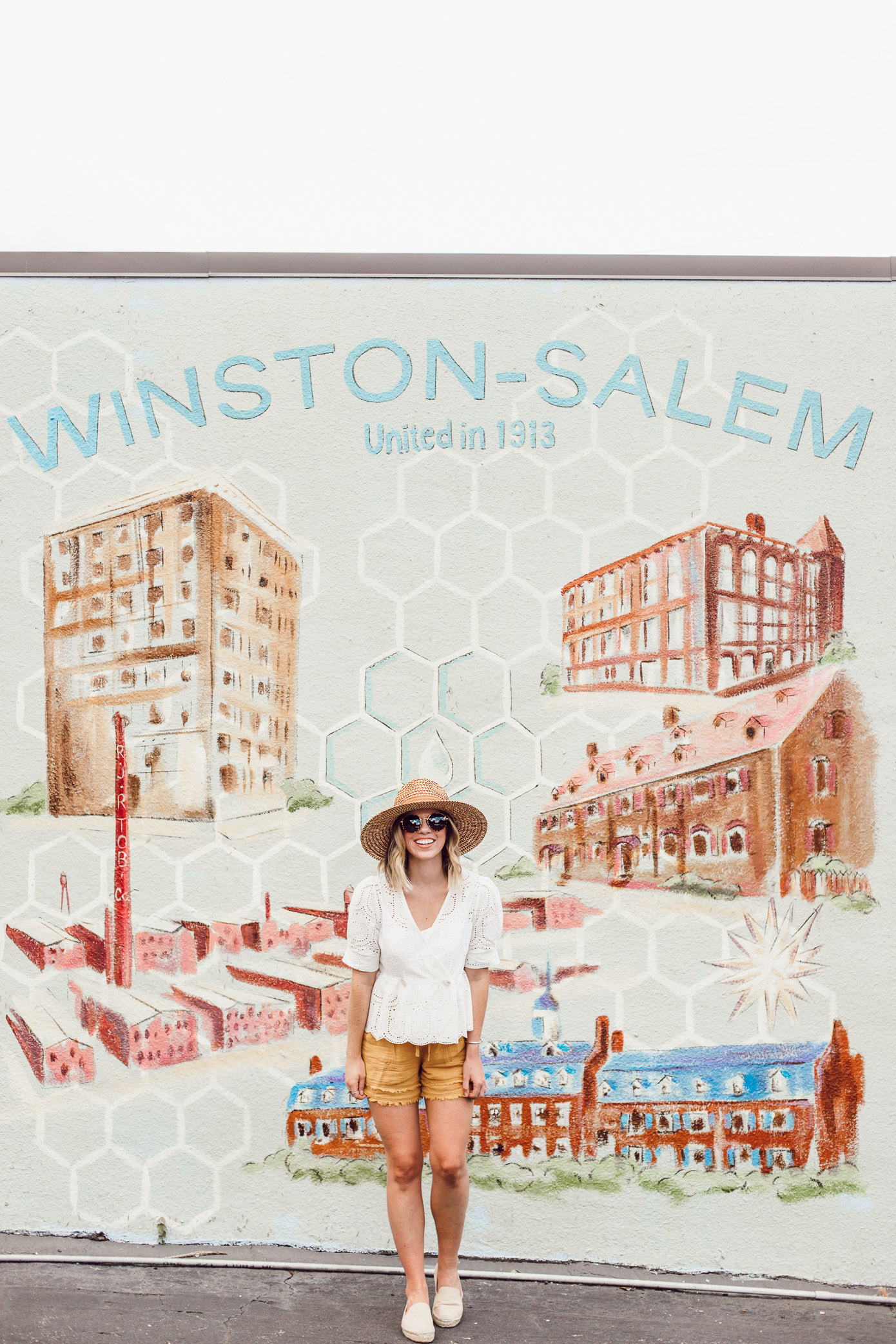 Making this Monday a little more exciting with a travel diary + guide from my recent trip to Winston-Salem, NC. If you're anything like me, this is a spot you didn't know you needed to visit but absolutely do! Hillary and I visited two weeks ago and had the BEST time exploring the southern town. There is so much history, character, and beauty in this gem of a city. Not to mention the culinary scene is incredible! Every where you turn there's a unique spot to dive into and enjoy an amazing meal – whether you want to indulge or veer on the healthy side. Winston-Salem's Culinary scene has you covered! 
We definitely did our far share of eating on our trip, thanks to Visit Winston Salem we dined at several of the best spots in the Twin City. Additionally, Visit Winston Salem created a full itinerary for us to experience the best of Winston-Salem. From art to history to shopping to wine tasting and more! It was a packed three days that I cannot wait to share with you! 
So let's dive right into the trip!
Thursday
12:00-1:15pm: Lunch at Mozelle's Fresh Southern Bistro
This adorable little bistro uses only the finest and freshest ingredients in their cuisine. Which is apparent once you take your first bite! We ordered the edamame hummus to kick off our meal and oh my goodness y'all, the best hummus I have ever had! If I lived in Winston-Salem I would be stopping in regularly for it! So fresh, light yet creamy and satisfying. For our meals, Hillary had the pimento grilled cheese + tomato soup which looked amazing and she said was quite incredible. While I had their shrimp and grits – wild-caught american shrimp, prosciutto, sweet peppers, sherry cream sauce + cheese grits. Again, one of the best I have had!
Fun fact: Mozelle's is named after the owner's grandmother. How cute is that? They focus on serving classic favorites with some unexpected ingredients. Trust me when I say there's a little something for everyone at this bistro and everyone will leave satisfied + full!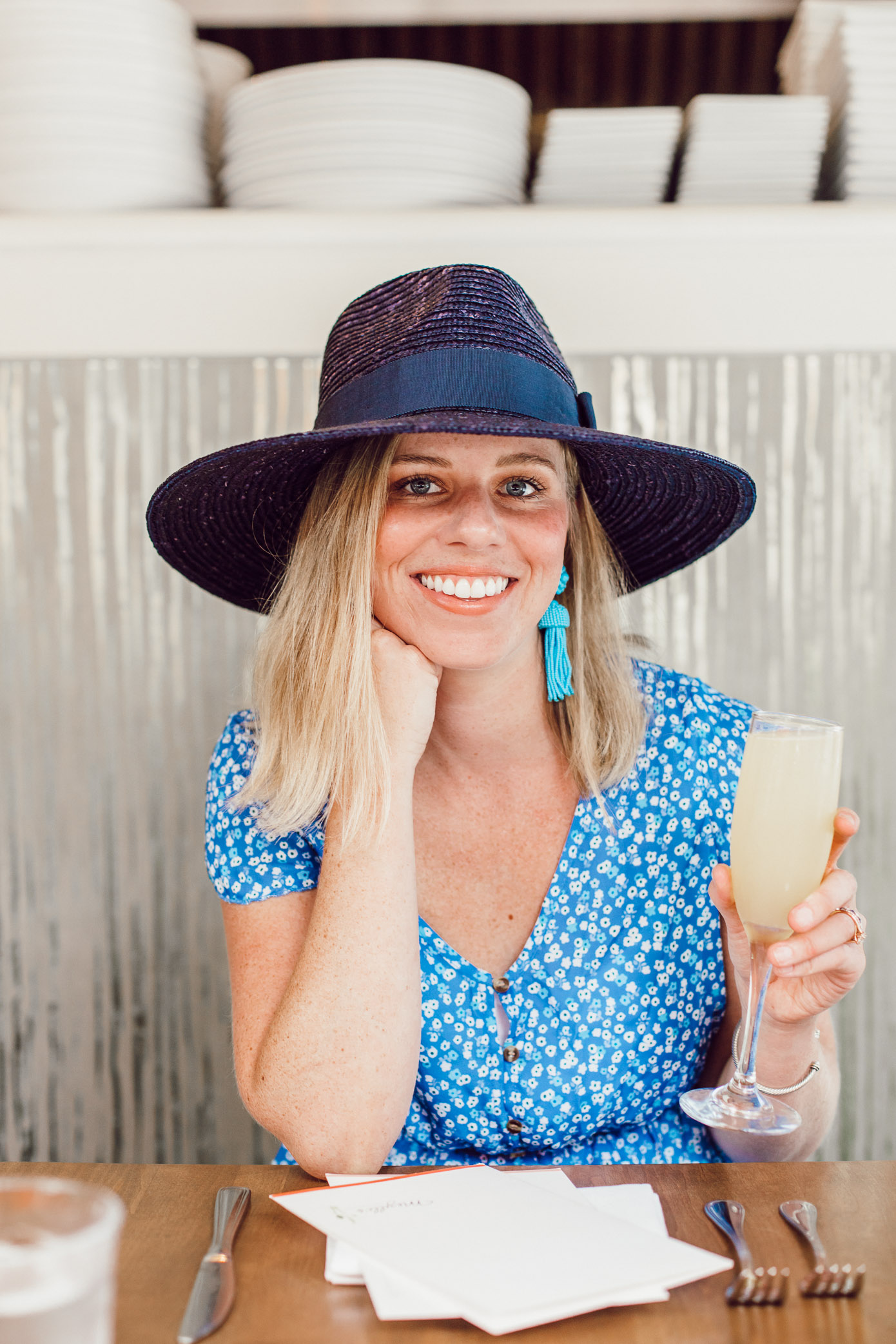 1:30pm-2:15pm: Explore Reynolda House Museum of American Art
The Reynolda House was one of my top bucket list items for our trip to Winston-Salem. This home is absolutely breathtaking, from the green and white exterior that instantly grabs your attention upon driving up to their famous purple velvet couch and ginger jar filled rooms. Built in 1917, this 60-room bungalow was owned by Richard Joshua Reynolds, the founder of R.J. Reynolds Tobacco company and his wife Katharine.  
Much like her husband, Katharine had quite the drive and initiative. She was the brains behind planning a self-sufficient estate just outside the city limits of Winston. Once Katharine and R.J. were married she began acquiring land. She then worked with architect Charles Barton Keen and landscape architect Thomas Sears, both nationally known, to create the home for her family, formal and informal gardens, a lake and other facilities for healthy recreation, a school, a model farm for demonstrating the most current farming and dairying practices, and a village to house workers. 
Fun fact: The bungalow includes an the most beautiful indoor pool, bowling alley, shooting range, game room, and squash court.
2:30-3:00pm: Stroll Historic Reynolda Gardens
We ended up being a little pushed for time this day so we only took a short walk around the front and side of the Reynolda House. Even still, we were absolutely blown away by the immaculate gardens and the beauty of this property! 
Sunday morning we ended up having a little extra time before breakfast and made our way back over to the gardens. Seeing them as the sun was rising was breathtaking! I could not recommend making a point to visit in the early morning more. We saw several people walking and running on the trails around the property, doing so would be the perfect way to get in an early morning workout and see the beauty of this property as the sun rises.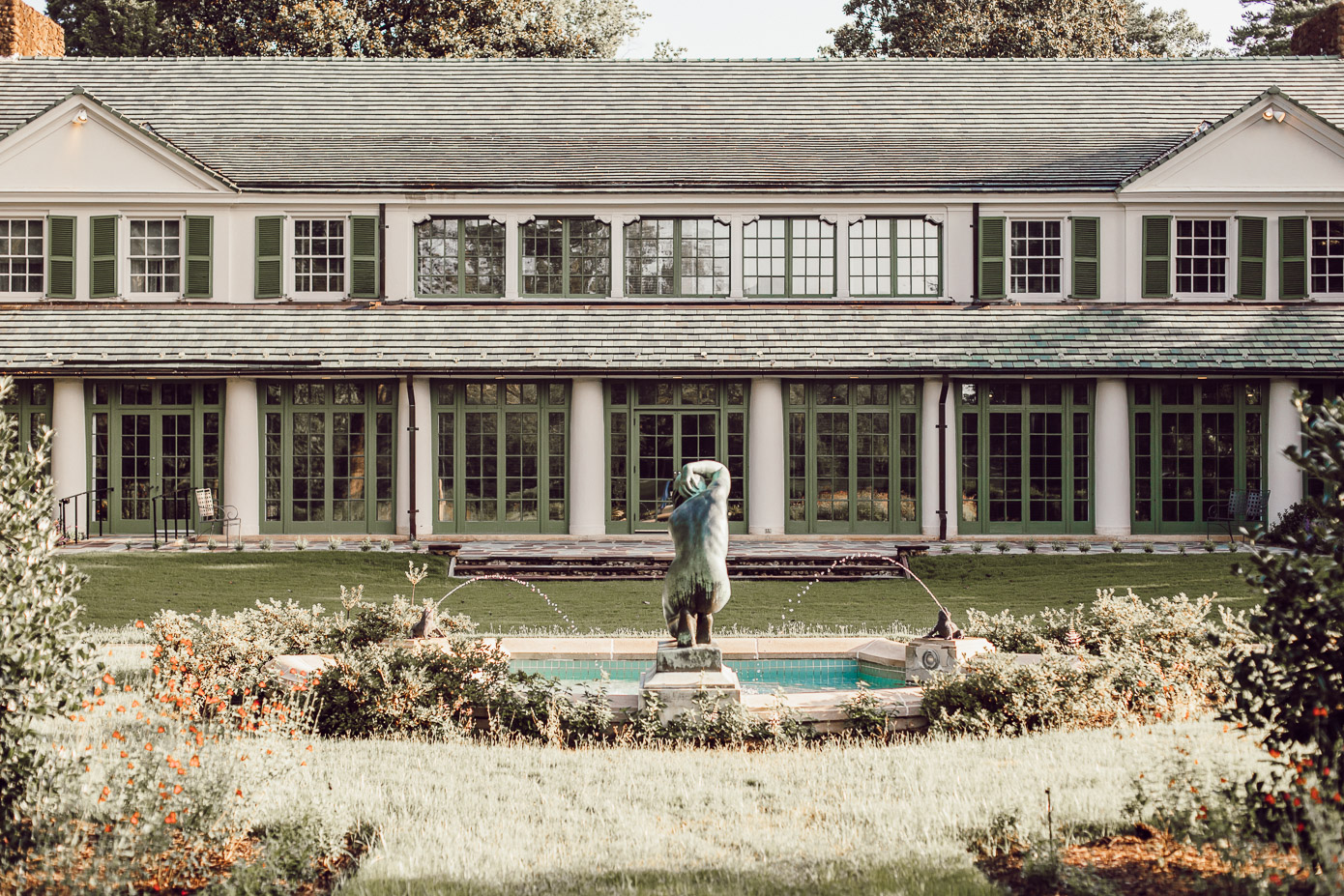 3:00-4:15pm: Tour Reynolda Village + Visit to Monkee's of the Village
Just a few steps (or short drive) from the Reynolda House is Reynolda Village. The buildings in the village were modeled after an English Village and included dairy barns, a cattle shed, school, post office, smokehouse, blacksmith shop, carriage house, and more! Those buildings now house shops, restaurants, services, and offices. What I absolutely love is these buildings still look exactly the same as they did in 1912-1917 when they were originally built.
Jodi Tonsic, Reynolda's Associate Director of Marketing, gave us a full tour of Reynolda Village which included pointing out what some of the buildings were originally. Which was so fun to learn and see the unique architecture of each. As well as pop us in to a few of popular shops. My personal favorites were A Proper View and Monkee's of the Village. A Proper View spoke to me with all of their blue and white + lots and lots of ginger jars. Not to mention the sweetest pup ever, Watson, the store mascot. They have an incredible selection of glasses and sunglasses. At Monkee's of the Village we had a fun little try on session – left with a pair of raffia sandals and two rainbow stone rings.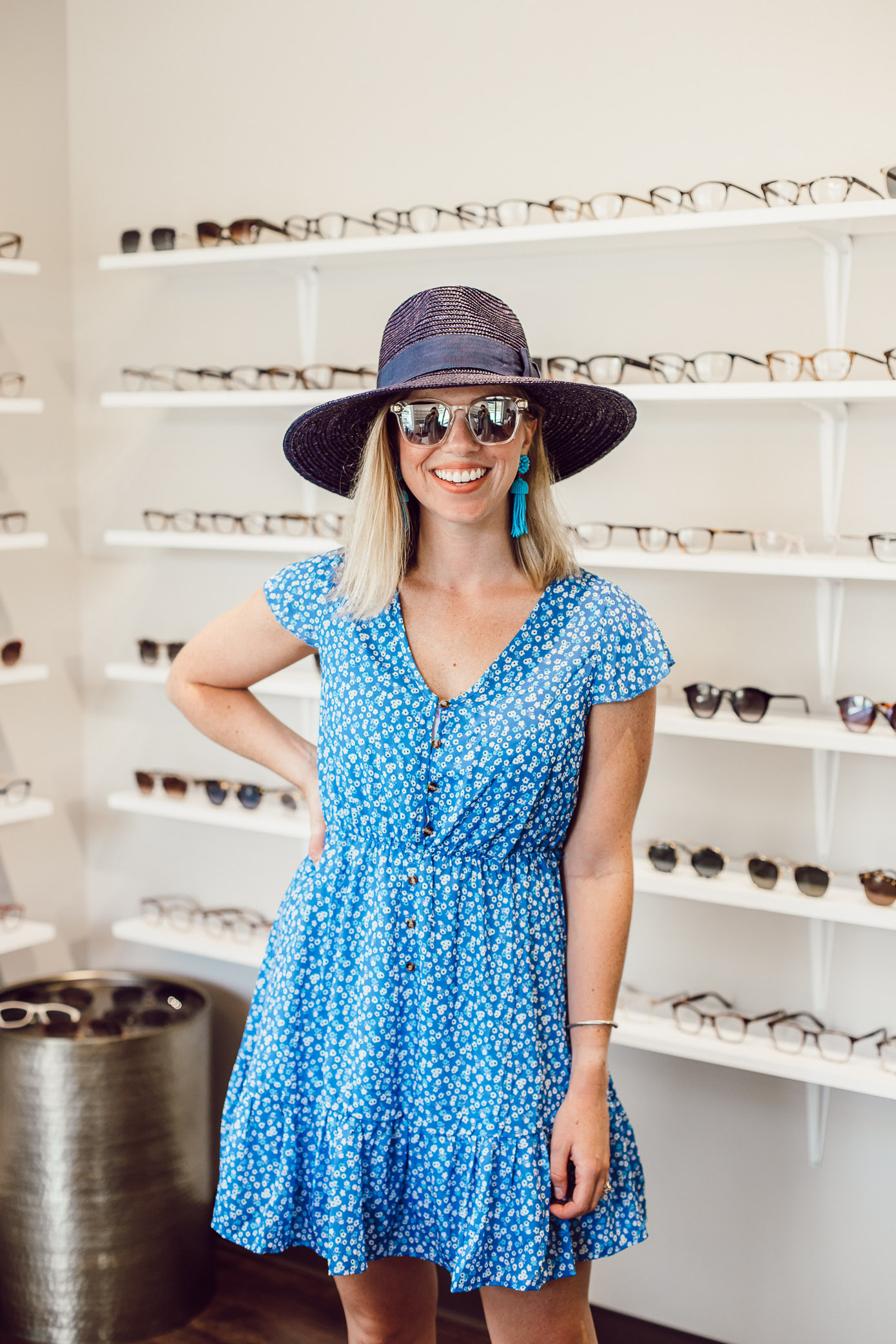 4:30pm: Check-in at the Historic Graylyn Estate
I cannot even begin to tell you how excited I was to stay at the Graylyn Estate. This beautiful home is the second largest private residence in North Carolina, coming in right behind the Biltmore. The home sits upon 55 acres of breathtaking property and is full of incredible history, beauty, and the kindest people you will ever meet. This is not just a place you stay while visiting Winston-Salem but rather an experience all on it's own.
The home was built by the Bowman Gray family and finished in 1932. Bowman Gray, son of Wachovia co-founder James Alexander Gray, was former president of R.J. Reynolds Tobacco Company. 
As you drive down the long driveway you feel as though you're entering a completely world. Like you've been taken back in time or transported somewhere in Europe. Or maybe a little of both. Upon pulling up to the Manor House you are welcomed by a butler who will direct you to the check-in desk and point you to the afternoon refreshments. Which you absolutely must try as Mrs. Gray's butterscotch cookies are not to be missed! 
After that, you'll be taken to you room by the butler. We stayed just a short drive from the Manor House at the Mews. Hillary and I both said upon driving up to the Mews we felt we were in a scene from Beauty and the Beast! Tell me this photo does give you total Belle vibes. The French-inspired cottages were just as charming as the Manor House. Filled with character and perfectly cozy. The Mews also has its own gift shop complete with complimentary ice cream 24/7. You can pop in whenever, open the door and grab a tasty frozen treat.
Upon check-in we were presented with the most fun welcome gift from Visit Winston-Salem which include all locally made products. It was such a sweet treat! The TCH Home candle has been a favorite of mine and everyone that has visited our new home. It smells absolutely amazing! Y'all I have lit this candle every single day for a least an hour since returning from our trip and the candle is still half full! I was also very excited to find Moravian Cookies in the bag – they are my favorite! So light, crispy, and beyond delicious. If you haven't tried, you need to order some immediately – you will thank me later!
5:30-6:30pm: Butler Tour of Historic Graylyn Estate
This was quite the experience and absolutely something you need to plan if staying at Historic Graylyn Estate. Our butler tour was given by Herb and we both completely adored him. He is the sweetest man, who you can tell has so much passion about his job and the history of the Graylyn Estate. Through this tour we learned so much about the history of this home – including how whole rooms where purchased by Nathalie Gray, wife to Bowman, and put back together in the home just as they were in their previous location. As well as secret spots Mr. Bowman housed his liquor and custom ironwork that included several little fun details created.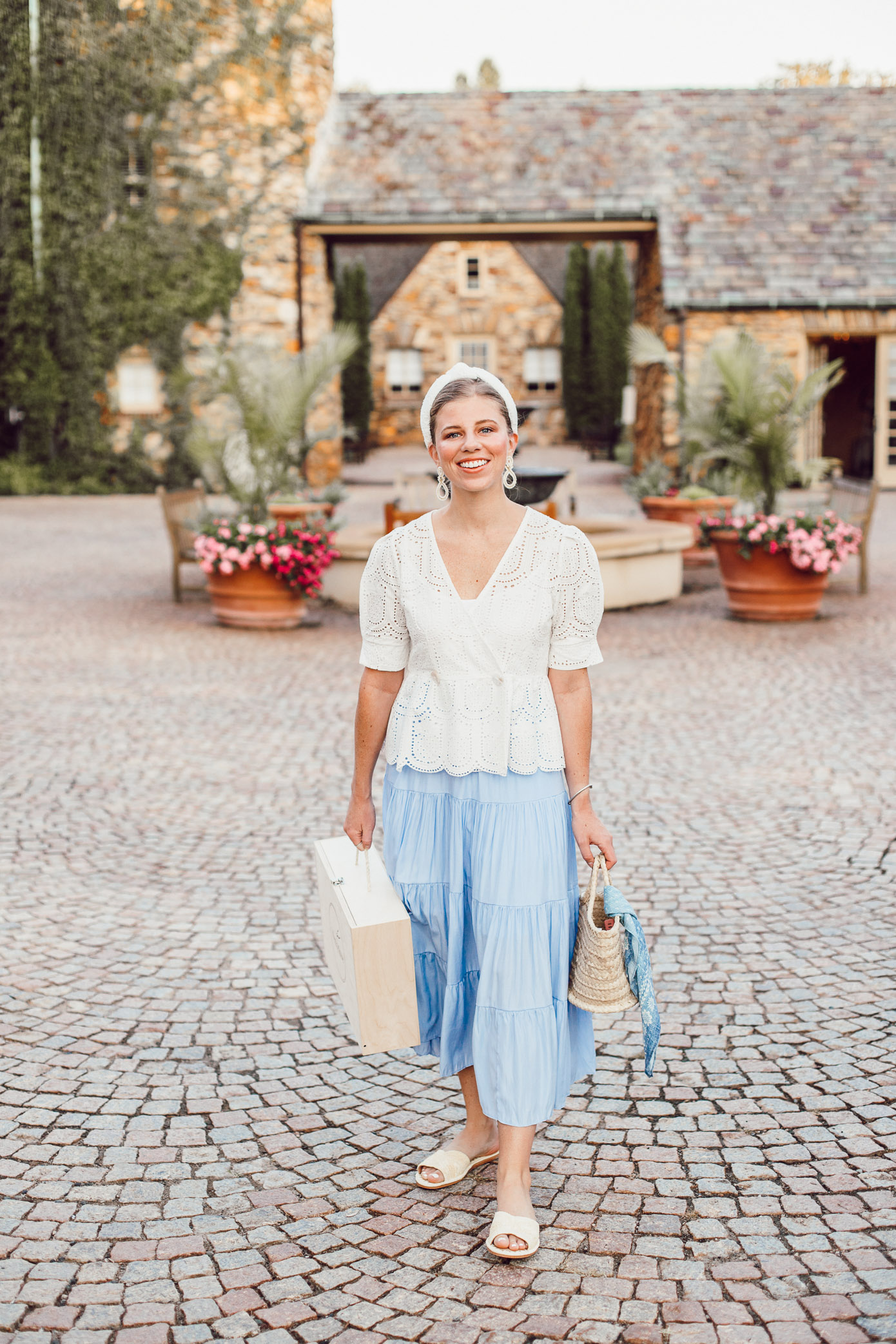 6:00-8:00pm:Dinner at Graylyn
Hillary and I sat in a private room looking out onto one of Graylyn's beautiful garden and enjoyed at five course meal by Chef Gregory Rollins. This meal included, scallops, grouper, a salad, filet mignon, and white chocolate cranberry bread pudding. Oh it was wonderful! Every single bite of it!
We then had the opportunity to sit and chat with Chef Gregory Rollins. We learned how he arrived at Graylyn and the fact that he has been there for 18 years! Chef Gregory Rollins love for cooking came while working in his native country, Barbados. After working at Almond Beach Resorts in Barbados, with French and American chefs, Chef showcased many of his culinary skills, both in the kitchen and in culinary competitions. His menus incorporate North Carolina products in addition to sourcing from his own Chef's garden on the Graylyn Estate. He is one of the sweetest men – when he smiles or laughs you cannot help but do the same! 
Friday 
9:00-10:15am: Grab a Bite at Village Juice Company
Since I'm kind of a health freak, this was my favorite meal of the trip! Oh I was in heaven walking into this aesthetically pleasing cafe. From the all white decor to the swinging chairs to massive fiddle leaf fig that lives in the center of the cafe. The food is equally as aesthetically pleasing and oh so delicious! Hillary and I had the hardest time deciding what we wanted because we truly wanted everything. Therefore, we each choose one item and then another to share. The nut butter toast for me, avocado toast for Hillary, and an acai bowl to share. As well as a smoothie for Hillary and kombucha for me. Oh y'all it was amazing! 
The BEST part…I just learned one will be opening in Charlotte. I COULD NOT be more excited!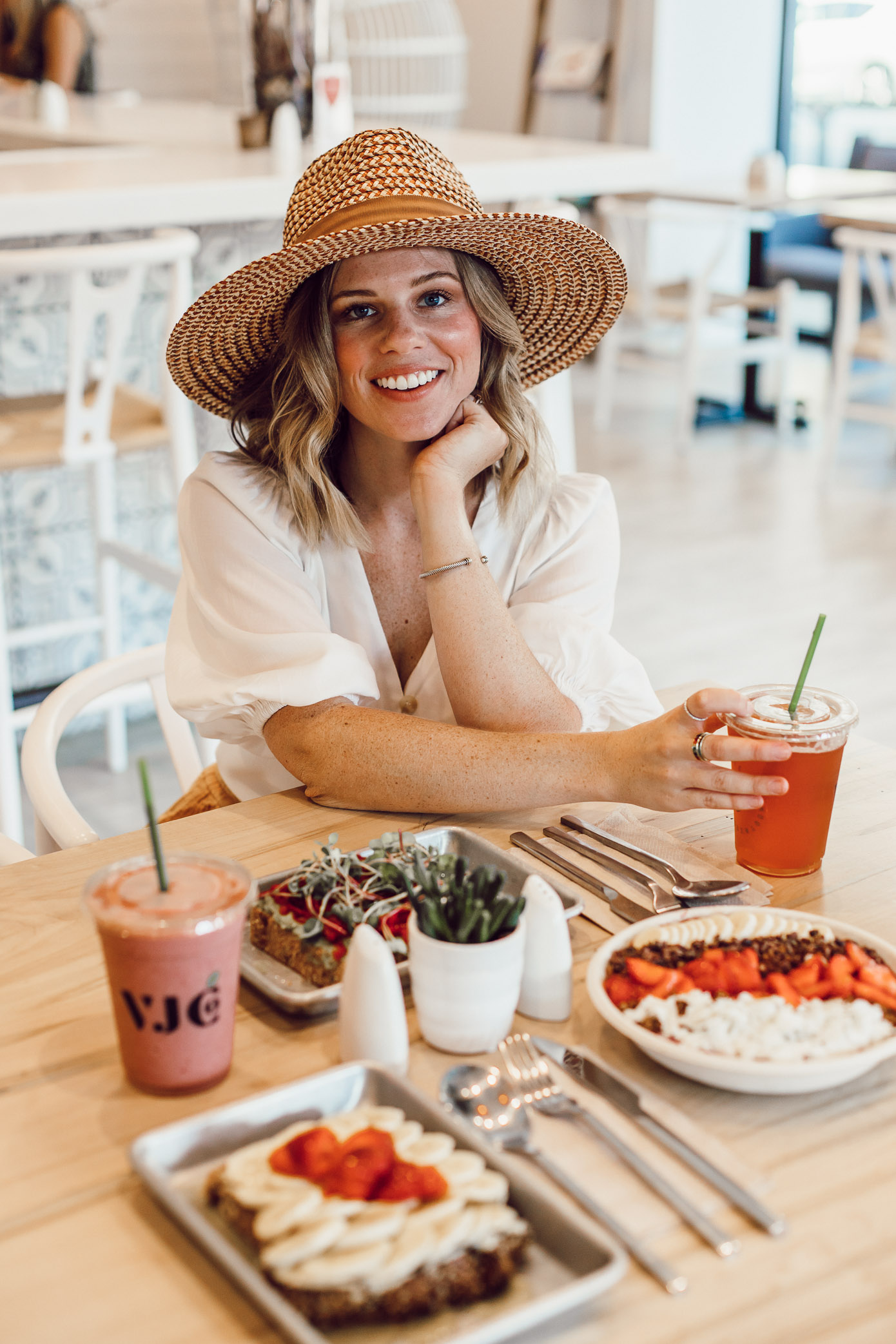 10:45-11:30am: Self-Guided Tour of Old Salem Museums & Gardens
To be honest we did not spend as much time here as we would have liked as it was just SO HOT that day! However, Old Salem is a must hit spot when visiting Winston-Salem. You will instantly be taken back in time and have the best time exploring the streets of this little town within a city. We did enjoy walking through a couple of the streets oohing and aahing over the intricate historic homes, buildings, and gardens. This is a great spot to take children! I would highly recommend going early in the morning if visiting in the summer or planning your trip for fall or spring. 
1:00-1:45pm:Lunch at Canteen Market & Bistro
The perfect spot to cool off after being out in the heat. This market & bistro is a small, urban food and beverage market and a full-service, bistro-style bar & restaurant. Within the market you will find a thoughtfully curated selection of goods paired with a dine-in experience that is elegant and fun. We sat at one of their adorable market tables and enjoyed the perfect lunch for both of us! Hillary created her own sandwich while I created my own market plate. Which included everything I love – hummus, vegetables, pita, and French fries. 
2:00-3:00pm: Explore Winston-Salem's Downtown Arts District
Winston-Salem's Downtown Arts District is an eclectic collection of working artist studios, galleries, shops, residences, restaurants, and night spots. The art is quite amazing! Definitely make a point to check it out. We were amazed by all of the murals and oversized art installments. Loved seeing this creativity against the history of the town as well. It is very cool to me that Winston-Salem focuses so much on history but also on art and innovation. Truly a city that has it all! 
4:00-6:00pm: Relax 
6:30-8:30pm: Dinner at Spring House Restaurant, Kitchen & Bar
It was love at first sight when I walked up to this sophisticated Southern home turned restaurant. This home has been restored to its original splendor and is the last remaining mansion on what was "Millionaire's Row." Built in 1920, Spring House was originally the home of Agnew Bahnson, a Winston-Salem entrepreneur who engineered technology to keep tobacco from molding in the warehouses. Today, Executive Chef and co-owner Timothy Grandinetti serves up signature dishes of the South with a progressive twist. We actually ran into Chef Timothy Grandinetti while we were checking out their produce garden – he was the nicest guy ever! He offered to take a snap of us and walked us right in the restaurant. Such a fun way to kick off our experience at the Spring House. 
We had the most delicious meal here. Before I dive in, I want to say you must make a reservation here when planning your trip to Winston-Salem, you do not want to miss this gem! Back to the food, we started off the meal with their bread basket, which I think Hillary and I would have been satisfied enough with that. It was phenomenal, with four different types of breads, all of which we had to try! For dinner, I had mini fried green tomato crab cake sandwiches and Hillary had their saffron, potato, and vegetable paella. To top off our meal, we had their cookie skillet and oh my goodness y'all, it is a MUST! You can choose between Kit Kat Chocolate Chip, Snickerdoodles,
White Chocolate Macadamia Nut. We went all out with Kit Kat Chocolate Chip and WOW is really all I have to say!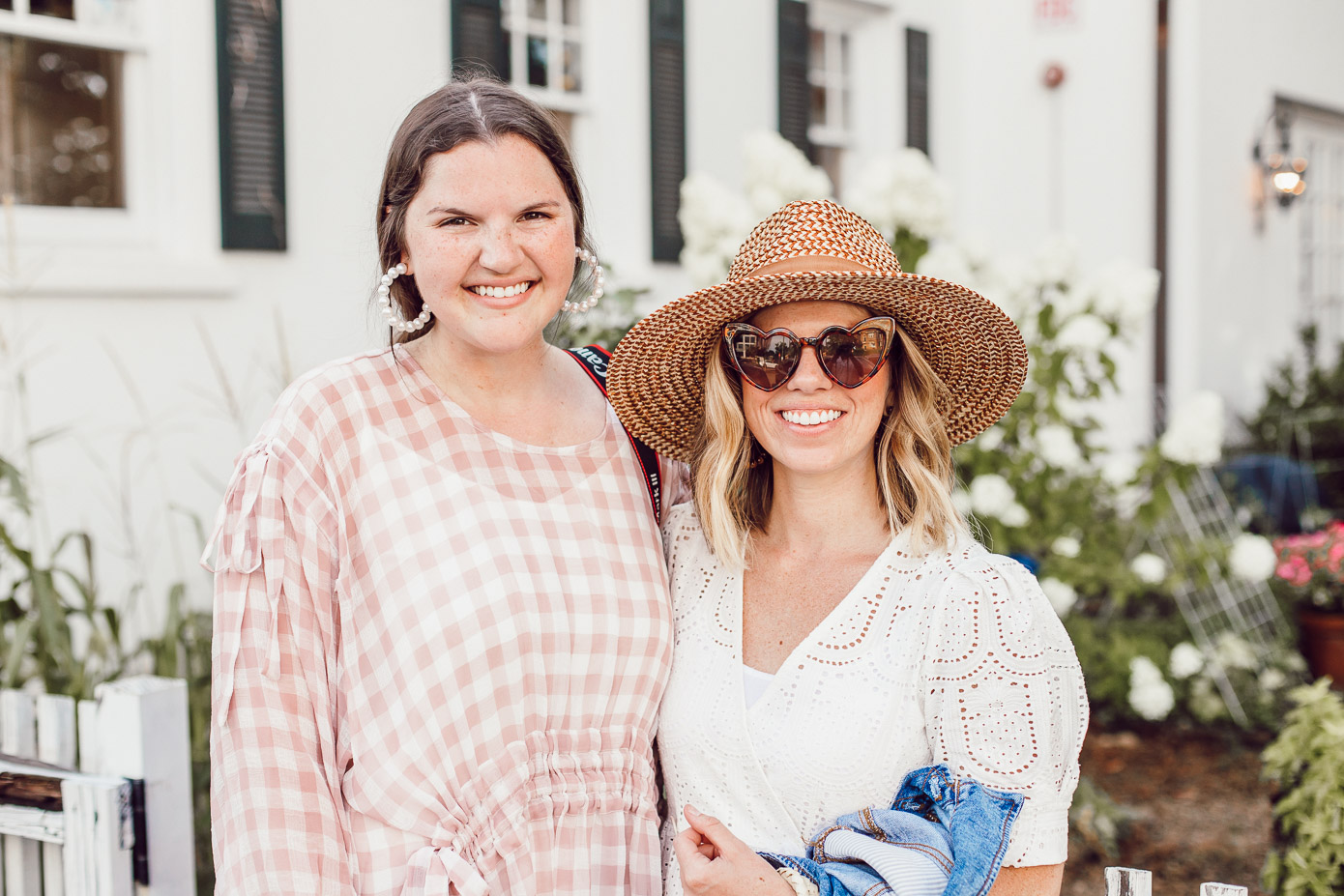 Saturday
9:00am: Check-out of the Historic Graylyn Estate
9:30am-11am: Breakfast at Krankies Coffee
Krankie's Coffee is Winston-Salem's primary local coffee roasters. Aside from coffee and tea they offer a full farm-to-table menu with nods to Winston-Salem's culinary traditions. Think chicken biscuit brined and fried in local Texas Pete hot sauce and honey aka their most famous dish on their menu. The dish that landed them a front cover feature on Our State magazine. And y'all, that sandwich deserves a front cover feature, I am drooling just thinking about it. 
We also tried their avocado toast and Hillary ordered their vegetarian biscuits and gravy. Both were wonderful and dishes we both said we would order again…and again! 
12:30-2:00pm: Wine Tasting and Lunch at Childress Vineyards
The final stop of our trip was a winery just 30 minutes outside of downtown Winston-Salem, Childress Vineyards. Childress Vineyards is owned by NASCAR team owner, Richard Childress. Therefore, If you know me at all, you know I was excited about this (I LOVE NASCAR). Childress Vineyard is the largest winery in the Yadkin Valley, sitting on 77 acres of landing and boosting 12 varieties of European Vitis viniferea cultivars. 
We had the opportunity to partake in a tasting as well as have lunch overlooking the vineyards. It was such a fun way to end our trip and spend a Saturday afternoon! Perfect for families (with everyone over 21), couples, or those on a girls trip!
Thank you to Visit Winston Salem for making this trip possible! All views and opinions are of course my own!