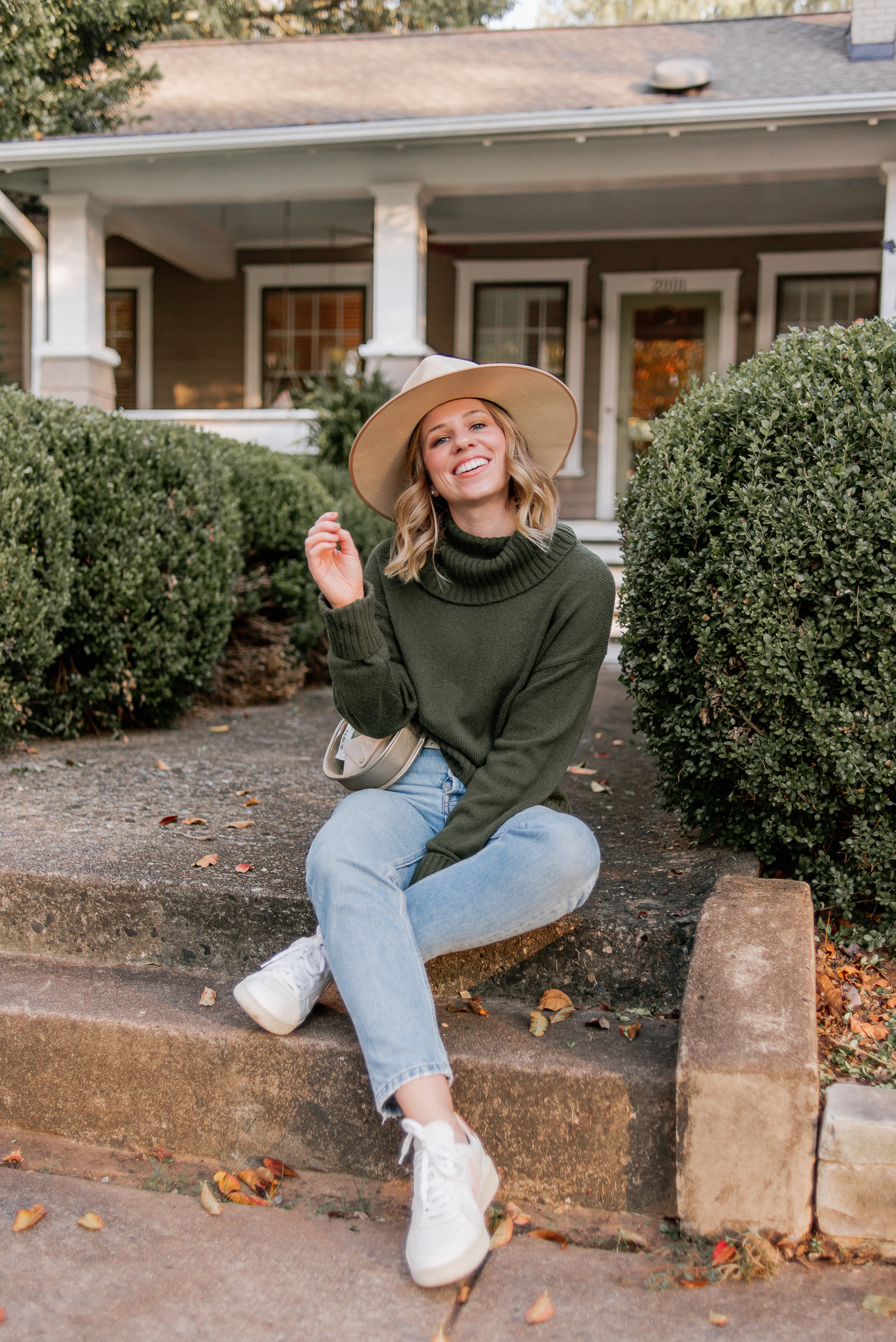 Last year I shared, my favorite my favorite Amazon purchases from 2018, six winter pieces I'm still loving, and six spring pieces I'm still loving – all big hits with y'all. So I figured I would share my favorite purchases of 2019 before we get too far in to the new year! This past year I really shifted my spending to home goods and also investment pieces. Less trends, less impulse buys, less items. And at the end of the year (or reflecting back) I feel really good about the purchases I made. With maybe one or two slip ups. But overall, lots of great items I will wear for years to come.
And with that said, here are my favorite purchases of 2019 – beauty, fashion, and home!
Plus a bonus section at the end…
Beauty & Skin
1. Counter+ Overnight Resurfacing Peel – by far my favorite beauty purchase of 2019! This product has been an absolute game changer for my skin. I noticed a difference almost immediately – definitely after a week of using (used 3 times in one week). The peel improves skin texture and boosts clarity without irritation or over-drying. While also smoothening and brightening your complexion.
2. Countermatch Adaptive Moisture Lotion – I've never really found a day lotion I loved until I tried this one. This lightweight lotion adapts to your skin throughout the day keeping it hydrated all day long. While also providing you with skin that looks refreshed, dewy, and radiant.
3. One-Step Makeup Removing Wipes – really just love these because they are clean and safe! Not to mention so nice to have when traveling! I also love to use them to refreshen up if I need to be somewhere right after a workout and don't have time to shower. And if you're in the process of transitioning to natural deodorant these are great to use throughout the day when you need to reapply your deodorant.
4. David's Natural Toothpaste – never knew I needed (and loved) natural toothpaste until trying this brand. Completely hooked now! This natural toothpaste leaves your mouth feeling SO CLEAN and SO FRESH!
5. Hydrating Body Lotion in Citrus Mimosa – I have mentioned this product several times on Instagram stories and for good reason! If you've been making the switch to cleaner beauty products DON'T forget about your body lotion. A product that goes all over your body, after showering, and is absorbed through open pores. This hydrating body lotion is lightweight and great to use when you need to throw on clothes immediately after to go somewhere – dries very quickly.
Fashion
1. Oversize Turtleneck Sweater (sold out in my color but on sale in others)
Oh how I love this sweater! If you follow me on instagram you know that is true. I wore this sweater basically every other day in November and December. It pairs perfectly with jeans and also looks great layered over dresses and skirts. It is the ultimate oversized sweater!
View this post on Instagram
2. Veja Vegan Leather Sneakers
Last week I chatted all about my love for sneakers and it seems y'all share that love! So take my recommendation and pick up these veja vegan leather sneakers for yourself! They are the COMFIEST everyday sneakers – trust me, I have tried quite a few! They come in a variety of color combos if pink isn't your thing.
View this post on Instagram
3. Wide-Leg Jacquard Jumpsuit (sold out, similar in moss & black, similar in velvet)
Talk about a good investment! I wore this jumpsuit to two weddings and one rehearsal dinner. And received countless compliments at all three events. Hoping it comes back in stock this fall!
Your number one most purchased item from Louella Reese (website, instagram, and liketoknow.it app). And also one of my favorites! So comfortable – the perfect throw on and go dress. Whether you want to dress it up with wedges or pair it with your favorite sneakers for a day on the go. A versatile dress that comes in 28 different color/pattern variations!
View this post on Instagram
This hat had been on my wish list for over a year! After spotting it on Hunter Premo I HAD to HAVE it! Finally I made the investment and then kicked myself for not doing so sooner. The quality of this hat is amazing and the fact that it goes with everything makes it well worth the investment. Definitely will be adding another Lack of Color hat to my hat collection in 2020.
View this post on Instagram
Home
1. Our House
Obviously my favorite home purchase of 2019!
View this post on Instagram
2. Metal Garment Rack with Wood Shelves
I had dreamy about having a true home office for almost two year before we moved into our home. One of the first items I wanted to add, a garment rack. When I spotted this one it was an immediate add to cart moment. The garment rack of my dreams! It is even better in person and truly perfect for storing items.
View this post on Instagram
New house/new office, new desk! This campaign desk is simple but truly my dream desk. It is perfect with the wider size, medium sized drawer, and natural wood look. I LOVE it!
Our house gets a lot of natural light – which I love! But can also be a little blinding at times so curtains are very necessary in all of our rooms. Especially due to the fact that our bamboo blinds don't actually shield people from seeing into the house at night. So to make a long story short (aka not at all haha) we found the ideal ivory curtains for our guest room and my office.
They are a little on the pricey side but the quality is amazing and they do go on sale often!
5. Rope Baskets
These were a lucky little find at Target one day. I was in need of some baskets for the console table we use in our bedroom. I place all of the socks, undies, bras, and sport bras in these baskets. One for each type of item.
Gifts Items I love so much I would purchase
The prettiest light fixture I ever did see! Oh my goodness does this beauty completely transform a space. If you're in need of a flush mount for a bedroom, office, half bath or large hallway this would be my number one recommendation. 100% worth the investment!
It also comes in a chandelier version I'm totally eyeballing for our dining room.
2. Striped La Jolla Baskets (I have the small and medium sizes)
Adore these baskets! They currently house all my PR goodies in my office. Keep things organized while keeping the room pretty. They'll be a great spot for toys in the future when little ones come along. They hold A LOT!
A random item that had been on my wish list for quite some time. I almost pulled the trigger a couple of times but decided to hold off. Now that I have them I want to find additional spots in our home to add more. They are of the most incredible quality! Offered in two sizes – I honestly recommend picking up both as they're just too cute together. Look great with plants perched on top or by your bathtub with all your bathing goodies.
View this post on Instagram
Our kitchen cabinets go all the way up to the ceiling – therefore I cannot reach the top two shelves. So a step stool was necessary! This beauty instantly caught my attention. Unlike any I have seen – so classic, simple, and beautiful. Yes a beautiful step stool! Another piece that will be great when little ones come along.
5. Metro Tote Medium + Small Crosby Crossbody
I truly cannot pick between these two so they're both counting as number five. They're by the same brand so I say it works! Both are SO lightweight, amazing quality, go with everything, and offer up an incredible amount of pockets – both with zippers and those without. The tote has become my everyday bag while the crossbody is my weekend go to.
View this post on Instagram
Did you purchase any of these items along with me in 2019? What were your thoughts? Or purchasing some of them now? Let me know below.