Let's talk what I packed for NYFW 2020! Packing for one of the most fashionable weeks of the year can quite the task. Especially when preparing for fluctuating temps, rainy days, and the probability of walking a lot. Breaking down what I packed and my top recommendations after attending my third season of NYFW.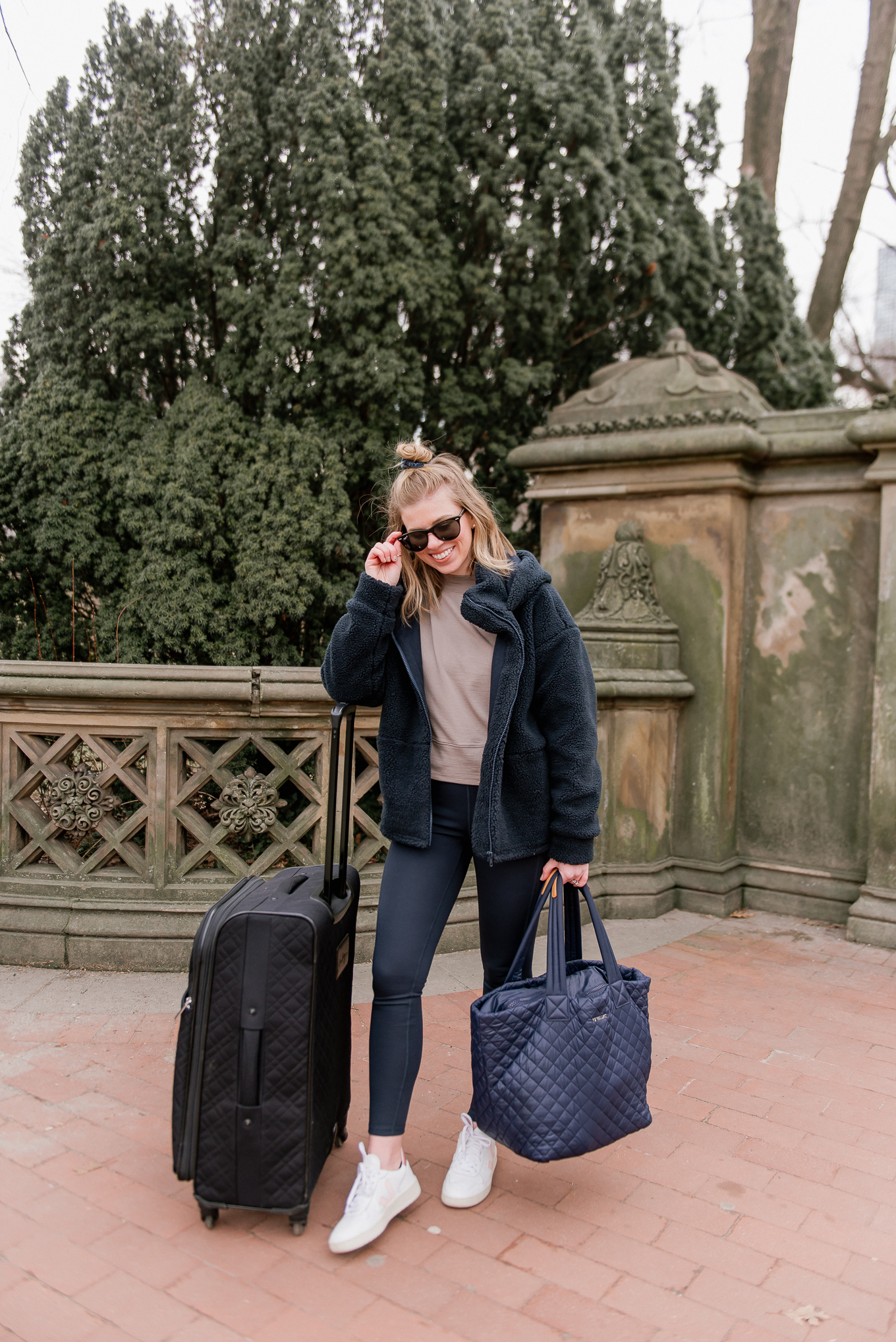 This time last week I was pounding the pavement in NYC for my third season of NYFW. Every season I have gone has been completely different. From the shows + presentations to the weather. The latter making the biggest difference when it comes to packing.
Our first year, we had mild-temps with sunshine and a little wind. Last year, we experienced freezing temperatures – I'm talking a high of 28 the whole time we were there. Back to slightly milder temps this year but A LOT of rain! So needless to say each year has required a different style of packing. Which can be a little tricky when you are trying to plan ahead and the weather completely changes on you – happened this year – was suppose to snow three out of the four days with very cold temperatures. Or you're basing your packing style on last years weather – also kind of happened this year.
So anyways, let's talk about what I packed NYFW 2020 and the recommendations + tips I have for having a suitcase full of items you'll truly wear! While also being prepared for a change of weather!
What I Packed for NYFW 2020
After attending the last three spring seasons of NYFW,
Morgan
and I have definitely learned what to pack, what to leave at home, and a couple of other lessons! Similar to last year, I figured I needed to share with y'all in case any of you are thinking of attending NYFW next spring season. That way you have a good idea of what you're in for and lots of time to prepare! And a post to reflect back on when the season is upon us again.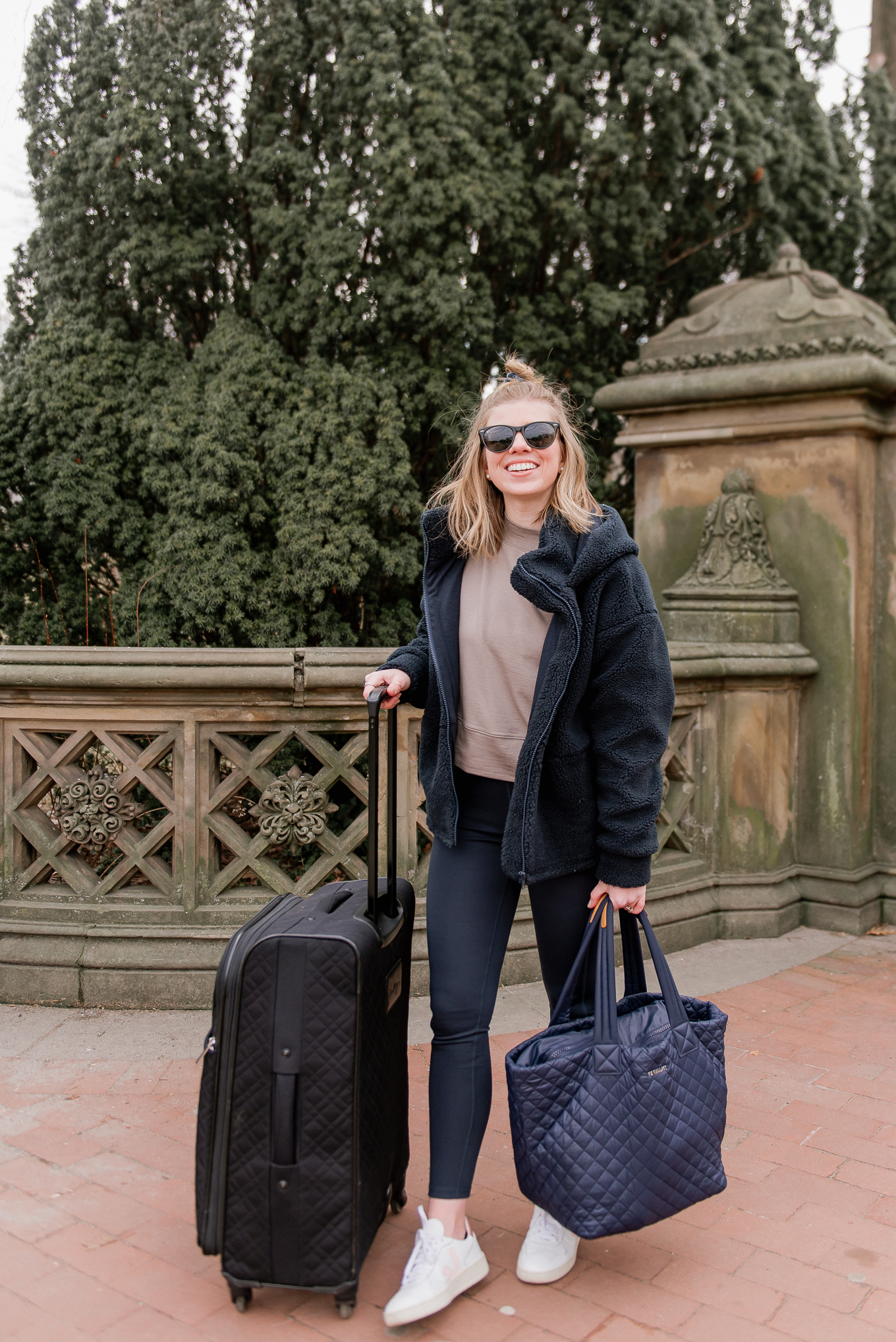 Coats + Sweaters
Coats are obviously a must have when it comes to visiting NYC in the winter/spring. As mentioned above, last year we experienced a high of 28 degrees – there's not skipping a coat with those temps! I have learned over the last three seasons that coats are really where you have fun and stand out! Since you're wearing them around the city, walking into shows, and as you enter into meetings, a coat is the first (and sometimes only) thing people see. Therefore, I definitely recommend packing two to three coats – wearing your largest one on travel day to save space in your suitcase. And living it up when it comes to the styles you choose. Whether you go for color, faux fur, pattern, or a combination of these.
For me, I opted for an oversized green faux fur coat and an oversized sherpa bomber style jacket (seen above). On the warmer days, I actually turned one of the dresses I packed into a jacket – did so twice and both days I received endless compliments – noted to do this WAY more often!
As far as sweaters, a great way to layer for colder days. As well as the fact that everywhere you walk into is going to be WARM! So you'll almost immediately want to shed your coat. Bring a variety of sweaters (two to four) so you can wear alone, throw over a dress, or layer over additional items. Make sure at least one is a neutral so you can in fact pair with multiple items to create different looks.

Bottoms + Dresses
This year, I made the rookie mistake of forgetting to bring tights. BIG MISTAKE! Everywhere I stopped in had already sold out of tights, moved onto to spring, or had black (I needed nude). Therefore, I had a few bare leg moments and y'all that was COLD! So take note and pack at least one pair of tights. I honestly recommend two as they often times tear – the previous two years I brought one nude and one navy pair. Plus they're great for adding an extra layer under pants if it's really cold out.
I mentioned last year not to worry about wearing jeans BUT I will say this year I didn't spot a single person wearing jeans at the shows we attended or any of the events. Only at showroom visits. However, the year before I saw them often. So I think my key takeaway there is to really watch trends and decide from there. Last year casual, cool girl style really had a moment and with that you saw jeans and sneakers everywhere. This year was definitely a little dressier and a lot more colorful!

Accessories
Similar to coats, this is wear you can really have some fun! You'll be wearing most of your accessories over your coat (handbag, hats, gloves, etc.) so these will be seen just as much as your coat. Add pops of colors and/or patterns with a fabulous handbag (or two) or chic leather gloves in a rich hue. And even with packing gloves I HIGHLY recommend packing hand-warmers. I packed four sets and we all used them two of the four days. They were very necessary!

Footwear
I said this last year, I'll say it again – footwear is 100% the most important decision you'll make when it comes to packing for NYFW. You'll spend a majority of your time standing or walking. Whether you're going to and from shows, meetings, events, showroom visits, or all of the above! Plus if you attend a presentation vs. a show you'll spend the whole time on your feet. So you need to make sure the footwear you choose is comfortable and worn in!! If you caught a few of my stories prior to leaving for NYFW I wore my new boots around the house a couple of days to break them in and make sure I would be blister free. And y'all they were SO comfortable! Wore them for a full 12+ hours and my feet were still quite happy at the end of the day.

Stay up to date on all NYFW content by visiting my NYFW page!