Excited to share ultimate Memphis Tennessee travel guide. Get ready to crave some blues!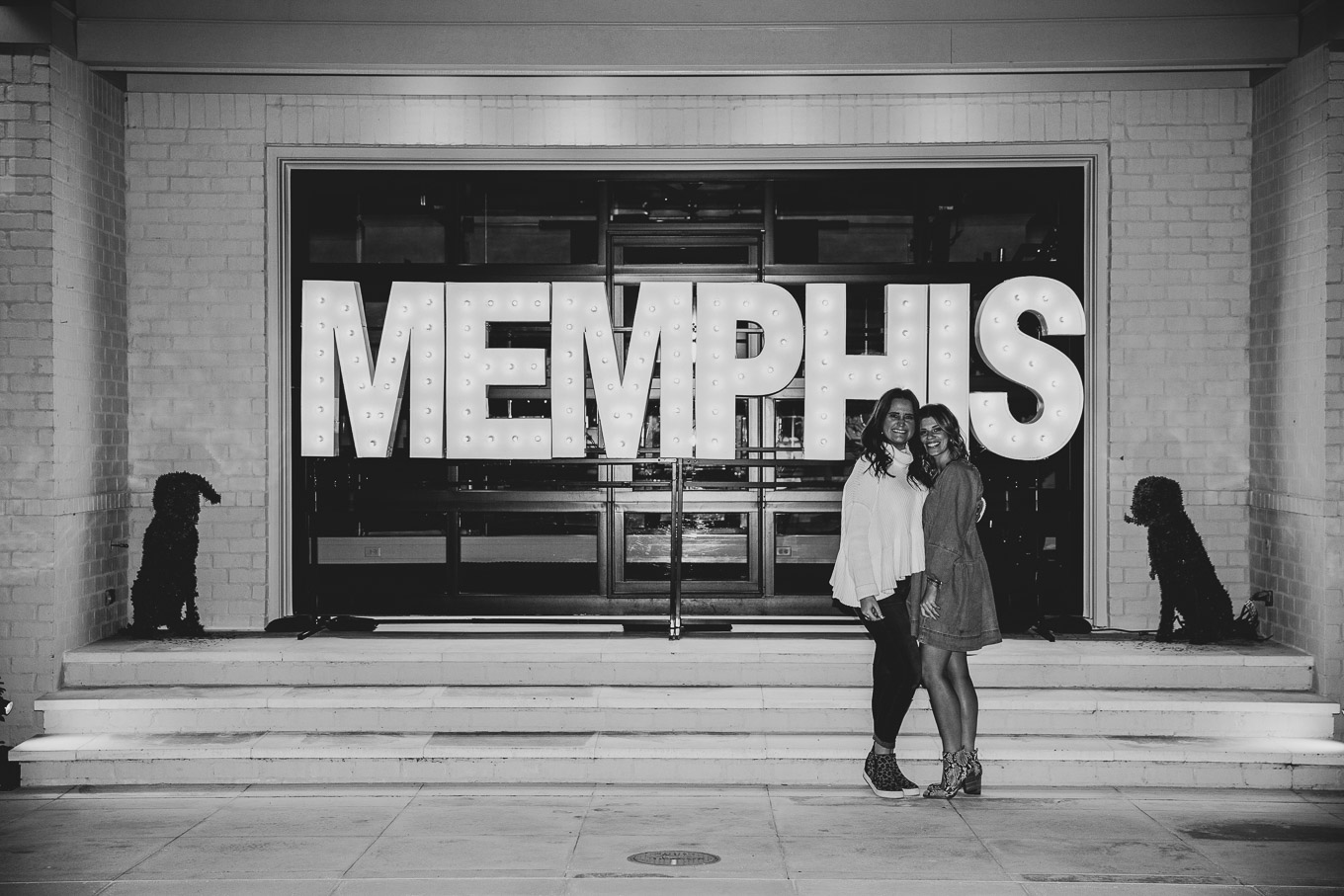 Two weeks ago I had the opportunity to visit Memphis, Tennessee with a group of nine fabulous blogger babes from across the country. What may be surprising to some is that Memphis had been on my travel bucket list for over two years. Maybe a little random but after visiting Chattanooga and Nashville I completely fell in love with the state of Tennessee and wanted to explore more. So Memphis being one of the other larger cities made it's way onto my list! Happy to report the town of blues did not disappoint and I now don't only recommend visiting but also want to visit again myself! 
WIth that being said, I'm excited to share with you the ultimate Memphis Tennessee travel guide!
Where to Stay 
Our weekend in Memphis came together thanks to Morgan and her team at Pettigrew Adventures. Morgan owns eight airbnb properties within Memphis. Each with it's own personality, character, and flair! All are impeccably decorated and oh so Instagram-worthy! The perfect spots to stay for a fabulous girls weekend, bachelorette party, or annual girls trip. 
Since there was such a large group of us (10 total) we spilt into two houses, I stayed in Juanita's House, which has the most amazing pink retro vibes – hello pink flamingo wallpaper! While another group of  girls were in Lucky Number 7. Which was only a few houses down from us. A very easy walk in between houses – making the two homes perfect if you have a really large group and need to split up. Lucky Number 7 is a little larger than Juanita's House and also offered up a dining space – ideal for hosting a dinner if you want to stay in one night (more on that below). 
I truly could not recommend Pettigrew Adventures properties more to anyone visiting the Memphis area. Again, they are so incredibly beautiful but also very affordable, especially if you're sharing with a group of girl friends. And trust me when say you will leave with a list of home projects and decor items you want to buy. Always feel free to reach out to Morgan too – she is happy to give you links to the products used in the homes!
What to Do 
Y'all can I be honest? I was crazy excited to go to Graceland. No I'm not a big Elvis fan. I mean I love the guy, I'm impressed by him but you won't find me listening to his tunes all that often. However, I was excited to check out this historic piece of property and see how the King lived! What surprised me the most, I left there loving Elvis even more – being more impressed by him. While Elvis wasn't a faithful man in his marriage he was truly a family guy. Adored his parents, daughter, and wife/ex-wife. He did everything to take care of them and create this amazing home/property for them. 
The home is pretty incredible and pretty eclectic! Elvis definitely had a good time decorating this his homestead. There are a lot of extras on property too – a barn, game room, offices, pool, racketball court, and lots more. Aside from his home you can also see his impressive collection of cars + additional vehicles, his airplanes, wardrobe, and awards. It truly is a must see when visiting Memphis! I would put visiting Graceland at the top of your Memphis to do list. 
To be honest, I unfortunately missed the tour part of our distillery visit as I was the last for hair and make-up that evening. BUT I did get to visit the distillery's main room and check it out a bit. Such a cool space, very moody and masculine. A great spot to spot into for a laid-back evening or fun afternoon of bourbon, whiskey, and vodka tasting. 
Bareware is connected to Juice Brothers and offers the opposite of the juice bar – cocktails, a moody atmosphere, and some late night fun! Bareware is the perfect place to stop in for a fabulous cocktail before or after dinner. Or if you're with a group, grab a table and stay while. 
Shop
If you saw my stories while in Memphis as well as following the Memphis trip you already know I was/am completely obsessed with Buff City Soap! They offer handcrafted plant-based body & bath products including Soaps, Bath Bombs, Body Butters, and a whole lot more! Aside from the amazing products, I'll dive into them more below, you also have the ability to set up a bath bomb party or soap making party if you want to try your hand at making some beauty products to use yourself. I would highly recommend this – we did a bath bomb party and had SO much fun! 
As for the products, my top recommendation is the laundry soap. It contains ZERO harmful ingredients and smells absolutely incredible. By far my favorite product I have tried of theirs thus far (and that's saying a lot because I've loved them all) and plan on ordering on a regular basis. Next up, their charcoal bar soap was a lifesaver when I realized I forgot mine. Charcoal bar soap is a big game changer if you're using natural deodorant. It helps to remove impurities and excess oil from skin. Which then extends the life of your deodorant and leaves you feeling fresher for longer. 
Honestly I could go on and on about all their products but bottom line is you need to stop in when you're in Memphis! 
The Pickering in a Box has just about everything – from home decor to clothing to footwear to incredible accessories and more. You could truly spend all afternoon here trying on items, perusing, and chatting with the gals that work there! If you're in need of a new look while in Memphis this is the spot to go. 
Janey Bee Jems created handmade pieces right in Memphis! They're unique, beautiful, and so impressive. I most have spent 20+ minutes looking over their collection before deciding on a piece. I truly wanted everything! Available online as well as in several local boutiques around Memphis. 
Food Experiences
If you're wanting to stay in one evening in your Pettigrew Adventures airbnb, I would absolutely suggest booking a cheeseboard experience with Grey's. What is a cheeseboard experience you ask? It is a full service cheese pairing "class" that is hosted at your venue. You'll have the opportunity to sample five to seven cheeses each with one to two pairings. Grey's will explain what cheeses work best with what items and direct you on sampling several different pairings. Additionally, they'll touch base prior to make sure the cheeses pair well with the wines you like/will be serving. Tell me that doesn't sound incredible? I promise it was! 
Andrea is a local chef and cookbook author. She was kind enough to make us a delicious pasta that was light, filling, and full of healthy vegetables. If you're looking for a low-key night in while in Memphis but also aren't wanting to cook, chef Andrea is the way to go!
Where to Eat
We kicked off our trip with Juice Brothers Friday am and boy was it a great place to start! I was in healthy food heaven! Juice Brothers offers a wide array of açaí bowls, smoothies, cold pressed juices, mylks, health-boosting shots, and vegan treats. I opted for a green smoothie, almond butter açaí bowl, and a beauty shot. Fueled to take on the day!
If you want to indulge in the King's favorites eating at Graceland is a must! Step back in time Gladys' Diner with classic American cuisine, including great burgers, hot dogs and pizza. Plus one of Elvis' favorites – a peanut butter and banana sandwich – which is what I had! To top it off they offer hand-dipped ice cream – grab a scoop or fully indulge with a milkshake – you know I did!
A Latin-meets-southern restaurant that serves hand-crafted cocktails & chef-inspired tacos & tapas. The perfect spot for a group! The menu is a little overwhelming but in the best way possible – there are so many items you'll want to try. Which is why I say it's great to visit as a group, you can order a ton of different items to allow everyone a little taste of everything. My top recommendations: babalu signature guacamole, baba burger, black bean fritters, and filet on a stick. Oh and definitely order a cocktail! Their spicy margaritas are the best I have ever had!
If you're a breakfast person you need to immediately make note of Staks Pancake Kitchen, you won't want to forget it! Think fresh brewed, local coffee, free-range eggs, and staks on staks of the fluffiest pancakes you've ever tasted. Obviously pancakes are what they are famous for and specialize in, however, they also offer lots of other breakfast classics! BUT be sure to check out their sophisticated staks – they're pretty impressive! I ended up ordering a short stak (4) of buttermilk pancakes with blueberries and y'all I almost ate very last bite. I truly had to put my plate on the other side of the table so I would stop eating them – they were incredible. I might be drooling right now thinking about them! 
This spot gave me total South End Charlotte vibes and I loved it! Definitely a cool spot to be – very open, live music, and bottomless mimosas + bloody Marys at your table. We ate here for lunch Saturday afternoon and it had quite the crowd – everyone was having a good time! We ended up ordering a ton of appetizers and sliders to share. And all of the mimosas! 
A few of my favorite appetizers: nachos for the people (OMG so good), guacamole, chick-n-fill-ay sliders, and falafel sliders.
The Rendezvous has been serving ribs in a downtown Memphis alley since 1948. It has been owned and operated by the Vergos family for 3 generations. And y'all it has been a Memphis staple for a reason – the food is incredible, the staff is the sweetest ever, and the atmosphere takes you back in time. You cannot visit Memphis without stopping into Rendezvous for some meats! The barbecue pork nachos are an experience all themselves – Amanda and I couldn't get enough of them! And do not get me started on their brisket…one word DROOLWORTHY! I told Joshua no brisket will ever compare to Rendezvous and that is the truth. 
This was a fun late night stop for us! Gibson Donuts is open 24/7, yes you read that right – you can get fresh baked donuts every hour of the day, every day of the week! They're famous for their blueberry cake donut which was unfortunately sold out when we arrived. However, I tried their donut holes and whoa! I definitely understood the hype! 
I highly recommend planning a trip to Memphis, Tennessee. Add the destination to your travel bucket list!  If you have any questions about Memphis, the things we did/places we went, or my overall experience feel free to leave a comment below or send me an email – [email protected]. Also, stay up to date on all travel here.
All airBNB photos by Madison Aldrich for Kelly Ginn photography. All other photos by Elizabeth Looney Photography
Thank you to Pettigrew Adventures for sponsoring this trip! Although accommodations and many of the activities were provided complimentary, all opinions are my own!