Grab a glass of your favorite wine, get dressed, invite some friends, and host the ultimate virtual happy hour!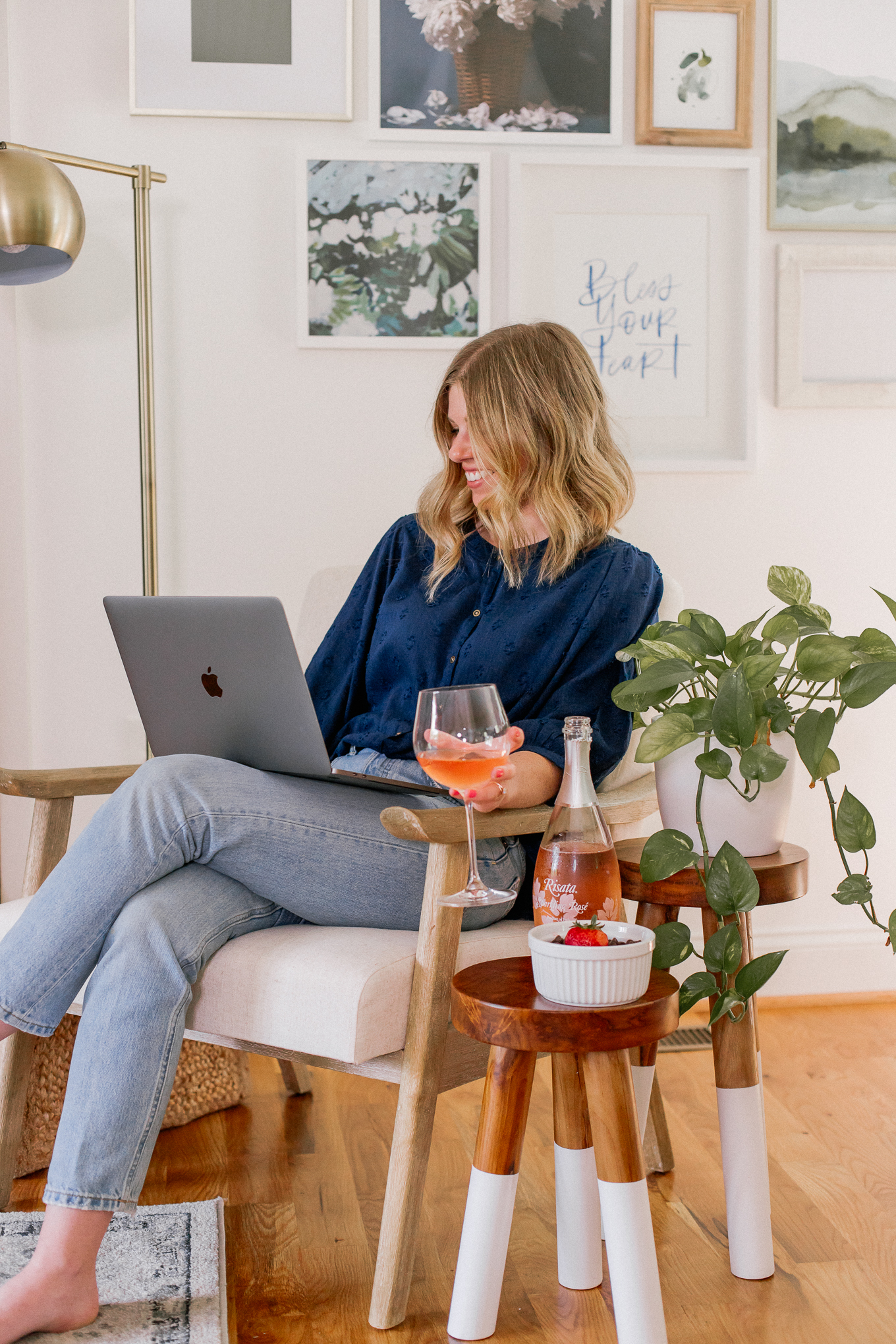 Even introvert me is missing happy hours with friends! I cannot imagine what all you extroverts are feeling! But thankfully there's a way we can still have those moments of celebration and connection even while we're social distancing! With the help of technology we can now see our friends + family members and come together to celebrate happy hour! Connecting via FaceTime, Google Hangouts, and Zoom is a great way to get in a little socializing, connect with your loved ones, and have some serious fun! Plus it is a little more special than a quick text or phone call. 
So today I'm partnering with Risata Wines to share seven tips on how to host…
the ULTIMATE VIRTUAL HAPPY HOUR
No.1 Send a Fun Invitation
I know it would be easier to place the event on your iPhone calendar or send out a shared calendar invite, but where is the fun in that? Make the event different, more exciting that your  weekly zoom financial meeting by creating a well-designed digital invitation. Use a site like Paperless Post or Canva to create the invite and email it out to each of your guests. Paperless Post allows you to send directly from their site and receive RSVPs directly. While Canva allows you to be a little more creative (in my opinion) you do have to send the invitations yourself via email or could even send via text. But let's be honest, we all have that extra five minutes to make that happen!
Below are a couple I created on Canva to give you a little inspo!
No. 2 Suggest a Drink
Everyone is obviously free to sip on whatever beverage they would like but sending out a drink suggestion makes it a little more personal and exciting. Plus if you're sipping on the same wine, you can chat about it and maybe feel even more like you're sitting in the same living room together having wine night.
My tip is to choose a bottle of wine that everyone can easily pick up at the store on their next essential grocery store run. Keeping it simple allows them to spend less time in the store and more time at happy hour! If everyone has different taste palettes when it comes to wine I have a few recommendations for you…a little something for everyone!
The Warm Weather Lover:
Risata Sparkling Rosé: crisp sparkling wine with aromas of strawberry, raspberry and delicate floral notes. I absolutely love sipping this sparkling rosé once temperatures warm up a bit! It is so light, refreshing, and perfectly bubbly. 
The Sophisticated Type:
Scarlet: seductive semi-sweet red, with flavors of raspberry, cherry and strawberry that entice you with every sip. One of Risata's newer wines – I have not yet had the chance to try.
Raven: exquisitely bold wine with aromas of blackberry, blueberry and currant that will leave you wanting more. Another one of Risata's newer wines – I have not yet had the chance to try
The Sweetheart:
Risata Moscato d'Asti: seductively sweet, boasting juicy stone fruit, tart citrus and floral honey flavors. The wine is fresh and fragrant. This is a favorite of several of my girl friends I have introduced to it! They cannot get enough of the sweet + tart combination. 
Pink Moscato: bursting with juicy flavors of strawberry, cherry and raspberry, finishing sweet and well-balanced. Very similar to the sparkling rosé just without the bubbles and a little sweeter!
Red Moscato: sweet red wine with juicy ripe raspberry, strawberry and nectarine flavors. This frizzante wine finishes sweet, yet with balanced acidity and slightly creamy mouth-feel. 
The Bubbly
Risata Prosecco: aromas of peach and pear which lead into juicy flavors of Pink Lady apple, citrus and white peach. My absolute favorite Risata wine! This is our go to when picking up a bottle of prosecco! Light, refreshing, and pairs well with juices to create mimosas/cocktails.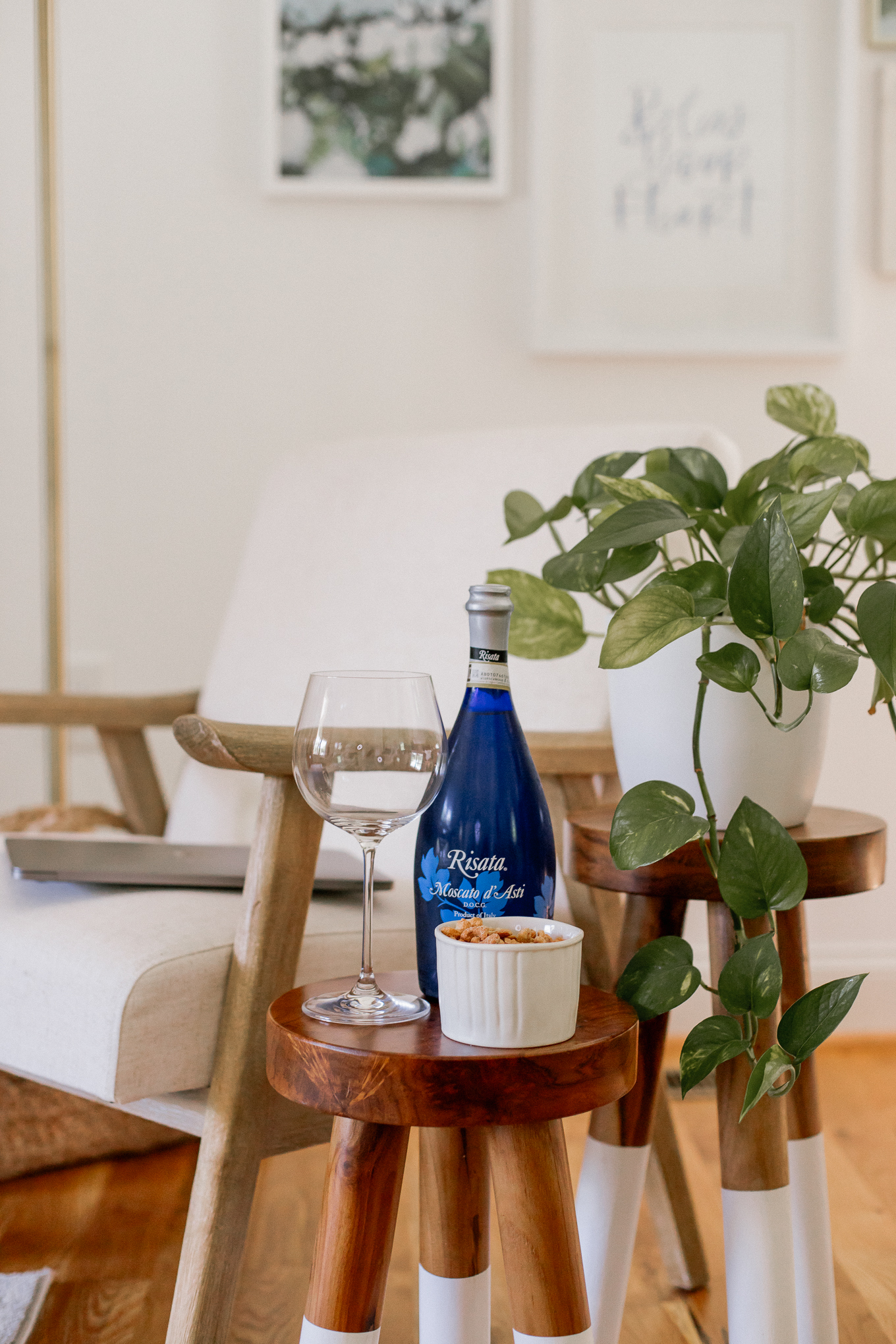 No. 3 Grab Yourself a Fabulous Glass
Pull out those amazing wine glasses you received as wedding gifts but are too afraid to use in fear guests may break them. Or the unique thrifted glasses you scooped up last summer but haven't had a chance to use yet. Now is the time to use, show off, and enjoy these fabulous glasses! You might find your drink even tastes a little better sipping out of a new glass!
We have so many we NEVER use! I'm actually not sure why we don't but we always seem to reach for the same 2-3 glasses. So I have to say, I am pretty excited to pull out some fun glassware it show it off to my girl friends!
No. 4  Get Dressed for the Occassion 
I think it's save to say that a majority of us have fallen into the rut of wearing loungewear, workout wear, or our pajamas everyday. And NO JUDGEMENT HERE but y'all, it is time to get dressed! Pull out your favorite spring dress, the new top you haven't had the chance to wear yet, or even just a great pair of jeans you haven't worn in the last four weeks. 
Trust me, it will feel good to put in a little effort and wear some normal clothes! Not only that but you'll also feel more like you're at a real happy hour if you're wearing something other than your pajamas for the third day in a row. 
My girlfriends will find me wearing my favorite jeans and a cute top or floral number with my favorite headband, a great pair of earrings, and maybe in a new pair of wedges I haven't had the chance to wear yet.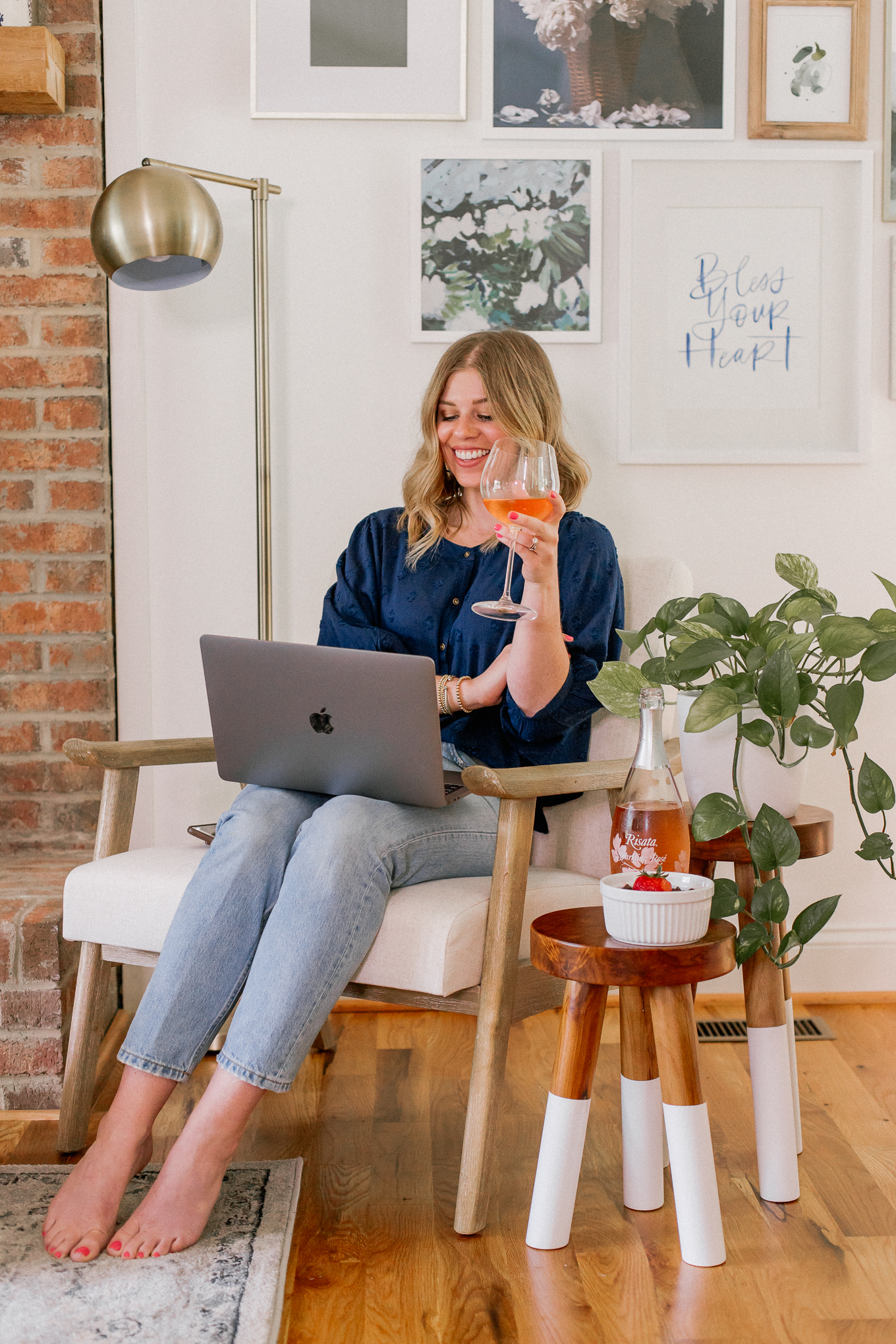 No. 5 Create Your Scene 
There is two parts to this.
The part for your friends: Make sure you've tidied up a bit where you're setting up shop (where you're taking your zoom happy hour). Put away laundry away, remove any cups/dishes from today's meals, and just tidy up the space overall. 
The part for you: create space that feels a little different, a little more enjoyable. One that puts you in the mood for happy hour! Maybe set out your favorite snack (more on this below) or create a mini charcuterie board to go with your wine. Light a candle or turn on your essential oil diffuser. Play a little music in the background – just make sure it's low enough so it doesn't interfere with your conversation. 
P.S. Canva has created some really creative Zoom Virtual Background Templates if you want to use one of those vs. creating a scene at your home.
No. 6 Snacks, Snacks, Snacks
Let's be honest, we all know a happy hour isn't that happy without some snacks! Plan ahead and share a snack idea with your guests. One that will pair well with your drink recommendation.
Or ask everyone to send a recipe for an appetizer, small plate, or dessert. A little virtual potluck along with your virtual happy hour. You could choose a theme or simply ask everyone to send their favorites!
A couple of my favorites:
Brookies
Charcuterie Board
Cinnamon Apple Bread
Two Pairing Ideas: 
Risata Sparkling Rosé + Dark Chocolate Chips and Strawberries – could also make chocolate covered strawberries!
Risata Moscato d'Asti + Jalapeño Cashews 
No. 7 Sit back and Enjoy!
Now for the best part – sit back and enjoy this time with your friends (or family)! You've pulled together the ultimate virtual happy hour and now you get to reap the rewards! Drink that fabulous glass of wine out of your fabulous cup while wearing real clothes and catch up with those you love! Cheers y'all!