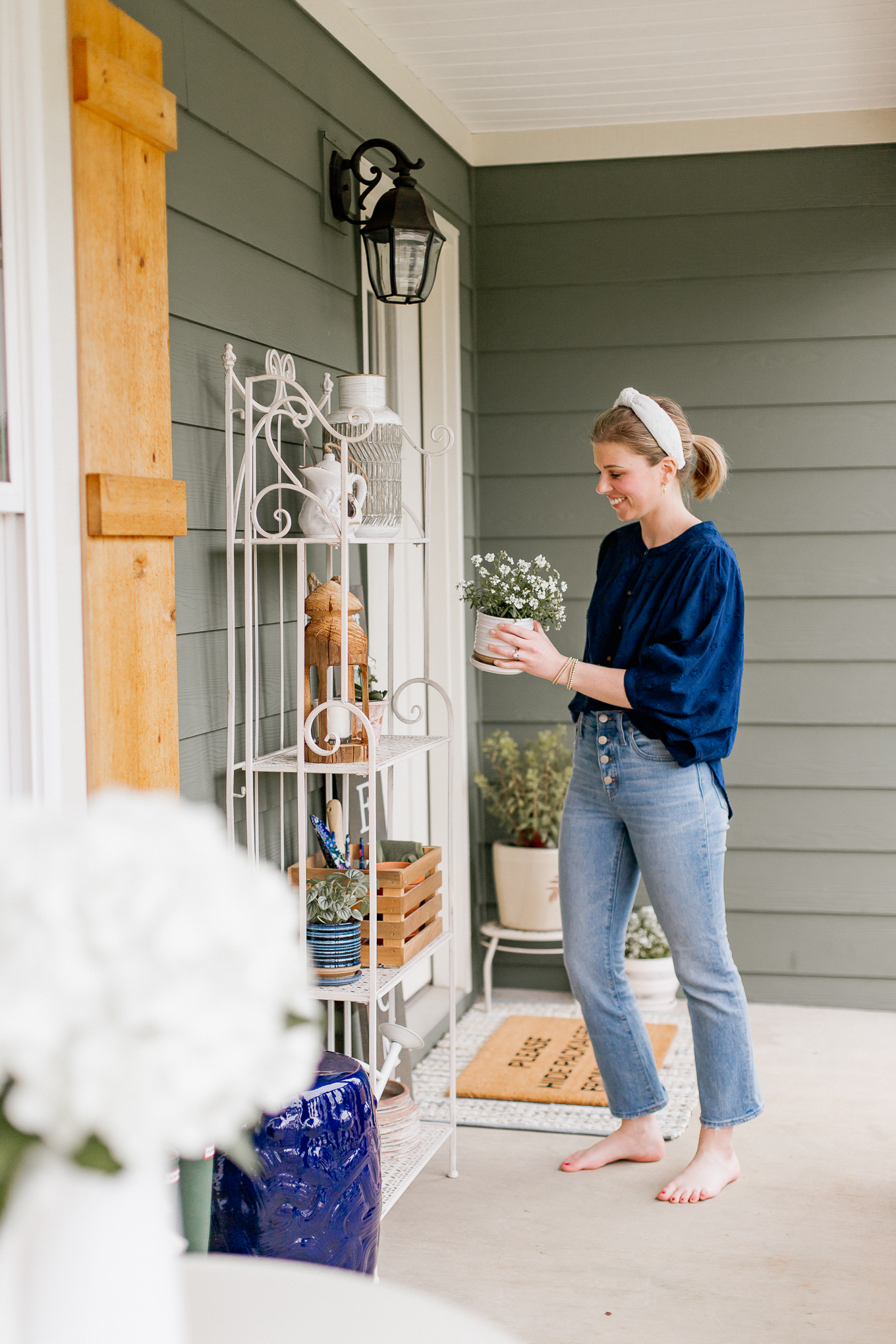 *Disclaimer: I shopped and created this space in early March – prior to the stay-at-home order and social distancing. Limited Tuesday Morning stores have re-opened at this time. Please visit their site to see whether your local Tuesday Morning is open and their store hours. Don't forget your mask, to keep 6ft between you and other shoppers, and wash your hands!
Spring is in the air, and that means it's time refresh your outdoor spaces. Chances are they weren't used much from November/December to February – maybe even into March and could use a little (or a lot) of TLC. Am I right? Well with spring temperatures arriving and flowers starting to bloom now is the perfect time make these spaces feel intentional, personal and inviting. They are after all an extension of your home. 
If you're anything like me you're also itching to be outdoors as much as possible. Whether it's for your morning coffee, dinner al fresco, or weekend afternoons reading a good book while soaking up a sunny spring day. Or maybe you're looking forward to hosting friends and family members – when we're able to again soon. Whatever it is you're looking forward to, creating an outdoor space you love provides the perfect setting to create new memories.
We moved into our home last year towards the end of summer, leaving us little time to enjoy the outdoors. So creating outdoor spaces wasn't a top priority for us, our focus was indoors. However, this year we have made it a goal of ours to create outdoor spaces we love – to enjoy ourselves as well as while hosting friends and family. Our first project, our front porch – it's smaller, easier to tackle, and also the first thing all of our guests see…as well as the Fedex and UPS man daily.
We knew we wanted a warm, inviting space that reflected our personal style, as well as one that was functional. All while staying within our budget. I created a short list of items we'd like and took a few screenshots of inspiration images from Pinterest. Then it was off to Tuesday Morning, I knew they'd have everyone we wanted and keep us in line with that budget I mentioned.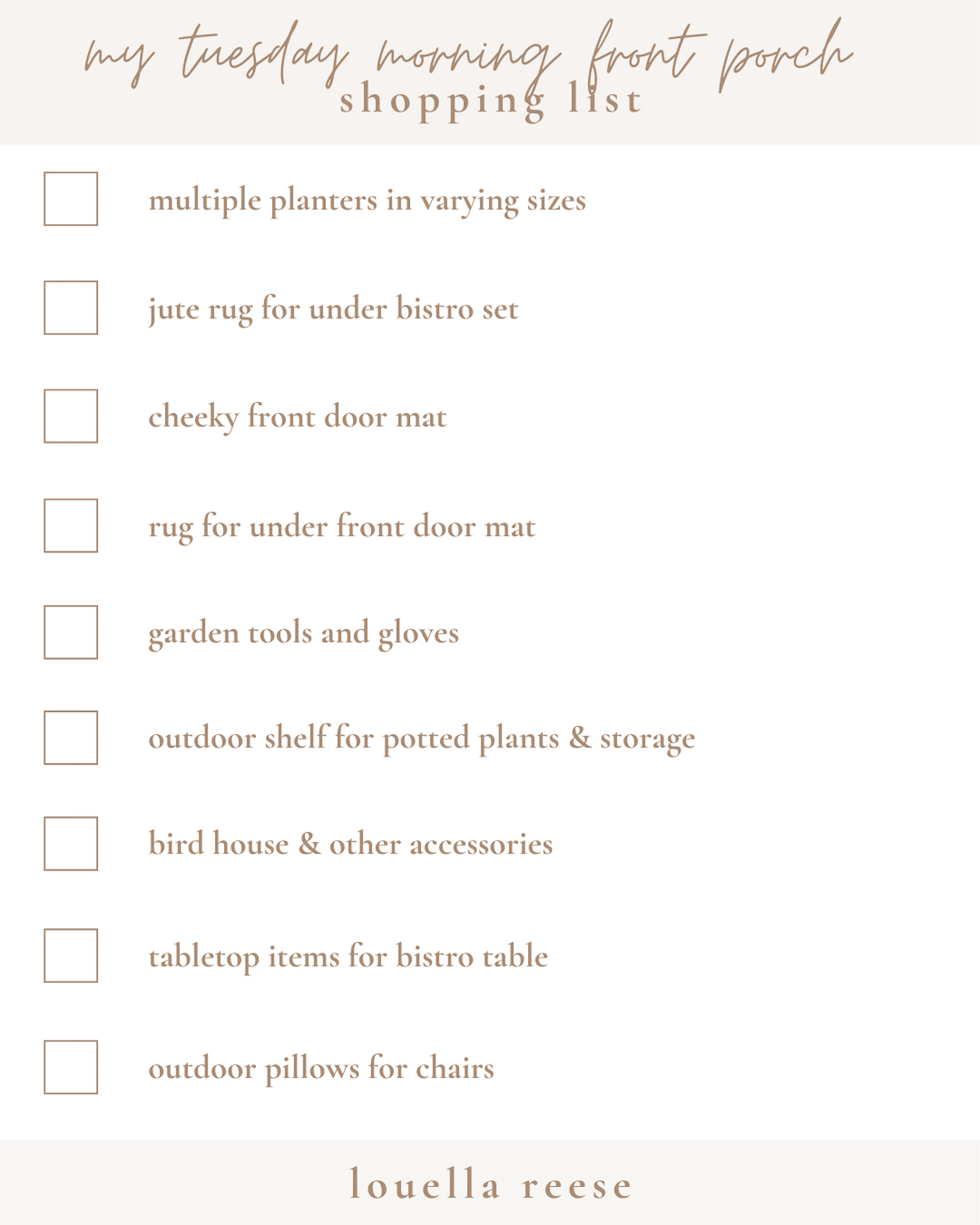 I am happy to report that Tuesday Morning not only had everything on my list but also a great assortment of all the items plus a couple of extras. The best part, I was able to scoop up everything I wanted within our budget ($300) and two fun little items for Joshua – a candy bar for coming along + America dish towels he needed. 
We actually have several Tuesday Morning locations within 20 minutes of us so I found myself going to three different spots. The reasoning behind that? Each location has a variety of inventory. I could have easily gotten everything I wanted/needed for our space at one shop but was having too much fun – I had to go to all three. Fellow shopping addicts I know you feel me!
After arriving home I think I had our front porch set up and ready for the FedEx guy within 25 minutes. I was so excited about all of my Tuesday Morning finds and could not wait to see everything come together. I ended up purchasing a metal potting/garden shelf, four pots, a birdhouse, metal vase, wood lantern, garden tools, garden gloves, a garden stool, three outdoor rugs, a front door mat, two pillows, outdoor plates, and outdoor cups. All under our $300 budget. 
So let's talk about how this space came together and how you can freshen up & decorate your front porch in preparation for spring…
How to Freshen Your Outdoor Space for the Spring Season with Budget-Friendly Front Porch Decor
Start with Outdoor Furniture
chairs, tables, bistro sets, benches, bar carts, potting/garden shelves, garden stool
This is what you will build your whole front porch space around. If you're using something you already have, keep the color/style in mind when planning and shopping. If you're purchasing something new, really think about what you want and what you'll be using the space for. You want your purchase to be a good one and one that sets you up for success – meaning has you using your space often. 
We already had a bistro set and absolutely love how it fit our front porch so seating wasn't something we needed to purchase. But did need to keep it in mind when purchasing accessories + decor. With a little bistro set, we did need additional outdoor furniture though to compliment it. Our thoughts and what we ended up with, a potting/garden shelf for potted plants and some storage. Plus a garden stool – mainly for looks but also great for extra seating.
If you're thinking of getting a bistro set for your front porch I will say Tuesday Morning is the perfect spot to shop as they had SO MANY great options at every store I visited – teak sets, white metal sets, blue sets, and a couple of mixed material sets. They also had several pot ladders, benches, and table and chair sets.
Layer with outdoor accessories & decor
cushions, umbrellas, baskets, string lights, pillows, lanterns, candles, rugs, birdhouses 
After you have your main pieces it's time to layer on the fun! Add pops of color or a variety of textures with rugs, cushions, baskets, pillows, and additional accessories to decorate your front porch. My biggest suggestion is to make a shopping list like I shared above so you end up getting what you really want/need. Since decor is such a fun part it is easy to go overboard here and you don't want your small space looking too cluttered. 
Another way to keep that from happening, decide on a color palette of 3-4 colors and stick to it! This will help give your space a cohesive feel. 
For our front porch, I chose neutrals with a few pops of blue and green to go with our house color. My focus was primarily on textures with the jute rugs under the table, fringe pillows, woven rug under the doormat, and the doormat itself. All offering different textures but primarily neutral color schemes so the overall look is very cohesive. 
The options for accessories and decor are truly endless at Tuesday Morning! They have so many lanterns, cushions, pillows, candles, rugs, and additional outdoor decor. This is the part that had me going back and forth as I wanted so many items but only had so much space. You'll have no problem decorating your whole outdoor space with Tuesday Morning – well the only problem may be your lack of space…like mine!
Add outdoor tableware
plates, bowls, cups, cutlery, serving ware
Another spot to have some fun! Maybe even more so since these items won't live on your front porch all of the time. But rather brought out when hosting or enjoying the space with your better half. Having outdoor tableware makes life so much easier and a little less stressful! You don't have to worry about it breaking when you drop it and in some cases don't even have to clean it – use and toss! 
Tuesday Morning had a WIDE ARRAY of outdoor tableware – really fun patterns, Easter themed pieces, and simple neutrals. Plus a variety of sizes for every items. I opted to keep things simple with vintage inspired plastic cups, ivory plates that can be thrown away, and pretty neutral striped cloth napkins. They're simple but really dress up the table! And y'all I couldn't get over the prices – I was tempted to buy for a group of eight even though we can only comfortably seat three on our front porch. 
Exercise Your Green Thumb
pots, planters, garden tools and gloves 
No outdoor space is complete without a little greenery! If I had it my way, I'd say a lot of greenery! Grab a couple of pots and planters to place on your front porch floor, table, and/or shelf. Doing so will instantly create a more inviting space once you fill with your favorite blooms. Don't forget the tools and garden gloves you'll need to take care of the plants! 
Tuesday Morning has an amazing variety of pots and planters in varying colors and sizes. From neutrals to clay to loud pops of colors. As well as itty-bitty to crazy oversized. Plus the cutest garden tools you ever did see? I mean tell me the blue set I scooped up doesn't make you want to start gardening?
We truly couldn't love how our front porch space came together thanks to Tuesday Morning! I am actually sitting out enjoying it right now as I write this post. I've found myself being drawn to the space every afternoon since we completed it. Whether it's to work outside for the afternoon or take a little break with a good book. It has truly become an extension of our home and I cannot wait to spend lots of time out here this spring and summer.
What front porch decor is on your shopping wish list?  Let me know in a comment below!
Stay up to date on Louella Reese home content via the home page.