Sharing my honest Equilibria CBD experience plus answering some of the frequently asked questions I receive.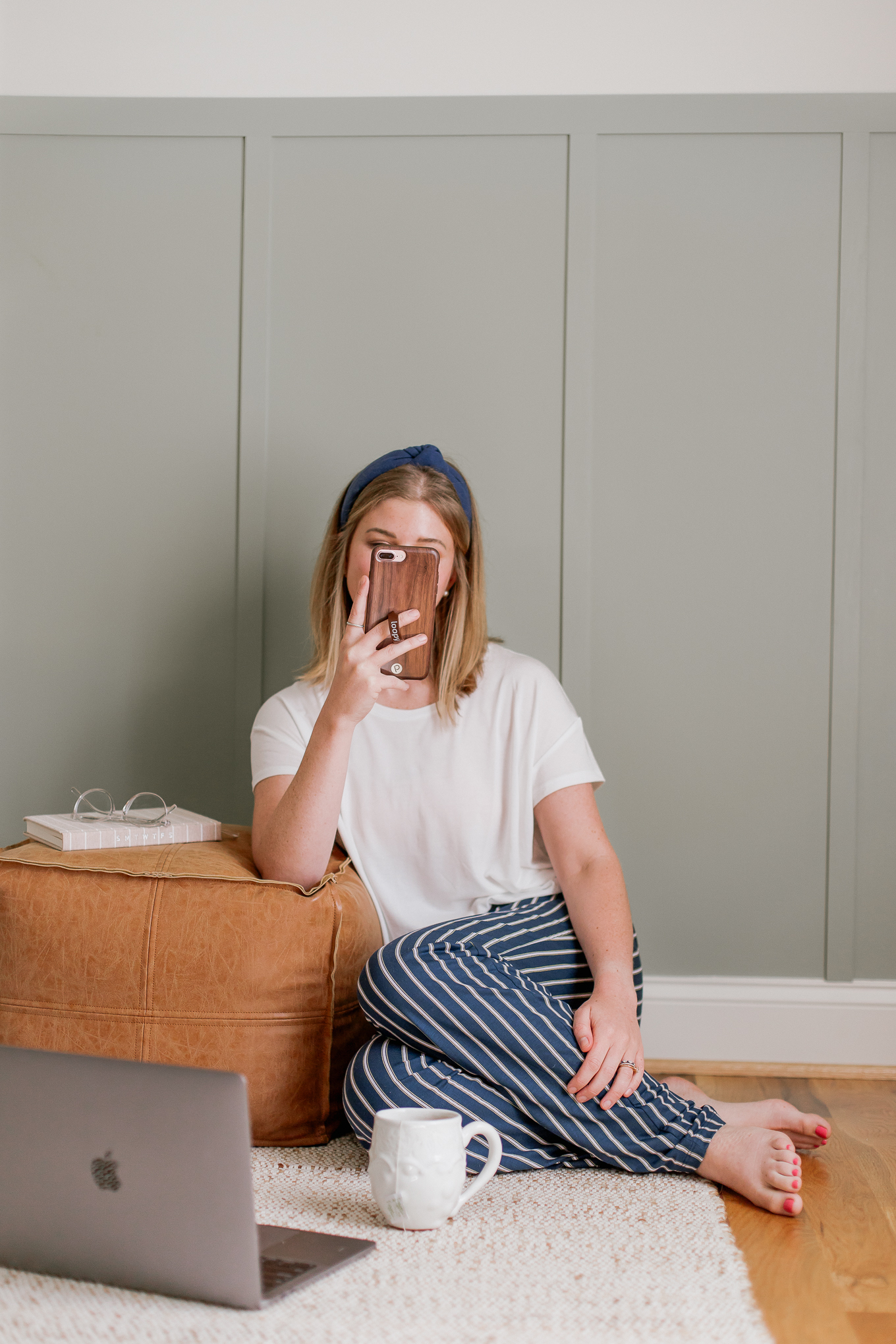 A little over two months ago I was introduced to Equilibria and their CBD products. I had heard about the benefits of CBD oil from a couple of friends – one had been using it to help with anxiety while another was using it for body aches and pains. To be very honest, I was quite skeptical and thought it was all in their head that these products were helping them (sorry friends, I love you). I had no real desire to try it or any reason to – so I thought. However, I ended up trying out a relief cream when suffering from a serious neck ache that refused to let up. I was desperate and willing to try anything. It only took 30 minutes for my pain to subside and I was intrigued!
That intrigue lead me to Equilibria and their Brilliance Box. Equilibria, kindly sent the box my way to test out their CBD products to see what I thought. Let's dive in…
What is CBD?
CBD is a natural ingredient found within industrial hemp flowers that has been clinically proven to improve mental and physical well-being when taken properly and consistently. CBD is completely safe and legal. It is a powerful health agent, but there are NO discernible impairment (no high!). Industrial hemp is a cannabis sativa plant grown specifically to exhibit 0.3% THC content or less — this is why there's no discernible intoxicating effect, but also why it's legal.
Common uses for CBD include anti-inflammatory (the root of all disease), pain management, mental health issues, anxiety, sleep, eczema healing, fertility, autoimmune…the list goes on. CBD works within your Endocannabinoid System (ECS) to create balance in your body. Our bodies create their own "endo" cannabinoids for the ECS, and "phyto" cannabinoids like CBD further regulate and/or augment this same system of receptors. More in depth from the Equilibria website:
The endocannabinoid system [ECS] plays a crucial role in regulating a broad range of physiological processes that affect our everyday experience – our mood, our energy level, our intestinal fortitude, immune activity, blood pressure, bone density, glucose metabolism, how we experience pain, stress, hunger, and more.
What happens if the endocannabinoid system doesn't function properly? What are the consequences of a chronically deficient or overactive endocannabinoid system?
In a word, disease.
By modulating the endocannabinoid system and enhancing endocannabinoid tone, CBD and THC can slow – or in some cases stop – disease progression."
Fun fact: Women even secrete endocannabinoids when breastfeeding, for their babies! Yes, the ECS plays a huge part in fertility, PMS, motherhood, and menopause. (our bodies are so fricking cool!!!!!!)
I mean WOW! Pretty amazing isn't it?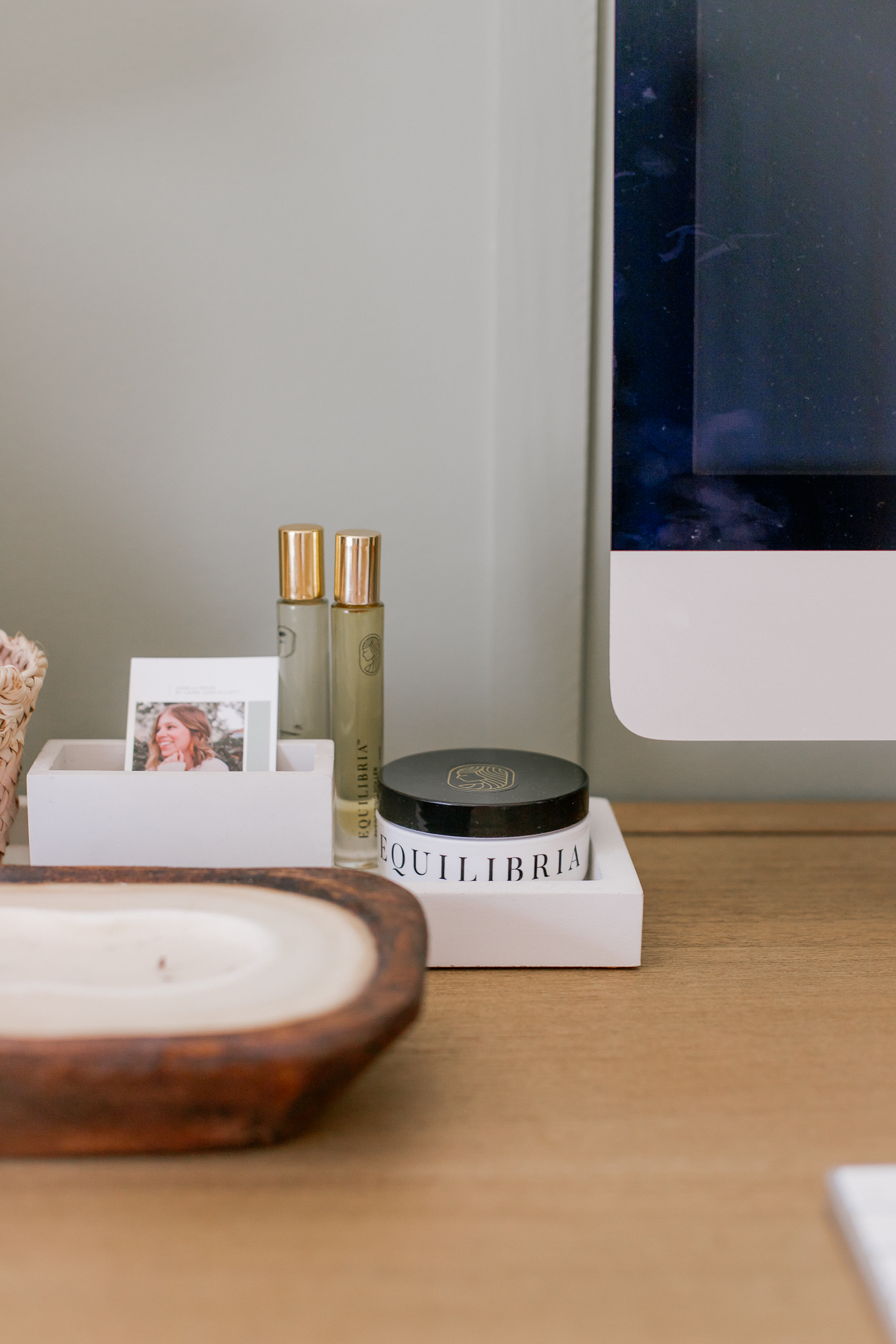 Why Equilibria CBD?
Equilibria is for women, by women. They understand that female bodies are different, from cyclical changes to the very real challenges of menopause and childbirth and everything in-between. Therefore, Equilibria focuses on quality, reliability, service, and science!
Equilibria is developing custom formulations and delivery mechanisms with the modern woman in mind. From cutting-edge hemp extraction techniques, to production optimized for consistency and quality, to developing their own product and service technology.
Equilibria's premium CBD is fully traceable from their 1,100 acre partner farm in Colorado to your doorstep. No fluff. No fillers. No middlemen. So you know you're getting consistent and reliable quality batch after batch, month after month. No surprises.
Organically grown by their bioscience team with 30+ years experience in seed genetics, their specially-formulated hemp oil features 9 cannabinoids & 21 terpenes that work together to give you powerful therapeutic results.
All their full-spectrum CBD products are free of GMOs, solvents, heavy metals, pesticides and herbicides. Each plant is hand-harvested and the oil is carefully extracted from flowers only—the purest source of cannabinoids. They never use stalks, stems, seeds, or isolates. Aka with Equilibria you are getting the best of the best!
While you can read all of this information on Equilibria's site, I actually learned most of this information while on a call with one of their dosage specialist. These specialists help you figure out the right product(s) for you and the amount that should work best for you. Not only that, chatting with them is incredibly informative and also inspiring. I had a call with Maia from the dosage team and could not have enjoyed it more – Maia is so passionate about her job, Equilibria, and the products they have created. Talking with her was such a joy! I hung up feeling even more excited about the products!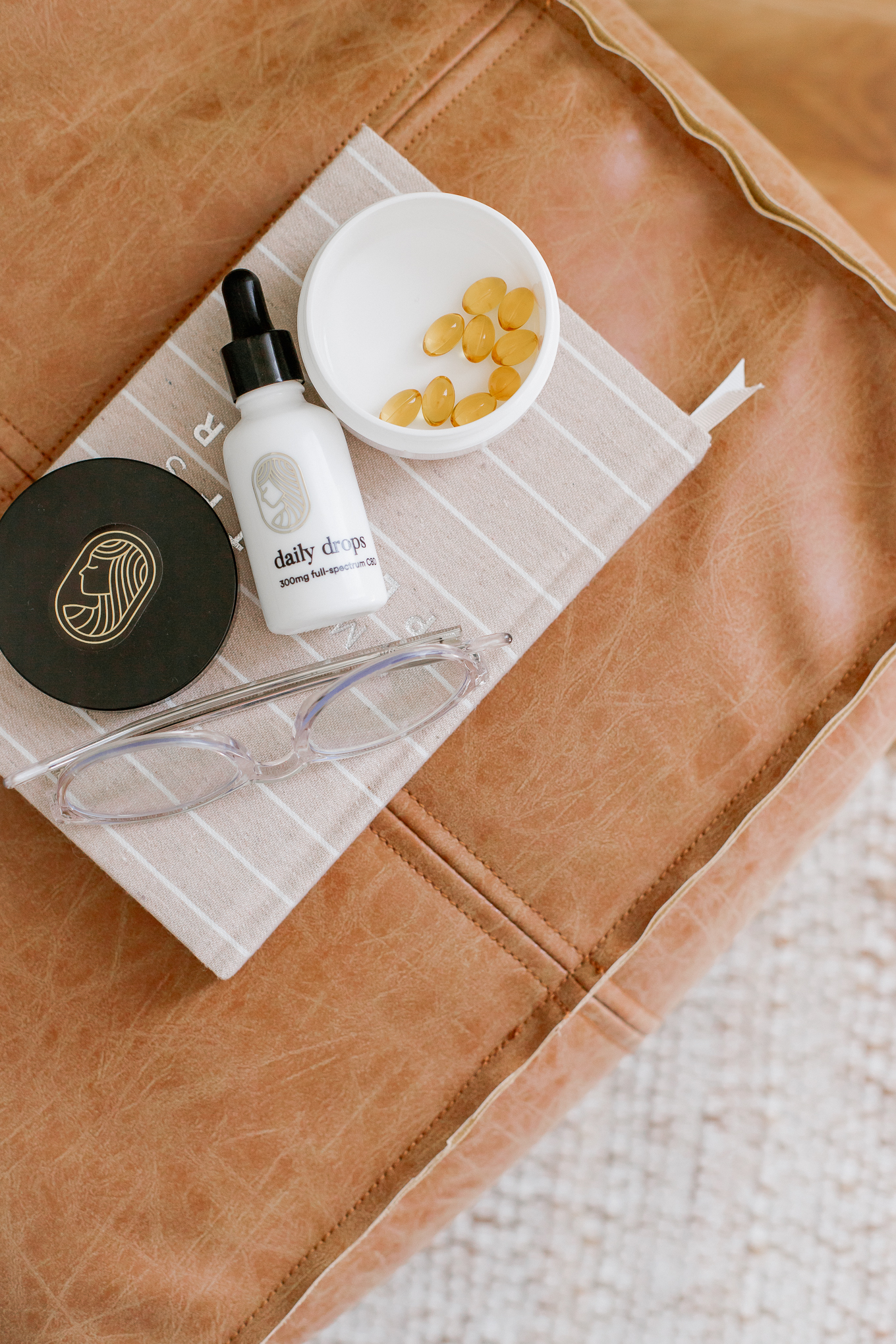 What Equilibria products do you take?
Daily, I take Equilibria's daily soft gels and daily drops. I take the soft gels in the morning typically with breakfast – my dosage specialist from Equilibria recommended these be taken with something fatty like avocado or peanut butter. Doing so gives the soft gels something to stick to and increases their absorption by 30%. The daily soft gels can provide all-day balance, as they are a slow-release product that offers long-lasting effects. When taken before bed, softgels may allow for a more restful sleep throughout the night. Again, I take in the morning and am focused on the all-day balance. Which I noticed pretty quickly with consistent use. Feeling more balanced, even, and focused throughout the day. Also, I feel as though my mood is better!
In the evening, I take the daily drops (a full dropper) 20-30 minutes prior to going to bed. Holding under my tongue for at least 60 seconds before swallowing – this allows the CBD to absorb. These drops can help increase relaxation to help you fall asleep faster and stay asleep. For me, those two things have never really been a problem. However, I have never spent a lot of time in deep sleep – therefore I was waking up feeling tired and could never really get enough sleep. The daily drops have increased my amount of time in deep sleep each night and have left me feeling rested and refreshed when I wake up in the morning. I wake up feeling ready to take on the day! May sound a little cheesy but is VERY true!
The daily drops, can also help increase a sense of calm and balance when dealing with day-to-day stress. I occasionally use the daily drops for this if I'm having a particularly stressful day or experiencing some anxiety. When doing so, I take only 5mg vs. the full dropper I take at night.
Since CBD relief cream is what intrigued me initially, I also have the Equilibria relief cream. Which I actually have on right now as I write this – another neck episode for me. The relief cream can help with muscle soreness, menstrual cramps, pain due to illness or disease, and pain in general. I am truly a VERY BIG fan of the relief cream and highly recommend it if you experience any of the pain previously mentioned.
Equilibria notes that consistency is key when it comes to taking their products and I definitely agree! When doing so you will notice a difference sooner and maintain the levels in your body that ease stress, anxiousness, inflammation and help with sleep. I personally noticed a difference very quickly when taking the daily soft gels and daily drops consistently – it was only days! However, it can take seven days to over a week or so to notice a difference. Again, consistency is key though and will provide results sooner.
My recommendation is to partake in their subscription service to ensure you're not running out after 30 days and can stay consistent! You can do the Brilliance Box (the one I have) or the Balance Box. You do have the option to change or cancel your subscription at anytime. Although I am sure you won't want to have experiencing the products.
You can use code LOUELLAREESE for 15% off your purchase from Equilibria!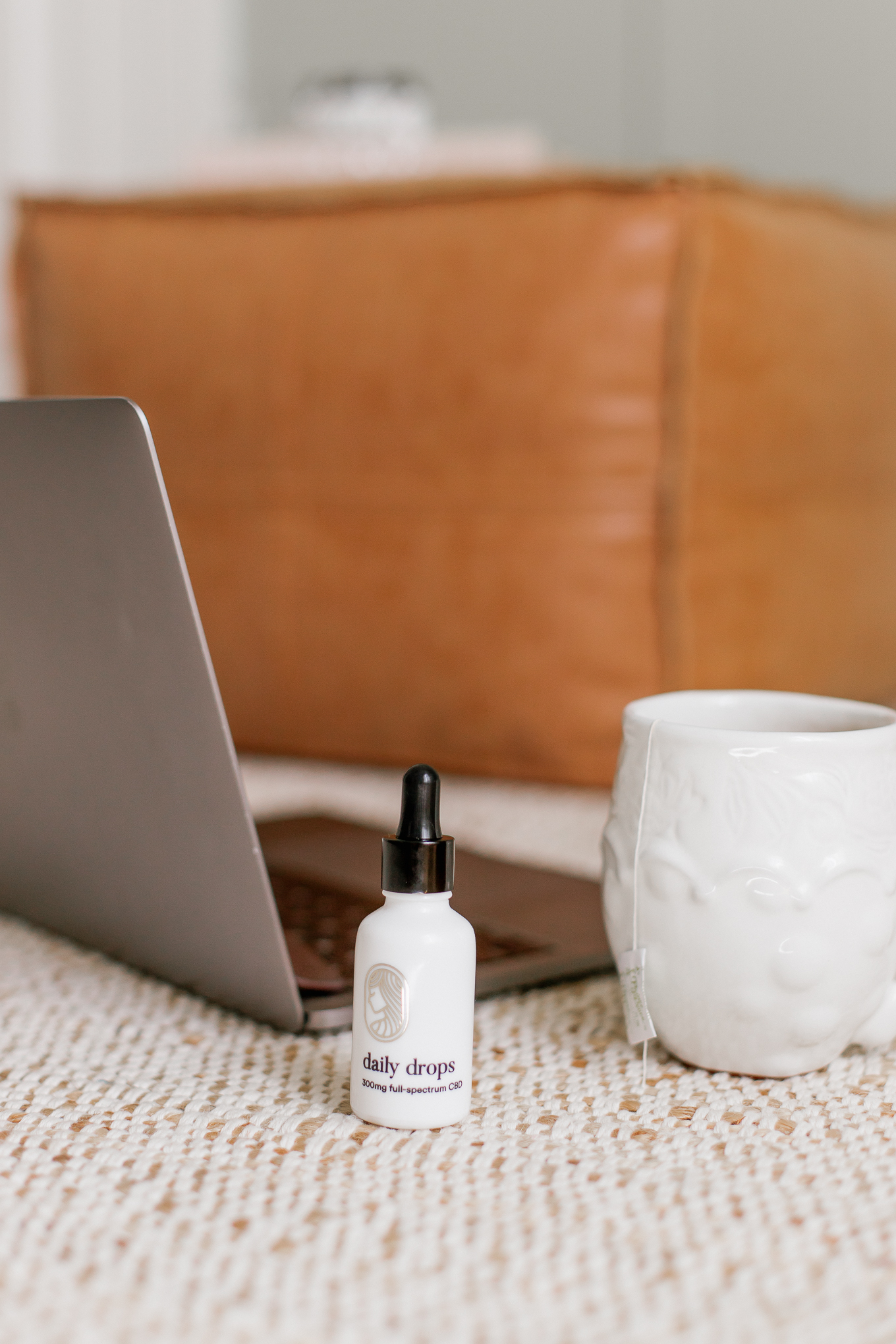 Does it taste bad/weird?
The soft gels have no taste to them at all. The daily drops have a bit of an earthy taste to them but it lasts about 5 seconds after you swallow. I don't notice the taste at all while I'm holding under my tongue – only during and a few seconds after swallowing.
Are the products expensive? How long do they last?
There are varying price points for the products as you can purchase the product separately, in a box, or as a subscription. Therefore, you're able to budget and spend what you are comfortable with and/or only on the items you want vs. having to buy a box if you're only wanting one product. If you're buying the products individually they range from $28 to $196 – price depends on size, product, and whether you do a subscription or not. For the boxes, the prices range from $88 to $160 – again depending on which box and whether you partake in a subscription or not. Each product is meant to last four weeks – taken consistently. As mentioned above, subscriptions are really the way to go – they help you stay consistent and save you 20%.
I just want to make a little note that I am not a doctor and I am not the best person to answer your questions about CBD. That would be one of Equilibria's dosage consultants and/or your personal doctor. However, I wanted to put this post together to share my personal experience and answer some of your questions – those that I am capable of answering. Find more information on the Equilibria site.
Interested in more health content? Check out my health & fitness page.