It may have taken us months (almost a year) to find the perfect coffee table, a round leather ottoman but it was well worth the wait! Sharing a little about our coffee table shopping experience and the one that has completed our living room!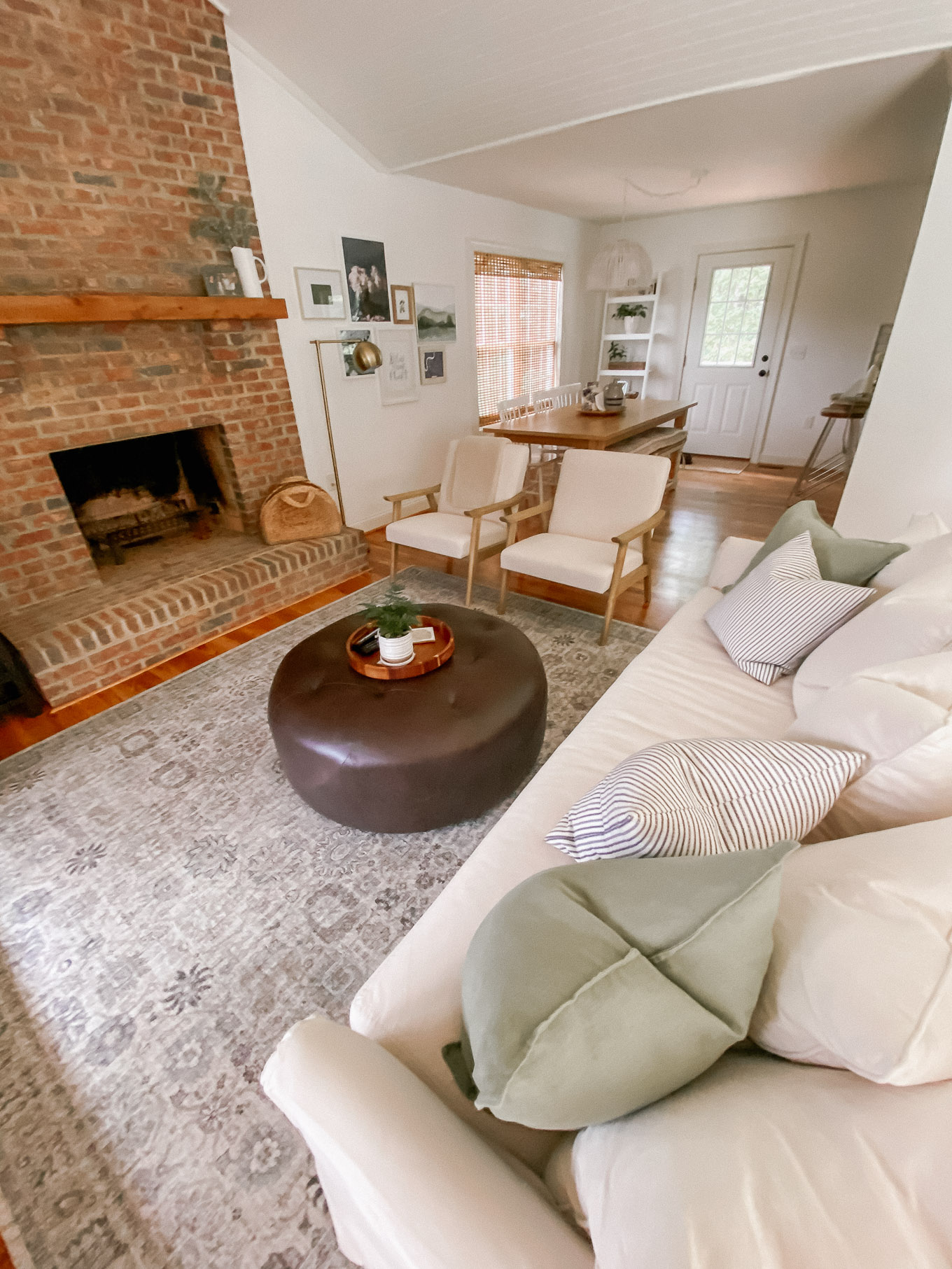 Round Leather Ottoman: The Perfect Coffee Table​
We moved into our home a little under a year ago. Since then we have been working on finding pieces we absolutely love to fill the rooms our of first home. Pieces we love now and will love later. As well as those that will stand the test of time due to their high quality, practical design, and style. One piece that proved very hard to find…the perfect coffee table! We knew we wanted the coffee table to be round, comfortable, large but not overpowering, look better with a little wear and tear, and have no legs showing. We also wanted the coffee table to have a slightly casual look but also give us the ability to dress up the space if we wanted to in the future as well. 
About two months ago, I happened upon the Timpani Oxford Brown Ottoman from Article. I immediately fell in love and quite honestly squealed with excitement! I had spent hours upon hours searching the web for the perfect round ottoman that checked off all of the items mentioned above with absolutely no luck at all. This round leather ottoman from Article was and still has been the only one I have seen to check every box plus some!
It did not take me long to realize the Timpani Ottoman was "the one" for us! I think we ordered the piece within three days. We ordered the ottoman in the Oxford Brown color. Which is a really rich chocolatey brown color. The ottoman is also available in two additional colors as well – Oxford Blue and Charme Tan. 
We had never ordered anything from Article before but had heard amazing things from a couple of girl friends and those proved to be true. We were really impressed with the delivery of the ottoman – speed, communication, the actual delivery, and packaging of the piece. The best part was I was able to schedule the exact day the ottoman would be delivered. Currently Article is offering Contactless Delivery to ensure everyone stays safe during these times. They also ship almost anywhere in the USA and Canada for a flat-rate of $49. Plus they offer free shipping on orders above $999.
Another positive about shopping with Article is they provide estimated delivery times on each product page for all in-stock items. And they deliver fast! If you're anything like me you like to have an idea of when you can have the item in your home ASAP.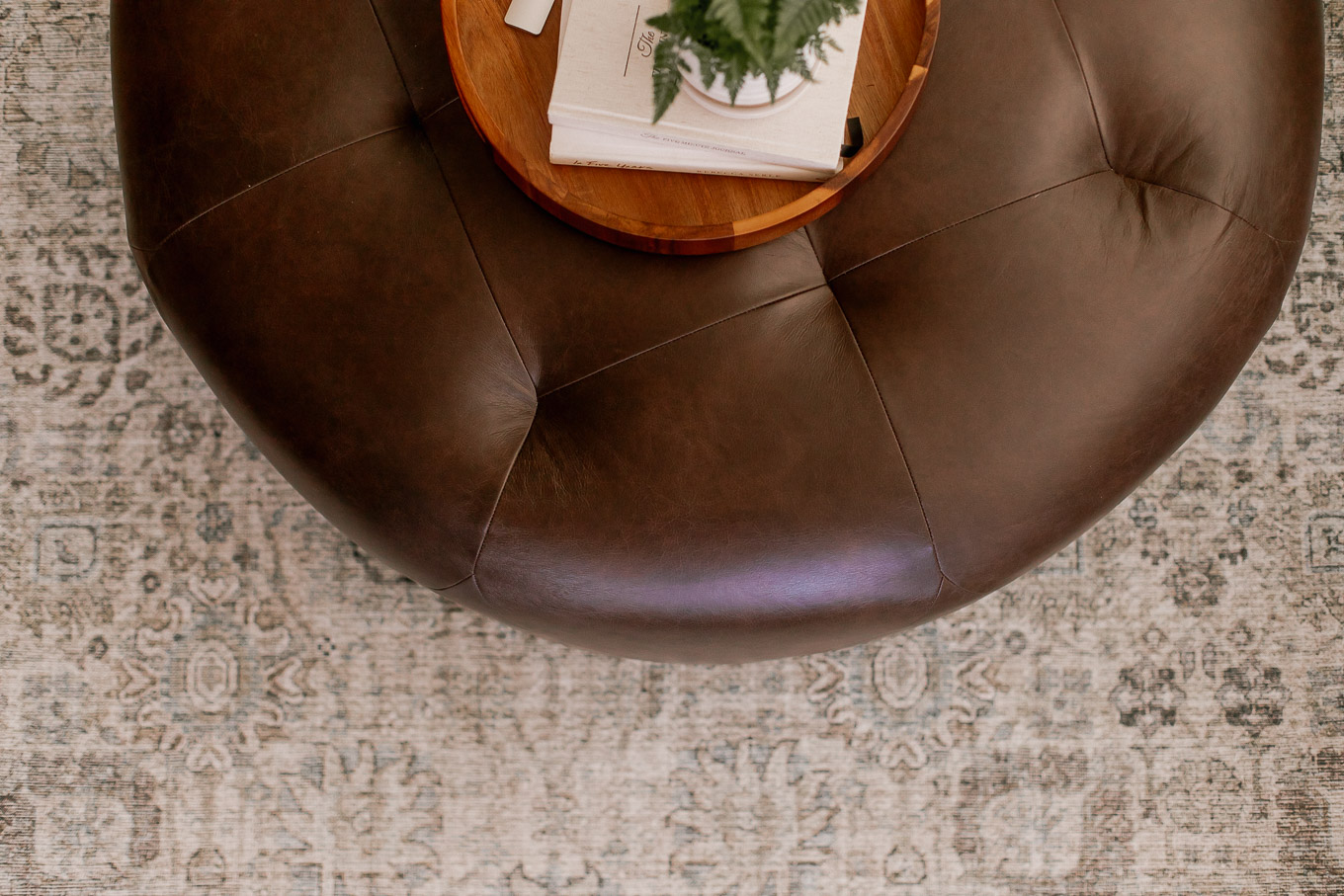 The very first night we sat on our couch and propped our feet up on our new round leather ottoman coffee table we felt spoiled! Yes, spoiled! We were so comfy and cozy. The height of the ottoman is beyond perfect for propping up your feet while lounging on the couch. Not to mention the high density foam with polyester filling provides the perfect cushiony support. 
Aside from being  the ideal place for our feet, the ottoman offers a great spot for our drinks and tv remotes. I added a simple wood tray on top that compliments it's Oxford Brown coloring which provides ample space for drinks and electronic must haves on. 
Anyways, it has been a little over a month now since we received our ottoman coffee table and we could not be more obsessed with it. My mom was actually over the other day and is now contemplating getting the same ottoman for her space!  Which I have a feeling may happen as more friends and family see it! We cannot wait to use it for years to come and introduce it to all those we host.
For us, the ottoman really pulled our space together. Actually anchored the space and provided the color, fabric, and look needed to complete the space. Well we still need a few small things – a mirror over the mantle, decor on the hearth, and pillows for the accent chairs. However, the ottoman completed the space on the large furniture front and again really pulled the whole space together. It is amazing how a fabulous piece of furniture can do that for a room! 
With Article it easy to attain a beautiful living room (or another room in your home)  and right now, as we all know, home is an important place to be. So I wanted to share a couple of additional coffee tables + ottomans from Article that may help complete your space and make it a beautiful living room you enjoy being in!
Article Coffee Tables & Ottomans
Toba in Driftwood Gray – the perfect combination of coastal and modern.
Silicus in Pink – feminine and glamorous with retro vibes.
Catta – tropical vacation in coffee table form. 
Diamond in Cascadia Blue – luxurious and regal.
Tablet in Charme Blonde – industrial-chic, traditional-modern.