Choose Your Console Table
The area is anchored and centered around the most beautiful console table you have ever seen. When Rebekah from Transparent Interiors, the designer we worked with, presented this console table I truly gasped upon laying eyes on it! The piece, the Olisa Console Table, is from Currey and Company and is designed to have the earthy feel of rattan and wicker with a bit more elegance thanks to it being wrapped in braided Abacá rope. It is truly an elegant statement piece that steals the show!
Hang a Gallery Wall Above
With the statement of the console table Rebekah kept everything else pretty simple. A stack of neutral books, some fresh greenery, a small plant, and a calm gallery wall. 
While Rebekah was working on our master bedroom design I was introduced to Poster Store, an online store that offers inspiring and affordable posters, printers, and frames. They focus primarily on gallery walls but their pieces look phenomenal on their own as well. We ended hanging one of the posters + frames we ordered in our laundry room and the piece honestly transformed the space! If you are interested in creating a full gallery wall, you can check out their suggested combinations for stylish and trendy gallery walls.
We ended up choosing natural landscapes and greenery posters to compliment the beach artwork we already had and wanted to included in our space. I love how the eucalyptus poster, beach path poster, and flower cactus poster all pair so well with the artwork and bring out the colors within it. 
A couple of posters + prints that caught my eye aside from the ones we chose for the master bedroom gallery wall include: highland cow poster, grass poster, in the reeds poster, highland cattle poster (my love for cows runs deep), and spring peonies poster. The natural and botanical options are definitely my favorite! They also have a great black and white section. As well as a wonderful maps and cities selection. And lots more!
Use code louella35 for 35 % on all posters (except selection posters and frames). This discount cannot be combined with any other discount campaigns and is only valid for one week. So if you have spotted something you will be sure to check out before August 19th. You can shop all of Poster Store's posters and prints here.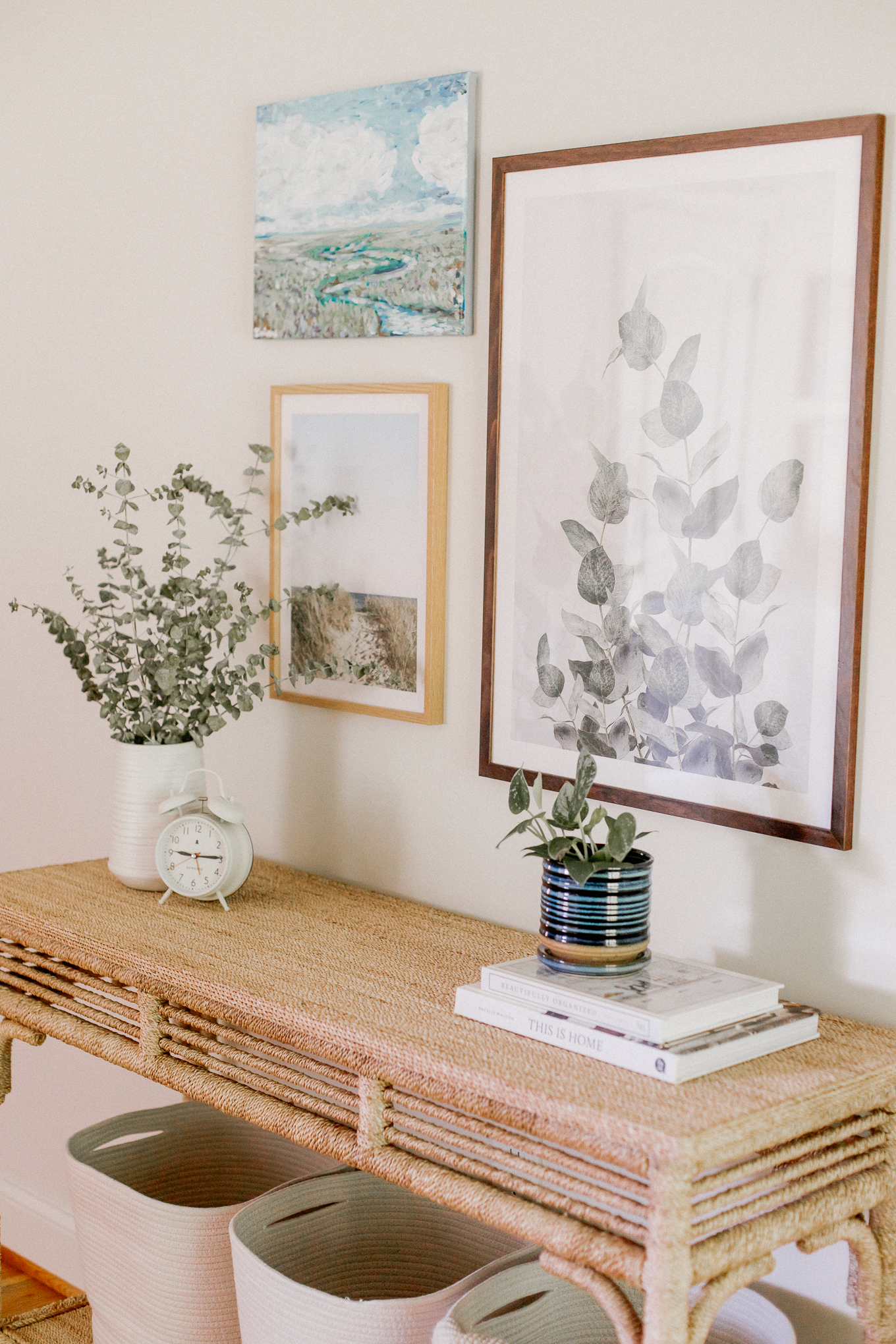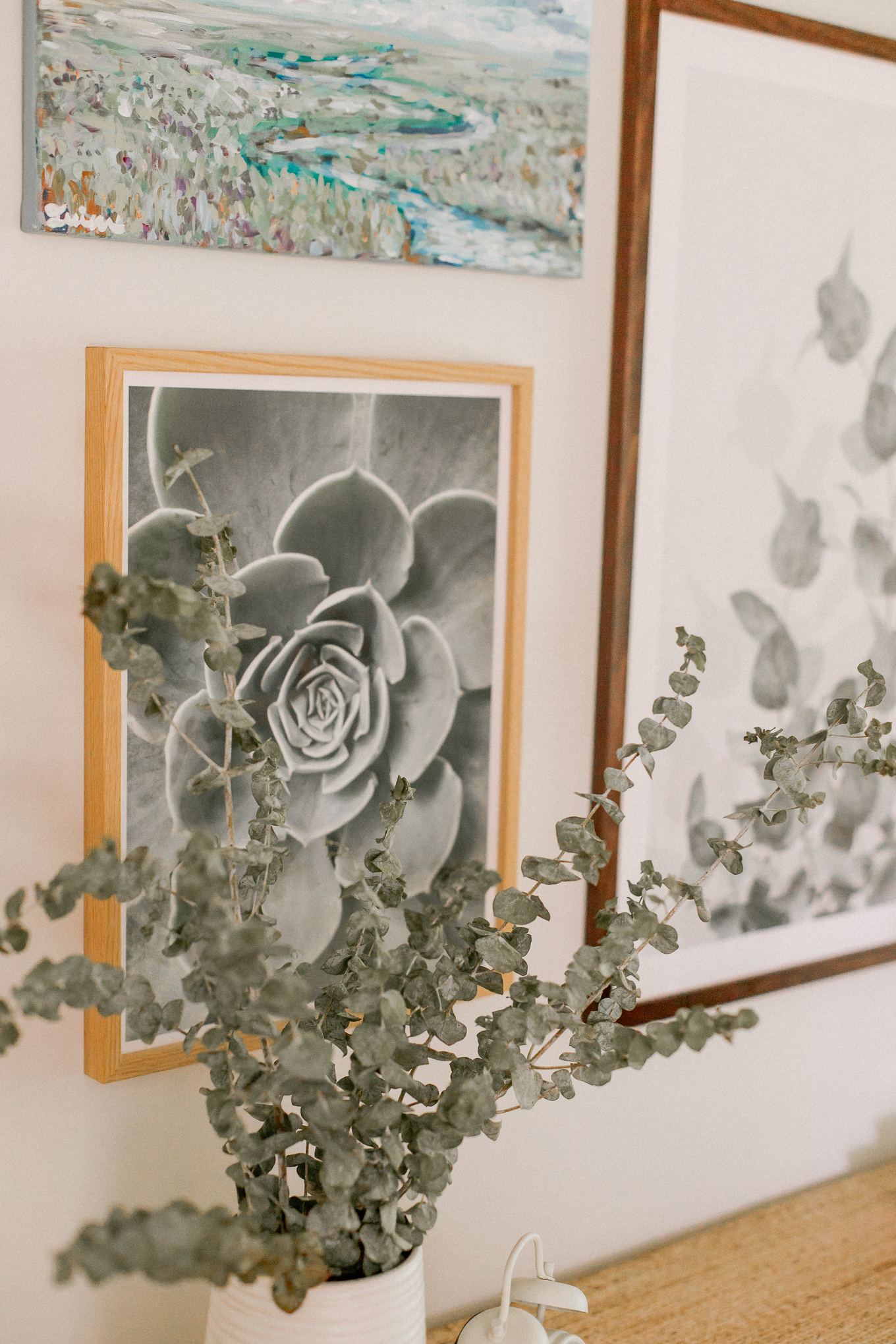 Keep Additional Decor Simple
As mentioned above, to keep things simple we simply added a stack of neutral books, some fresh greenery and a small plant to compliment the console table and gallery wall. Doing so gave us some free space on top of the console table to place items here and there, like folded clothes waiting to be put away. 
Add Storage Where You Can
On the console shelf we added three rope baskets. Having storage was very important to me as this new console table replaced one with six baskets. So having at least a little storage was very much needed! The three baskets currently house my gym clothes and pajama sets. I love how they tuck right in and keep everything hidden for the most part. In the future I can see them being filled with toys or games in a living room or table linens in a dining room. 
With a bedroom console table, I believe keeping things simple and providing storage is of the most importance. You don't want to over style the piece as you want it to be functional – for those folded clothes to be put away, keys + wallets, and anything else that may need a quick home. Additionally, extra storage in a bedroom is always a good idea. Whether it is for clean clothes, fresh linens, towels, or laundry, you'll be thankful to have it!
*if you are interested in working with Rebekah from Transparent Interiors you can use code LAURA10 for 10% off your design package.