This may be the most excited about a post I have ever been! If you follow me via instagram (which you should!) you may have seen and been following along with my master bedroom interior design project with Transparent Interiors. If you have not, you can find the series under my master bedroom highlight on instagram. Well today I am diving into the virtual interior design process with Transparent Interiors. As well as sharing the inspiration, floor plan, mood boards, and renderings for our master bedroom. Y'all I could not love what Rebekah created more and cannot wait to show it to you! As well as see it all come together in real life. 
For this project with Transparent Interiors we selected her One Room Design Package. This package includes inspiration collaboration, a detailed floor plan, mood board with product sourcing and designer discounts, realistic 3D renderings, and Ordering, Installation with optional white glove delivery. The ideal package for anyone who is trying to create a space from scratch or just include a few pieces they currently own. 
In today's post I am breaking down everything included in the package and explaining each phase of the virtual interior design process with Transparent Interiors. So let's dive in…
Virtual Interior Design Process
Inspiration Phase
During this phase you share your inspiration photos for the space you're working on with Rebekah. I actually created a full Pinterest board that included all of the inspiration photos I had saved over the last year for our master bedroom. I simply added Rebekah to the board so she could view everything. Additionally, sent any screenshots I had saved on my phone. 
*Rebekah has an online studio you both work and communicate in to keep everything in the same space and make it very easy to access. It was here that I uploaded the inspiration screenshots I had saved on my phone.
Floor Plan Phase
This is where things start to get very exciting! After you have submitted your inspiration photos you will submit photos of your space, measurements of the space, and a video if possible. With the combination of this information and your inspiration photos Rebekah will create a floor plan for your space. 
We loved the initial floor plan Rebekah sent! No edits were needed for us. Other than I realized I measured the length of the room incorrectly so Rebekah kindly updated that for us. 
If there is something you aren't crazy about with the initial floor plan or want to see another option, Rebekah will work with you to create a floor plan you love!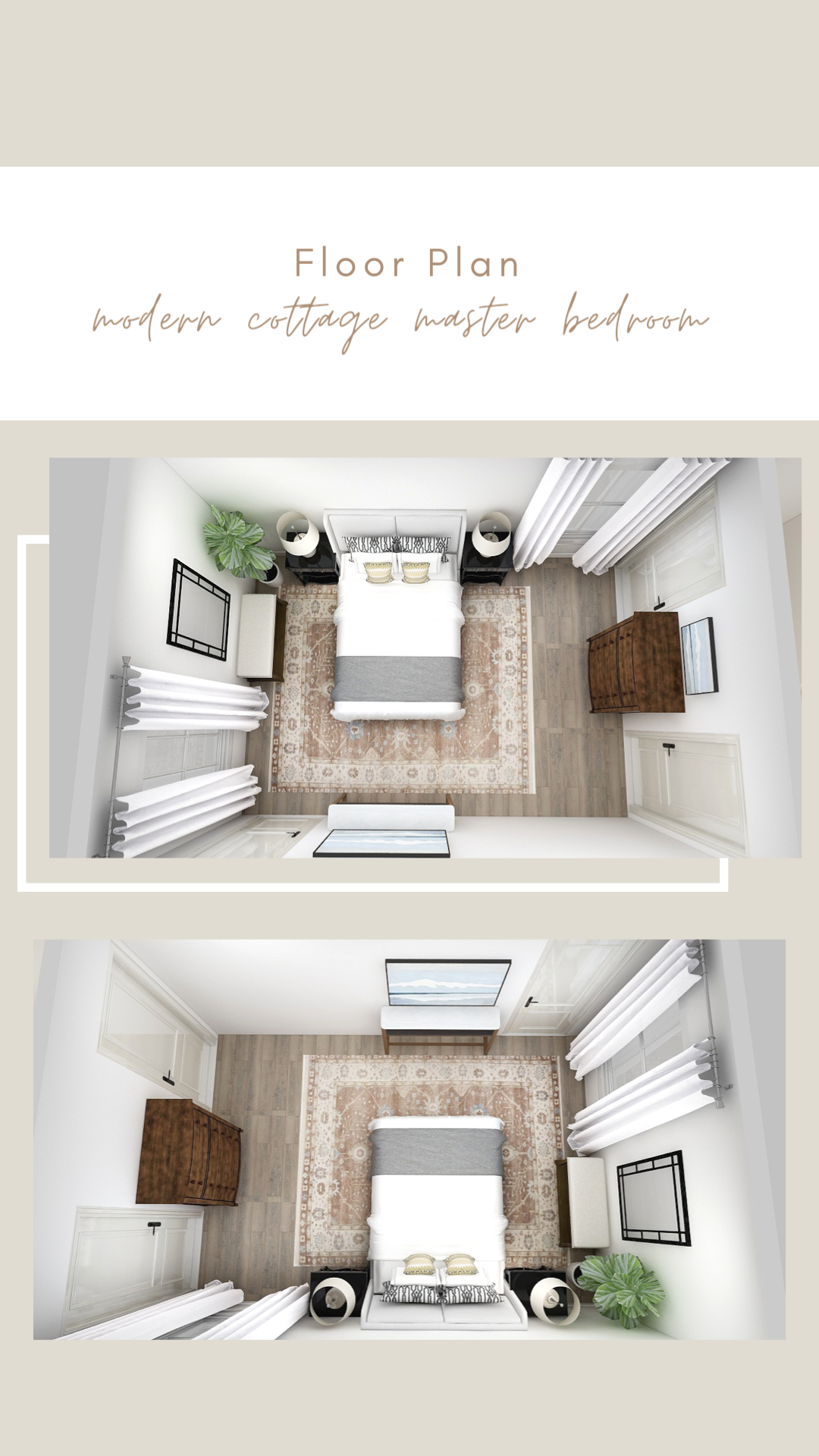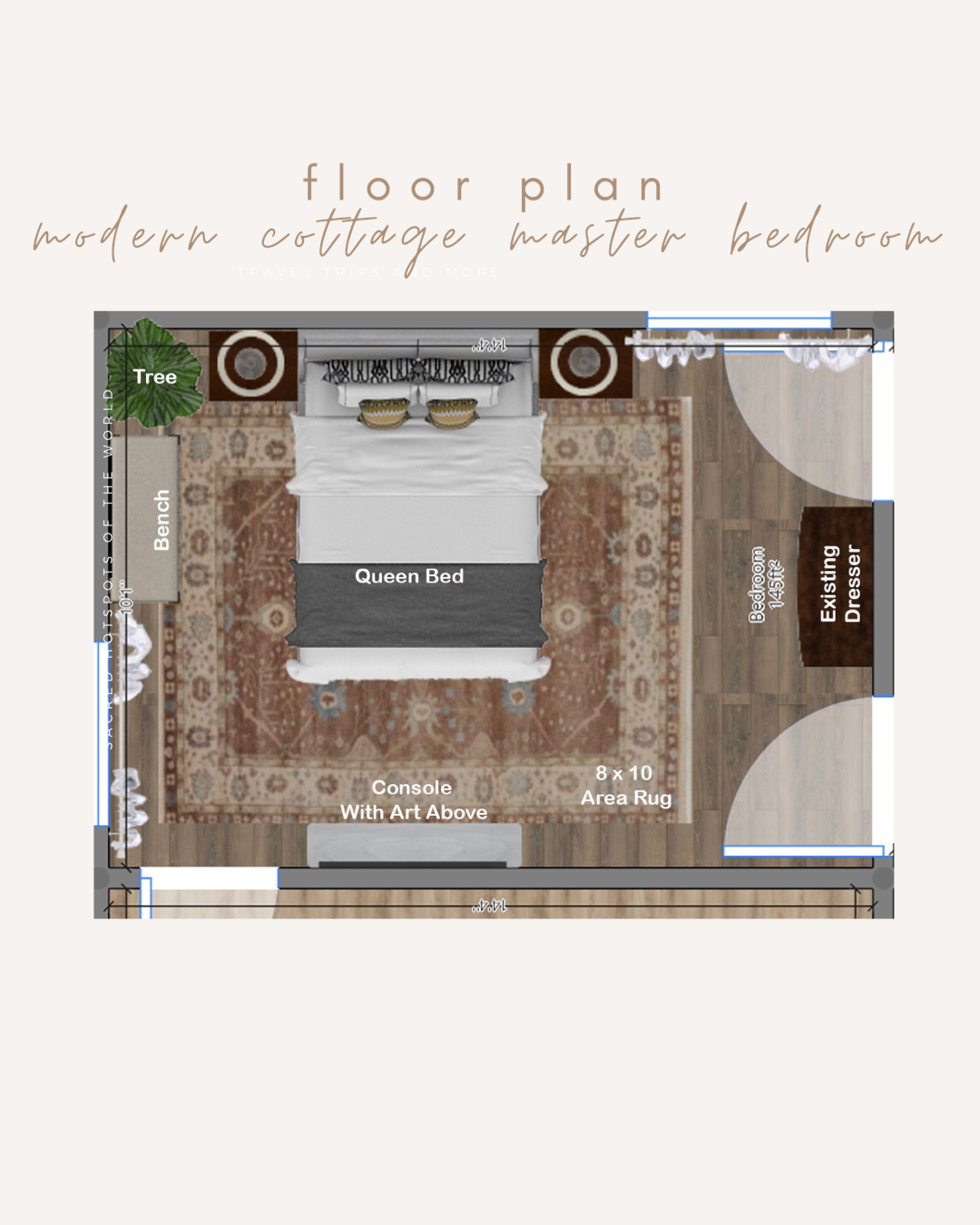 Mood Board Phase 
This may have actually been my favorite phase! This is when things become REAL. After you approve of the floor plan for the space Rebekah gets to work on sourcing furniture, decor, window treatments, and more for your space. She then creates a mood board that showcases all of the items for your space. 
Additionally, if you are open to it Rebekah may include paint colors and/or wallpaper for your space. 
We LOVED our initial mood board! I truly squealed with excitement over it. Then proceeded to immediately send to my mom and two best friends. While we did love the overall space – the feel, the colors, the style, the pieces – there were a few things we wanted to change. Those included the bed and the nightstands. It was important to us to have nightstands that offered storage and a bed with a footbed to hold our blankets in. 
Rebekah immediately got to work sourcing new nightstands and a bed frame. With the next mood board she added a bed with a footbed and one fabulous headboard. We were immediately sold! She also replaced the nightstands. However we still wanted more storage. So Rebekah and I worked together to find the perfect pair. The sixth mood board ended up being our final mood board as we loved everything she included – the nightstands are perfection!
Rendering Phase
Wow did Rebekah's renderings blow me away! Even with her mentioning previously that they are very life like! They truly give you a realistic look at what the space will look like with the floor plan created and products Rebekah chose for your space. 
Once you have approved everything in your mood board Rebekah will create the renderings of your space. She will do so for every angle and little area within your space. I have to say, the up close detailed ones are my favorite. Love a good vignette!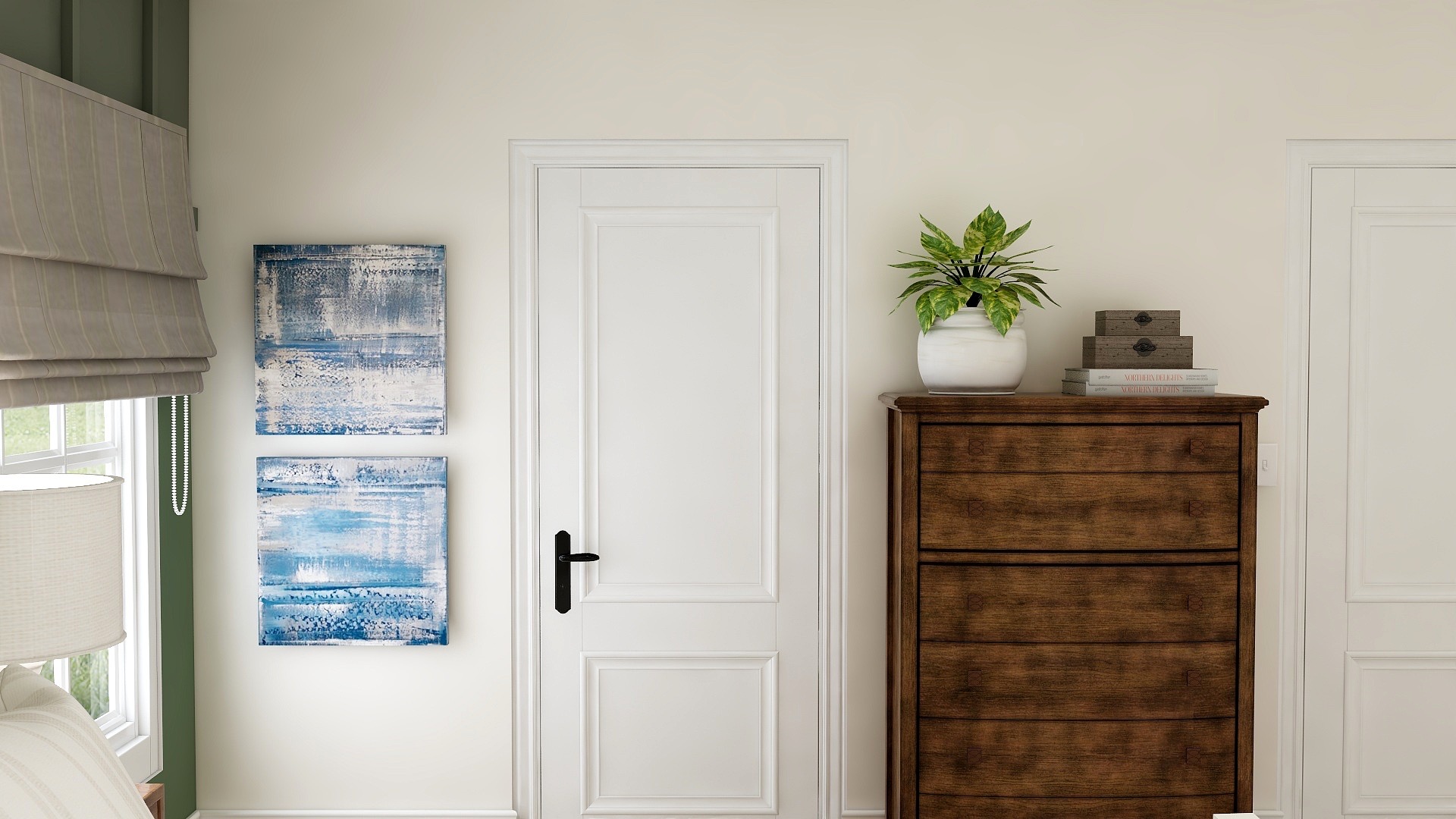 Ordering, Installation, and Optional White Glove Delivery
During the final phase of the virtual interior design process you will work with Rebekah to order the products for your space and have them installed/delivered. Rebekah is able to offer designer discounts when you order through her! Another perk of working with an interior designer!
We are currently in this phase with Rebekah and I am so excited to order items and have them make the space Rebekah created come to life. Since we are on a budget, we will be ordering items for our master bedroom in phases. I will have sharing as items arrive! Kicking that off next week with the console table area of our room. It is almost complete and I cannot wait to share with y'all!
If you have any questions about the virtual interior design process with Transparent Interiors please feel free to reach out to myself via DM on instagram or email or contact Rebekah. She would be happy to chat with you and help you with your upcoming project!
AND NOW IT'S YOUR CHANCE TO HAVE A ROOM DESIGNED BY REBEKAH! Below you can enter to win (1) One Room Design Package. Which includes everything I mentioned in today's post! Scroll to the end of today's post to enter!
Shop Our Modern Cottage Master Bedroom