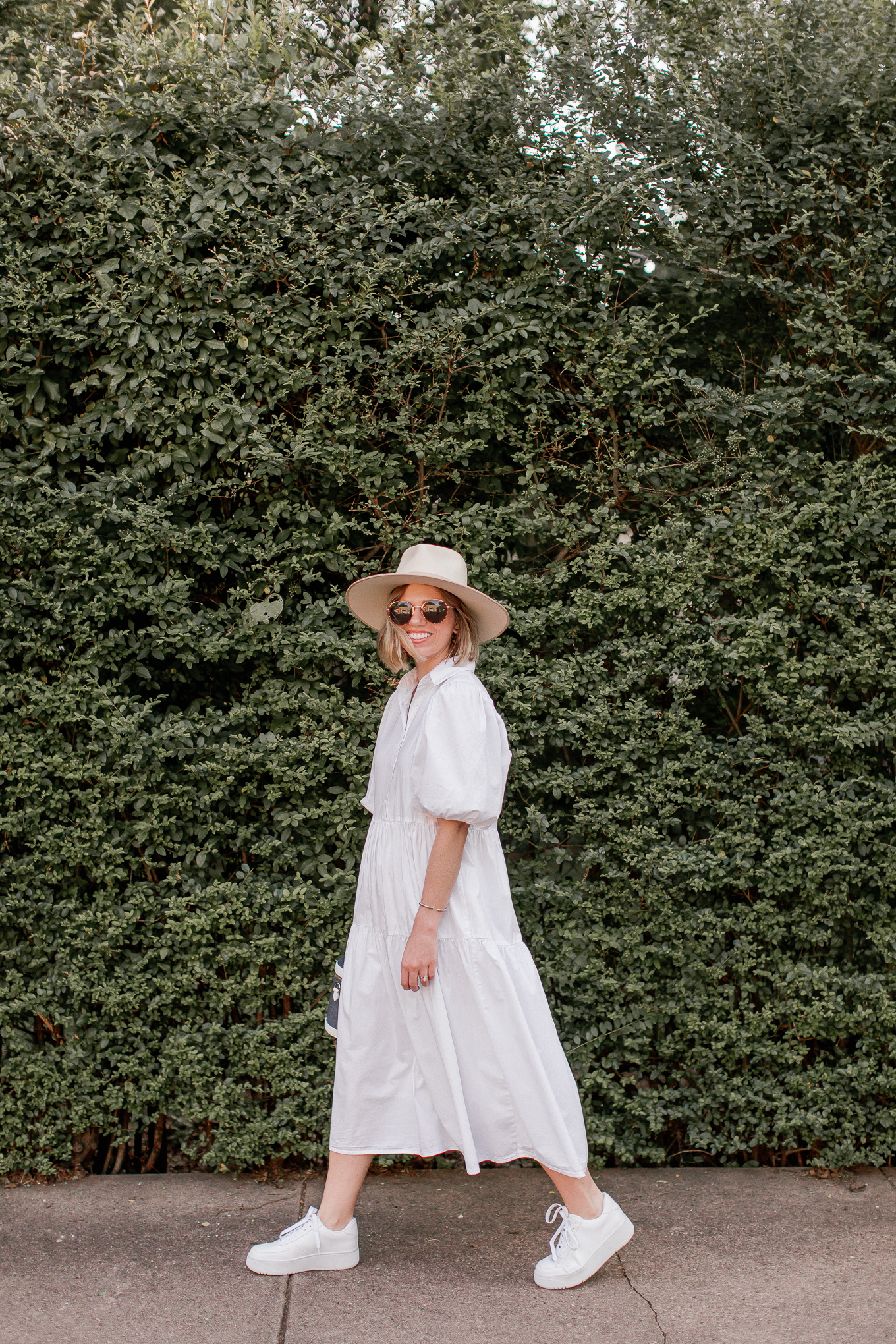 I am always on the mission to find pieces that can be worn several ways. As well as transition into several seasons, at least two. To me, each purchase is an investment – whether it is a big or small one – and I want to make sure I am making a good investment. That the piece will be worn often and won't have to be worn the same way every time I wear it. I like versatility and getting my money's worth out of an item. PLUS if the pieces that fill my closet can easily be mixed and matched, worn several ways, and within several seasons, I don't need as many items!
I'm a big fan of dresses. There is no question about it! I love how easy they are, how comfortable they can be, and of course the feminine aspect of a dress. However, sometimes, dresses can be hard to rewear/restyle. Not because they can't be but simply because we don't see the restyling possibilities. Exception: bridesmaid dresses – no she will not hem it and rewear it.
So with that being said, I wanted to share a recent midi shirtdress I purchased and have already worn several ways to provide you with some styling inspiration.
3 Ways to Style a Midi Shirtdress
Here are three ways to style a midi shirtdress (which would also work for a simple shirt dress or casual midi dress) for now and later into the fall season. From straw totes, to sneakers and nude flats, these are easy to recreate looks. There's something for everyone here. From feminine and dressy to casual and easy.
When it comes to dresses that are easy to restyle my recommendation is to opt for a solid color or a more casual fabric like cotton. Doing so provides you with a blank canvas to add pops of color and character with the accessories you choose.
For End of Summer
An easy, casual, and feminine end of summer look. A straw hat, straw tote, and espadrille flats. The quintessential pieces of summer that happen to pair perfectly with a midi shirt dress (or any shirt or more casual midi dress). For a little pop of color, add a bandana to your straw tote.
See a slight variation of this styling I wore during our late of summer soiree.
shop the look

Dressed Down with Sneakers
Okay so truthfully, this is my favorite styling and my absolute go to! There is honestly not a better combination in my opinion than a dress with sneakers and a wide brim hat. This combination is also perfect to wear now as summer comes to an end as well as into the fall season! A chunky knit cardigan or cropped crewneck would be the perfect addition when extra warmth is needed.
shop the look

Dressed Up for Fall
The sweetest of the three and the most dressed up styling. Simple pointy toed nude flats and a ladylike top handle bag makes this feminine and dressy. If you want to have a little more fun with your footwear I think a jewel tone or metallic would be perfect as well.
shop the look