Everyone talks about finding the perfect rug but what they don't talk about is what you need to go with that rug. While finding the perfect rug is extremely rewarding and exciting, having heavy furniture leave dents in it or wrinkles you cannot seem to get out can be quite frustrating! To keep your rug in great shape, have it look it's best, and prevent slipping – a rug pad is essential! And I am not talking one of those super thin non-slip gripper pads. While those do work to keep you from slipping (sometimes) they are not actually supporting your rug. A quality rug pad will do the same (even better) and actually extend the life and condition of your area rugs as well as your floors.  And that is not insignificant as rugs and flooring can both be major investments!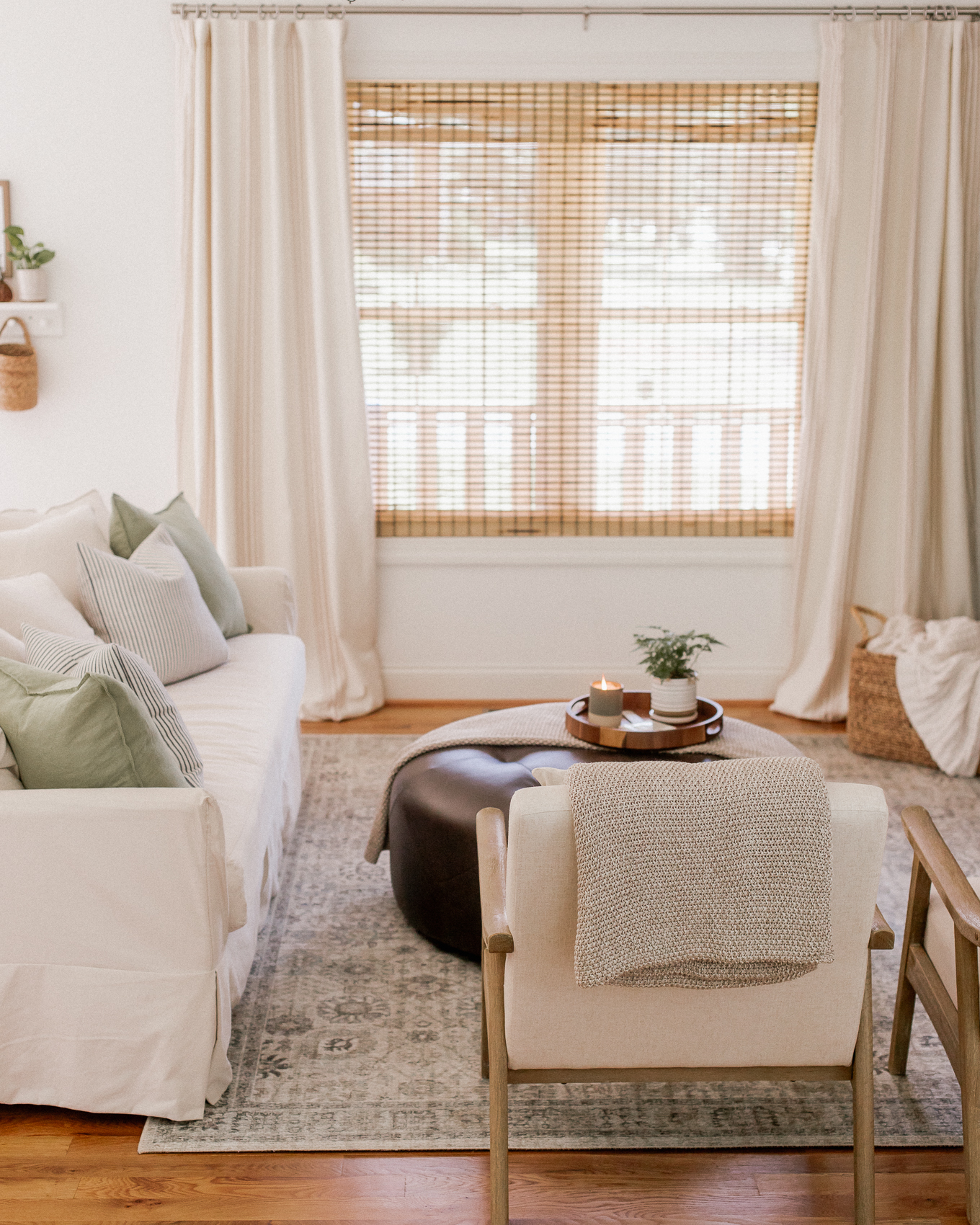 Five Reasons Every Rug Needs a Rug Pad
1. Safety – First and foremost, a rug pad offers safety. No matter where the rug is placed whether it is on carpet, hardwood floors, tile or another time of flooring, a pad keeps the rug in place to prevent slips and pulls.
2. Cleanliness – Probably something you don't think about when you think of a rug pad but it is in fact a positive of having one. A pad allows for easier vacuuming. While also shielding your rug from dust and other particles it would be in contact with if placed directly on the floor. If you're wondering how a rug pad makes vacuuming easier, have you ever been vacuuming and had a rug wrinkle or become sucked into a vacuum? With a rug pad your rug will be secured which will allow for a smoother, simpler vacuum. 
3. Comfort – This is Joshua's main reason for wanting a rug pad – extra cushion for comfort! Whether you want extra cushiony softness underfoot or for afternoon naps on the floor – either reason, a rug pad will provide that for you. Additionally, it offers an extra layer of support between your floors and any heavy furniture that may be placed on the rug/rug pad, cushioning the weight of your furnishings to prevent indents on the rug and scratches on your floor or indents on the carpet below.  
4. Longevity – As mentioned above, a quality rug pad extends the life of your rug! Having one will prevent the fibers of your rug from being crushed, prevents wrinkles, products your rug from dust and other particles it would be in contact with if placed directly on the floor, and makes for easier cleaning – all reasons that lead to your rugs longevity.
5. Protection – Not only does the rug pad benefit the rug but also your floors! A pad prevents dye transfer, staining, and scratching to the floor or carpeting beneath.
But before you buy just any rug pad, there are a number of key details to keep in mind when shopping for one, from its material to its function to your floor type. To help you choose the right rug pad for your rug + space, I'm sharing some insight on these key details and how Rug Pad USA checks all of the boxes!
How to Pick the Appropriate Rug Pad?
Rug pads are specific to the type of flooring underneath – if you have carpeting, you want to purchase a pad made specifically for carpeting. The same goes for hardwood floors. Don't use a pad for carpet for a hardwood floor – they are not made the same and will not give the comfort and protection your floor needs. Aside from carpet and hardwoods, there are also rug pads made specifically for laminate, stone & tile, and additional flooring materials.
Additionally, there are different levels of grip and comfortable available. An example for hardwood floors – you can go for ultra strong grip if you have a high traffic area you're concerned about, an extra plush pad for the most cushion under your feet where slipping isn't a concern, or somewhere in between for the perfect combination of both. For our living room, we have the superior lock premium rug pad in 1/4 inch.
Lastly, choosing the appropriate size is obviously very important! One of the reasons I love Rug Pad USA is that they figure out the appropriate rug pad size for you! All you do is plug in the EXACT measurements of your rug and they create a custom rug pad to pair perfectly with your rug. They take the guess work out of it!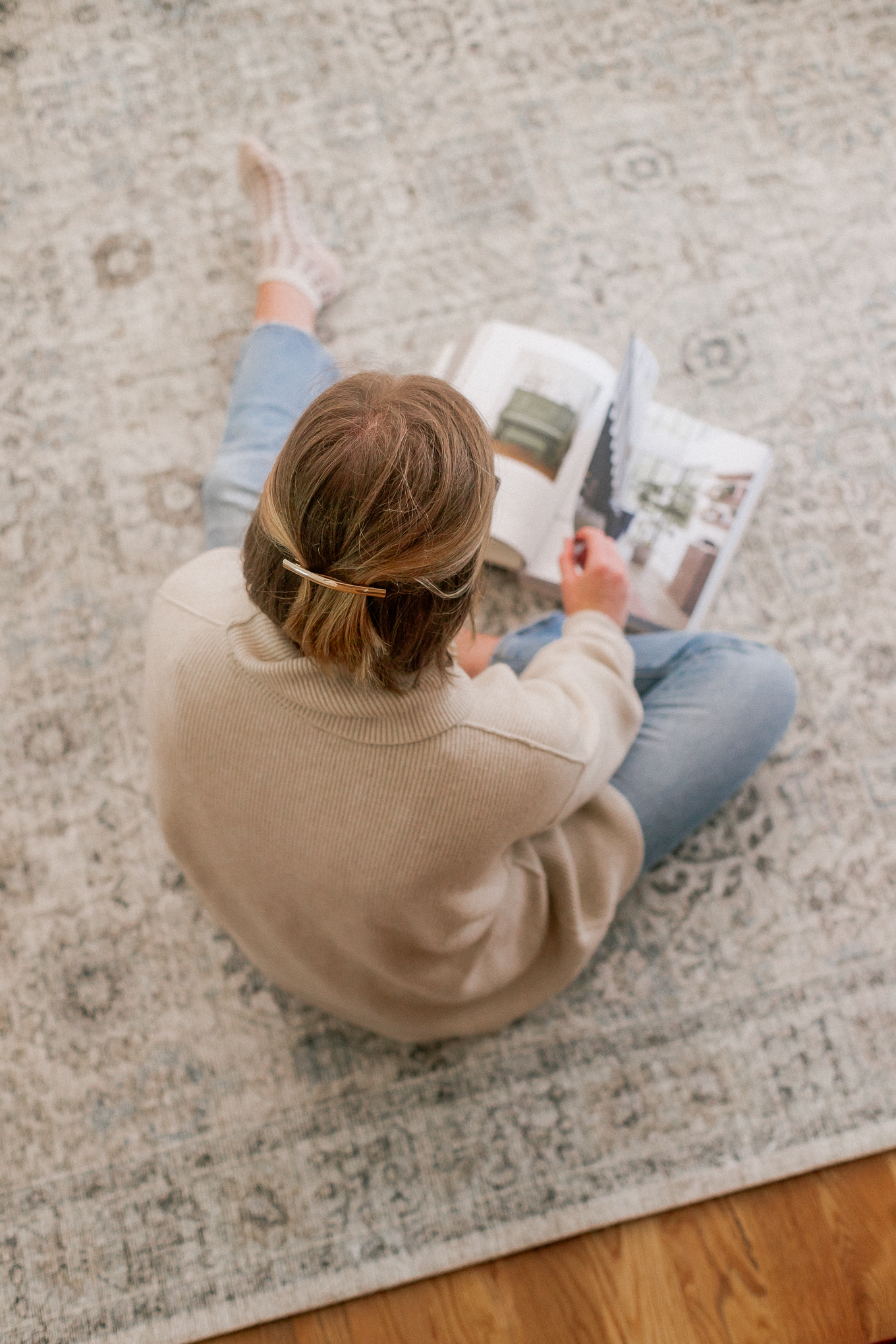 So aside from Rug Pad USA taking the guess work out of the size of rug pad you need, there are several additional reasons why I love Rug Pad USA and recommend their rug pads over others!
One of the main reasons, Rug Pad USA pads do not contain Phthalates and other toxic materials that can negatively affect indoor air quality. Since their products are manufactured domestically, they have full control over what goes into their products. Over the last several months I have been very focused on cleaning up our home. Opting for cleaner cleaning products, household products, and furniture + decor. So the fact that their pads are free of these toxic materials is very important to me! They also use 100% natural rubber instead of plastic. Which offers an additional perk of providing more gripping power in high traffic areas. 
Additionally, the materials they use in their pads won't stain, strip or mar any floor or finish, a common problem with low quality rug pads. My office floor actually has areas with the finish has been striped/marred from the previous owners rug pad. With Rug Pad USA pads, that won't be an issue. They also focus on having fewer, higher quality materials to make longer lasting pads. Ones that will stay plush year after year and will not flatten out over time. 
Lastly, they are dedicated to providing the best quality rug pads at a fair price! I honestly could not get over their prices when I laid eyes on them! I had paid very similar prices for those super thin gripper pads I previously mentioned. The ones that offer no cushion, no support for your rug, and will not extend the longevity of your rug. It is truly a no brainer to opt for Rug Pad USA rug pads and to make sure you have a rug pad for every rug in your home!
Use code LOUELLALOVES for $50 off any order of $200 or more with Rug Pad USA. Also, from tomorrow to Monday they're offering 15-20% off site wide.
Stay up to date on all things home on the Louella Reese Home page.  
Thank you to Rug Pad USA for sponsoring this post! & thank you for supporting the brands that make Louella Reese happen!