Sharing my October 2020 recap – including lots of new clothing purchases & finds, a few home purchases, favorite blog posts and lots more!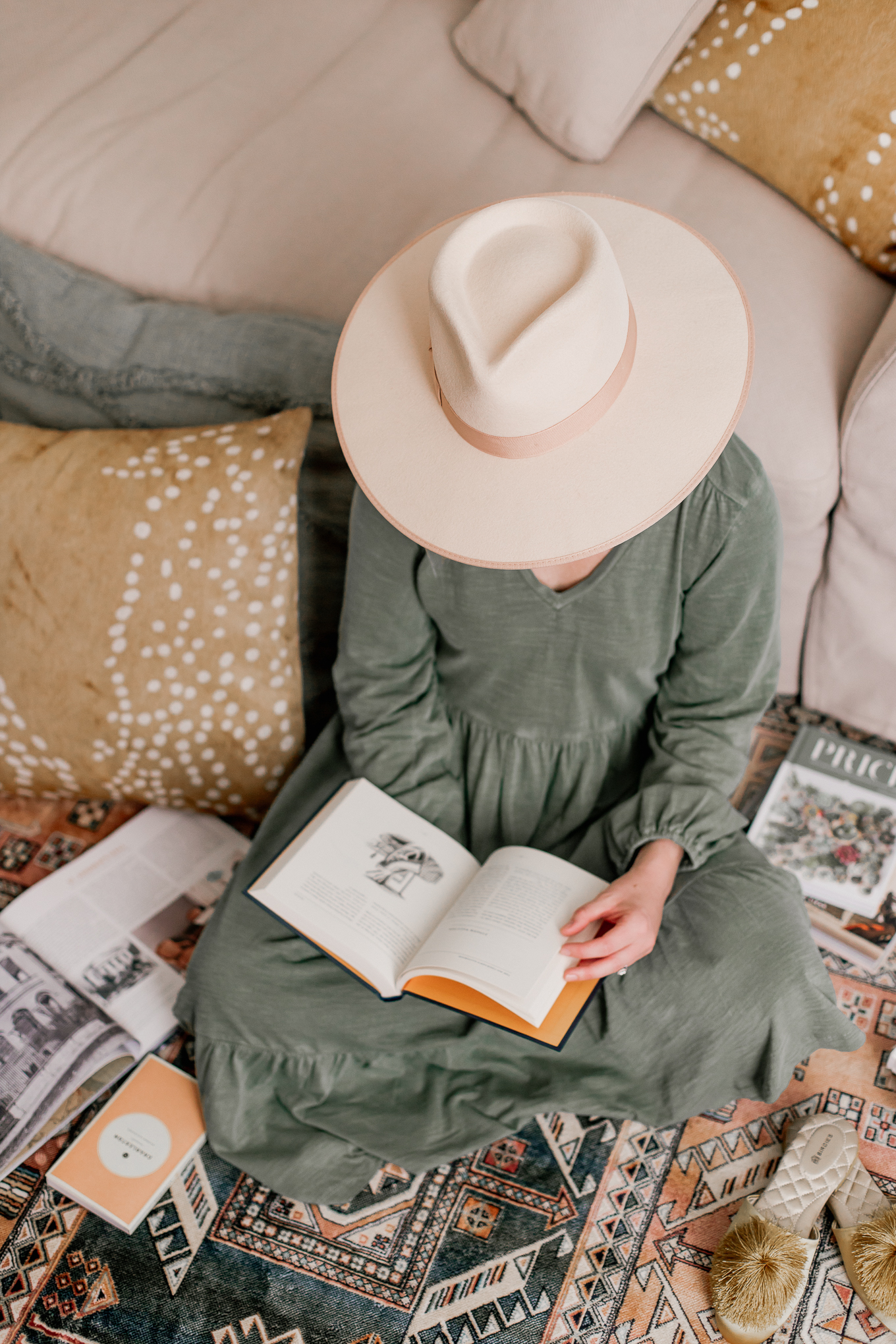 October 2020 RECAP
WHAT I BOUGHT
Relaxed Drawstring Trousers – returned, made me look like Aladdin
Boxy Jersey Sweater – returned since I didn't keep the pants to go with it
Cropped Button Up Sweater – seen here, ended up returning, didn't love it on me
Cropped Sweater
Embroidered Collar Top – seen here
Mustard Yellow Top
Olive Sweater Blazer
Corduroy Midi Dress Loungewear Midi Dress
Loungewear Midi Dress
Green Rancher Hat
Perfect Vintage Jeans
FOR THE HOME
Antique Brass Fireplace Screen
Antique Moss rug for our bedroom
My dream bed that I could not be more excited about! Won't be delivered until December – I CANNOT WAIT!
WHERE I WENT
Highlands, NC – The first weekend of October Joshua and I visited Highlands, NC to celebrate our anniversary. We stayed at Half Mile Farm, we completely fell in love with the property. We spent the weekend – hiking, canoeing, fishing, eating (the breakfast at HMF is incredible), and relaxing. It was truly the most perfect weekend! Plus we had the ultimate fall weather.
Charleston, SC – Guesthouse Charleston invited Joshua and I to stay at one of their new properties for a weekend – you know I couldn't pass up the opportunity to visit my favorite southern town. We were completely blown away by the property and Guesthouse overall! Will be sharing a review next week!
MOVIES WATCHED
We watched one movie this month but for the life of me I cannot remember which one it was. Sorry y'all – will write them down next month!
RECIPES TRIED
WHERE WE ATE
Basic Kitchen – My favorite restaurant in Charleston! Actually ate here twice. Friday night with Hillary and again Sunday afternoon for brunch with Joshua & friends. Basic Kitchen has the yummiest healthy menu! I am truly obsessed with everything I have ever tasted from there and am honestly drooling just thinking about it. So good! Not to mention the restaurant is flooded with natural light.
Saltwater Cowboys – this was Joshua's number one must do while in Charleston. Saltwater Cowboys is about 5-10 minutes outside of downtown Charleston and has the most beautiful water view. They have an amazing rooftop patio that was surprisingly almost empty. We enjoyed a couple of cocktails up there before heading downstairs for dinner (still outside). My girl friend and I split trash can nachos and y'all, they actually came in a trash can and were phenomenal.
Millers All Day – I had heard so much about Millers All Day and when Joshua looked up top brunch spots in Charleston it was ranked number one. So we waited an hour for a table and were so pleased to find out it was SO WORTH IT! We were all blown away by our food and easily said 10x that day, "brunch was soooo good".
FAVORITE BLOG POSTS ON LOUELLA REESE
Readers Favorite: 9 Cozy Fall Sweater to Cuddle Up In
My Favorite: Channeling My Inner Beth Dutton From Yellowstone
FAVORITE BLOG POSTS
IT'S CASUAL BRAND: Why I Decided to Hire a Graphic Designer – It's Casual
Hello An Indigo Day – An Indigo Day
Round Up of Every Rug in my Home – The M.A. Times – we share an obsession for Loloi Rugs
Lace Up Boots for Fall – Hello Adams Family – I am so obsessed with these boots!
FAVORITE SONG
WHAT I WATCHED
Finished Siesta Key and honestly cannot wait for another season – hope there is another! Also started watching, This Is Us, now that it is back. The first episode wrapped a lot of things up and the last season and previews. Loved that they actually did that and didn't leave us hanging with soo many things like usual. It was a nice change! Looking forward to the season and all the tears I am sure I will shed.
FAVORITE FINDS
faux dried hydrangeas for fall decorating
the perfect solid oversized scarf
Beth Dutton inspired poncho
the ultimate chunky knit cardigan
FITNESS UPDATE
Still doing FWTFL and sticking to it a little better than previous months. Still super religious about low carb days and intermittent fasting. Back to counting macros on regular macro days and it feels good! October was a high and low month for working out – some weeks I killed it with 6-7 days of workouts while other weeks were only 4 days. Looking forward to kicking it up a notch in November and getting to more yoga classes now that my studio is open again.
Thanks for reading my October 2020 Recap. Take a look back a previous monthly recaps here.