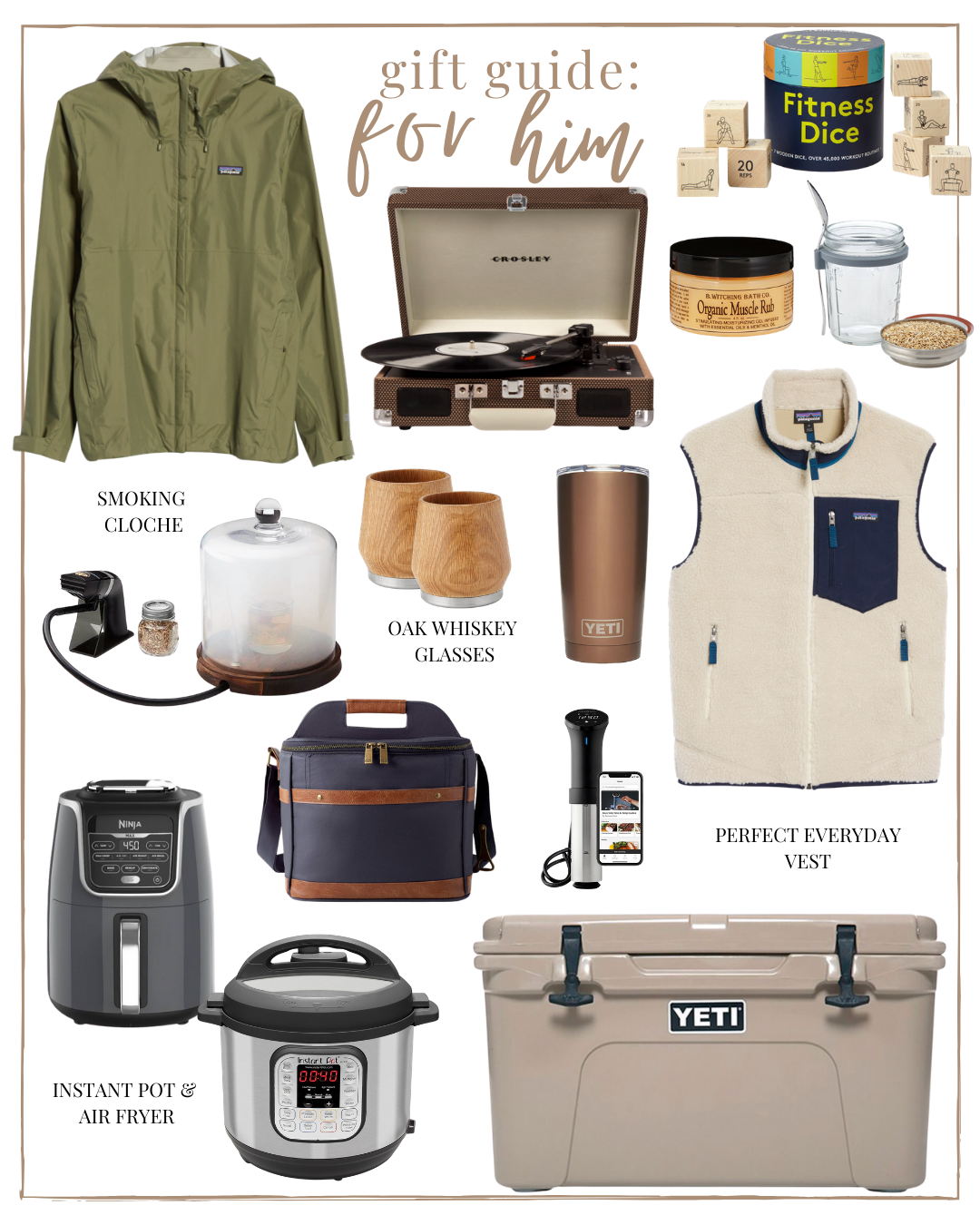 shop 2020 holiday gift guide for him: rain jacket | deluxe turntable | fitness dice | muscle rub | breakfast jar | smoking cloche | oak whiskey glasses | yeti tumbler | everyday vest | instant pot | air fryer | beer cooler | precision cooker | yeti cooler
I think we can all agree that guys are often times the hardest people to shop for. They typically give us nothing when asked what they'd like for Christmas. Which leads us to opting for something basic like clothing, socks, a new wallet, a tie or belt, or the beverage of their choice. All items I'm sure they appreciate and we all know will use. However, it can get rather boring to give and to receive. So I've created a list of unique and creative ideas to gift him this holiday season. There are a couple clothing items BUT they're recommended by Joshua & used very often!
2020 Holiday Gift Guide: For Him
under $25
Have a guy in your life that loves to work out? Grab these fitness dice to throw in his stocking or wrap under the tree. The perfect gift to help him spice up his workouts. Plus some organic muscle rub to help with recovery post-workout.
Man on the go? This breakfast jar makes it just about as simple as it can be! Make the night before and grab on the way out the door.
For the whiskey lover, these incredible whiskey enhancing oak tumblers.
under $50
A yeti tumbler is a must for everyone! Love this copper hue for the guys. A little more unique than blue, black, or gray but just as masculine.
Set him up right for tailgates, concerts, and outdoor events (hopefully lots more of these in 2021) with this beer cooler bag.
under $100
Make meals at home easy for him (and maybe you too) with an instant pot!
For the music lover, it doesn't get much better than this deluxe turnable. The perfect piece for this man cave. While also being aesthetically pleasing enough to be on display in the living room, bedroom, or office as well.
under $200
Honestly obsessed with this retro inspired vest. I actually scooped one up for Joshua a couple of Christmases ago. Loving the navy and natural color combination. Joshua didn't think he was much of a vest guy until I gifted this one to him. Now he reaches for it pretty often when heading to work, out to dinner, or mid-fall tailgate (well last year he did).
Another piece Joshua has and loves – a lightweight rain jacket. Ideal to wear over tee shirts in the summer and layer over warmer pieces in the fall + winter. The quality is amazing – he has had for several years and wears quite often.
Air fryers are having quite the moment right now! They're fun to cook with, super simple, and give you a healthier option when it comes to fried foods.
Precision cooker will allow him to cook like a chef without actually having the knowledge of one. Your guy, dad, or brother can follow simple step-by-step recipes in the Anova Culinary companion app and cook perfectly cooked meals with the touch of a button.
splurge-worthy
Probably the most unique and splurge worthy gift – a smoking cloche. What the heck is a smoking cloche you ask? An easy-to-use system that allows you to add complex, smoky notes to drinks and dishes at home. Savor a smoked Bloody Mary for brunch or make your own smoked gouda for a cozy cocktail party. Fill the gun with the included applewood chips and smoke food directly for a light, flavorful finishing touch. For a deeper infusion (smoked mac and cheese, anyone?), use the hose attachment. Even when not in use, the glass cloche and rich black walnut base make an impressive addition to your kitchen or bar.
An item I feel is on every guys wish list even if he doesn't want to admit it – a yeti cooler. They're a total splurge but I have heard amazing things about them!
SHOP 2020 Holiday Gift Guide for Him

want more holiday content? check out more recent gift guides (gifts that comfort, gifts that motivate, gifts that entertain + my personal wish list) + click through to my holiday page for recipes, more gift ideas, holiday looks, and more.