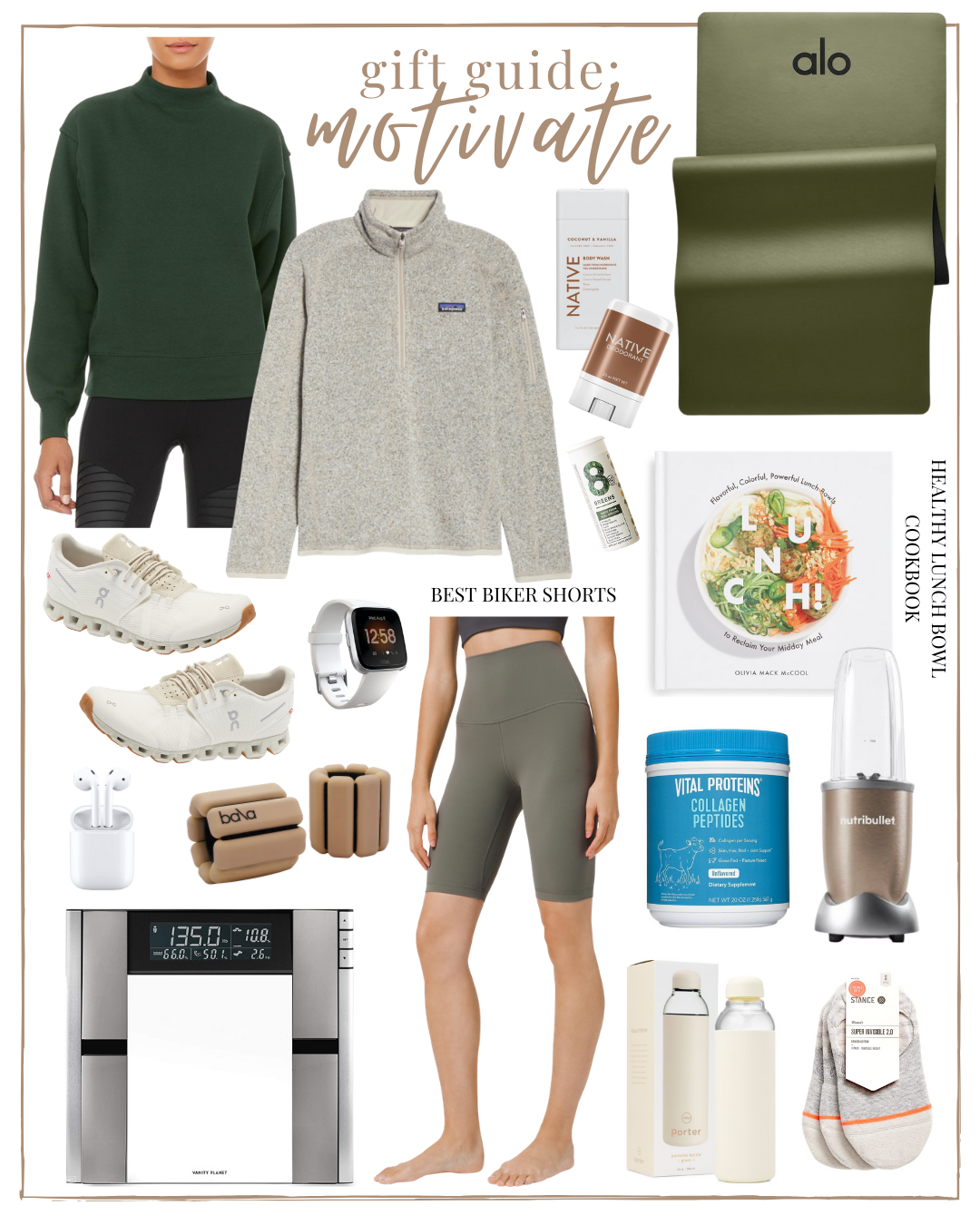 shop health & fitness gifts: pullover sweatshirt | quarter-zip sweater jacket | native body wash | native mini deodorant | greens supplements | green yoga mat | healthy lunch bowl cookbook | biker shorts | Fitbit smart watch | neutral running sneakers | AirPods | weighted bracelets | collagen peptides | nutribullet blender | no-show socks | glass water bottle | digital scale & body analyzer
This may be my favorite gift guide of the season! Health & fitness have really become a top priority for me over the past few years – especially the last several months. I have enjoyed moving more and choosing healthier options when it comes to food. In all honesty that wasn't always the case for me. This time of year used to be one full of excuses! I would say, "It's the holidays, I should eat whatever I want! I'll start eating better in the new year! I'll workout more often & harder once January 1st hits!"
Thankfully since finding a more consistent workout routine and genuine love for a healthier lifestyle, I don't feel guilty enjoying myself around the holidays. While also being a little more active – like taking a walk around the neighborhood with family after an indulging day. It feels good to move, get outside, and spend additional quality time with the ones I love.
Health & Fitness Gifts
I think often times we look at getting into a new routine or jumping back into working out or making healthier decisions as this huge life shift that's a massive commitment – when in reality it doesn't have to be that. Truly it is all about finding the balance that works right for you! That allows you to enjoy when you want to enjoy without feeling the internal guilt. Whether that means making healthier choices a majority of the time or becoming more active throughout the week or both! This gift guide really encourages those on your Christmas list to be a little selfish about the things that will push them in the right direction.
Whether that is splurging on an amazing new pair of running shoes, a scale that'll keep you on track & motivate you, or a fun new cookbook that'll inspire you! A few of my favorite health & fitness gifts...
Two things that really motivate me to get moving and also feel entertained while doing so are my Fitbit smart watch and AirPods.
Both were Christmas gifts actually! The Fitbit watch keeps me moving – I love that it reminds me each hour to get up and get at least 250 steps. I also love the motivation and challenge of making sure I get 10000 steps in everyday (well as often as possible). The AirPods definitely keep me entertained during walks + workouts. I don't think I would walk as often without them. Love listening to music during workouts and calling family while walking.
Love it so much I picked up a second color. It's simple, comfortable, and a great medium weight. This quarter-zip sweater jacket is perfect for the outdoor lover on your list. An ideal weight for being active outdoors whether your walking, hiking, or being adventurous.
Two things on my Christmas wish list:
Green yoga mat and weighted bracelets. I love how simple the yoga mat is and the mature colors it is available in. The weighted bracelets have been popping up all over social media and have raving reviews! A simple way to increase your calorie burn and muscles!
If someone on your list is looking for some healthy inspiration this healthy lunch bowl cookbook would be a great place to start! For the smoothie lover in your life, nutribullet blender or collagen peptides would make great gifts! The greens supplements would be a perfect little stocking stuffer!
You can never go wrong with a pair of socks for the active person in your life – these no-show socks are truly the best! A new pair of biker shorts – cute workout clothes always inspires! Or a chic new glass water bottle.
My family would say I'm the only person that would ask for a scale for Christmas (which I did last year) but y'all this digital scale & body analyzer is amazing!!
It provides your body fat percentage, muscle mass, bone density, and water weight. I absolutely love it – knowing your body fat percentage and muscle mass is such a plus when the actual number on the scale fluctuates. Helps you to see if you're actually gaining weight or in fact gaining muscle.
Shop health & fitness gifts

want more holiday content? check out yesterday's gift guide + click through to my holiday page for recipes, more gift ideas, holiday looks, and more.