Fun fact: stockings are my favorite part of Christmas gifting. To receive & also to gift. Growing up we didn't start opening gifts until 9 or 10am. That way my parents could enjoy a nice slow morning and everyone could have cinnamon rolls + Christmas brunch (a casserole my mom makes) to start their Christmas Day. However, my parents knew we needed to open something the second we woke up so we were allowed to head downstairs, grab our stockings & bring them back to our rooms to open. This tradition created such magical moments for my sister & I. We would take turns opening one gift from our stocking at a time, admiring each one – my mom wrapped every single item she put in. To this day it is one of my favorite family traditions of ours.
So again, I LOVE stocking stuffers! I polled y'all on Instagram to see what kind of stocking stuffers you wanted to see and every single person that provided an answer said him (dad, brother, husband, father-in-law). So below you'll find 2020 stocking stuffers for him. From classic items to very unique gifts. A little something for every guy in your life.
I also included a stocking stuffer gift guide for her, in case you're still shopping for the ladies in your life as well.
2020 Stocking Stuffers for Him & Her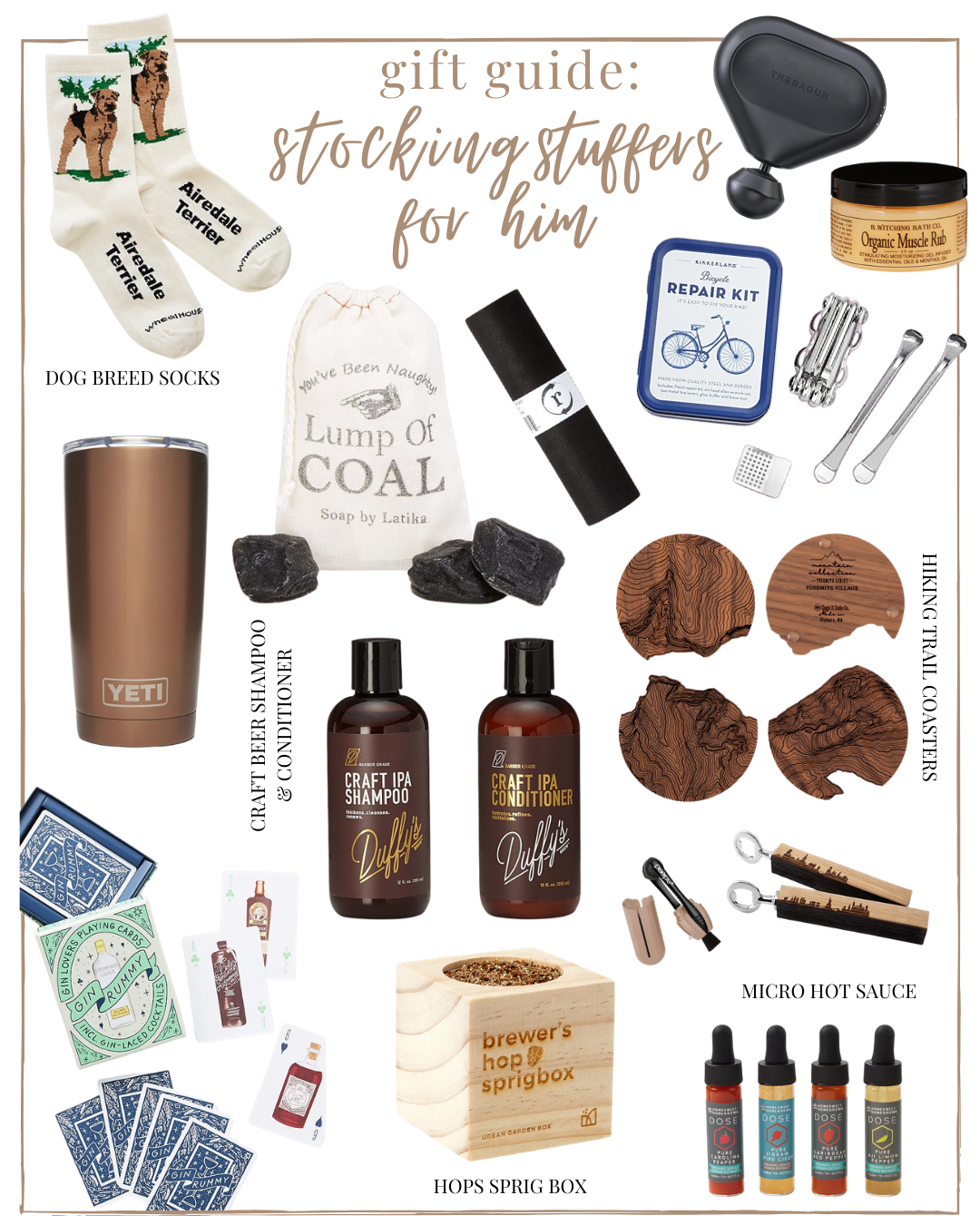 shop 2020 stocking stuffers for him: dog breed socks |mini muscle treatment massager |muscle rub | lump of coal bag of soap | mini hand & wrist roller | bicycle repair kit | yeti tumbler | craft ipa beer shampoo & conditioner | wood hiking coasters | gin rummy playing cards | eyeglass lens cleaner | bourbon barrel city skyline bottle opener | brewers hop box | microdose hot sauce
shop 2020 stocking stuffers for him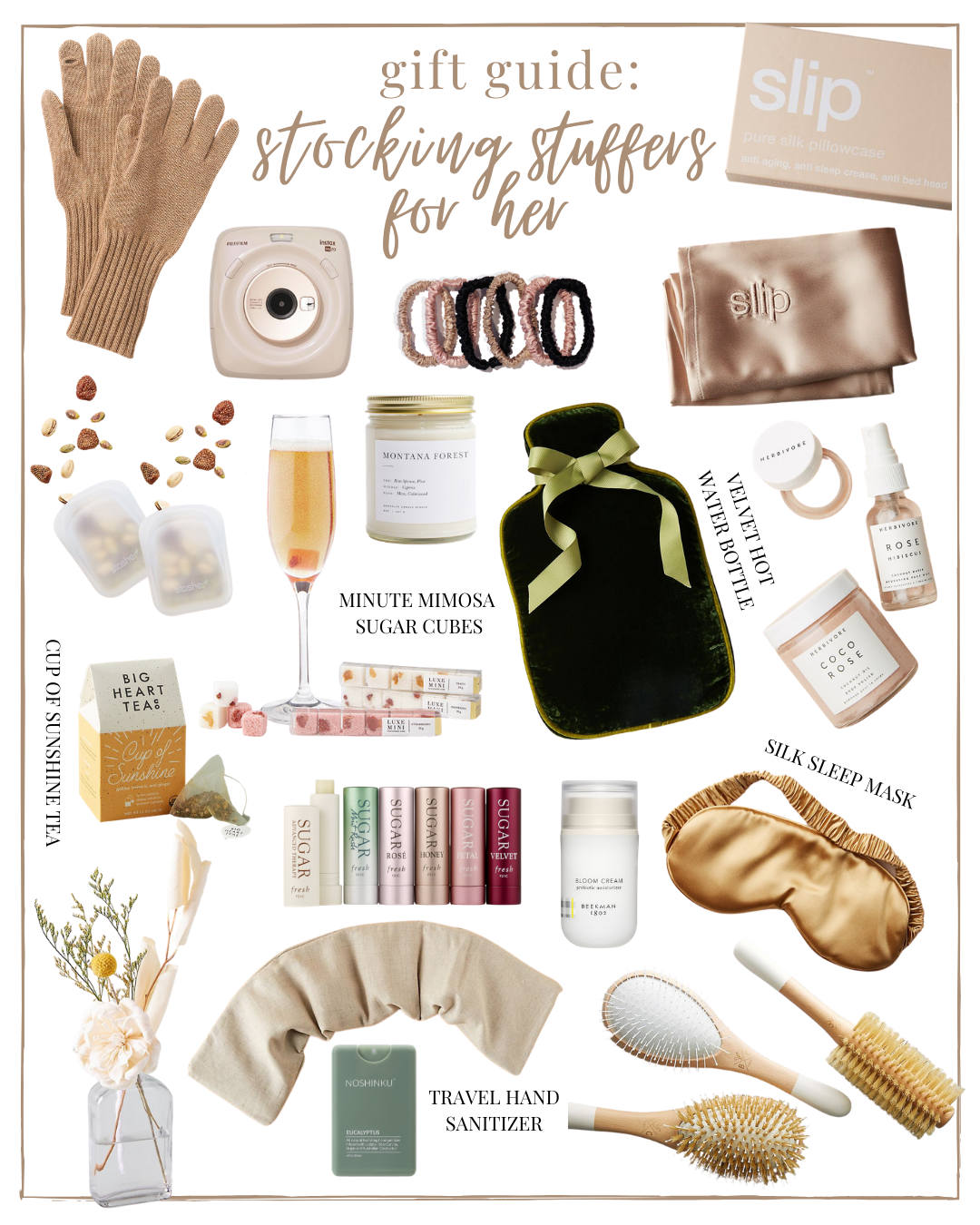 shop 2020 stocking stuffers for her: cashmere texting gloves | instant camera |slip silk scrunchie set | slip silk pillowcase | stasher pocket bags | minute mimosa sugar cubes | montana forest candle |velvet hot water bottle | rose luxe hydration gift set | sunshine turmeric tea | sugar lip treatment set | probiotic moisturizer | slip silk sleep mask | floral bouquet diffuser | comforting neck wrap | travel size hand sanitizer | detangle & smooth hair brush
shop 2020 stocking stuffers for her

I also wanted to share a small business I was recently introduced to, Ula Bloom. They are a NYC-based lifestyle brand with an array of colorful goods, printed with purpose. Each of their products provide literacy education to children in need. It is their mission to help others dream, grow and bloom into their full potential. I absolutely love their mission & their products. A few of my favorites that would make great stocking stuffers: matching silk head scarf & mask, live simply bloom wildly tote, and flower power reversible face mask.
want more holiday content? check out more recent gift guides (gifts that comfort, gifts that motivate, gifts that entertain, gifts for him) + click through to my holiday page for recipes, more gift ideas, holiday looks, and more.