With all of the rain, ice and snow these past few weeks I could not be looking forward to spring more! Simply talking about it and the possibility of the season being right around the corner boosts my mood. Bring on the sunshine, dresses, sandals, and afternoons spent outdoors. I've already ordered a couple of things – all of which are part of the cottagecore trend. Have you heard of it?
If not, cottagecore is a contemporary update on traditional countryside-inspired dressing. Like an updated prairie girl style. Think flowy dresses, puff sleeves, and simple, comfortable fabrics. As well as quirky accessories. Lots of floral, gingham, check, embroidery, and stripes. The first three looks in this post are very cottagecore spring style.
cottagecore spring style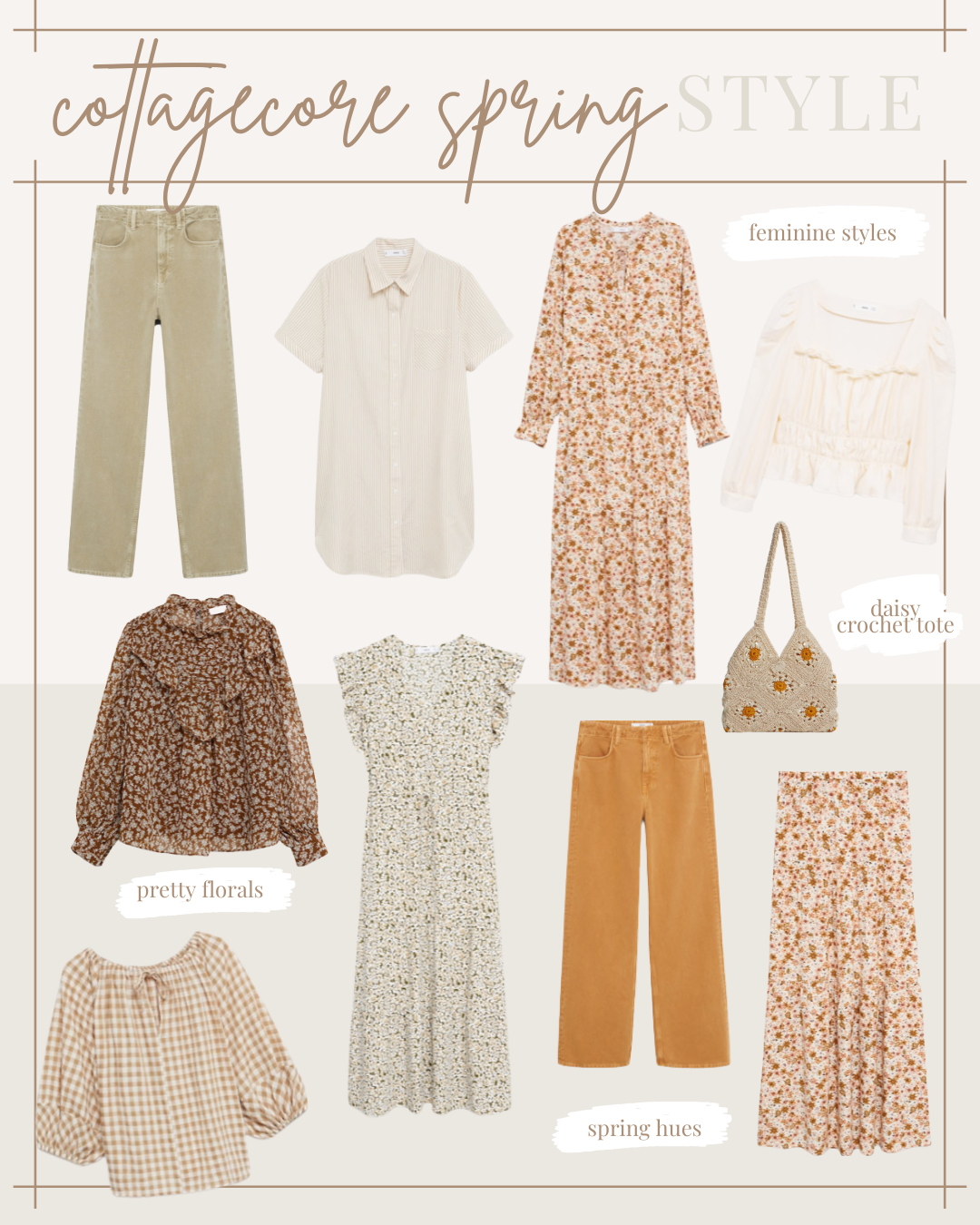 The number one item to shop to add a little cottagecore spring style to your wardrobe is dresses! Floral maxi dresses are a must, extra points for a style with ruffle sleeves, and a classic shirt dress in stripes is perfect.
A close second is skirts – again, floral is a must.
Pretty blouses in floral, check, and solids with ruching, embroidery, or puff sleeves all play into the trend.
Pair your pretty blouses with skirts or denim in shades of green or yellow.
Complete your cottagecore look with a quirky daisy design crochet bag.
A few other cottagecore pieces I'm loving + outfit ideas:
this solid relaxed soft, fine knit dress with brown leather chelsea boots or chelsea rain boots for spring showers.
beautiful sage green shirt dress would be perfect paired with simple sneakers, a straw bag, and hat.
this super simple textured cotton midi dress to pair with loafers and the daisy crochet tote.
shop cottagecore spring styles

What trends are you excited for this upcoming spring season? Will you be trying out the cottagecore trend?