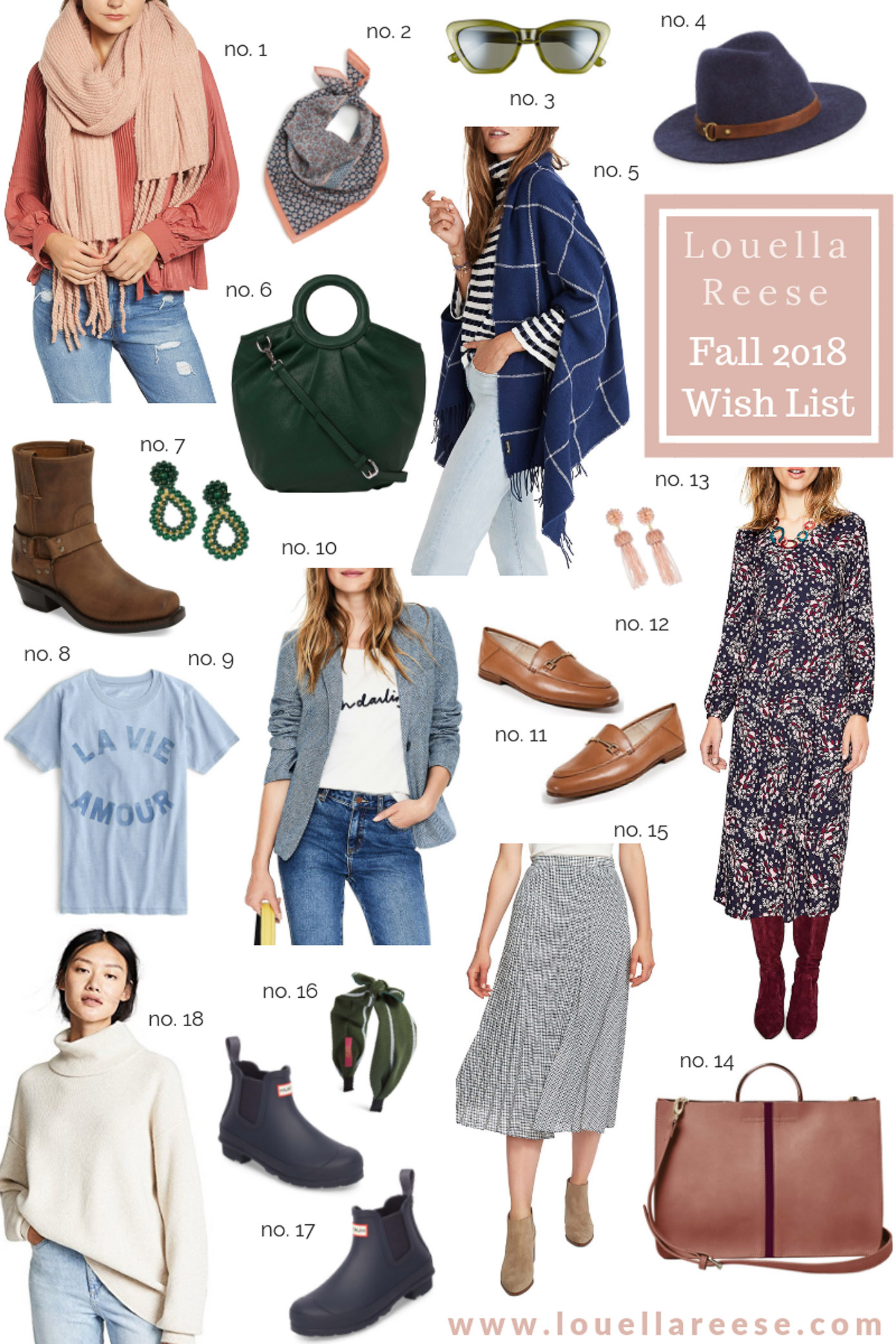 Fall has finally arrived here in Charlotte! Which is hilarious as just last week I was talking all about 80-90 degree days. Apparently Mother Nature heard my frustrations! I am thrilled she did and absolutely loved the seater this weekend. Sweaters, pants, and light jackets were required. Yay! Therefore, it was a great weekend! Also, a great weekend as Joshua and I celebrate two years of marriage, today! However, we spent yesterday celebrating in my favorite little town outside of Charlotte, Davidson. We're also going away later this month for a few days to truly celebrate. Cannot wait!
Anyways, back to today's post, my fall wish list! As mentioned above, so excited fall has finally arrived and I can truly start rocking fall attire and shopping for it more. When I asked y'all via Instagram stories if you'd be interested in seeing what was on my fall wish list it was a unanimous YES! I shared a sneak peek on Thursday through Instagram stories and today, I'm sharing the FULL list.
Louella Reese Fall 2018 Wardrobe Wish List
Midi Skirts
Maxi Skirts
Neutral Loafers
Boots
Tops/Blouses
Chunky Sweaters
Fall Handbag
Neutral Scarf
Headbands
This is my full, general list. I've been compiling it on my phone so when I'm out shopping or browsing online I can reflect back on this list to make sure I am only picking up things I really need and want. Keep myself from those crazy impulse buys. So far, it has worked great, so I would highly recommend trying out the technique!
Since creating the list, I've been browsing some of my favorite stores online, picking out my favorites that align with the list. The collage above are my absolute favorites – top of my wish list! While below you'll find some additional pieces I love. As you'll see, I am loving all things navy/blue, olive/hunter green, and blush. Nothing too surprising, right? Also, give me all the western vibes with a little of a preppy twist. Western prep, can we make that a thing?
Clothing
Shoes & Accessories
So what is on your fall 2018 wardrobe wish list? Are you into any trends in particular? All about cozy knits? Comment below or shoot me a DM on Instagram and let me know what you're loving! I would love to hear or help you shop if you can't find what you're looking for.