Are you a cat person or dog person? Or both? I would typically call myself a dog person but after playing with the kittens at the Humane Society of Charlotte last week, you would think I was a cat person. The little cuties stole my heart and had me giggling with their silly antics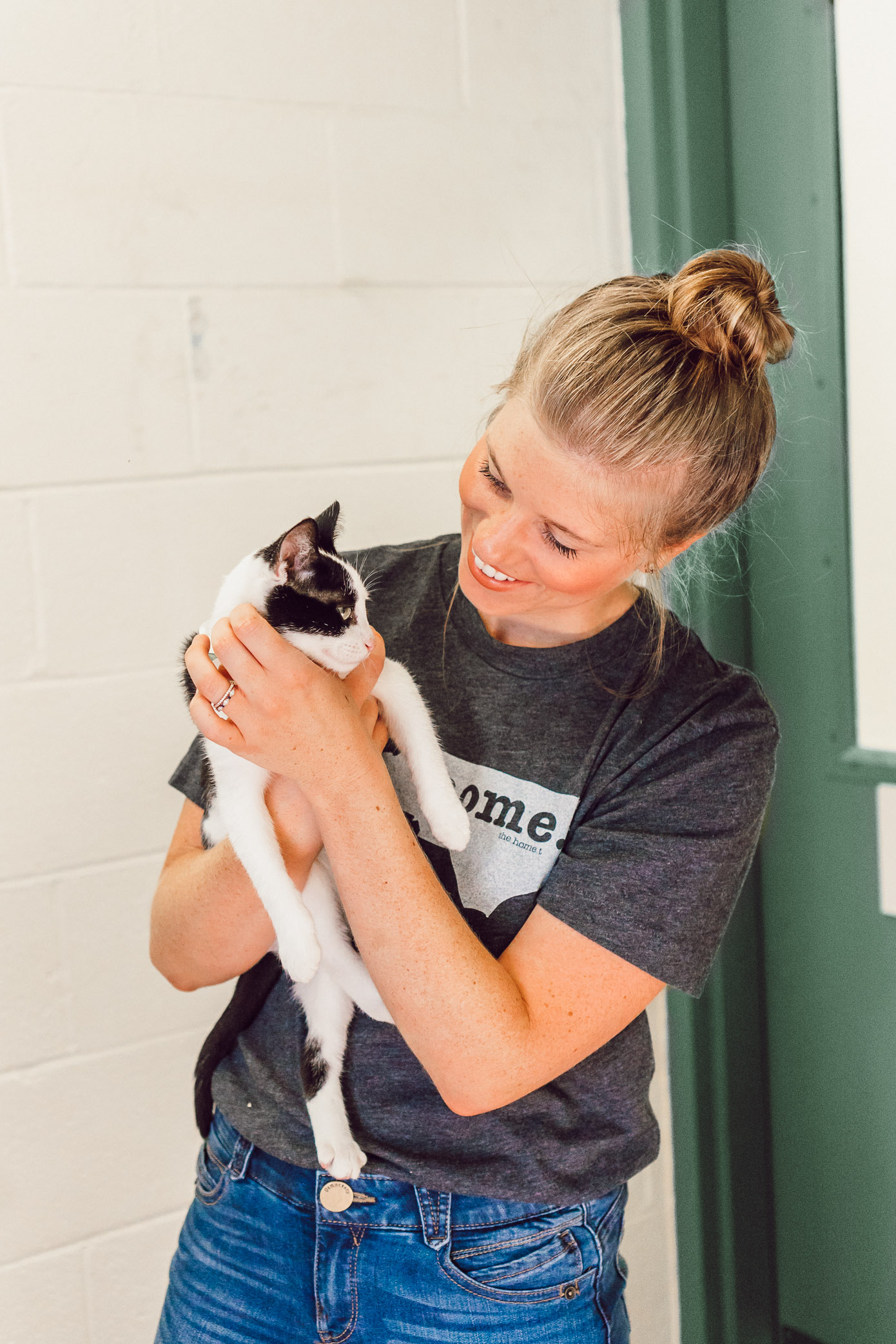 The animals at the Humane Society of Charlotte are the absolute sweetest and it is so apparent that they are well taken care of. While I'm sure many wouldn't mind staying there after what their previous lives were like, they are all looking for full time, loving homes. And one of them almost had the Elliott household as theirs (more on that later).
As mentioned above, I had the opportunity to visit the Humane Society of Charlotte last week to play with their residents and snap some photos with them. This was actually my second visit to the Humane Society of Charlotte. Earlier this summer, I had the chance to tour the facility and meet some of their current residents at the time. While visiting (both times) I could see how much love is poured into this space for these animals and how much care they receive from the volunteers. It truly is a special place. A special place that deserves attention and love from all of us! 
I'm sharing the Humane Society of Charlotte today as animals have a special place in my heart and what they are doing for animals in and around Charlotte is truly amazing. I also want to let everyone know in the Charlotte area what the Humane Society of Charlotte offers and that it is a great place to find your new best friend!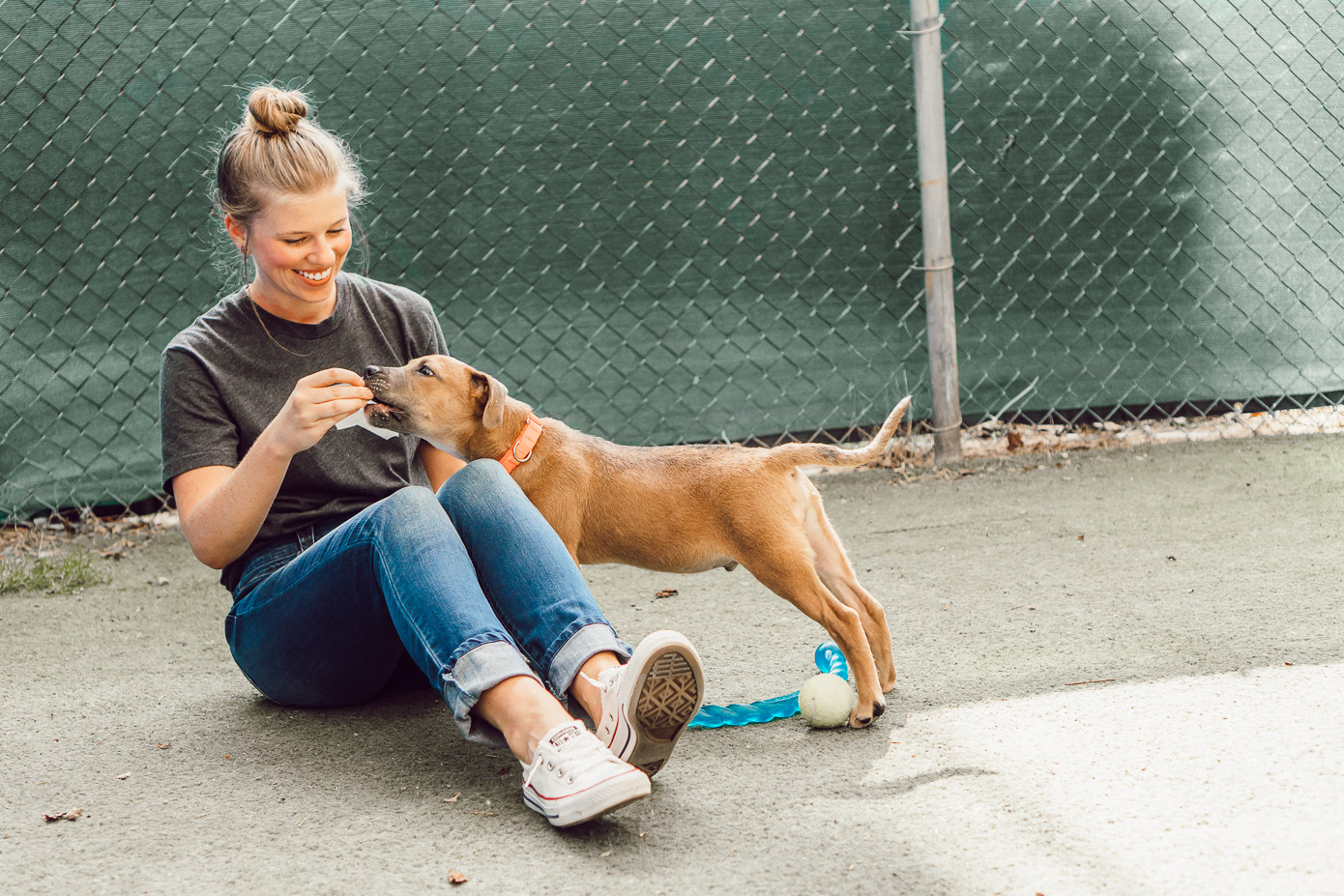 To give you some details on the Humane Society of Charlotte…
Historical Information
40 year-old organization; opened our doors on July 14, 1978

Their current location is their third location – their first location was on Commonwealth Avenue

They have been in their current location since 1993

They average 3,000 adoptions per year – YAY!
They take in an average of 3,000 animals per year. Meaning they take in as many as they are re-home to keep the life-saving cycle going – Double YAY!
Average length of stay for animals: 22 days – this is lower than the national average but a number they would like to see lowered!
Community Resources
Pet Food Bank: The Humane Society of Charlotte offers twice monthly pet food banks for the community and partners with Meals on Wheels for owners that are unable to travel to our shelter to pick up the food.
Safety Net/Have A Heart/Spay It Forward: These are all specialized donation funds to help owners in need with health and medical services for their pet including specialized medical treatments, surgeries and spay/neuter. 
Pets for Life: a program committed to helping families in under-served or poverty stricken areas keep their pets in the home. The Humane Society of Charlotte canvases the area door-to-door handing out vouchers and providing families with contact information for our team members.
HSC Fence iBuild: A program that helps free dogs from life on a chain. Their team, with the help of volunteers, builds fences for families in need to keep outdoor dogs safe in their yards. Additionally, iBuild recipients receive tarps in the summer to provide shade and straw in the winter to provide warmth and insulation for outdoor dog houses.
Critter Care Wellness Clinic: Wednesday clinic at The Humane Society of Charlotte's Spay/Neuter clinic that provides low-cost, high-quality vaccinations and preventative care (Heartworm, Flea/Tick) to the community. No appointments required.
Additional community resources include: Behavior Counseling, Pet Loss Grief Counseling, Community Cat TNR (Trap-Neuter-Release), Working Cats , iCare Pet Rehoming Board,and Surrender Services. 
Miscellaneous Details
The Humane Society of Charlotte receives their animals through municipal shelter transfers and owner surrenders. By transferring animals from municipal shelters, they are able to keep the life-saving cycle going by allowing these shelters more room to take in as many animals as possible.

The Humane Society of Charlotte is no-kill – with a live release rate of 99.9%

Perform an average of 13,000 spay/neuter surgeries annually

We examine more than 5,000 animals annually at our Critter Care Wellness Clinic on Wednesdays. That's more that 100 animals at each clinic!

Given away more than 54,000 lbs. of pet food to the community, helping approx. 802 pets – I mean WOW!
So back to the animals from last week, we kicked off our meet & greet session with Rikki (2-month-old, male, Retriever mix). This little hype nugget absolutely stole my heart. Truly the sweetest pup, he kept resting this head on my shoulder whenever I held him. Definitely a little cuddler! While he loves nuzzling in, he was also the little runner – definitely has that puppy energy. I think if we had kids, he would have come home with us! 
After Rikki, we met the sweetest lady, Nikki (7-year-old, female, Labrador Retriever). She was all about exploring and grabbing some treats. The lady loved her cheese! Rikki would be great for a slower paced family as she is a bit older and has arthritis. If you're looking for a sweet, loving companion, this is your dog! 
Then it was Shea (10-year-old, female, Short Coat Chihuahua). Another sweetie, who is full of spunk and personality. Also, loved being loved on. The perfect little go anywhere dog that is sure to be your best friend! 
For the cats, we played around with Romeo (4-month-old, male, Domestic shorthair) a bit in the adult cats room. A fun little guy, ready to play! And got the attention of Josie (4-year-old, female, Domestic Shorthair), Lucy (5-month-old, female, Domestic shorthair), Tony (2.5-year-old, male, Domestic Shorthair) for a bit – although they were more into sun bathing and hanging out! Then we were off to the kitten room where we met Junebug (3-month-old, female, Domestic Shorthair) and Saffron (3-month-old, female, Domestic shorthair) both full of personality, spunk, and the prettiest eyes. Seriously, how do all kittens have the prettiest? 
While we didn't go home with a little one, we will absolutely be heading here when we do decide it's time for another pet in our lives. Although, by then, the Humane Society of Charlotte may be in brand new location – as they are working towards a new facility for their animals!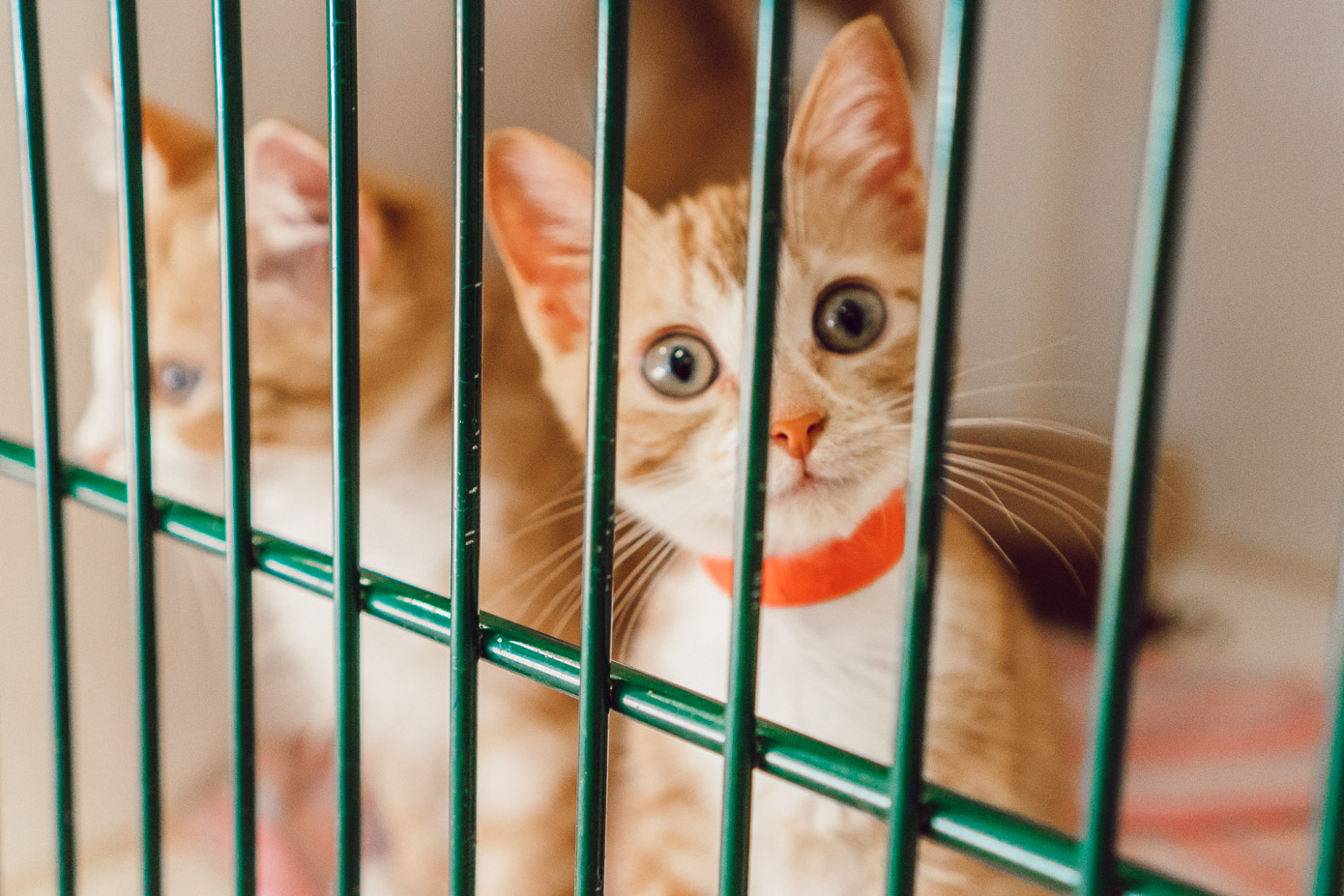 If you want to help out the Humane Society of Charlotte…
They are in great need of paper towels and animal-safe cleaning supplies. With all the animals they are taking care of, they have a lot of cleaning up to do every single day, so they go through a great amount of these items – EVERY.SINGLE.DAY. While they might not be the most fun items to gift, they are extremely helpful and very much in need! They also have a donation page, if you would like to donate a specific amount and help them out! Lastly, there is a really fun event coming up called the Ties & Tails Gala. The Ties & Tails Gala is a fundraising event that celebrates the donor, volunteers and the great work of the Humane Society of Charlotte. All funds raised at the Gala support the HSC's mission to deliver effective, innovative services that strengthen the human-animal bond and improve the lives of companion animals and the people who care about them. The gala is on November 10th from 6-11pm at Hilton Charlotte City Center, you can buy tickets now and send a donation if you would like.