Let's talk NYFW packing! Packing for one of the most fashionable weeks of the year can be pretty tricky. Especially with extremely cold temps and the prospect of walking lots. Breaking down what I packed and my top recommendations.

Morgan and I arrived home Monday evening from our second NYFW adventure. We had the absolute BEST time (again, last year's recap) with the exception of some seriously FREEZING temperatures. As in 25-28 degrees with intense wind while we were shooting with the ever fabulous Allie of Prêt-à-Photo. Luckily, we had Allie pumping us up and encouraging us the whole time. She was the real champ of the photoshoot – that's for sure. I only said I wasn't made for these temps about 100 times (full on southern gal over here).
Any who, Morgan and I talked a lot about our decision to attend NYFW in the spring vs. the fall and decided we like the spring better. The reason for this is because when we both think of NYC we think of it being cold, being dressed in cozy pieces, and diving into adorable coffee shops to warm up with coffee, tea, and baked goods. So even though we were quite chilly this go around, we would much prefer it to hot, steamy days that occur during the fall season (aka September).
After attending the last two spring seasons, we have definitely learned what to pack, what to skip, and a lot things in between! So I figured I needed to share with y'all in case any of you are thinking of attending next spring. Give you lots of time to prep and prepare! And obviously reflect back on when the season is upon us again.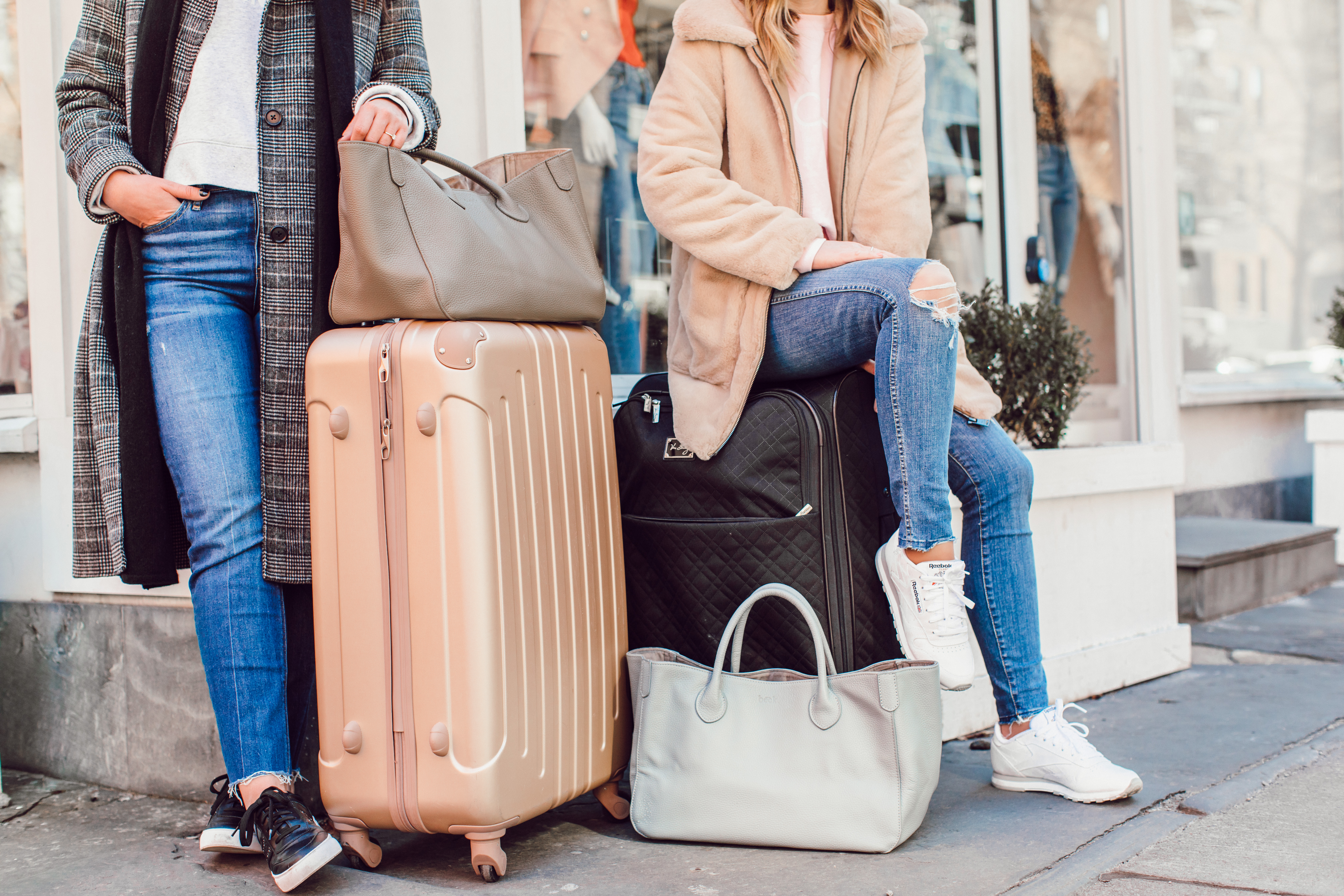 NYFW PACKING – What I Packed for NYFW
Footwear
100% the most important decision you'll make when it comes to packing for NYFW – what shoes to pack. Last year, I talked about comfort being key when choosing which shoes to bring with you. I definitely still believe that to be true and followed that recommendation of mine even more this go around. As you may have seen from my stories, I opted for sneakers almost every day and to every show/event. With all the walking (Morgan and I prefer to walk/explore the city vs. ubering) they were absolutely necessary. Plus sneakers are having a HUGE moment right now, so they were honestly everywhere. Including on the catwalk.
Aside from sneakers, warm + comfortable boots are a must. With the chilly temperatures you need shoes that'll completely cover your feet and keep you warm. This year, I was obviously all about white when it came to footwear and I really loved how the white boots brightened up my looks. Making them a little more appropriate for transition between winter and spring.
One other pair that I totally didn't think about packing until they arrived as a gift, a pair of rain boots. Oh my goodness where they lifesavers! Our first day in the city was extremely gloomy and wet. The rain boots saved me from getting wet as well as saved the pair of shoes I would have worn in their place. So if you have room in your suitcase and rain is at all in the forecast, pack a pair of short rain boots. This pair from Everlane is AMAZING! Couldn't recommend more! Plus they're under $80 – total win!

Coats + Sweaters
Another HAVE to have! Layering is a must due to going in and out of meetings, presentations, events, and coffee shops/restaurants. I definitely recommend packing several sweaters, two to three coats (wear your heaviest one on the plan to save space in your suitcase), and lighter pieces to put under your sweaters. Just in case it's really warm indoors at one of your events.
This year I kept things pretty neutral with my sweaters and also coats. I honestly hadn't planned that, it just kind of happened. But after arriving, I was SO glad it did. Creating several looks with the pieces I brought was incredibly easy due to them almost all being neutral. I mixed and matched like crazy and came up with several looks on the trip that I hadn't even planned on wearing. A little capsule wardrobe occurred!

Bottoms + Dresses
If you're going to wear dresses definitely pack a pair or two of opaque tights. Your legs will thank you and they will also look great when you're walking and people get a peek at them. A great way to add a pop of color if you want to have a little fun! With the white chinos I wore, I ended up wearing nude tights underneath for an additional layer. Which then turned into me wearing them everyday under all of my jeans/pants/dresses. The extra layer was wonderful!
Don't fret about wearing jeans. Some people worry they aren't acceptable for NYFW or they need to dress up more. While dressing up is fun and I'm all about it for some of the shows and events, jeans are totally appropriate and you will see SO many people wearing them. Just put your own spin on them with your other pieces. Show off your personal style and what you love!

Accessories
Here's where you have fun! Especially if you keep things neutral with the rest of your pieces. Add pops of color with your handbags, hats, scarves, headbands, and whatever other accessories you love. Definitely pack at least one hat and one scarf. You'll need them while walking around and or those extra chilly days. Leather gloves are also huge lifesavers as well! Oh and Allie, being the saint she is, brought us hand warmers during our shoot and we used them the full day. They were AMAZING! Definitely packing several sets next time.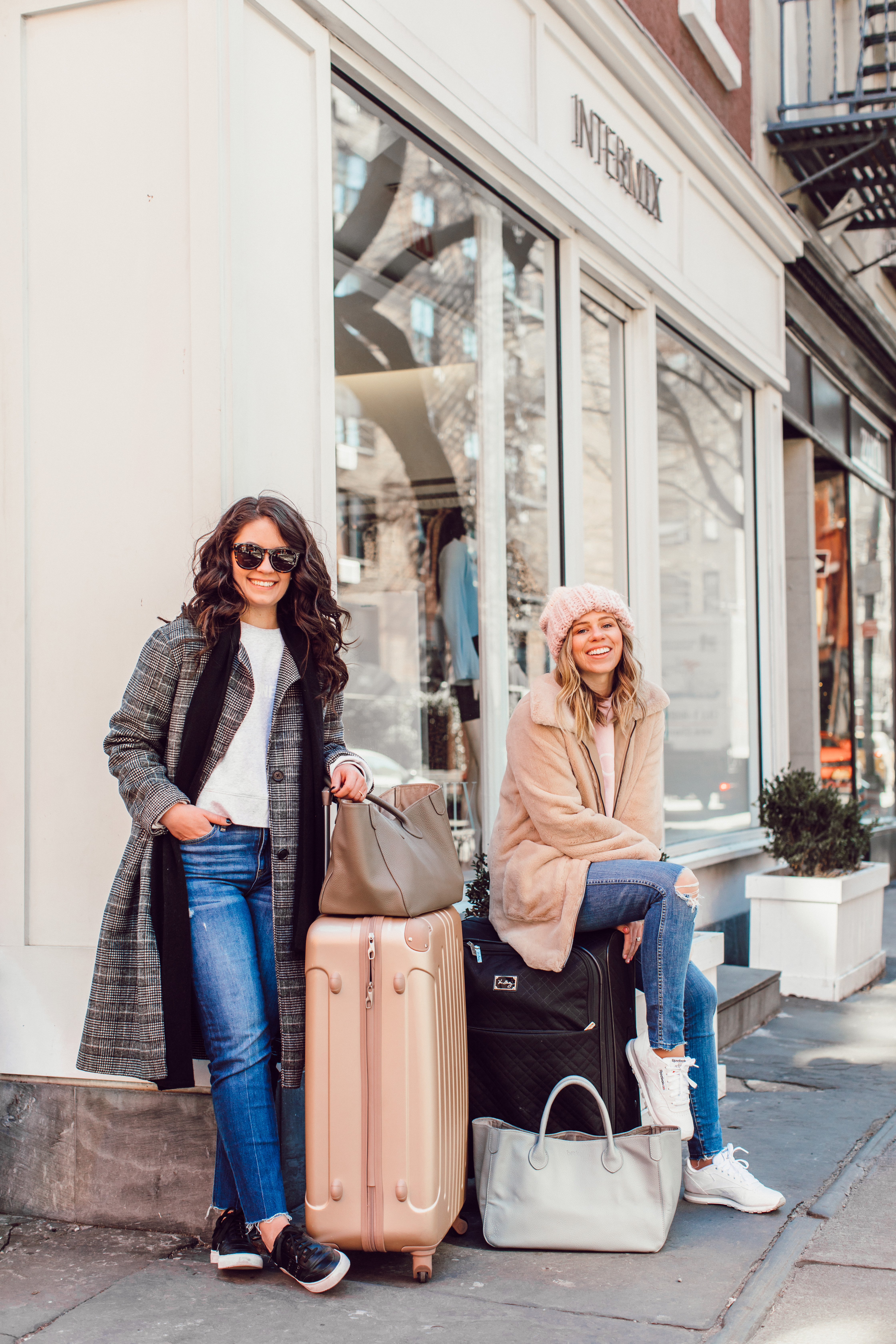 LOVING THIS NYFW POST? Check out my NYFW page for more content around the fashionable week!