Calling this my Louella Reese spring reading list and breaking down some of my favorite  books!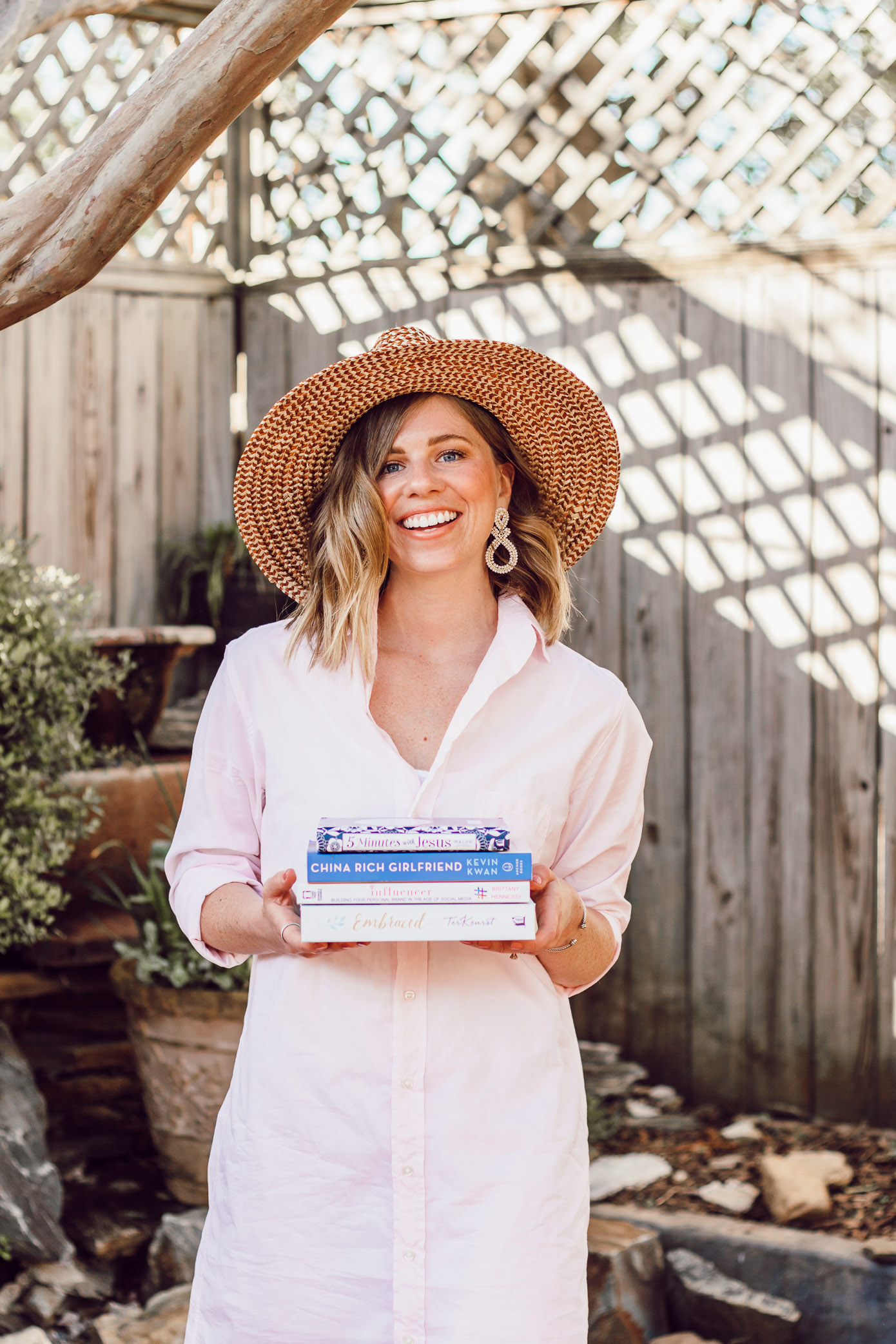 Happy Friday!! Once warmer temps roll around I find myself craving a good book. Whether it's to read by the pool, at the beach, or on the back patio. And once I've become engrossed in the book, I find myself turning the tv. off early and crawling into bed to continue my reading. Definitely a better use of time, in my opinion! 
With devotionals, I typically read these in the morning but when a photoshoot or meeting calls my attention bright and early, I try to get the devotional in before bed. Joshua and I also read a couples devotional a few times a week – would you be interested in a post on the ones we have read thus far? Let me know!
Anyways, back to today's post, I'm sharing the books I've read thus far this summer! From crazy entertaining to incredibly thought provoking and one in between!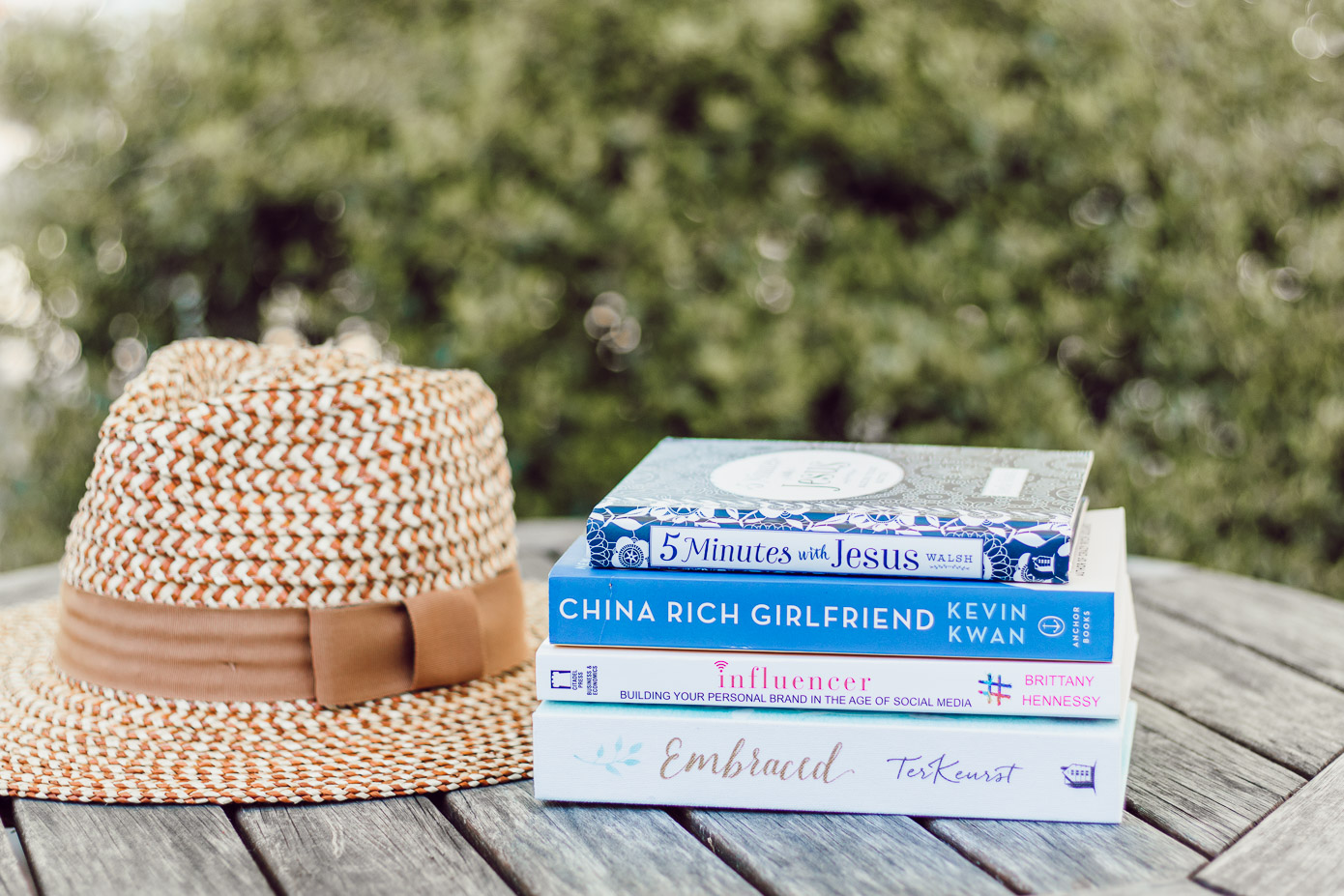 China Rich Girl Friend
I decided to read this after FINALLY seeing Crazy Rich Asians. Joshua and I both absolutely loved the movie so I thought why not. Thankfully the second book of the trilogy lived up to the movie (no real shocker there, books are always better than the movies, right?). Kevin Kwan (the author) had me hanging on every line, needing to know what would happen next! Each chapter seems to end with a  little bit of a cliff hanger which then lead me straight into the next chapter. I finished this book in no time. Truly I think it was three or four days. 
Every chapter is more entertaining than the next and the development of the characters is incredible. China Rich Girl Friend is truly one of those books you can't put down. 
Recommendation: Yes
Rich People Problems 
The final book in the Crazy Rich Asians series and I have to say – THE MOST ENTERTAINING! This book kept me wanting more the whole time. Even more so than China Rich Girlfriend – which I didn't think was possible! There is so much scandal, drama, and love – you'll find yourself turning the page with worry, excitement, and/or a smile. Another book I finished in just a couple of days. Again, it was that good! Honestly, I finished the book wishing there was a fourth in the series. Kevin Kwan PLEASE!
Recommendation: Yes
Influencer
An absolute must read if you're a blogger, Instagram, you-tuber, or all of the above. This book is incredibly insightful. Full of tips, recommendations, hard truths, and encouragement from Brittany Hennessy, a Senior Director of Influencer Strategy and Talent Partnerships at Hearst Magazines Digital Media. As well as seasoned influencers who have been in the business since it began. This book was a game changer for me and I could say enough good things about it! I have recommended the book to several friends and PR companies I have worked with and all have come back to me singing it's praises. Truly, a MUST READ!
Recommendation: Yes
Five Minutes with Jesus 
I have chatted about these books before – in my summer reading post last year. These books were the first daily devotionals I had ever done. They definitely hold a special place in my heart and are a great way to get started with daily devotionals. They're short, easy, and include a few verses each day to encourage you and also you're faith journey. This particular one is actually the first of the series (there are three books), somehow I read them backwards but it honestly does not matter as they're all a little different. Five Minutes with Jesus would make a great gift for any woman in your life. 
Recommendation: Yes
Embraced
So I haven't fully read this one yet. I'm about halfway in but SO in love with it. Truly look forward to reading it every day. This devotional has a little more substance and requires a little more time than the five minutes with Jesus books – which I really love. Each chapter (day) also includes a prayer for you to say at the end. I cannot tell you how much I love that and how often those prayers really speak to what I am going through. This is a wonderful devotional for young women (20s and 30s). 
Recommendation: Yes

Okay so I know I gave a yes recommendation to all of the books mentioned but I honestly loved every single one of them! Which I promise isn't always the case – check out my summer reading list from last year – there's a no or two there. 
Below are a few books I have on my reading list. The first one is the book I'm currently reading. I'm just a few chapters in but loving it already. Hoping this weekend is nice so I can lay by the pool and finish it!
What's On My Reading List
Are you on the warm weather reading train? If so, what have you read and what are you loving? I would love to hear and add some books to my list. Comment below and share!