Getting ready to dive into some spring cleaning? Let's conquer a bit of the kitchen with a little kitchen sink organization. Above and below the sink.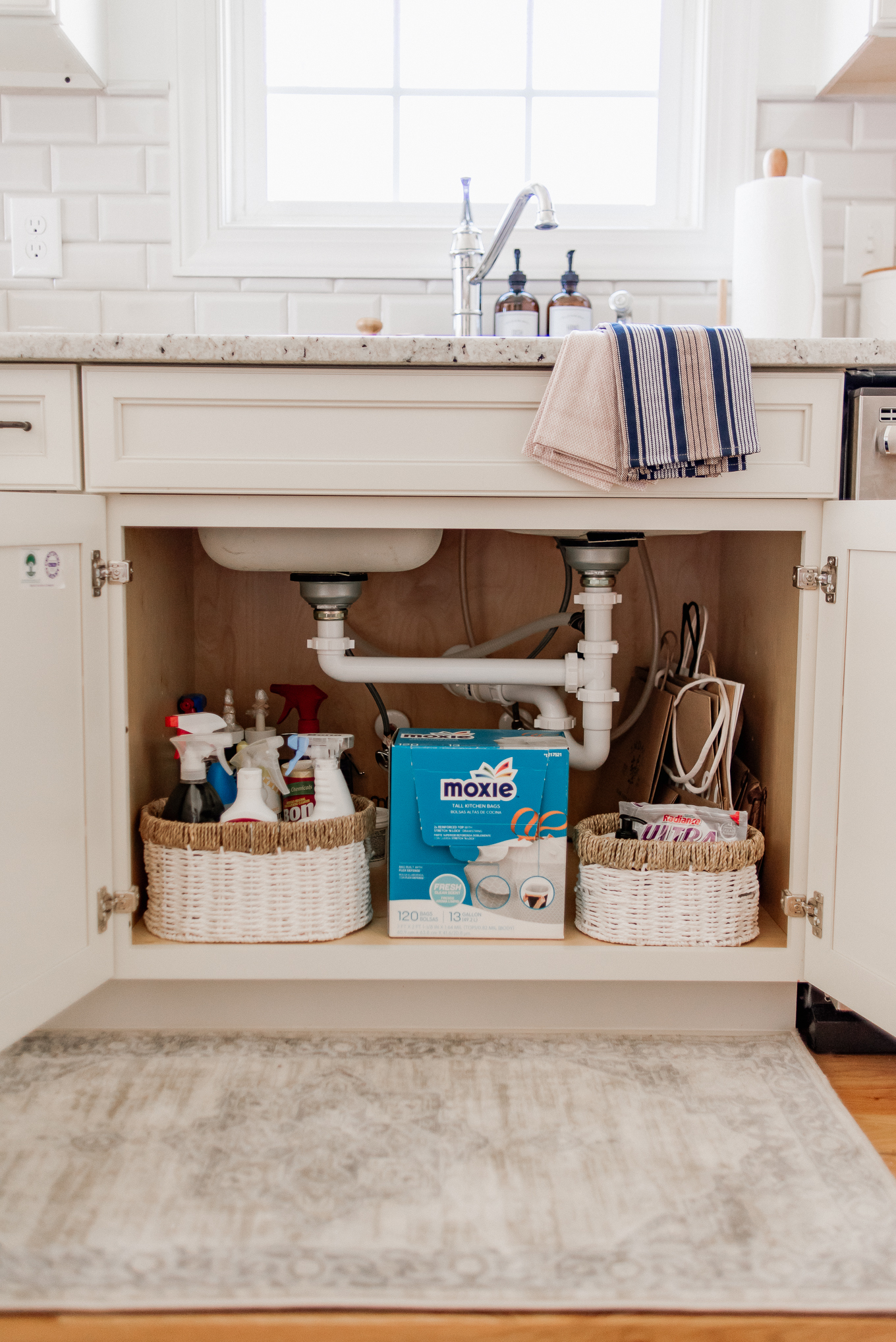 Last week, I shared a post on a couple of updates we made in our kitchen. Several of them included organizational pieces. Which I hadn't even realized when ordering, just thought they would be great additions to our space. 
The first item I added to my cart, the white canister set. I had been on the hunt for a simple canister set – one that would add a little character but also blend in with the rest of our kitchen. This white canister set fit the bill perfectly. It is simple, beautiful, and offers extra countertop storage. Plus the wood lids are such a unique touch!
What's in our canisters?
Large canister: gluten-free oatmeal from Trader Joe's
Medium canister: organic cane sugar
Small canister: organic green tea bags
All the other items help to organize our kitchen sink. A space that is used often and if we're being honest, is full more often than not. Full of dishes above and full of cleaning supplies, bags, and the most random items below. Am I right? Above, we added a metal sponge holder and a scrubbing brush dish. Both of these help to keep your sponges + brushes a little cleaner and allow them to dry out a little quicker.
I honestly love how both pieces look! While they're totally meant to help organize the space they also add so much character. The dish I ordered to use as a scrubbing brush dish is actually a butter dish. But honestly, I don't think it's big enough to hold a full size piece of butter. So I think it works better for this use!
The metal sponge holder helps make the kitchen sink look a little cleaner and put together. Something this OCD gal absolutely loves. So if you're an OCD gal like me, go ahead and add this little piece to your cart. Your OCD heart will be so happy when you're sponges have a home!
Lastly, under the sink I added wicker basket sets. Under our sink was getting kind of out of control (see before photos above) – lots of cleaning supplies all over the place in no kind of order, brown paper bags and plastic grocery bags everywhere, and then those random miscellaneous pieces that seem to collect out of no where! So a little organization was necessary! These two wicker baskets made SUCH A DIFFERENCE! I could not get over how different it looked organizing the cleaning supplies into these two baskets, straightening our bags, and placing some of the miscellaneous items in their appropriate spots (Joshua's shed, the cabinet above our fridge, and the trash).
What's in our wicker baskets?
Large wicker basket: All of our cleaning bottles, a spray water bottle for watering our plants
Small wicker basket: extra dish soap, dishwasher soap, extra sponges, extra dish brushes, extra hand soap.

I also added these hand and dish soap dispensers! They are amber glass and come with the sweetest labels. There are two additional labels for hand lotion and body lotion as well to give you options. They are pretty large – which I love – keeps you from constantly having to refill them. I've been using Mrs. Meyers Olive Oil soap and absolutely love it! The smell is amazing, the soap is gentle, and it's a cleaner product. A complete win!
How do you organize your kitchen sink? Will you be adding some of these pieces to your kitchen?