Affordable gift ideas for her – all under $20 and a little something for everyone!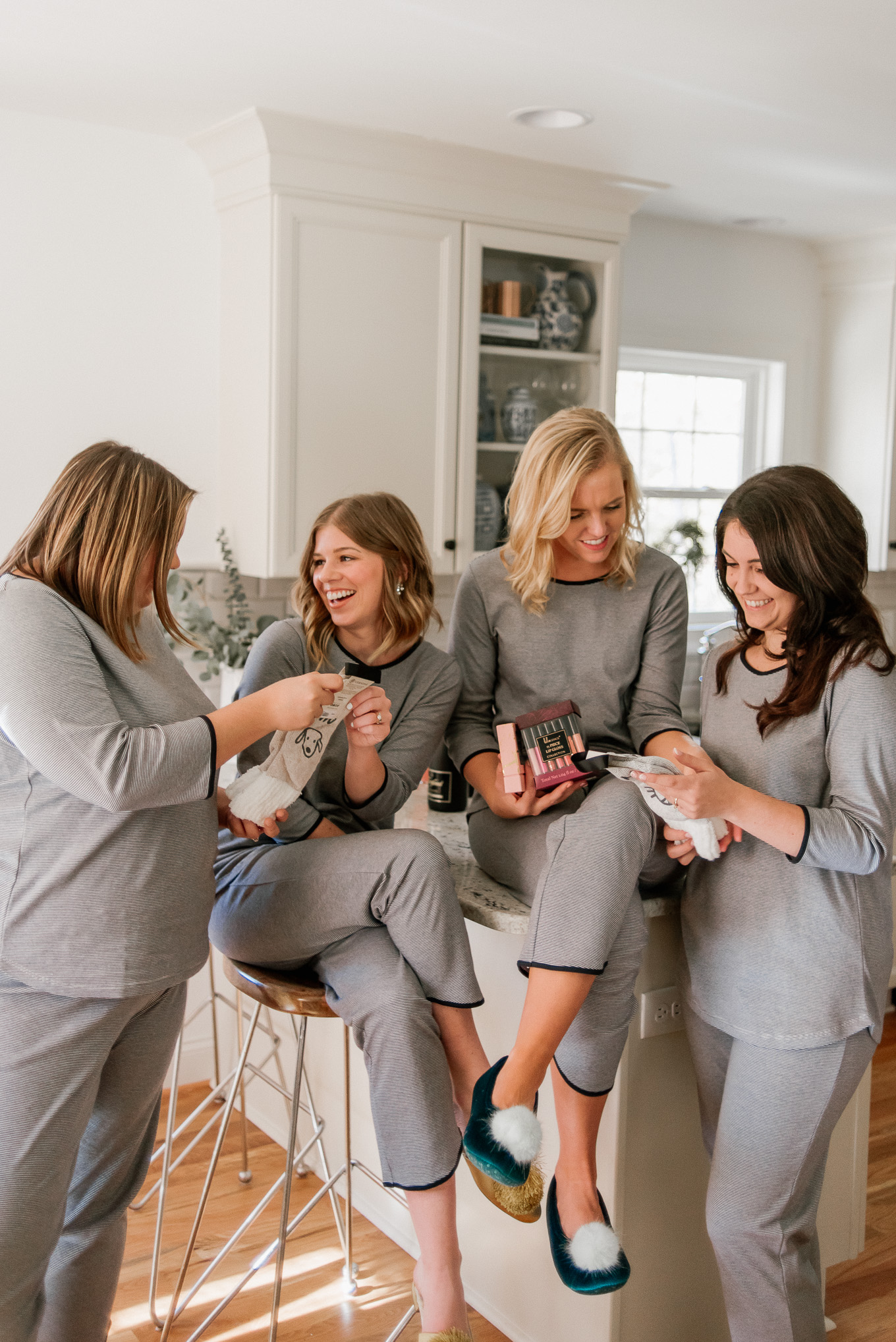 Fun fact: gift giving is one of my love languages. Which explains why putting together party favor bags was always one of my favorite parts of birthdays growing up. Every year I had a birthday party I went all out with a theme and ALWAYS had party favors to go along. 
While birthdays are typically all about you getting presents, I really love to gift them! So I kept my love and the tradition of party favors going with gifts for my gals! All of which perfectly went along with a pajama party theme. Especially the more detailed theme of 30 Going On 13 – think all school slumber parties with make-up, beauty products, cozy pieces, and a little glam. 
I partner with Versona, one of my favorites, to put the gals favors together! Lucky for me (and now you) their holiday gift guide is out and FULL of great gifts for the ladies in your life. There is truly a little something for everyone on your list! From the beauty lover to the fashionista to jewelry fanatic and those that like to be pampered! The best part, everything is very affordable!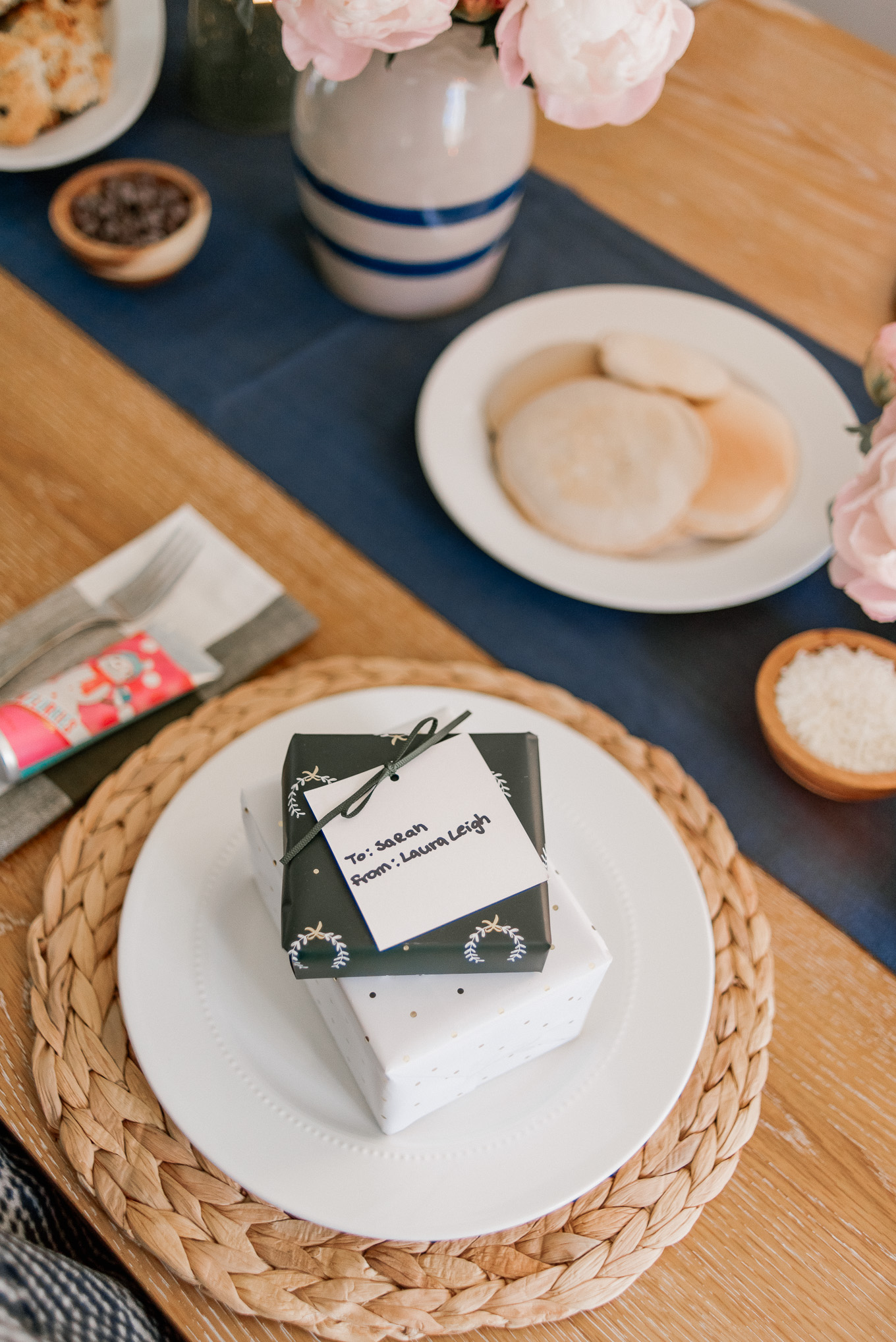 Sarah's Gifts
Love these sweet earrings! Perfect little personalized gift. The best part, they come with a sweet jewelry dish or you can use as an ornament. 
Everyone could use a little hand lotion in their life! The ideal size for throwing in your travel bag or purse. 
Dog Mom Slipper Socks (not currently available online – check in stores) 
Saw these socks and immediately had to get them for Sarah! She has the sweetest pup Bentley that is absolutely adores so I knew she would love these!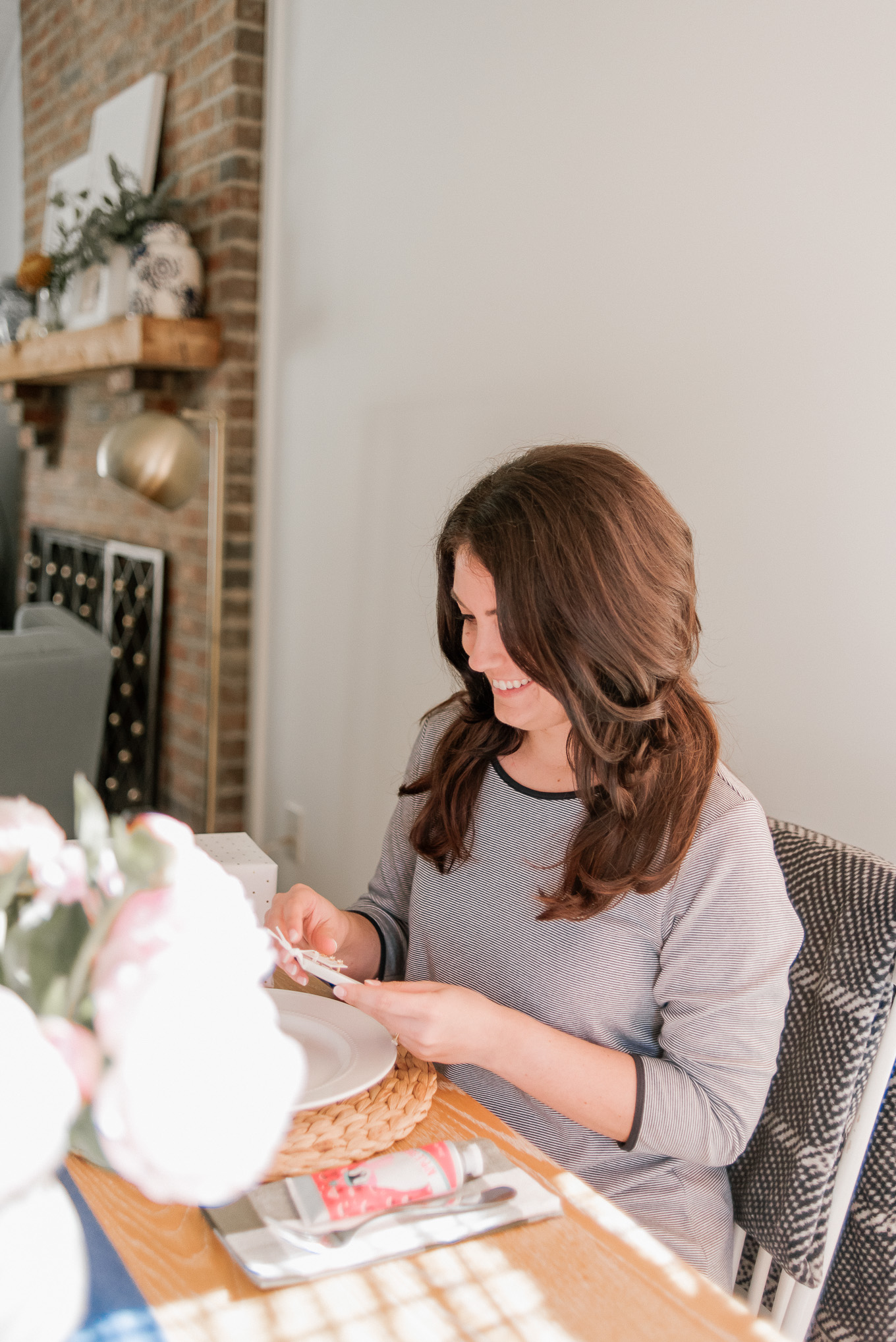 Morgan's Gifts 
After scooping the S initial earring set up for Sarah I had to do the same when I saw this M set. Morgan wears studs often so I knew she'd get a lot of wear out of these. 
Morgan and I chat about dry hands all the time so hand cream was a no brainer for her. I imagine she'll store it in her desk at work and use throughout the day. We all know how work bathroom soap dries out our hands. And the fact we have to watch our hands 10000x times a day to keep winter germs at bay. 
Cat Mom Slipper Socks (not currently available online – check in stores) 
Again similar to Sarah, Morgan has two cats she absolutely adores so these socks were just too perfect for her to pass up! A great stocking stuffer for the cat mom in your life!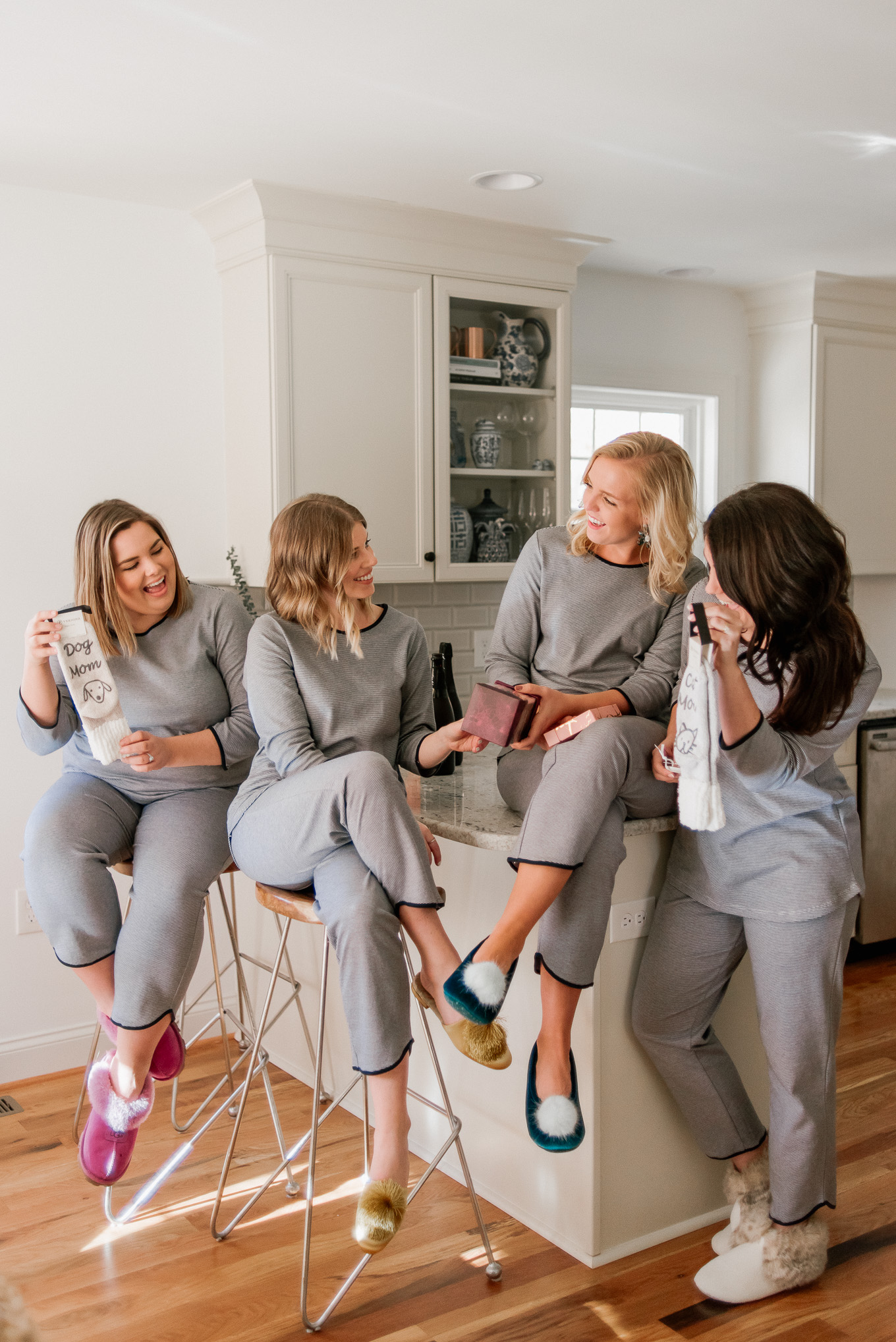 Taylor's Gifts
These earrings are made for the fashion lover in your life! They are so fun and the colors are ideal for the winter season. I imagine Taylor having LOTS of fun styling these! 
A great stocking stuffer option for just about everyone!
15 Piece Lip Gloss Collection (not currently available online – check in stores) 
The beauty lover in your life needs this set! 15 lip glosses to have fun and spice up your looks with! Taylor is always rocking bright shades so I knew she'd love this fun set with LOTS of options!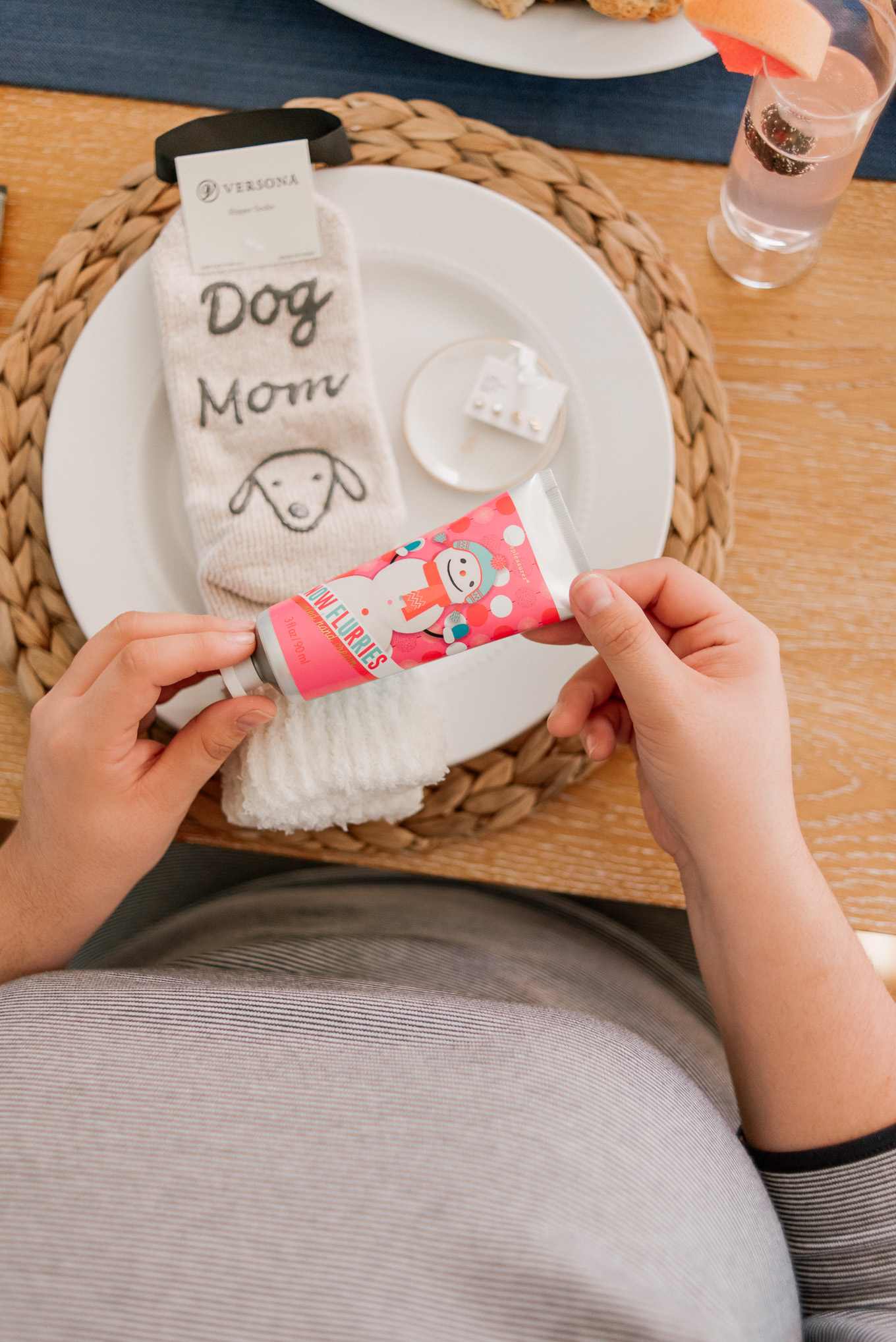 See there are SO MANY great affordable gifts for her at Versona! Don't forget to check out their holiday gift guide and scoot into their store if you have one by you – they always have even more available! & stay tuned for giveaway with Versona tomorrow via Instagram! 
GROWN UP PAJAMA PARTY TIP #4
Have party favors that align with your theme
For a pajama party that means all things beauty – lip gloss, face mask, nail polish, lotion, or any other type of pampering beauty product. As well as all things glam – jewelry, faux fur pieces, or fashion magazines. OR it could be a baked good/candy! 
Catch more Grown Up Pajama Party Tips here and here.
Thank you to Versona for sponsoring this post! & thank you for supporting the brands that make Louella Reese happen!