Sharing a destination you didn't know needed to be on your travel bucket list!  My full Bentonville Arkansas Travel Diary.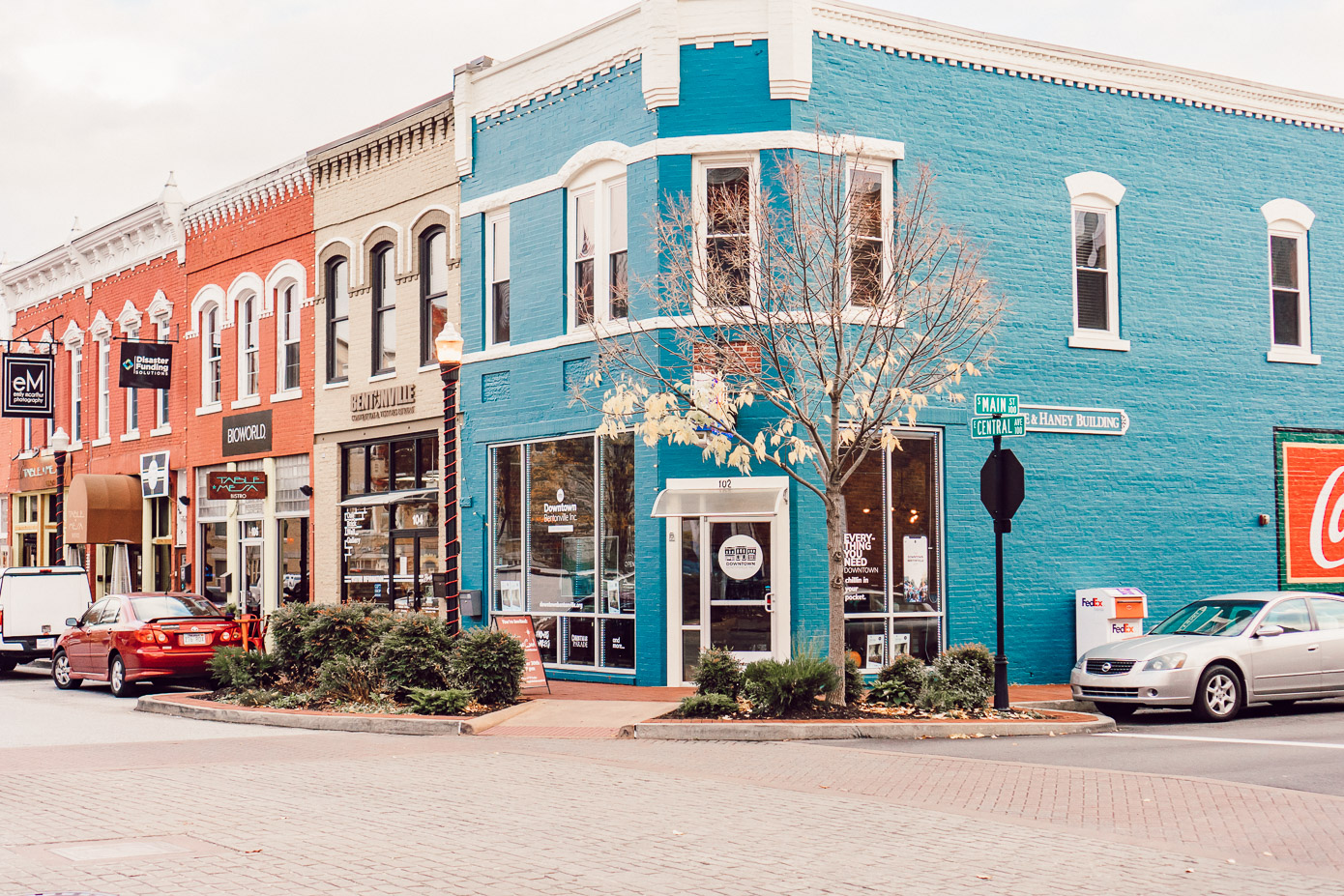 I could not be more excited to share my Bentonville, AR trip with y'all today! I know one of two things come to your mind when hearing (or reading) Bentonville, AR – one, Walmart or two, what in the world is in Bentonville, AR? Trust me, I get it, those were the two responses Joshua and I had. Well people for one think Walmart because Bentonville, AR is where Walmart was originally established (1962) and where their headquarters are today. It is also home to the Walmart museum, which is located in the sweet downtown of Bentonville. 
Aside from Walmart, Bentonville, AR has a lot to offer and if you're anything like me, you'll want to move there after learning more about it. Well maybe, you should visit there first but either way, this sweet, fast growing town will win your heart! 
I figured the best way to talk about Bentonville is to share the itinerary I followed…
Wednesday
Travel to Bentonville, AR: Lucky for me (and those of you in the Charlotte area) the flight to Fayetteville, AR is a direct one. After arriving it was a short 20-25 minute drive from Fayetteville to Bentonville. The airport is served by American Airlines, Delta Airlines, United Airlines, and Allegiant Airlines. Also serving direct flights from New York, Newark, Washington D.C., Cincinnati, Atlanta, Orlando, Destin (seasonally), Houston, Dallas, LA (seasonally), Las Vegas, San Fransisco, Denver, Minneapolis, and Chicago. So what I'm saying is, Bentonville is easy to get to! 
After arriving in Bentonville, I checked into Four Points by Sheraton and decided to spend the evening working. As well as watching We Are Marshall (anyone obsessed with that movie?). Oh and also diving into the welcome basket Visit Bentonville provided. Which included a bag of popcorn, cookie, and wicked spicy mix. I may or may not have finished all of the popcorn.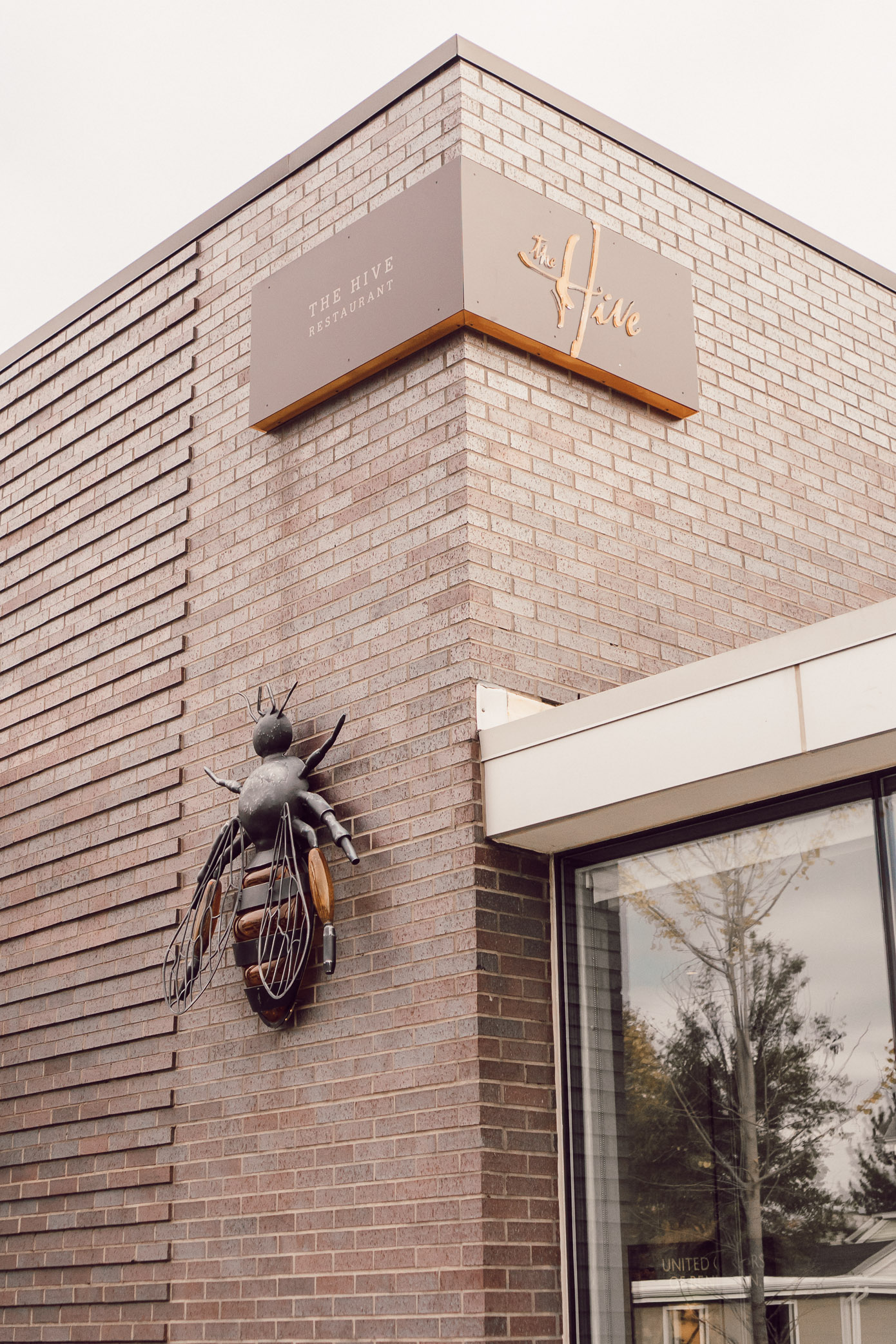 Thursday
8:00-9:00 am: Breakfast at The Hive. The Hive is located in 21c Museum Hotel, a 104-room boutique hotel, contemporary art museum, and cultural center. The hotel offers more than 12,000 square feet of exhibition space seamlessly integrated into all areas of the property, allowing you the opportunity to discover art around every corner. I mean, even on the way to the bathroom! This space is open to the public 365 days a year and is completely free. 
I would absolutely recommend staying at 21c Museum Hotel if you're looking for the boutique hotel experience or want to really dive right into Bentonville. They offer a variety of rooms and honestly, each one is prettier than the next! 
Oh and of course, you have to dine at The Hive. This spot is so cool y'all! Glowing honeycomb, kudzu vines, swarms of bees, and random hidden objects and creatures cover the restaurant walls and play into the name of the restaurant. Their menu focuses on High South – described to me as a style of cooking that uses classic country recipes from the ozark mountains and turns them into new age cuisine.
My recommendation for breakfast, Poached Eggs – chorizo grits, bean ragout, pepper relish and toast. BUT swap the toast for a biscuit, you'll thank me later!
9:15-10:30 am: Welcome, Keynote Speaker, and Quality of Life Panel. I could not have enjoyed this panel more! We had the opportunity to hear from the CEO of Greater Bentonville Chamber of Commerce, Director of Communications at Crystal Bridges Museum, Senior Director of Global Communications at Walmart, Sr. Program Officer of Arts & Culture at the Walton Family Foundation, and Principle and CEO of Velocity Group. They all discussed what they loved most about Bentonville and the quality of life you can achieve in this Arkansas town. Honestly, by the end of it, I was texting Joshua to look for jobs in Bentonville. 
Some of the key items they mentioned, the walkability of Bentonville, vast biking and mountain biking trails, the availability of art and culture, reasonable housing market (yes, please), and the cookies at Markham & Fitz (more on those later).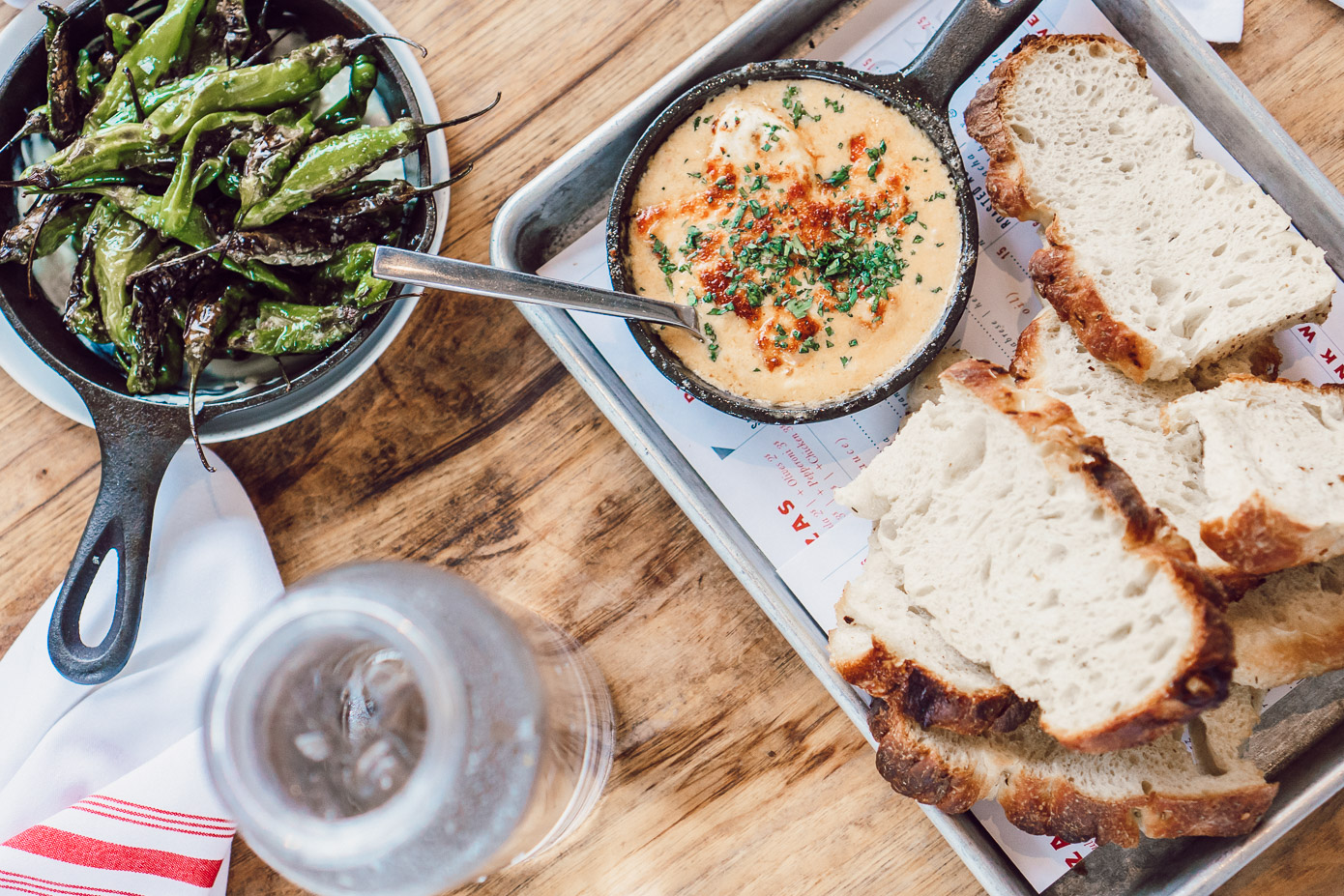 Free Time aka shopping at a local boutique for me! I popped into Label, a boutique in Downton Bentonville, and immediately started filling a dressing room! The sweater I ended up with sadly not on their site but you can find it on revolve. 
11:45-12:45 pm: Lunch at Oven and Tap. I literally could not say enough good things about this restaurant. From the decor and design of the space to the incredible and unique food offerings. The group ordered a bunch of appetizers for the table including wood-fired edamame, fried mozz, pimento cheese, and shisito peppers. The wood-fired edamame was hands down the best edamame I have ever had! Seasoned with rosemary, lemon juice, and sea salt, it was like nothing I had ever tasted before. Changed the edamame game for me! 
For my meal, I had the Brussels Sprout Caesar salad. Which again was like nothing I had ever had and I immediately texted Joshua saying we would be trying to replicate it at home ASAP. Truly amazing and I could not recommend it more. Oven and Tap is the perfect spot to grab a delicious lunch and enjoy some time with friends. Oh, they also have the most incredible sourdough bread that is served with honey-butter. O.MG. y'all!
1:00-2:30 pm: Crystal Bridges Museum of American Art Tour – if you aren't familiar with Crystal Bridges, it is an absolutely breathtaking museum that unites the power of art with natural beauty. By that I mean, Crystal Bridges is built around two spring-fed ponds and surrounded by gorgeous trees. The museum includes several glass enclosed bridges that allow you to soak up the outdoors while within. Additionally, the property offers 120-acre park with trails that link the museum to downtown Bentonville. 
I spent about an hour walking around the museum by myself, this was the first time I had ever walked around a museum alone and I absolutely loved it. This allowed me to go at my own pace and really soak in the pieces I enjoyed. A couple of my favorites include a Dolly Parton portrait by Andy Warhol and Rosie the Riveter by Norman Rockwell.
The most amazing part about Crystal Bridges Museum of American Art is general admission is free, every single day (closed Tuesday). 
2:45-4:30 pm: Peel Mansion and Museum of Native American History 
If I was getting married in Bentonville, the Peel Mansion would 100% be the location. The grounds are absolutely beautiful! Sadly, while we were visiting it was raining quite hard so I couldn't capture any great photos but you can find several on their site. 
If you visit Bentonville with small children, you need to take them to Museum of Native American History. The MONAH is such a fun spot with a giant wholly mammoth welcoming you as you walk through the front door and arrowhead hunting around the tipi outside of the museum. 
Free Time
6:30-8:30 pm: Dinner at The Preacher's Son. Hands down one of the meals and experiences I have ever had. If you dine at one restaurant while in Bentonville, The Preacher's Son needs to be it! Located in the restored Christian Church of Bentonville the interior alone is reason to stop in. Which includes beautiful stainless glass windows, a champagne gold brick bar, and grid of 288, 5" gold bells in the bell tower. Additionally, the downstairs houses a speakeasy behind the door of a coat closet. How cool is that?
As for the food, your tastebuds will leave happy and your belly full without feeling weighed down or as if you over indulged. The reason for this is chef Matthew Cooper focuses on healthier, lighter options with the addition of incredible and sometimes unexpected sauces. For me, I went with the roasted cauliflower for an appetizer and gnocchi for my entree. The roasted cauliflower is paired with chimichurri, a seriously unique combination that works perfectly! While the gnocchi included sweet potato, carrot, fromage blanc, and local honey. I know I've already said this but it was truly one of the best meals I have ever had! I couldn't recommend The Preacher's Son or these two items more.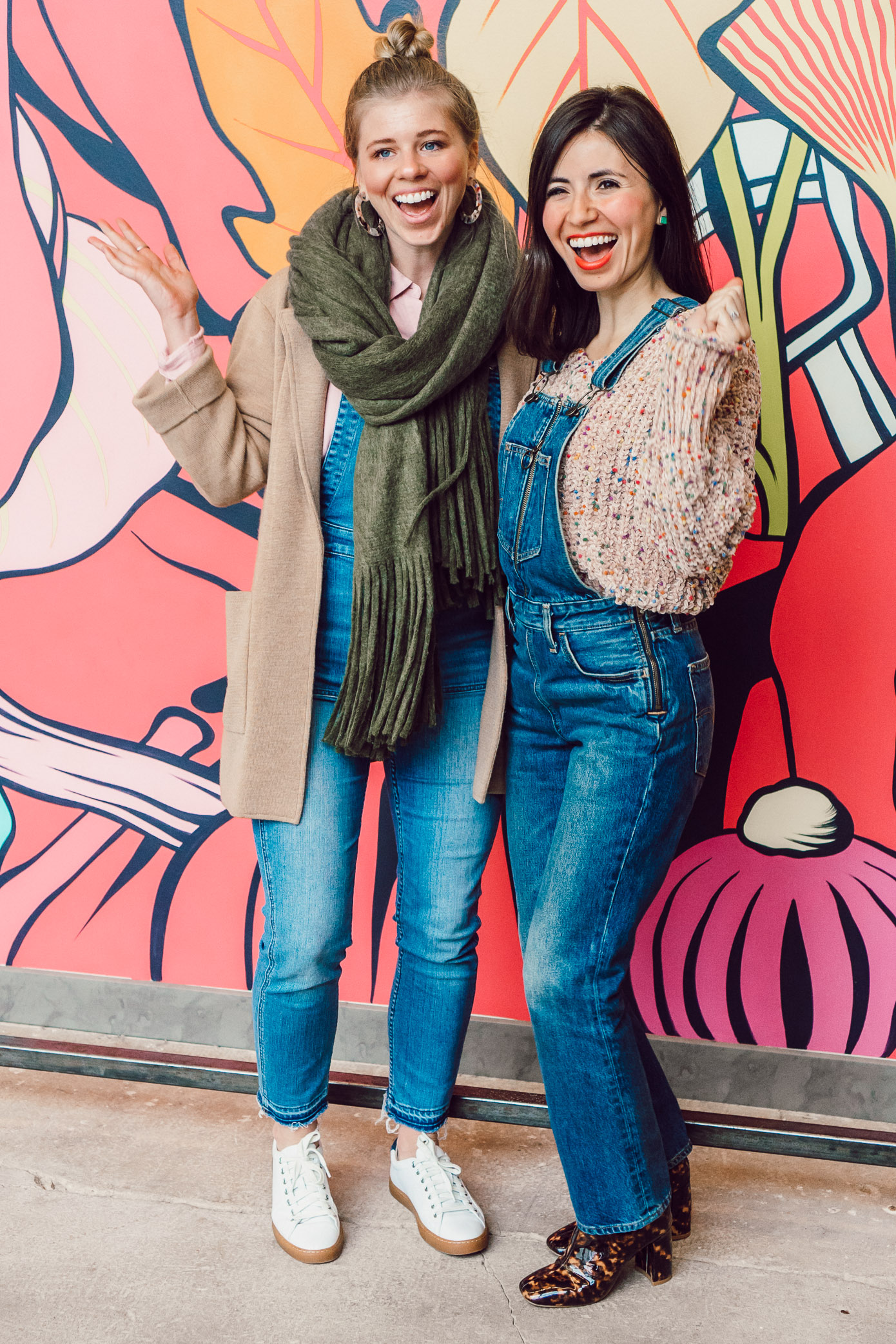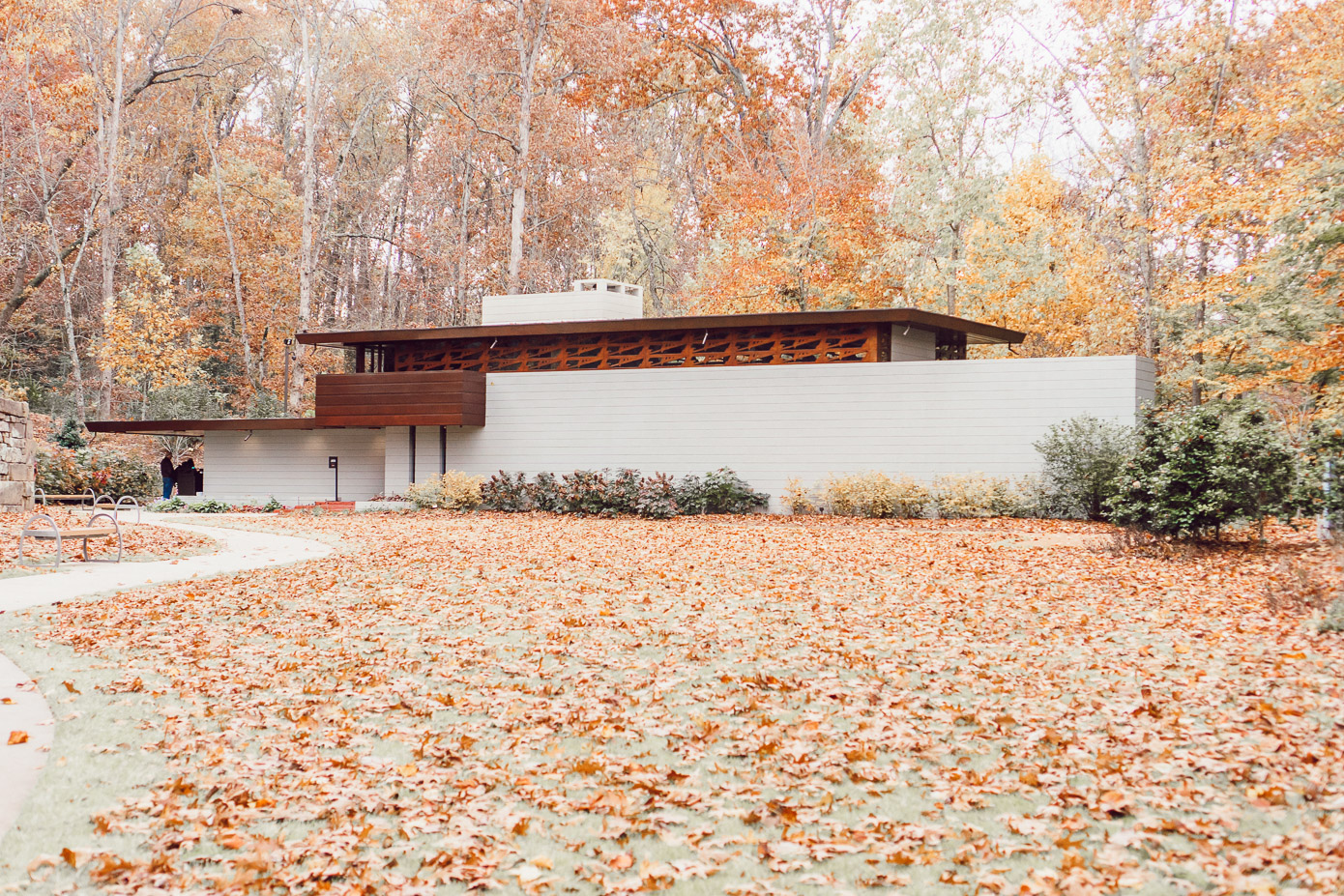 Friday 
8:30-9:15 am: Breakfast by Buttered Biscuit at Brightwater 
9:15-9:45 am: Brightwater tour – Brightwater is Bentonville's culinary school which offers uniquely holistic programming with academic and career training in the areas of culinary nutrition, artisanal food, beverage management, and food entrepreneurship. While also being the most beautiful campus. They offer programs in culinary arts, artisanal foods, baking & pastry (sign me up), butchery, beverage arts, and academics. 
10:00-11:00 am: Culinary Panel – another incredible panel where we had the opportunity to hear from Case Dighero of CEO of Edible Culture, Melody Lane the Chef at Crystal Bridges, Matt Cooper the Executive Chef at The Preacher's Son, Luke Wetzel the Executive Chef at Oven and Tap, and Rob Nelson the Executive Chef at Tusk and Trotter. They discussed the food scene in Bentonville and how important it is to them to work with local farmers. Bentonville truly works together to support one another! 
11:30-12:30 pm: Lunch at Eleven at Crystal Bridges – the restaurant is located in one of the glass enclosed bridges which makes for quite the beautiful scene while dining. The restaurant offers a variety of dishes allowing you to indulge or stay on the lighter side. 
The Chilled Sirloin Salad caught my eye and after is arrived, I was so happy I made that choice. Thinly sliced chilled sirloin topped fresh lettuce with succotash salad, local arugula & green goddess dressing.
12:30-1:30 pm: Tour the Frank Lloyd Wright Home and the grounds of Crystal Bridges. The Frank Lloyd Wright Home is probably one of my most famous homes in America. I truly did not realize prior to visiting that the Bachman-Wilson House by Frank Lloyd Wright was located in Bentonville, AR. On our tour, I learned it was in fact originally along the Millstone River in New Jersey. However, due to repeated flood damage and threats, the house was moved. This is a real piece of art that is a must see when visiting Bentonville.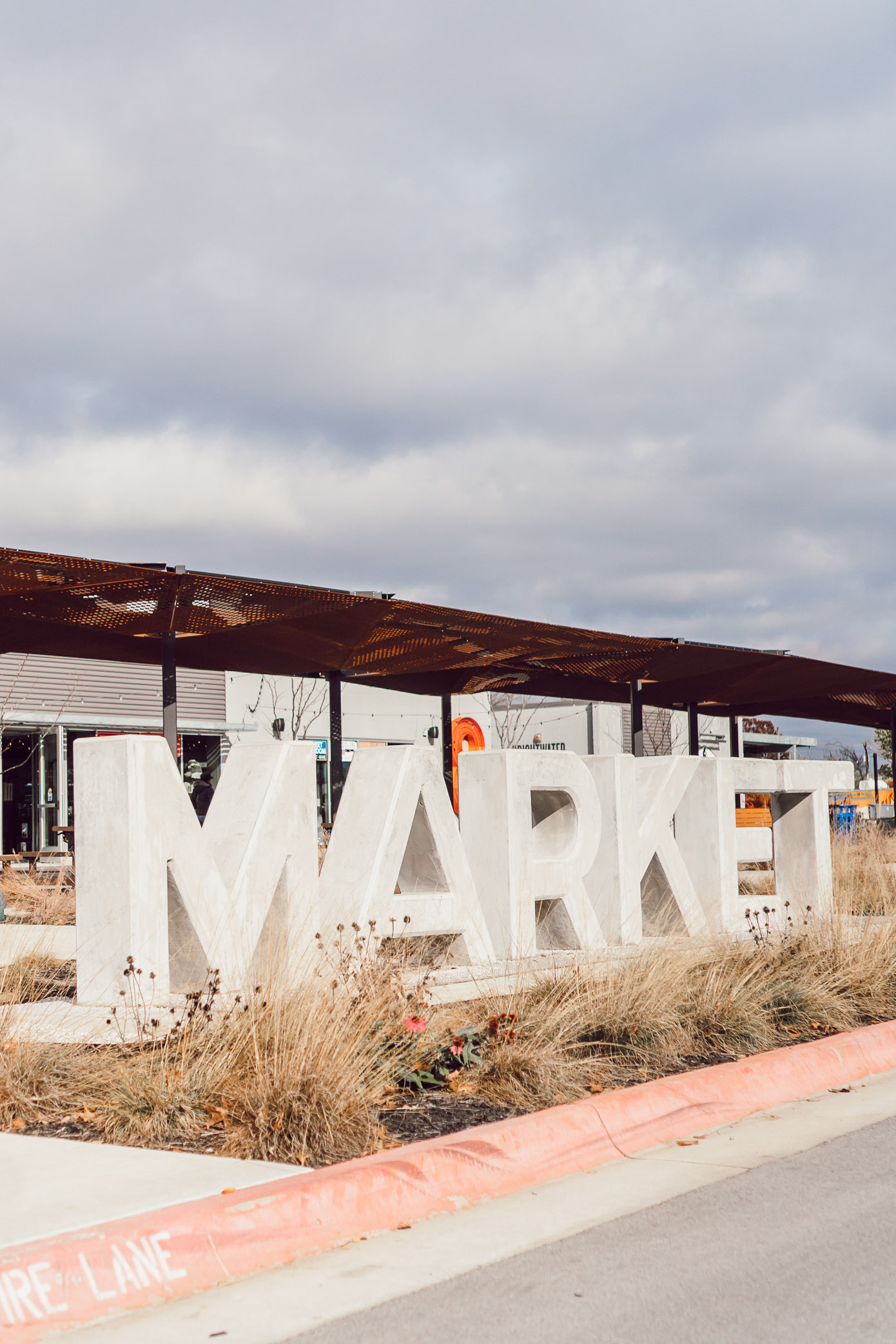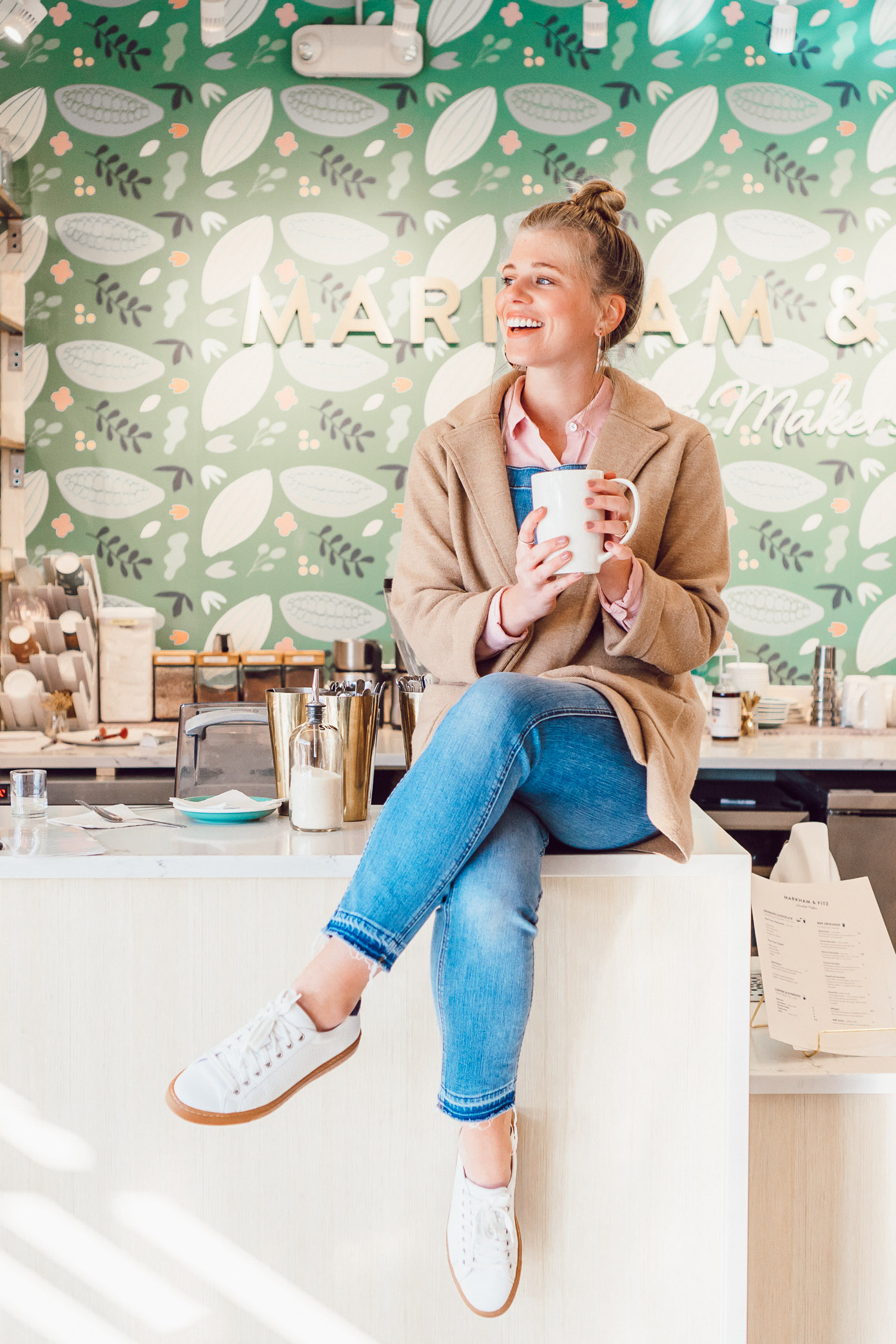 2:00-3:30 pm: 8th Street Market connected to Brightwater, is such a cool place to hang out and explore. The property includes Bike Rack Brewing, Yeyo's Mexican Grill, The Holler, the South Market, and Markham & Fitz.
As mentioned above, I promised I would talk more about the cookies at Markham & Fitz. These cookies were talked about several times on Thursday but the panelist and those with Visit Bentonville as the BEST cookies you have ever tasted. Therefore, some of us had to give them a try for ourselves. Y'all, they did not disappoint one bit. Truly, the best cookies I have ever had (I had two and they aren't small)! We were lucky enough they were baking a fresh batch and had them right out of the oven. Melt in your mouth delicious. I only wish you (and I) could order them online! But I guess we will just have to head to Bentonville!
4:00-6:00 pm: Explore downtown Bentonville 
6:00-8:30 pm: Dinner at Fiamma – I have to be honest, after the two cookies I had at Markham & Fitz I wasn't too hungry. However, the menu at Fiamma really tempted me! So of course, I tried a few items – hummus + pita bread and vegetarian plate. Both were amazing! As was the bison meatball the chef surprised us all with. As I said, I wasn't very hungry but I ate every last bite of that deliciously unique meatball! Fiamma is a great place for date night, a very romantic atmosphere. 
8:30-10:00 pm: Bike Rack Records Party at Record – this was a really cool event at a local event space where multiple bands played a few songs from their set lists. This was such a neat experience for an out of towner as you were really able to check out the night life, music scene, and overall feel of Bentonville locals. There was a great mix of people there and it was so much fun to see them celebrating their local musicians. 
Saturday
Travel Home – I honestly was not ready to leave! There was so much more in Bentonville I wanted to explore. Including more of the downtown, 8th Street Market, the walking and biking trails, and the neighborhoods around downtown. Truly, Bentonville is one of the most special towns I have ever visited. From the people to the restaurants to the community that has been created. If you're looking for a sweet town to explore with your significant other or family, this is the place. There is a little of something for everyone and I promise, you will leave with a happy heart. And maybe a trip back to meet with a real estate agent! 
Thank you to Visit Bentonville and all of the partners for making this trip possible and sponsoring today's post! All views and opinions are of course my own!