The #bloggersplanaparty squad is back with the ultimate backyard summer fiesta to celebrate the first official day of summer!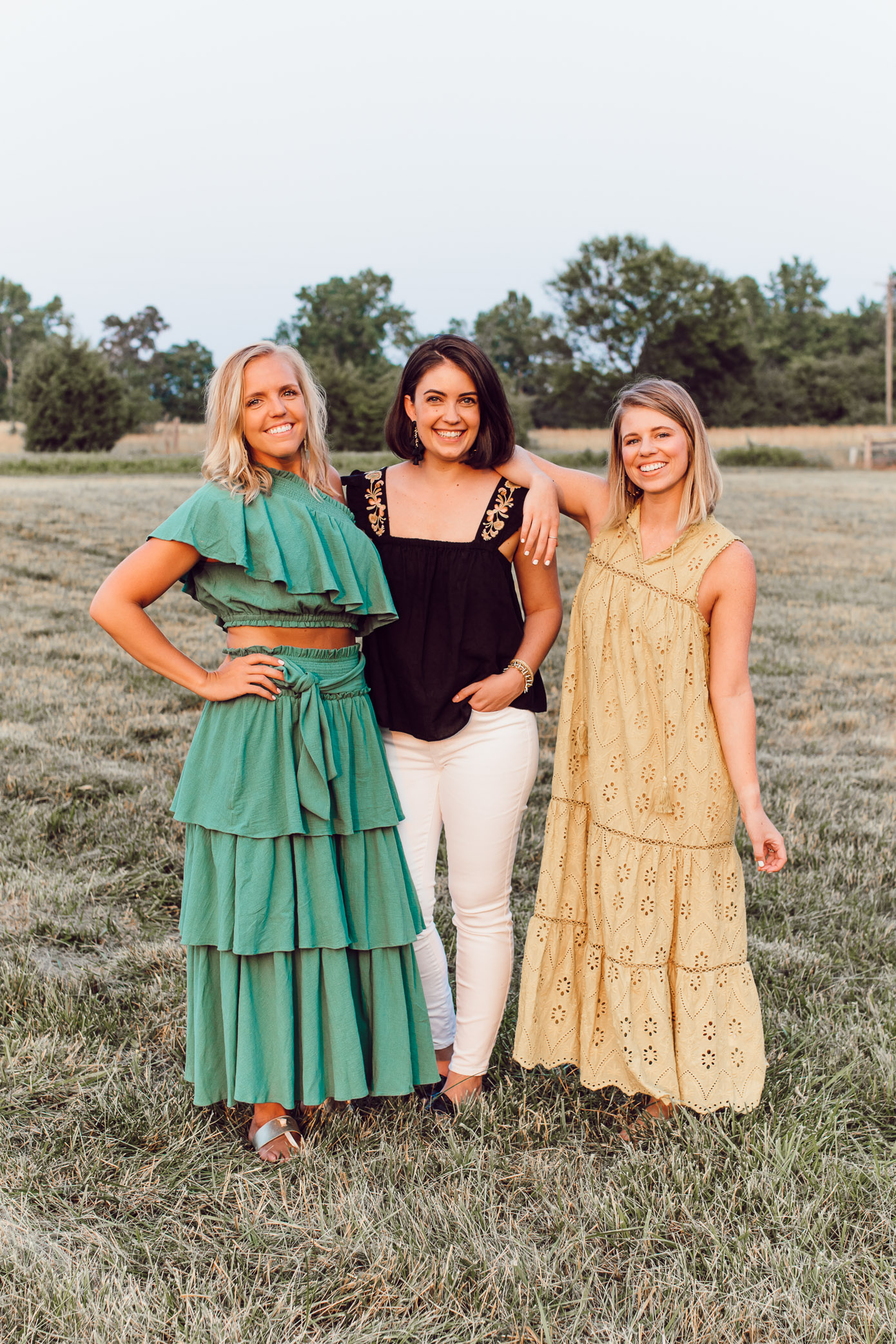 Shop Our Backyard Summer Fiesta Looks

Happy Friday! Happy first official day of Summer! To celebrate, the party planning squad is brining you the ultimate backyard summer fiesta. AND we officially have a hashtag for all of our parties – if you're interested in following along check out #bloggersplanaparty on Instagram and click follow to stay up to date on all of the planning + parties!
If you've missed our previous parties or want to take a look back, there's the Rosé Inspired & Filled Spring Brunch, Peeps, Pajamas, and Prosecco Party, and How to Host a Garden Potting Party. 
Today's party is all about enjoying summer evenings outside, eating almost everyone's favorite food (who doesn't love Mexican), and having fun with your best of friends. After all summer is all about being outdoors and getting together with friends. Why not throw a theme on your evening together and have an absolute blast creating margaritas, unique taco creations, and LOTS of laughs! I can tell you, we certainly did! See where some of these laughs came from below!
Keep reading for my thoughts on creating a super fun backyard summer fiesta + what to wear to one. But before that, as always, let me introduce you to the gals!
---
---
---
---
---
---
---
---
---
The Decor
Okay, before I dive into this, let me tell you that with each party one of us typically takes the lead. This our spring brunch and garden potting party that was me. For today's party, it was ALL Taylor! So all decor credit goes straight to her.
As well as Morgan, who had the idea to create a table filled with succulents. Psssst…would you believe me if I told you all of these succulents are faux succulents? Yep, they are! After Morgan brought two Nearly Natural peonies arrangements to our spring brunch, we knew we wanted to work with the brand again. Their products are amazing! Truly nearly natural, they look so real and these succulents absolutely made the table! 
Aside from the succulents, Taylor added layers of fabrics, textures, and patterns to create the ultimate fiesta tablescape. With the addition of handprinted maracas – you go Taylor Reese!
Maracas are the perfect piece of decor to add to your backyard summer fiesta. They're a great option for placards (as Taylor used them for), they're super fun, and they play a prop for photos…and dancing! 
For a fiesta ready table – play around with textures, patterns, and natural elements. If succulents aren't your thing or you want to take the theme a little further, trade the succulents for mini cactuses and allow guests to take them home as party gift. Along with maracas, they really are a must!
Shop the Decor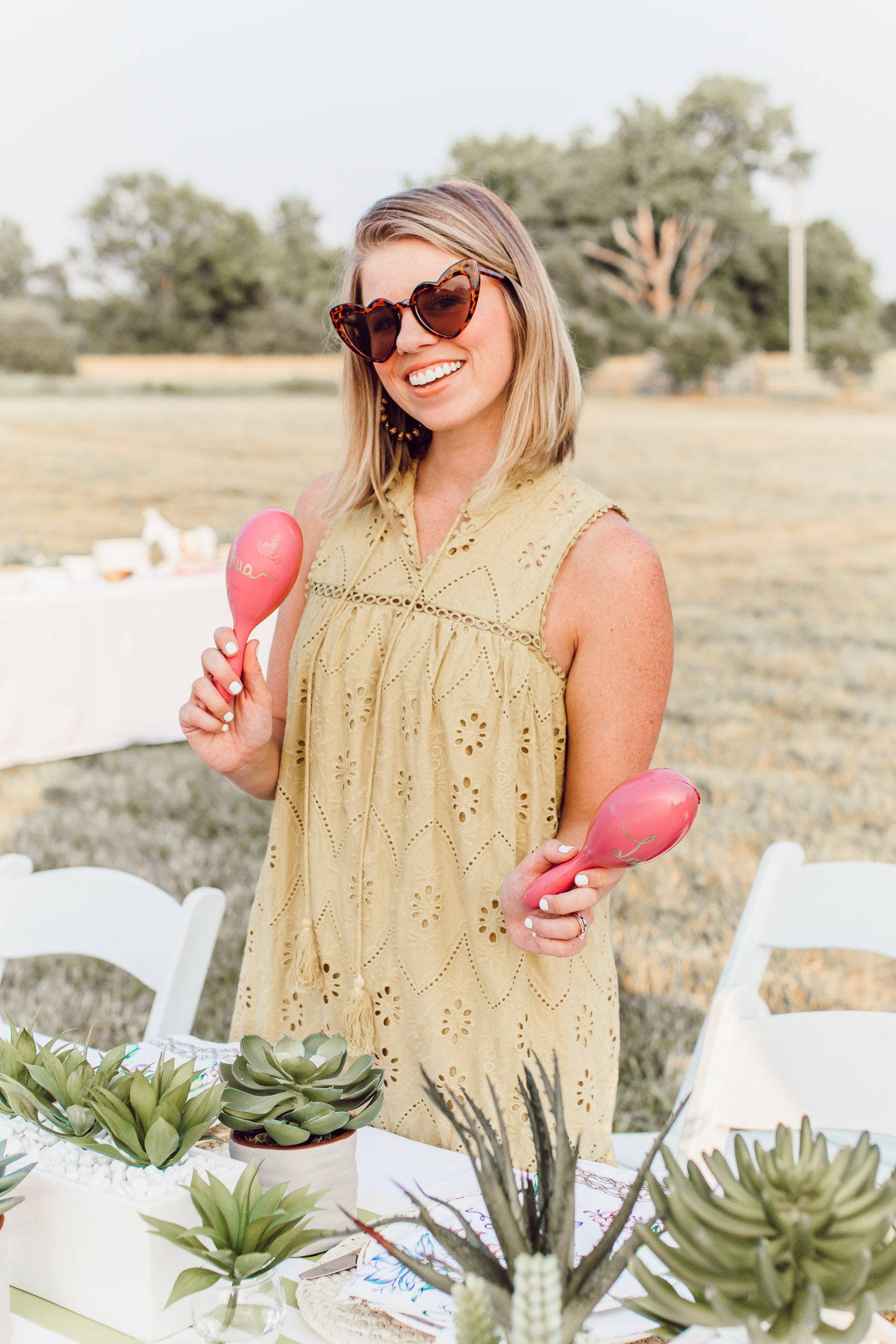 As mentioned above, I think Mexican food is most (okay, maybe just a lot) of people's favorite kind of food. Especially to indulge in. Who doesn't love going out for margaritas, chips + salsa and guacamole, and some fabulous tacos? I mean really, who? Therefore, it is the perfect food to serve at your summer party! Aside from the fact that most everyone loves it, a Mexican bar/buffet is extremely easy to put together! 
There's no real right or wrong when creating a taco bar/buffet. Just make sure you have the necessities – tortillas, meat, and salsa + guacamole. Then you just add toppings! Whatever it is you like plus a couple extra! You can have as many or as few as you'd like. Just have fun with it! 
THE MENU 
Margaritas made with Playa Real Tequila 
Corona Lights with Lime
Chips, Salsa, and Guacamole 
Flour Tortillas 
Ground Beef + Shredded Chicken
Shredded Cheese
Spinach
Beans 
Red, Green, and Yellow Bell Peppers
As far as drinks, I definitely recommend whipping up some margaritas and having beers on hand. Corona Light is a great option or you could go with Tecate or Sol. For our margaritas we used Playa Real Tequila. They have fruit infused tequila and oh my goodness y'all SO GOOD! Pineapple was my personal favorite. Just add seltzer water, fresh lime juice, a lime slice, and you're good to go!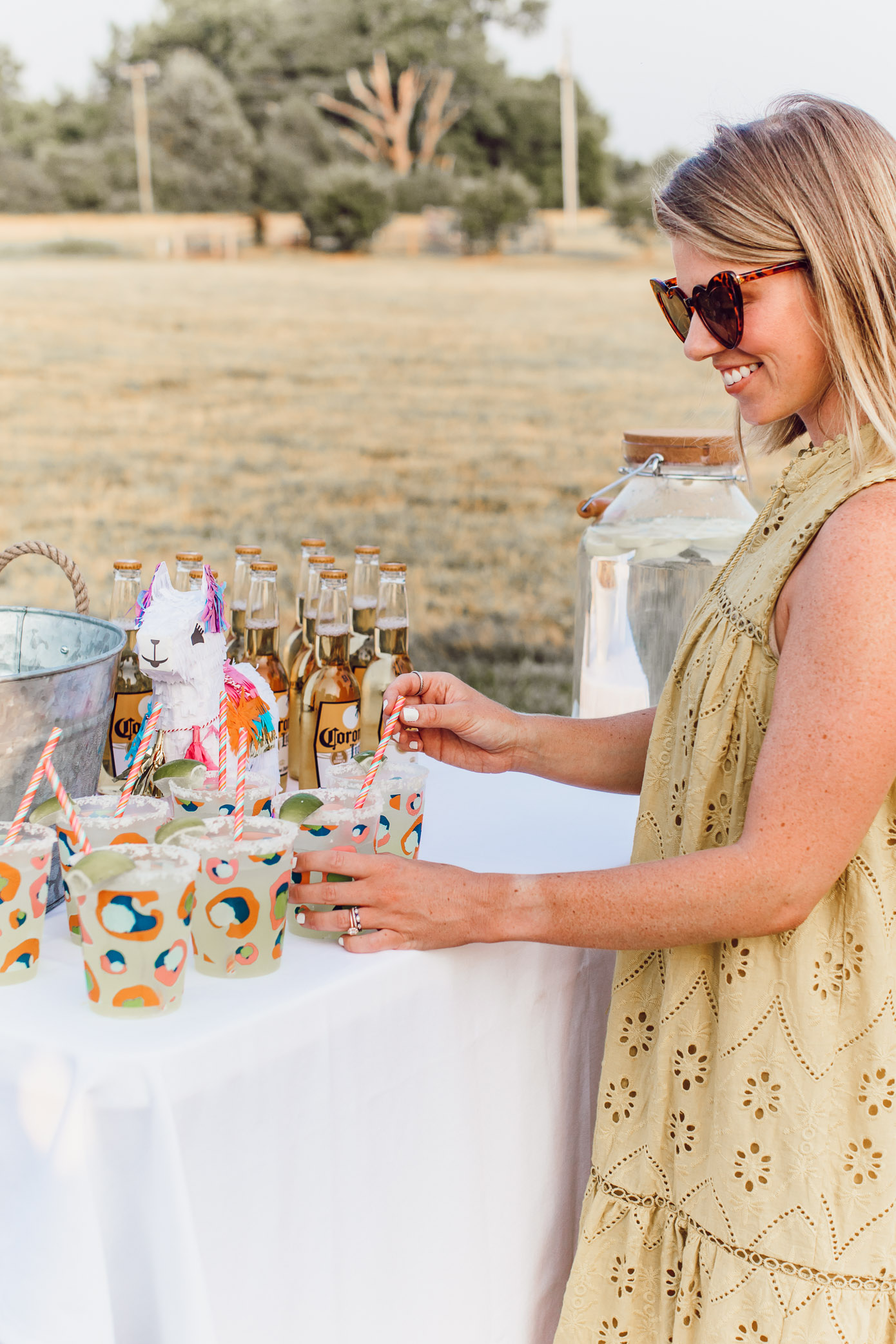 DANCE DANCE DANCE & LAUGH LAUGH LAUGH
Again, as mentioned above, summer is all about being outdoors and with your friends. So let loose a little and have a good time! 
You can see Joshua and I had no problem doing so! I have this obsession with dancing in fields and luckily my sweet husband goes right along with it. And luckily our sweet friends, listen and laugh at all of Joshua's dad jokes. *thanks for that y'all* 
So pour yourself a margarita, make some yummy tacos, and hang out with your best friends while soaking up a beautiful summer evening!
Shop Our Backyard Summer Fiesta Looks

Joshua and I trying out the famous dirty dancing move
Sharing these for laughs as we obviously need a little practice! Thankful for this fun guy of mine and are friends + Jasmin for putting up with us.