Anyone else dreaming of spring? Sunshine and warmer weather? Yes, me too! So I decided to order a few affordable swimsuits that are perfect for spring break to hopefully encourage the season to arrive.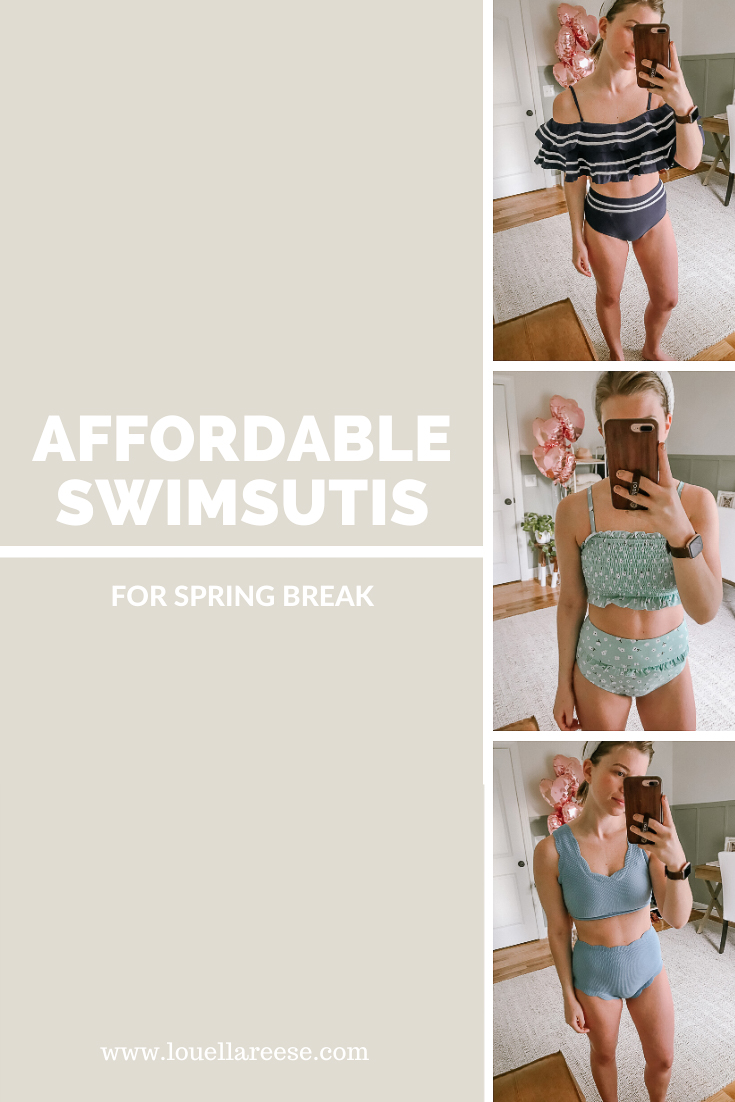 I'm not actually headed anywhere for spring break – unless you consider May spring? But I have been seeing so many cute swimsuits lately I just had to order a few. And I figured a few of you may have plans to visit somewhere warm, tropical, and/or beach-y sometime soon! So I scooped up a couple of affordable swimsuits perfect for spring break and all other warm weather trips you may have coming up! 
Sharing a little about the size, features, and style of each suit below. Plus what size I am wearing and the color options available. Be sure to comment on the post and let me know which one is you favorite!
Affordable Swimsuits for Spring Break
Blue and white striped one piece
This one piece absolutely stole my heart when viewing it online. Loved the blue and white stripes, the ruffle detail, and the overall silhouette of it. While I still found it to be absolutely adorable in person – it was a little more busty than I would have liked. I think it would be a great suit for those with A-C cup sizes. The cups are padded and provide a nice little boost. It is a tad cheeky. 
Size: Wearing a size small. 
Colors: Blue and white striped
Navy and white off the shoulder high-waisted bikini set
The ruffle detail on this bikini is so fabulous! Definitely screams take me somewhere dreamy! Aside from the glamour the ruffle provides the detail also provides a little extra coverage. As well as several ways to wear the top – there are shoulder straps as well. The top has cups built in and provides a great amount of support. The bottoms definitely suck/hold you in and honestly feel so good! Overall a very flattering swimsuit – really accents the smallest part of your waist.
Size: Wearing a size small. 
Colors: Navy, black, red, yellow, and coral red.
Blue scallop high-waisted bikini set
A total dupe for the adorable Marysia scallop bikini – which is $148 for the bottoms and $150 for the top. So at $17.79 this suit is way more budget-friendly and way more my speed! This suit is comfortable, flattering, and oh so soft! The wide straps offer extra support and coverage. Not to mention adorable retro vibes that pair perfectly with the high-waisted bottoms. Which offer full coverage. A lace-up back adds a fun little touch to this otherwise simple swimsuit. 
The perfect suit when you have a full day at the beach or pool. Especially with children or if you plan to be very active. This swimsuit moves with you and offers a great amount of coverage.
Size: Wearing a size small. 
Colors: Sky blue, light pink, mint green, and red wine.
Smocked high-waisted bikini set
My favorite of the bunch! This is the cutest, most flattering, and most comfortable swimsuit I have ever tried on. Completely in love I'm contemplating an additional color/ pattern. The smocked top offers removable padding and a decent amount of support. You have the ability to tighten the removable straps to fit you comfortably while providing a little extra support. The high-waisted bottom suck/hold you in while also moving right along with you. The bottoms are just slightly cheeky but still offer a great amount of coverage. 
Size: Wearing a size small. 
Colors: Comes in 15 different color/pattern options