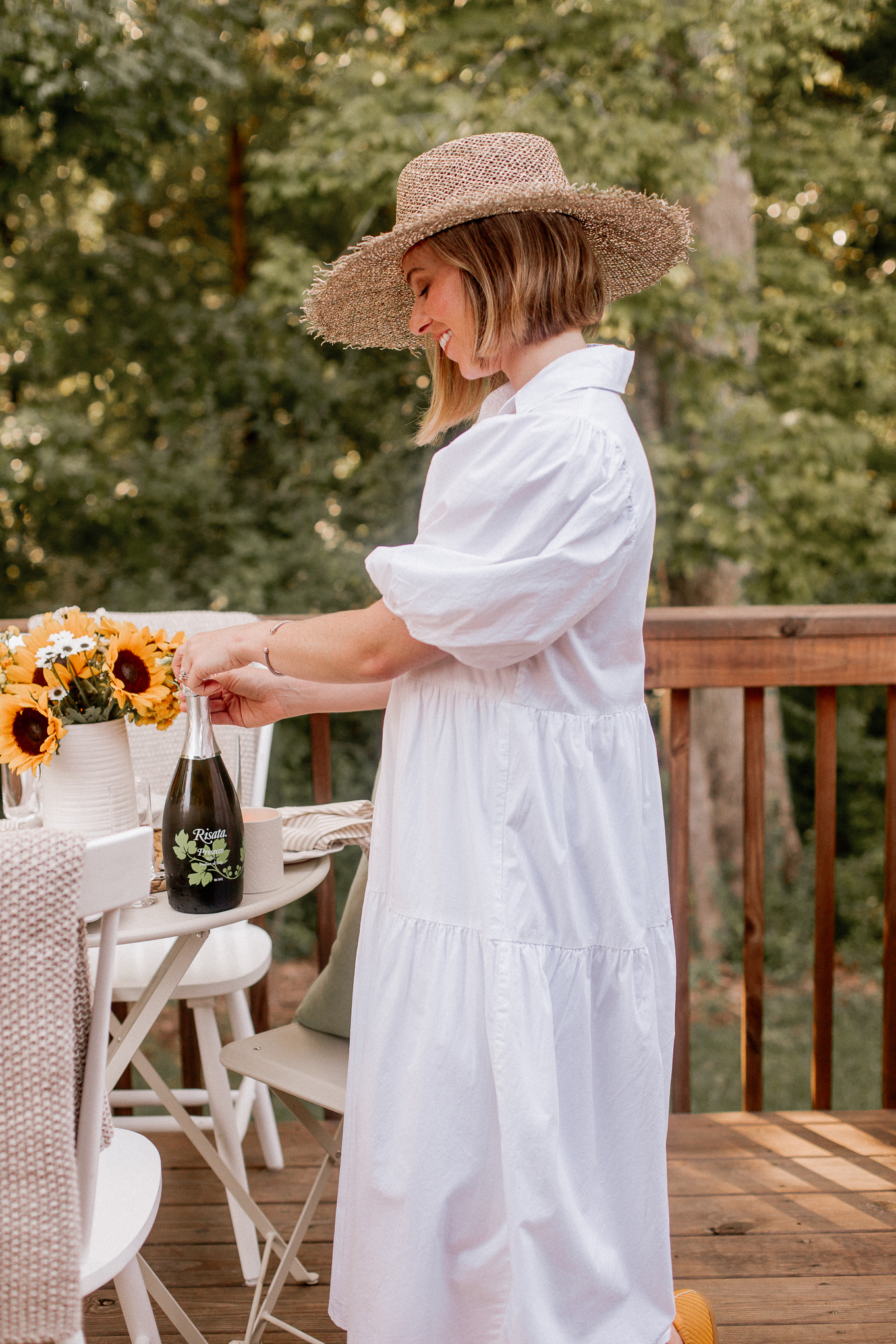 This summer visiting the Farmer's Market has become a Saturday ritual for us. We love picking up locally grown fruits, vegetables, flowers, and more. We have also really enjoyed growing some of our own vegetables and herbs. Finding new ways and recipes to incorporate all of the fresh goodies has been a fun and relaxing pastime this summer season. One of my favorite creations, this amazing zucchini bread! It is the perfect summer snack, breakfast, and/or dessert. Aside from baking, I have loved adding all of the fresh vegetables and fruits to salads. As well as eating them on their own! Y'all the tomatoes and blackberries have been absolutely amazing! 
To combine our love of farmer's market goodies and hosting friends, we decided to put together a Late Summer Soiree with a Farmer's Market Menu. With summer coming to an end it gave us all the more reason to focus on fresh vegetables and fruits currently in season and to enjoy them + sunny summer evenings before they're gone! 
Keep reading for tips on how to create the perfect late summer farmer's market menu and how to set the scene!
Late Summer Soiree with a Farmer's Market Menu
THE DECOR
Table Linens
I opted for neutral table linens – a beige tablecloth with dainty daisies for the buffet table and striped cloth napkins on the place settings. I added wicker napkin rings around the cloth napkins for a summery touch. Still neutral but add a bit of texture. 
FLOWERS
With the neutral table linens I wanted the flowers to pop! I personally love flowers as the main decor element. Especially for summer events! Flowers make such a statement and help to really create a scene. For the late summer soiree I opted for in-season sunflowers, dainty daisies, and some additional yellow stock flowers to add a little more color. The colors and mix of flowers provided the perfect late summer look. 
My recommendation is to have a variety of flowers all within your color palette to create dimension and make your table pop! You can use larger scale arrangements or fill vases in a variety of sizes/shapes with fewer flowers. Doing so also adds depth and height to your table. If you don't have a variety of vases, reach for glassware of varying sizes and shapes. Mason jars are always a great option! 
For our late summer soiree, I added a large floral arrangement to the dining table and a couple of smaller arrangements to the buffet table – which had a lot of color thanks to the farmer's market goodies!
Bubbly
Just as the fresh vegetables and fruits added color to the buffet table, Risata's beautiful Sparkling Rosé and Prosecco bottles added color to the cooler! Their beautiful bottles deserve to be on display and really do work well as decor when hosting! The green of the Risata's Prosecco bottle paired perfectly with the overall color palette of the soiree. While the Sparkling Rosé bottle added a fun pop of color. Not to mention they paired wonderfully with the farmer's market menu. 
Risata's Sparkling Rosé  is crisp with aromas of strawberry, raspberry and delicate floral notes. Very light! You cannot close out summer without one last glass (or two) of rosé. While the Risata Prosecco has aromas of peach and pear which lead into juicy flavors of Pink Lady apple, citrus and white peach. The bubbles are fine and persistent. For pairing, the Risata's Prosecco went well with the fresh fruits, cheese and crackers, and blueberry jam crostini's with goat cheese & basil. While the Risata's Sparkling Rosé was great with the summer kale salad and zucchini bread muffins. As well as the cheese and crackers.
Shop the Decor & Table Linens 

For the menu, I wanted everything to be on the lighter side and incorporate at least one item from the farmer's market or our garden. Additionally, I wanted the menu items to be casual – easy to grab as you please while mingling with friends you haven't seen in awhile.
A couple of key items to include: fresh fruit, cheese and crackers, a fruit and veggie filled salad, and some kind of sweet. With everything being so light, I recommend a dessert on the lighter side as well to compliment the rest of the menu. Also, don't forget the bubbly. Again, we opted for both rosé and prosecco as they're both light, crisp, and pair wonderfully with a farm's market menu. 
The Farmer's Market Menu 
Risata Wines Sparkling Rosé
Risata Prosecco 
Blueberry & Mint Infused Water
Fresh Fruits – Blackberries, Blueberries, Apples
Rosé White Cheddar Cheese & Crackers 
Blueberry Jam Crostini's with Goat Cheese & Fresh Basil 
Summer Kale Salad with Blueberries, Carrots, Sunflower Seeds, & Quinoa
Zucchini Bread Muffins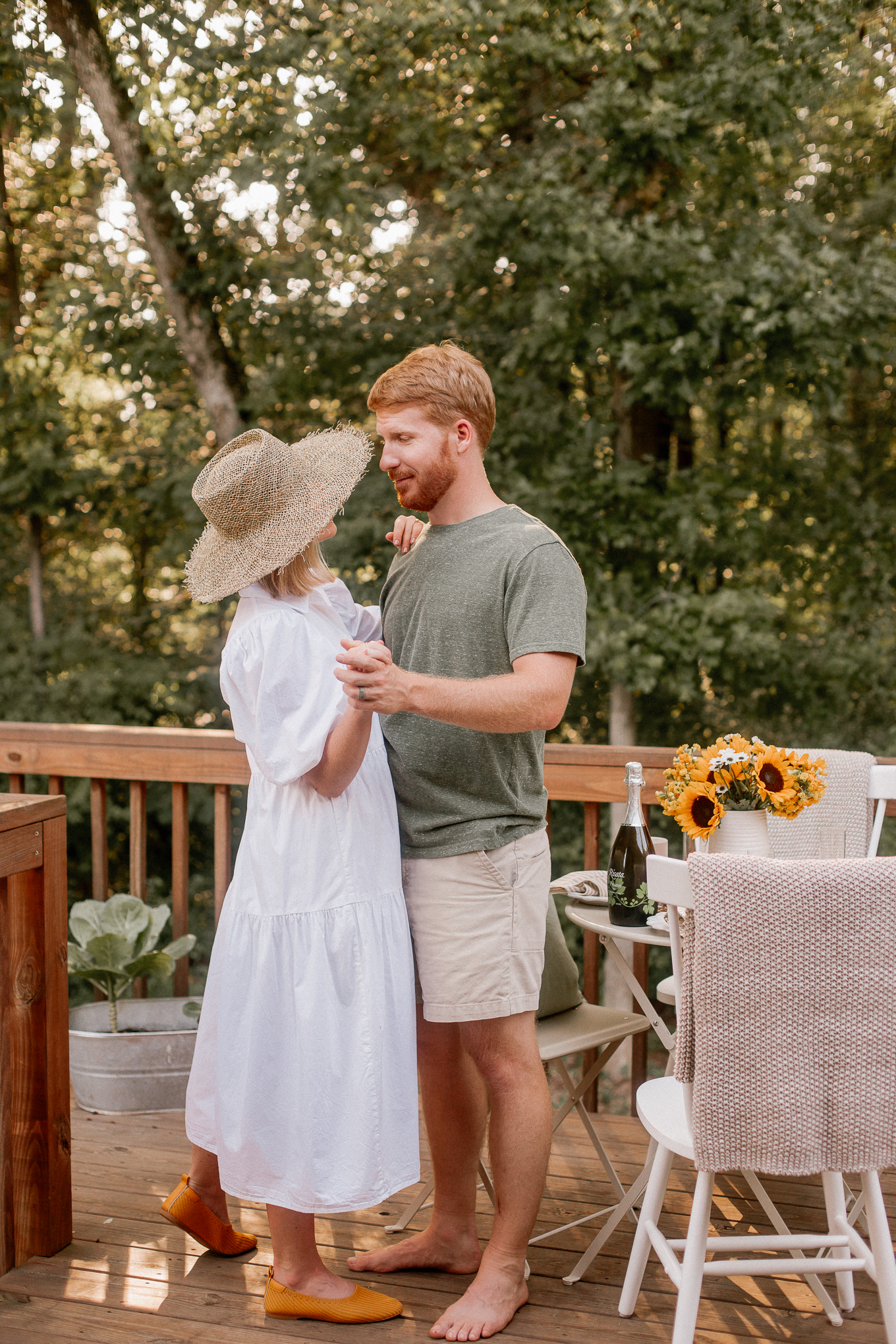 Thank you to Risata Wines for sponsoring this post. All view and opinions are of course my own. Thank you for supporting the brands that make Louella Reese happen!