Sharing how to create a beautiful Christmas cookie bento box for your family and friends! A perfect hostess or thank you gift for the holiday season.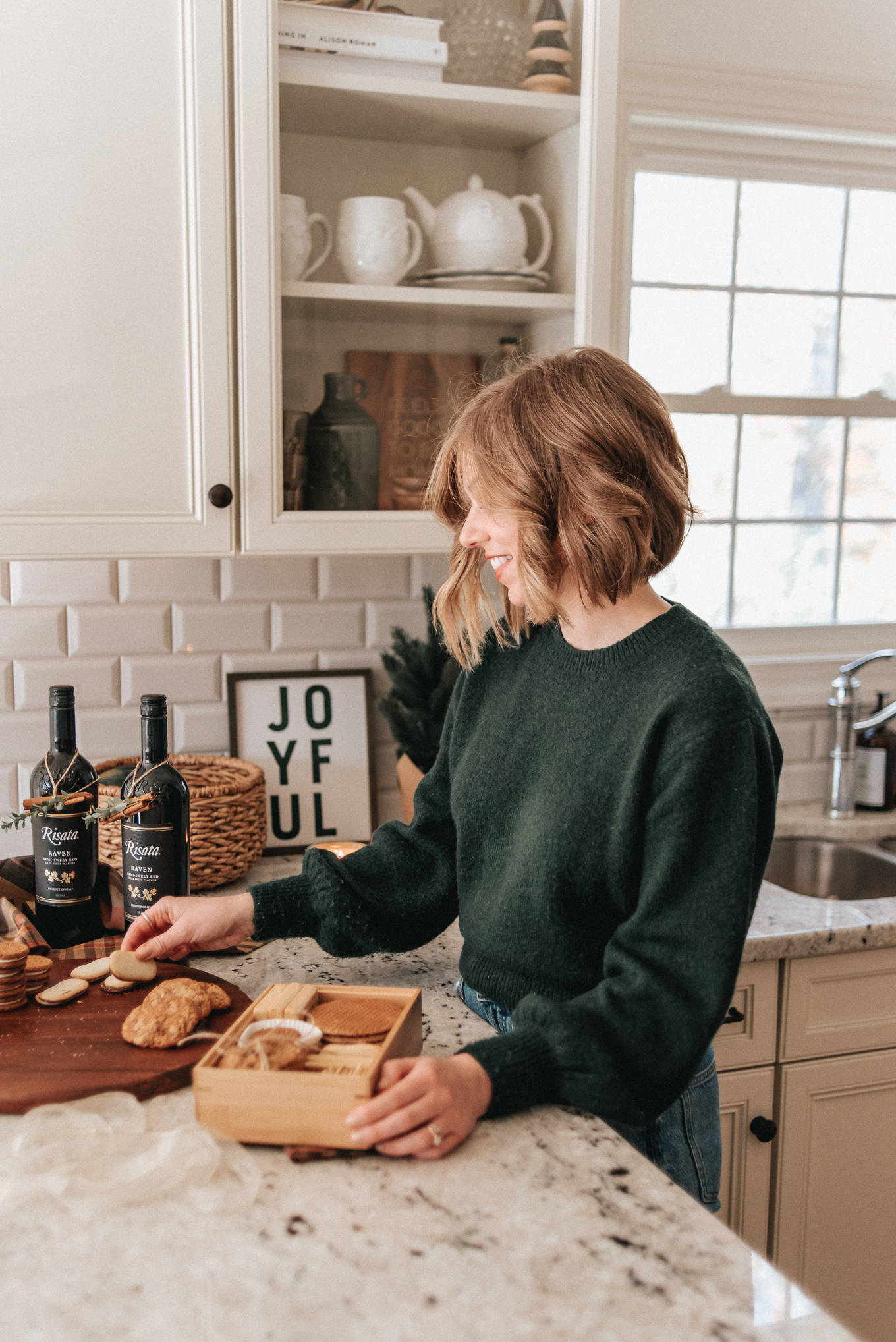 Tell me who wouldn't be excited to receive a box full of delicious cookies? I know both Joshua and myself would be VERY excited!
With this being the season of baking and giving it is the perfect opportunity to create a Christmas Cookie Bento Box. Spice up the traditional cookie exchange with a festive box of your favorite Christmas cookies. Or gift to your neighbors, friends, and family this holiday season as a delicious, creative homemade gift. Pair with a bottle of wine or hot chocolate mix for the ultimate combination.
HOW TO CREATE A CHRISTMAS COOKIE BENTO BOX:
First you need to know what kinds of cookies you are adding to your Christmas cookie bento box.
I recommend using a mix of homemade and store-bought cookies. Unless you're having a full baking week and whip up a wide variety of cookies. You can also do fully store-bought if baking isn't your thing! No shame in that. You're still taking the time to create a beautiful, delicious box for your recipient to enjoy!
When making your cookie selections :
Create a mix of sizes and shapes
Having a variety of shapes and sizes will create dimension. Which will make the cookie bento box more visually appealing! A classic round cookie, an oblong cookie, rectangular shortbread cookies, and oversized waffle cookies were the variety I selected.
A variety of flavors
Having a variety of flavors makes sure there is a little something for everyone! Plus a traditional bento box usually includes a wide variety of flavors, so this shouldn't be any different. To give you a few ideas: chocolate, shortbread, fruit or preserves, gingerbread, and nuts.
Add another treat
Again to create a more visually appealing box adding an additional item or two is necessary! Think bits of candy, nuts, or fresh fruit.
HOW TO DECORATE A Christmas COOKIE Bento BOX:
After you've selected the cookies you'll be including it's time to pick your box! What you'll be placing all those cookies inside of. A few options; simple disposable paper boxes, a tin box, a wood box or even a smaller crate would be cute.
The box I used, is actually a door organizer box. We have several for our kitchen and had an extra so I figured why not give it a new purpose! Tis the season to get creative, right?
To decorate, I added paper cupcake liners to place one set of cookies in and twine to wrap a stack of homemade cookies. If you have more space in your box or are using a smaller crate, include a pretty cloth napkin or wide ribbon. Have fun and let your creative side out!
HOW TO ASSEMBLE:
Honestly, this part is all a little trial and error! Figuring out where your cookies will fit – kind of like a puzzle!
Though you do want to make your cookies fit in the box, you always want it to be visually pleasing. So my top recommendation for doing that is stacking the cookies at various heights with various amounts of each type of cookie in it's particular stack. Don't be afraid to stack them sideways, if they fit better that way & look pretty.
If you are going to using cupcake liners to place one of your stacks inside of, I recommend placing that stack first and building around that. That is what I did and then started to fill around them, starting with my biggest cookie & working my way down till the puzzle, I mean box, was complete!
Now show off that beauty with pride & try your hardest not to dive in before gifting it!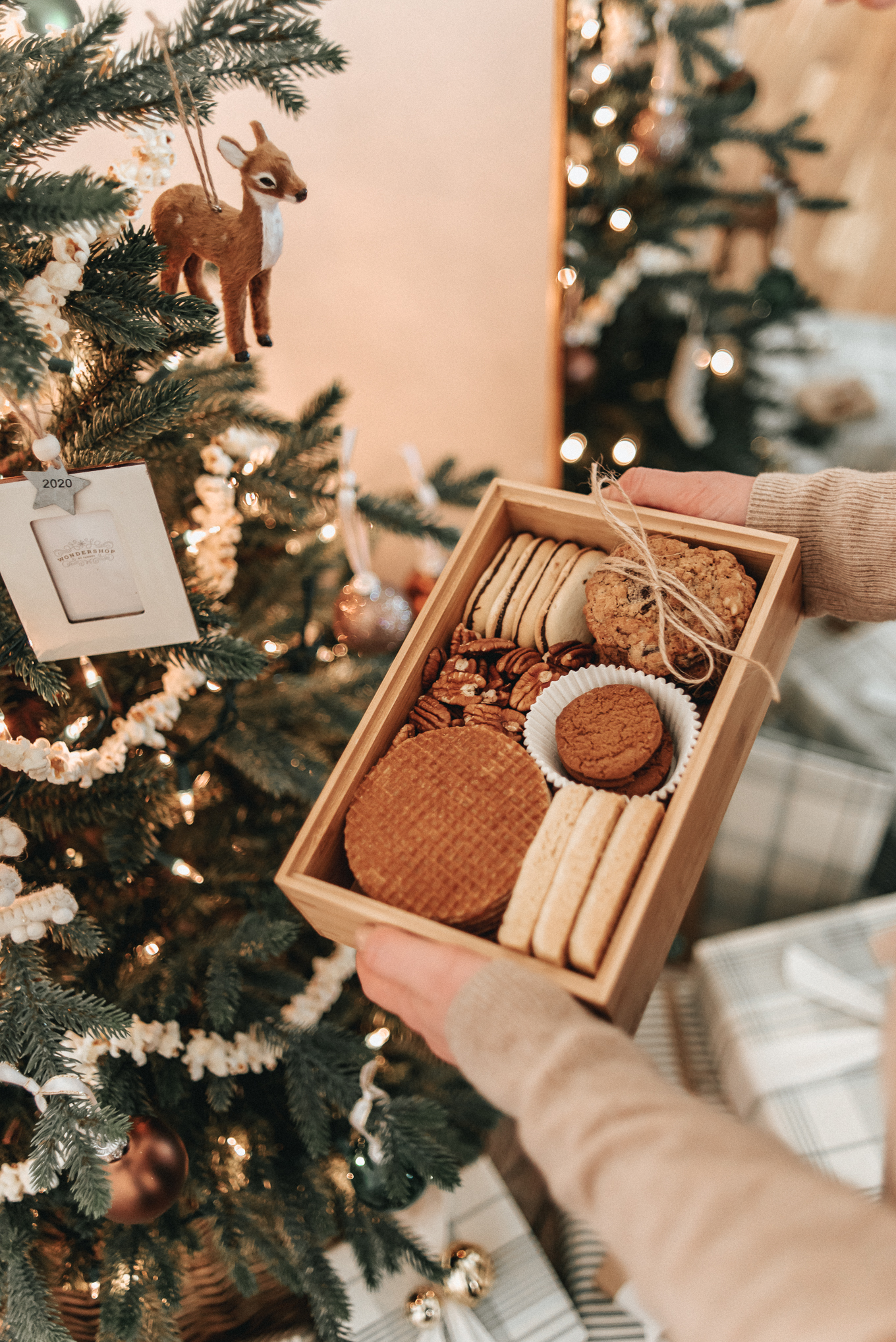 want more holiday content? check out the holiday page! or head straight to my most recent holiday post, holiday gift wrapping ideas.