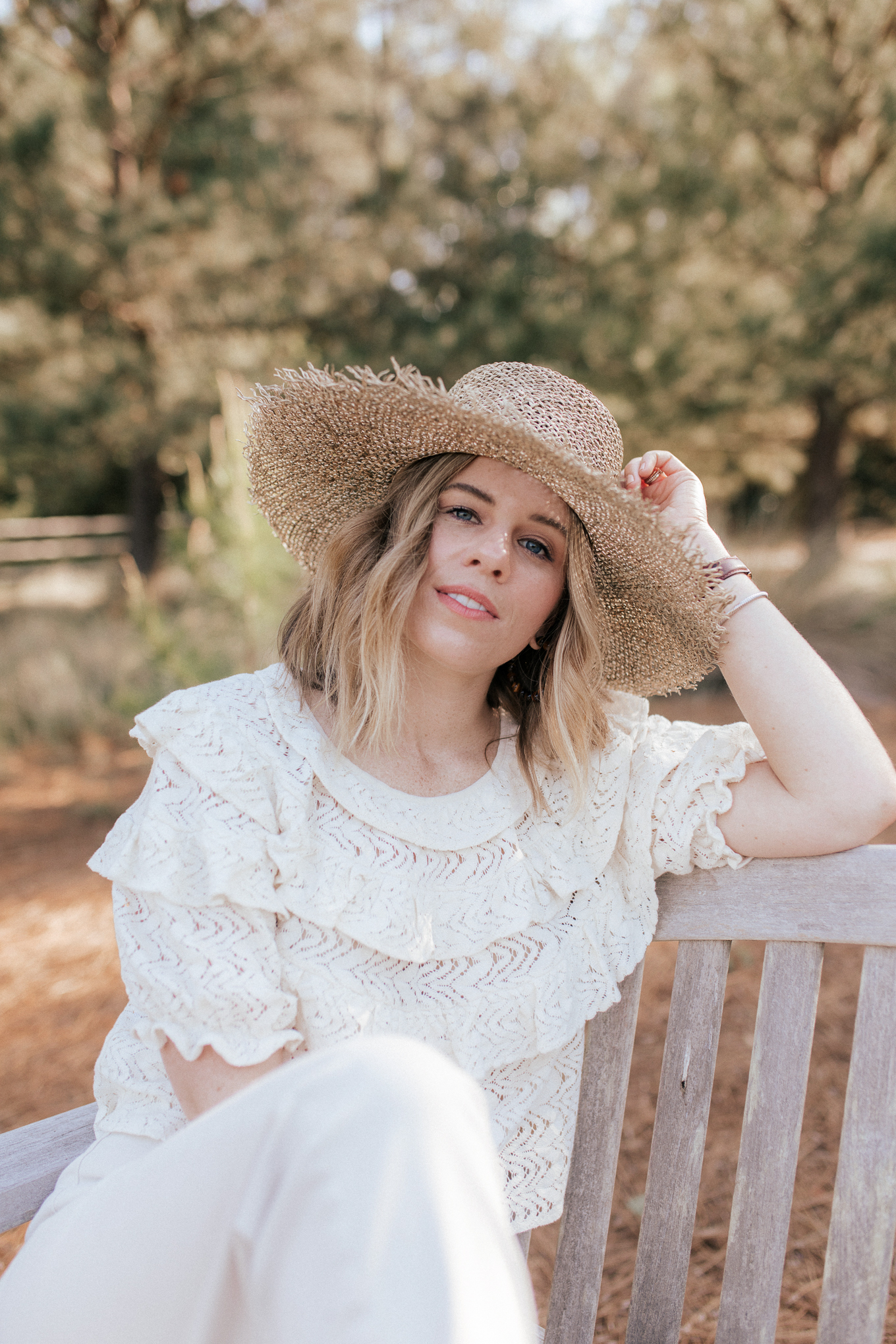 Last week I had my 10000x head cold. Okay, that may be a slight exaggeration but thanks to a weak immune system I have had my fair share of head colds. Which always seem to leave me with dry dull skin along with enlarged pores, blackheads and a little acne. As if the cold wasn't bad enough, a week of getting my skin back on track was also required. However, with all of the practice I have had, thank you again terrible immune system, I feel I have learned how to combat dry dull skin that often times comes with having a cold.
After polling my Instagram audience, which may include you, I learned this is a topic of interest and something that needed to be shared! Below you will find how I have been able to combat dry dull skin when dealing with a cold. I hope these tips and recommendations leave you feeling refreshed and dewy, even when dealing with a dreaded head cold.
How to Combat Dry Dull Skin When Dealing with a Cold
At the first sign of symptoms
Hydrate Hydrate Hydrate! – the best way to initially fight dehydration and flush out toxins!
Duration of Cold
Continue to Hydrate Hydrate Hydrate! – the most important thing you can do is hydrate from the inside out. Colds along with the cold medicine have the tendency to dehydrate you. Therefore, drinking more water than you normally would is essential. Aim to drink at least 64oz of water per day. For additional hydration sip on hot water with lemon. This will also help to soothe your sore throat while loosening mucus.
Add Coconut Oil – While we may think of coconut oil in the kitchen, the incredible oil has many uses that have nothing to do with eating it. The versatile oil can improve the moisture content of dry skin and provide a dewy, hydrated look. When dealing with dry dull skin thanks to a terrible head cold I recommend applying to your skin after applying serums and before applying sunscreen in the morning. As well as after applying facial serums in the evening. Opt for organic coconut oil such as this one.
*there is a good chance you'll wake up with hair a little more oily than normal. If you want to prevent that I recommend placing your hair in a bun and wearing a spa headband or hair wrap to bed. I personally didn't mind as no one was seeing me during my cold days other than the Dawson's Creek crew!
Protect Your Nose – Ours noses usually are the telltale sign we have had a cold long after it passes. The red, dry skin is hard to hide and slow to heal. However, there is a simple way to protect your nose throughout your cold! Simply apply un-petroleum jelly (similar to vaseline but cleaner) around your nostrils and the bottom sides of your nose. You'll find this protects your nose as you blow it frequently. Although you'll also find it needs to be reapplied often. I recommend keeping a small bottle beside your tissue box throughout your cold.
*You can use coconut oil for this as well but I have found vaseline works best to protect and stays on longer than coconut oil.
Use Vitamin C Serum – The perfect serum to use when trying to combat dry dull skin. Vitamin C serum visibly boosts skin's brightness, evens out skin tone, reduces the appearances of dark spots and helps protect skin from environmental damage. I personally love this plant-based Vitamin C serum! This serum contains vitamin C-rich amla berry, which contains 20x more Vitamin C than an orange and sinks into skin instantly leaving a smooth finish without a trace of greasiness.
Soak in the Steam – This step has double the benefits! Helps hydrate your skin while also loosening and clearing mucus in the nose and throat. A facial steamer is an absolute must in my weekly skincare/self-care routine but I have also found it is essential when dealing with a cold – both for your skin and relieving symptoms. This is a step you could take each day or every other. My favorite facial steamer is available here, here and here.
Once You're on the up!
Mask Up – I recommend doing two masks. One when you're on the up and another once you're done blowing your nose more than a couple times a day.
Initially I recommend using a mask that works to calm, soothe and hydrate your skin. This calming bubble mask does just that while giving your skin an at home oxygen facial. Once in contact with the natural oils on your skin it works to boost circulation & collagen production– the result restores skin's natural plumpness & bounciness.
The second mask should be a charcoal mask to purify and balance your skin. One that works to absorb excess oil and drawing out impurities while minimizing the appearance of pores. This charcoal mask is my absolute favorite and top recommendation! The salicylic and lactic acids aid in a gentle exfoliation, giving skin a smooth, polished look while also doing everything mentioned above. It is truly the ultimate charcoal mask!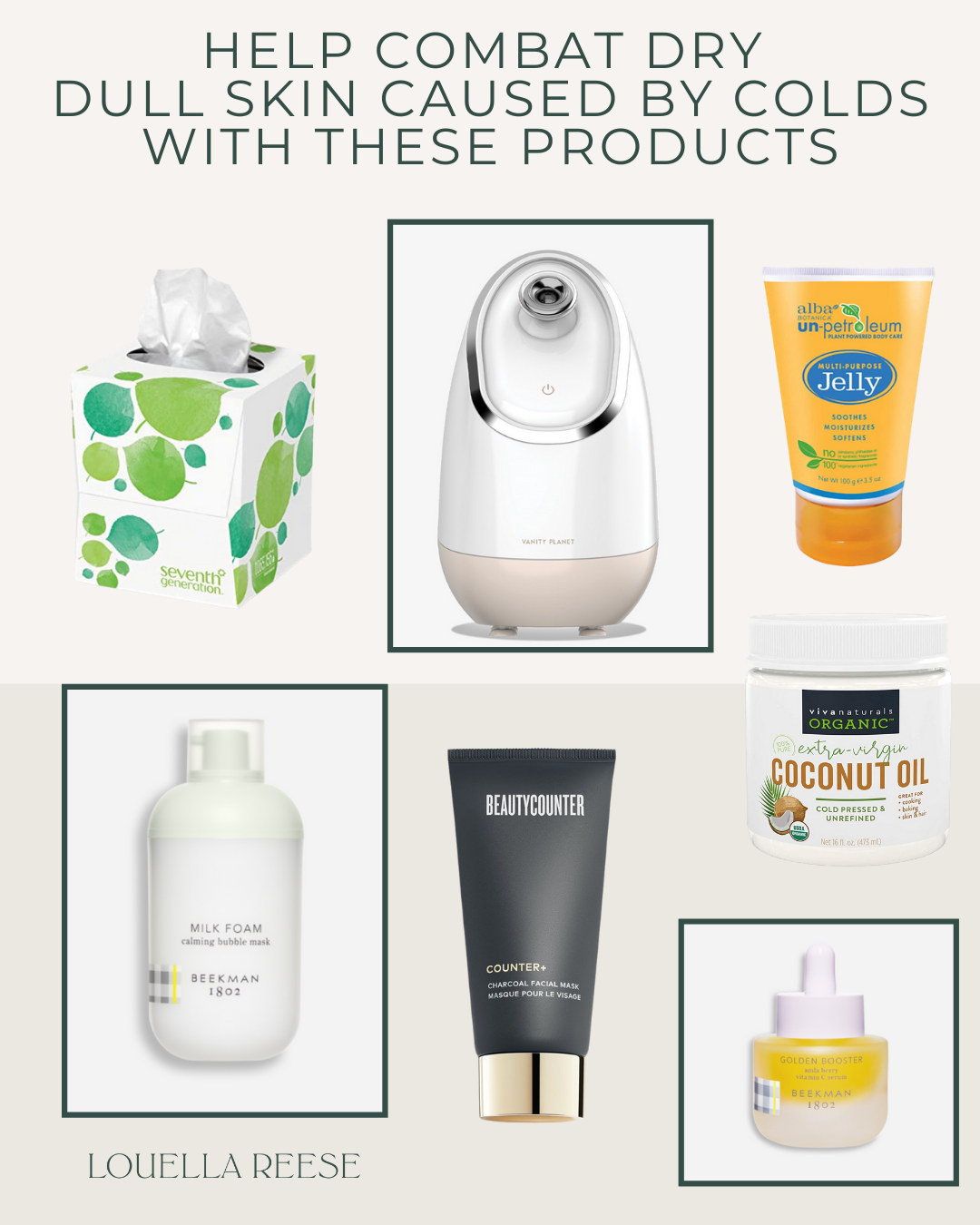 How do you combat dry dull skin when dealing with a cold?
photo by Jennifer Austin Photography