Holiday parties are in full swing, so let's talk how to find the perfect holiday party dress for you!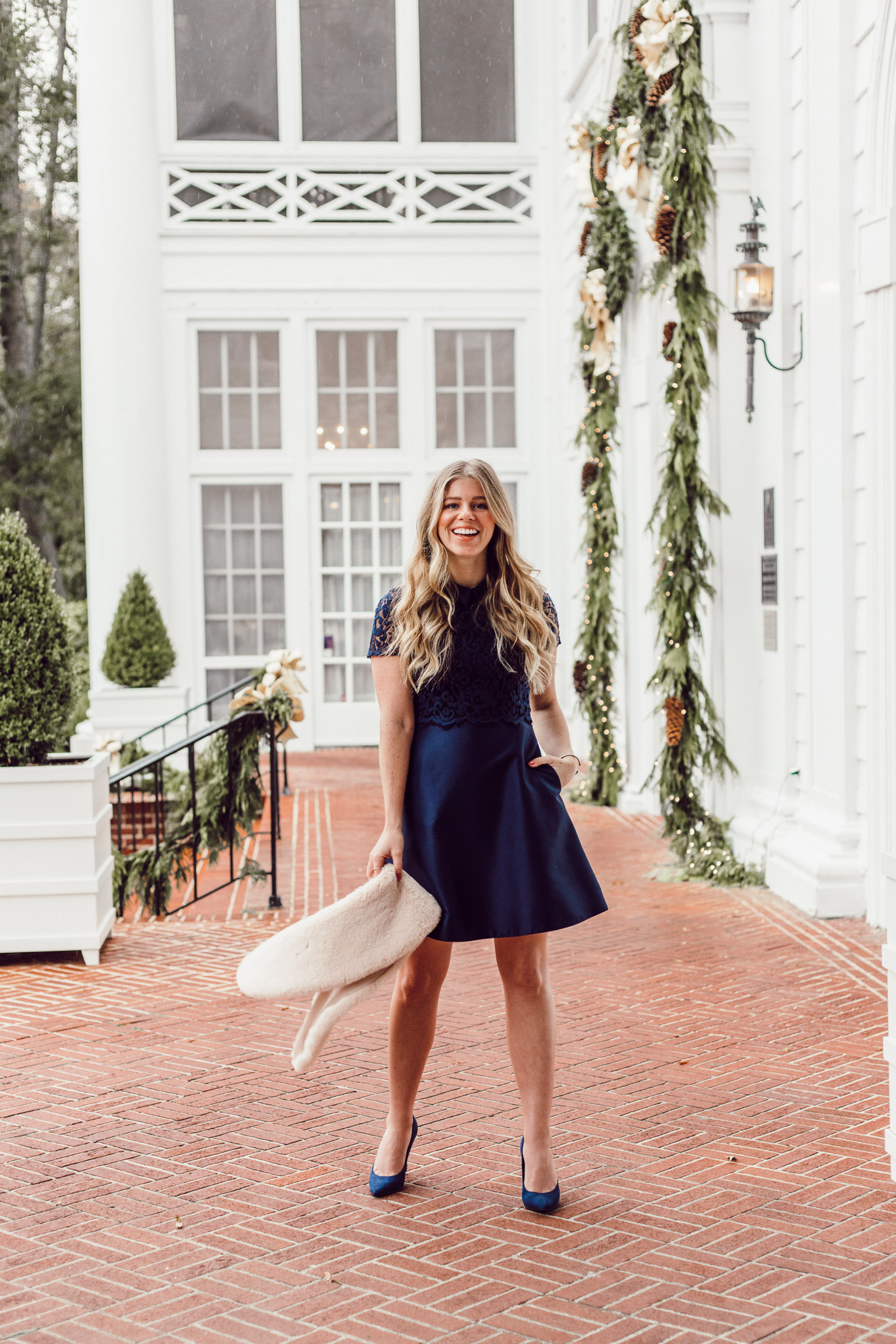 Anyone else absolutely love all of the parties that fill your calendar during the holiday season? I love just about any excuse to dress up and holiday parties are the absolute perfect opportunity to do so!
The last five years, we've attended Joshua's office Christmas party. He is with a new company this year and sadly they don't have a Christmas party, so if you need a plus one for Christmas party, let me know haha. But really, I'm using helping y'all prepare for your holiday parties as an excuse to wear pretty dresses that are holiday party ready!
So today post features one of my top picks after reviewing page after page on Rent the Runway's site. Now navy my not be your immediate thought when thinking of a Christmas party dress. However, navy is a great option – it sets you apart from 95% of the crowd that'll choose red, black, or green AND you'll be able to wear it again for several different occasions.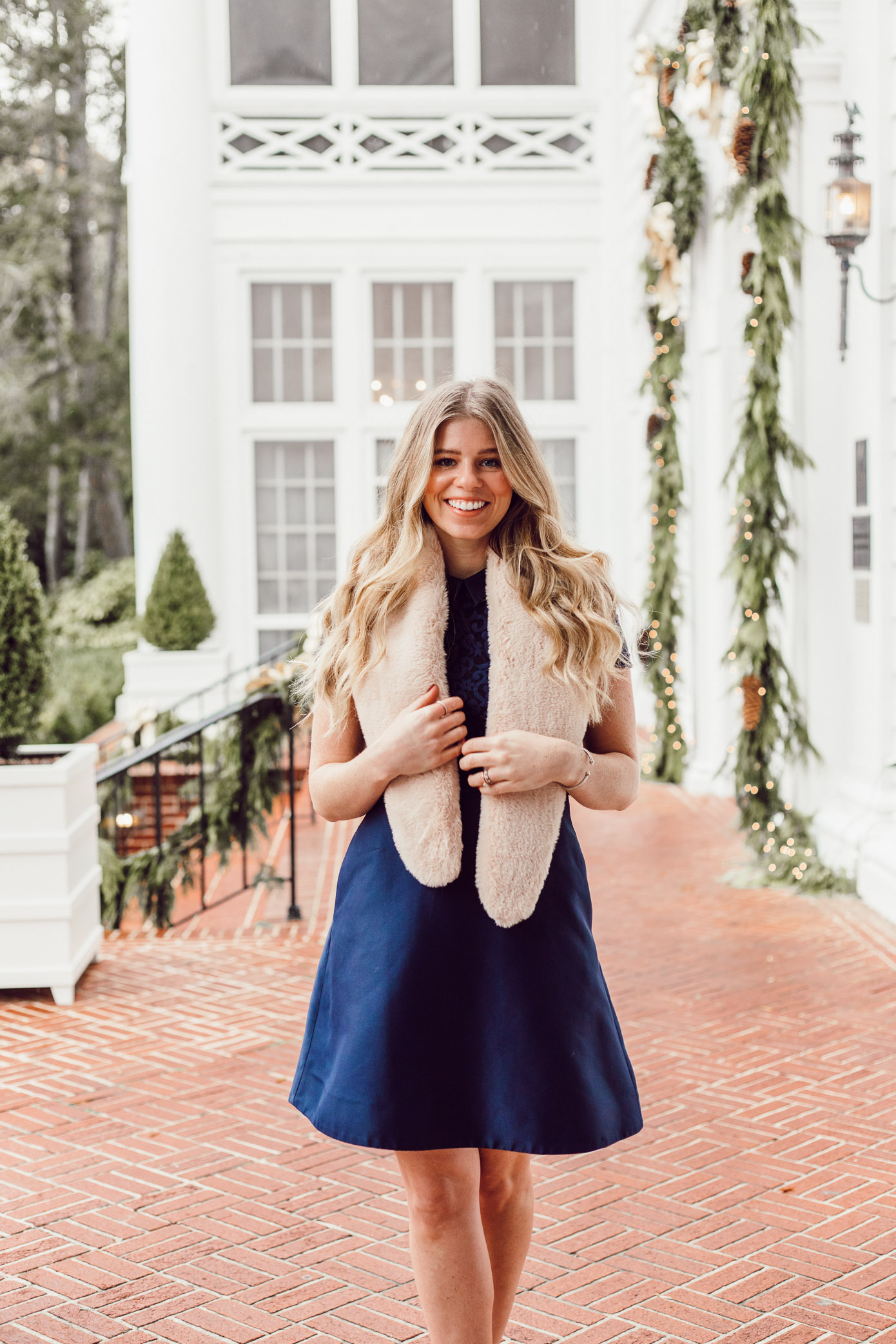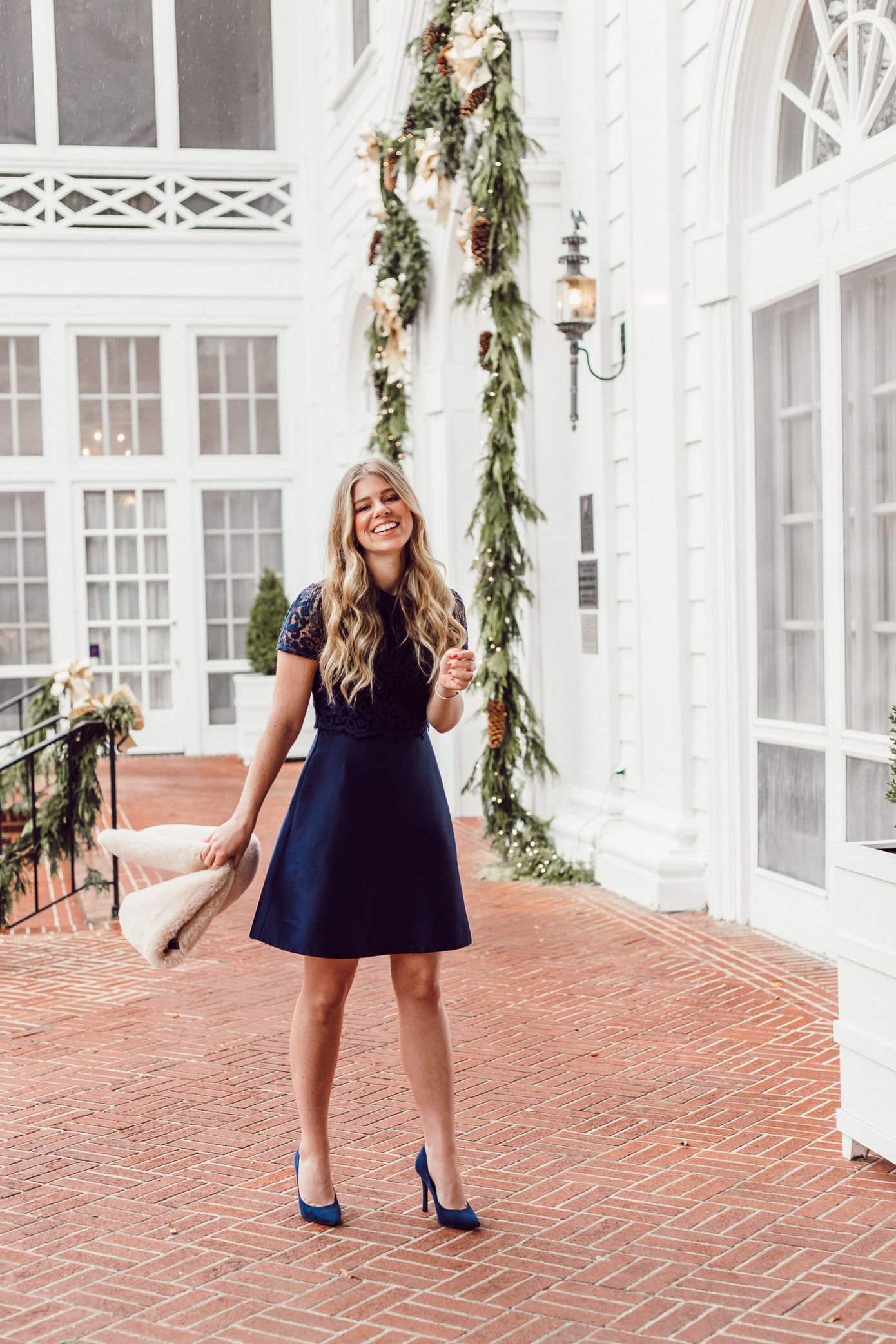 Tips for Finding the Perfect Holiday Party Dress
Follow Your Personal Style 
It is your time to shine. Show those coworkers what you got! And I don't mean high hemlines or low-cut necklines. I mean, show them your style! Show them what you love and strut yourself into that party! If you love the color red, rock it. If lace is your thing, find the sweetest lace dress you can. If heels aren't your thing, don't wear them. Find a cute pair of ballet flats and dance the night away – trust me, your feet will be happier too. 
What I'm saying is, be you! Wear what you love, what you're comfortable in, and what makes you feel good and excited! 
Have Fun! 
Now while I think it's important to stick to find a dress that fits your personal style, I also think you should push the limits just a little bit. Try something a little more adventurous or feminine or sassy, whatever it is that's your style, just a little more of it. Holiday parties are the time to a little extra! People use the opportunity to take it up a notch and you should too! 
Remember Comfort 
While the fun dress may be well, fun, you need to make sure it's also comfortable. If you're going to be messing with the sequins all night to make sure they're in order or pulling down the dress that's a little too short, you're not going to feel comfortable. Which then results in you not feeling so confident. Which may lead to you not have as much fun as you could. See that rabbit hole we just went down, you don't want to go there! Comfort is always key! Even for holiday parties! 
P.S. if you're not interested in buying a new dress – Rent the Runway is an awesome option. Especially for calendar full of parties! The dress I'm wearing today is available on their site and I will also be sharing another from them later this week. Over the years I have styled them for several holiday parties – a sassy white lace number and a little white mini. I also recently shared an honest review of their unlimited program.