Spilling all the details on the BEST NYC cafes, restaurants, bakeries and more. Including the absolute best cookie ever!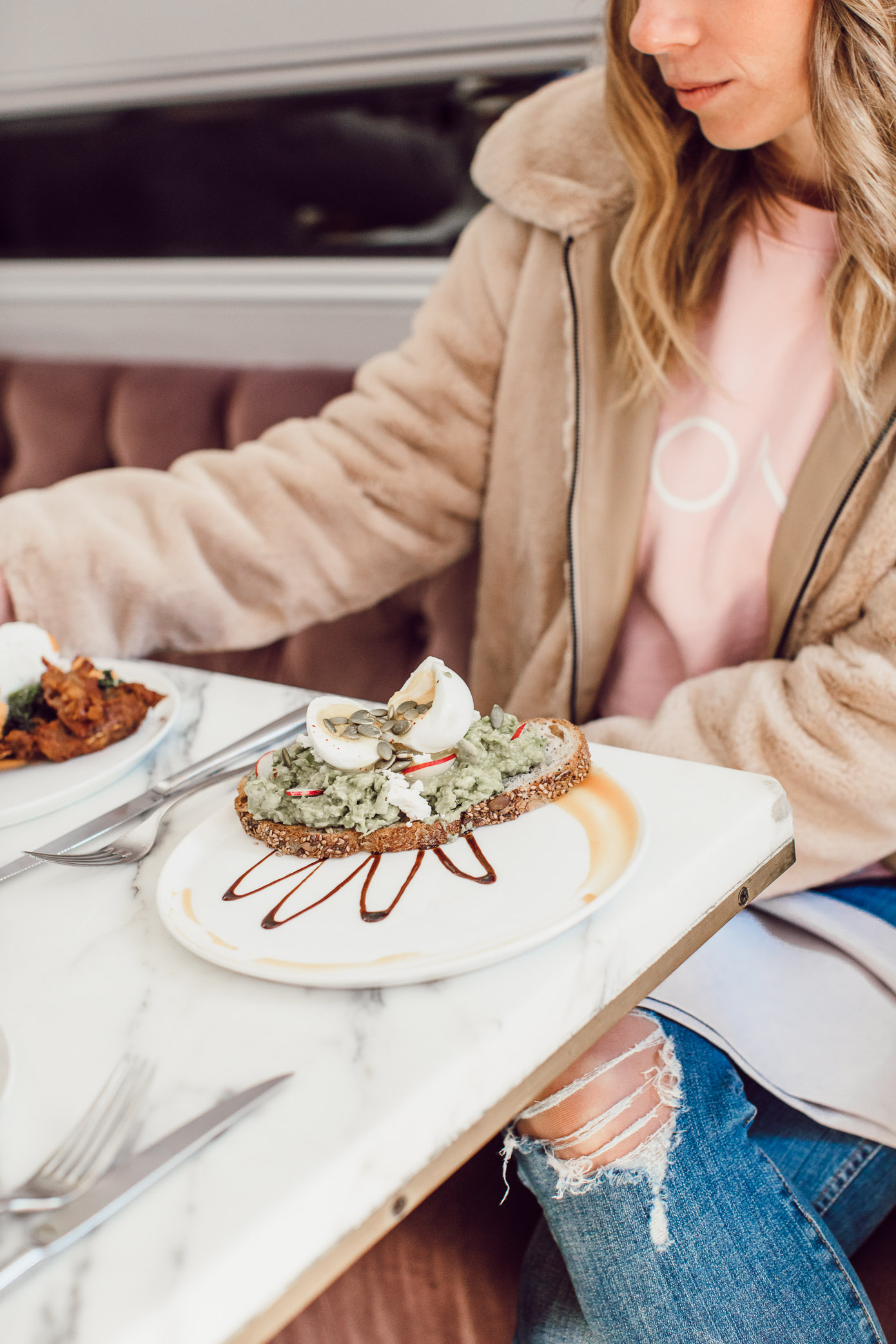 Last year after attending NYFW I shared a post on the most instagrammable NYC coffee shops and y'all loved it! So after attending again this year, I'm back with more coffee shops + bakeries plus some brunch, lunch, and dinner spots. This year Morgan and I planned out a few visits with coffee shops and restaurants. While also just leaving room for more meals because honestly, last year, we rarely stopped to eat. For two foodies like us, that just didn't sit well. So this year we made a point to have the time and plan out a few spots we wanted to hit.
Some of the spots I'm sharing we visited last year while others we visited this go around. Either way, they have been my favorites! I also sprinkled in two spots that we didn't have time to visit but had on our list. Next year, we'll make those happen. However, I did ask some of our girl friends that live there, their thoughts on these places and they recommend!
All of these spots have amazing drinks and/or food and beautiful atmospheres. Places like Urban Backyard, Felix Roasting Co., Maman NYC, and While We Were Young had us wanting to stay for hours just to soak it all in and enjoy it even more.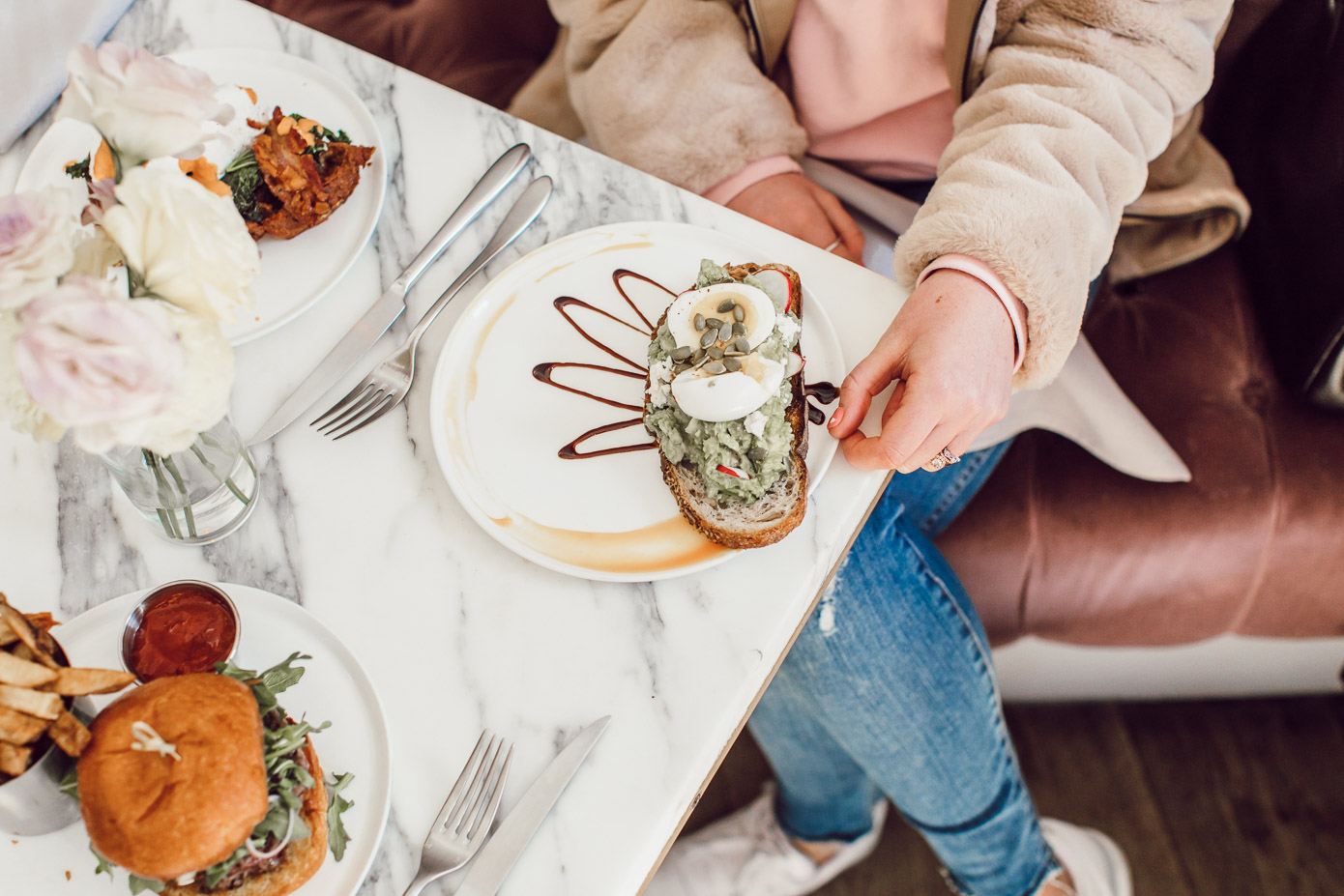 Best NYC Cafes + Bakeries
Urban Backyard – hands down my favorite coffee shop we popped into. Both of us were dying to go here after seeing Kendall from @StyleSnapShots share it several times on her feed. While we had only seen the outside from her photos, we knew we needed to visit. Upon walking in we absolutely fell in love and plopped ourselves on their couch. Morgan opted for coffee while I had green tea. Both were wonderful and warmed us right up. This is truly the cutest coffee shop I have ever visited! They have thought of every little detail and decorated every little space there is. It's a must visit for sure!
Lower Manhattan
Levain Bakery – we heard about these cookies from just about everyone! Being the biggest Cookie Monster ever (seriously, I'm cookie obsessed) I made it my number one priority to go try one of these bad boys. Upon arriving and seeing their cookies Morgan and I immediately decided to both get three. It may have been aggressive but we were all about them! We walked down to a local coffee shop, ordered drinks, and then dove right into our cookies. WOW! BEST. COOKIE. EVER. These cookies are a HAVE to experience kind of thing! And do yourself a favor, order their go to Chocolate Chip Walnut Cookie AND a Dark Chocolate Chocolate Chip Cookie. You'll thank me later!
Two locations in the Upper West Side
Felix Roasting Co. – this coffee shop might be the most beautiful coffee shop you'll ever lay your eyes on! It is elegant, sophisticated, and a little spunky. Not to mention they have just about the coolest drinks ever! They are famous for their Hickory-Smoked Smores Latte – literally they have made major headlines with this drink. Check it out for yourself! There is a whole process to making this latte and it is pretty incredible – if you go, you have to order one. Whether you like lattes or not, you need to see what goes into making it! They also serve baked goods from Super Moon Bakery and they are so tasty! We had a chocolate croissant and a berry jelly donut. The berry jelly donut blew me away!
In between Korea Town & Murray Hill
Once Upon a Tart – As if the name isn't cute enough, the store front will have you melting in seconds. Once Upon A Tart is a quintessential NYC coffee shop +bakery in my opinion. When I imagine Christmas time in the city, I imagine places like Once Upon A Tart. It's vintage, adorable, and incredibly welcoming. So hallmark movie!
Soho
Maman NYC – This spot made me fall in love within seconds! It is what blue and white coffee shop dreams are made of! From their plates + mugs to the wallpaper and to go cups. If you're a blue and white fan you have aka NEED to stop here. Your heart and Instagram feed will thank you! Morgan and I again opted for baked goods when we visited – noticing a trend here. They were incredible! Perfect afternoon snack.
Several locations through the city – Soho, Tribeca, NoMad, Meatpacking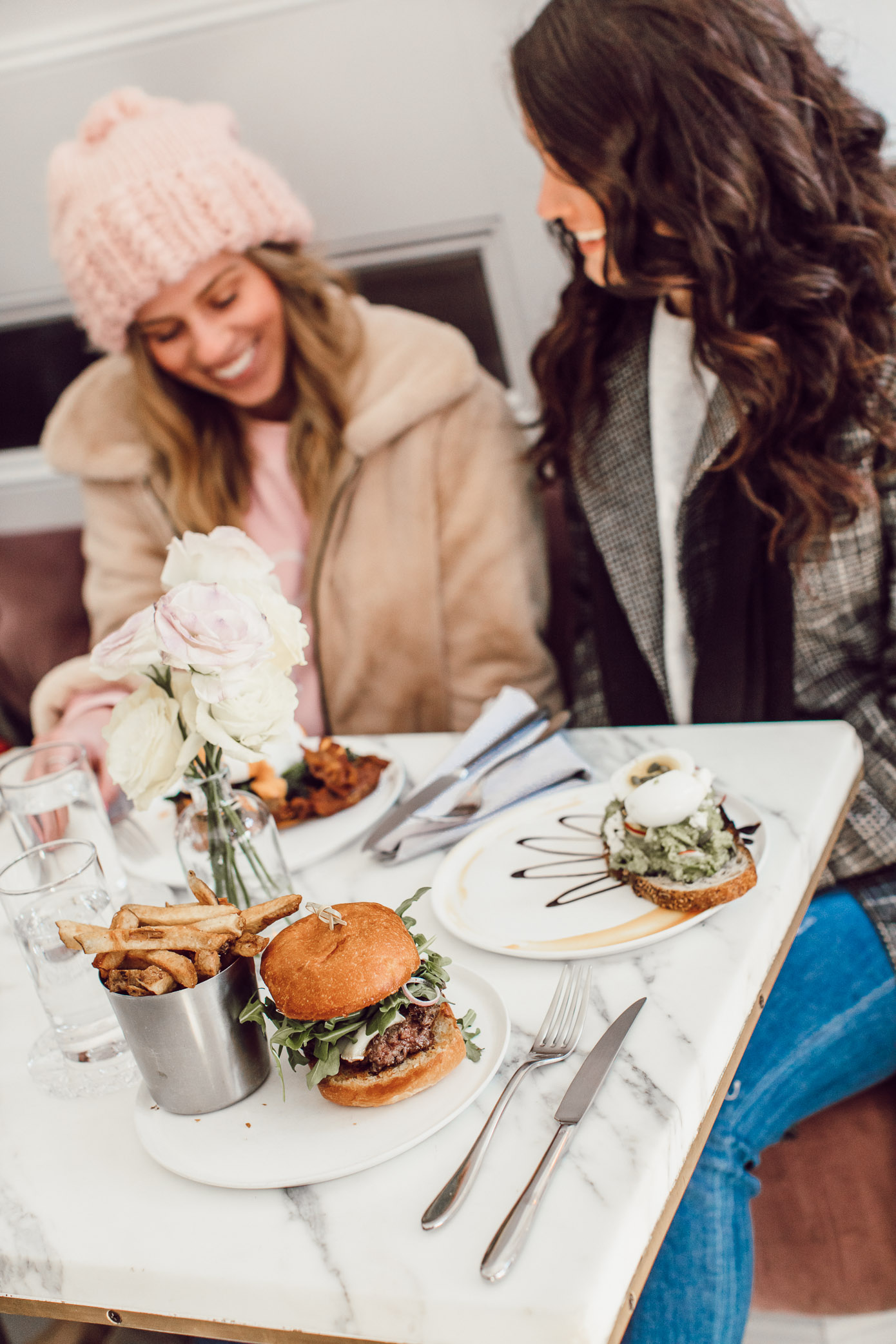 NYC Brunch Spots
While We Were Young – so we actually had no intention of going here but that was due to everyone telling us how small it is and how there is always a massive wait. However, we wrapped shooting with Allie a little early Saturday and she suggested we give it a try. We walked in right as they were opening and were immediately seated. It was amazing! It is in fact incredibly tiny and it did fill up within ten minutes. However, the atmosphere, the food, and the service are all amazing! Definitely one of my favorite spots we stopped into. It truly is one of my most instagrammable spot I've ever seen – which is what it is known for. If you go for brunch, order the Benedict – it was so unique and so tasty!
West Village
Claudette – one of the spots we ended up not having time for. However, from what I have heard and the photos I have seen it looks amazing. Literally the cutest light and airy spot! It is a little unique with it's food as it serves Provençal/North-African dishes. However, isn't that what New York is all about, trying new things!
Greenwich Village
Jack's Wife Frieda – the brunch scene is real here! A great spot to go and order a bunch of dishes for the table for everyone to try. Think rose water waffles, green shakshuka, breakfast bowls, poached eggs, breakfast plates, and toasted baguettes. Each location is filled with character and every little detail has been thought about – even the sugar packets. It's a fun, bright, cheerful spot.
Several locations through the city- West Village, Soho, Chelsea
The Butcher's Daughter – another spot we didn't make it to but one I REALLY want to visit. So next time, for sure. The Butcher's Daughter is a plant based juice bar and café. Everything they serve looks incredible including their smashed avocado toast, almond butter toast with fresh fruit, triple berry French toast, and açaí. I'm honestly drooling right now.
West Village & Nolita
NYC Lunch + Dinner Spots
The Park – my girl friend that lives in the city choose this spot for us when we met for dinner one evening. Seriously the biggest restaurant I've ever seen in NYC. It is huge! Also, such a cool atmosphere. There's a bar section with a massive fireplace and cozy seating. Then a central dining room that has a few live trees and cozy booths. Lastly, there's a glass enclosed atrium filled with trees, plants, and a brick fireplace. It is an absolutely breathtaking space. We were starving the evening we dined here and we all went for burgers my girl friend and Morgan went with the Park Burger while I opted for the Turkey Burger. We all agreed they were wonderful, as were the fries!
Chelsea
La Pecora Bianca – we dined here last year when we met with girl friend. Morgan and I were obsessed with both the atmosphere and the food. It is a very light and airy restaurant where you feel a little Italian. Meaning, you feel you must have a glass of wine with your meal. I had the farro salad and to this day I still dream about it. Seriously, one of my favorite dishes ever. So light but packed with flavor. Paired perfectly with a glass of rosé.
NoMad & Midtown
il Buco Alimentari & Vineria – I choose this spot for dinner one night with a group of blogger gal friends due to where Morgan and I were shopping haha. Luckily, it turned out to be quite amazing and the atmosphere took you to a whole another place. The dishes are all in Italian and to be honest, I had no idea what to get so I kind of copied everyone else. But I am so happy I did, hands down the best pasta I have ever had. Between the atmosphere, the wine, and the food, I felt I had traveled to Italy. This is the perfect cozy spot for a intimate dinner with friends or date night with your sweets.
NoHo

With Spring upon us and April showers ahead, I've teamed up with an amazing group of bloggers to give YOU a chance to win: a pair of Hunter Rain Boots of your choice ($150 value), a Hunter Umbrella of your choice ($50-60 value) and a pair of Hunter Rain Boot Socks of your choice ($50 value). That way you'll be fully prepared for those April Showers.
Simply enter below by completing the rafflecopter. You'll receive one entry per completion. This giveaway is open to the U.S. and Canada only and runs until 03/18/2019.Winner will be announced here. Good Luck!