Sharing four of the best bars in Charleston that you absolutely must visit! Including one rooftop bar with an incredible dual view.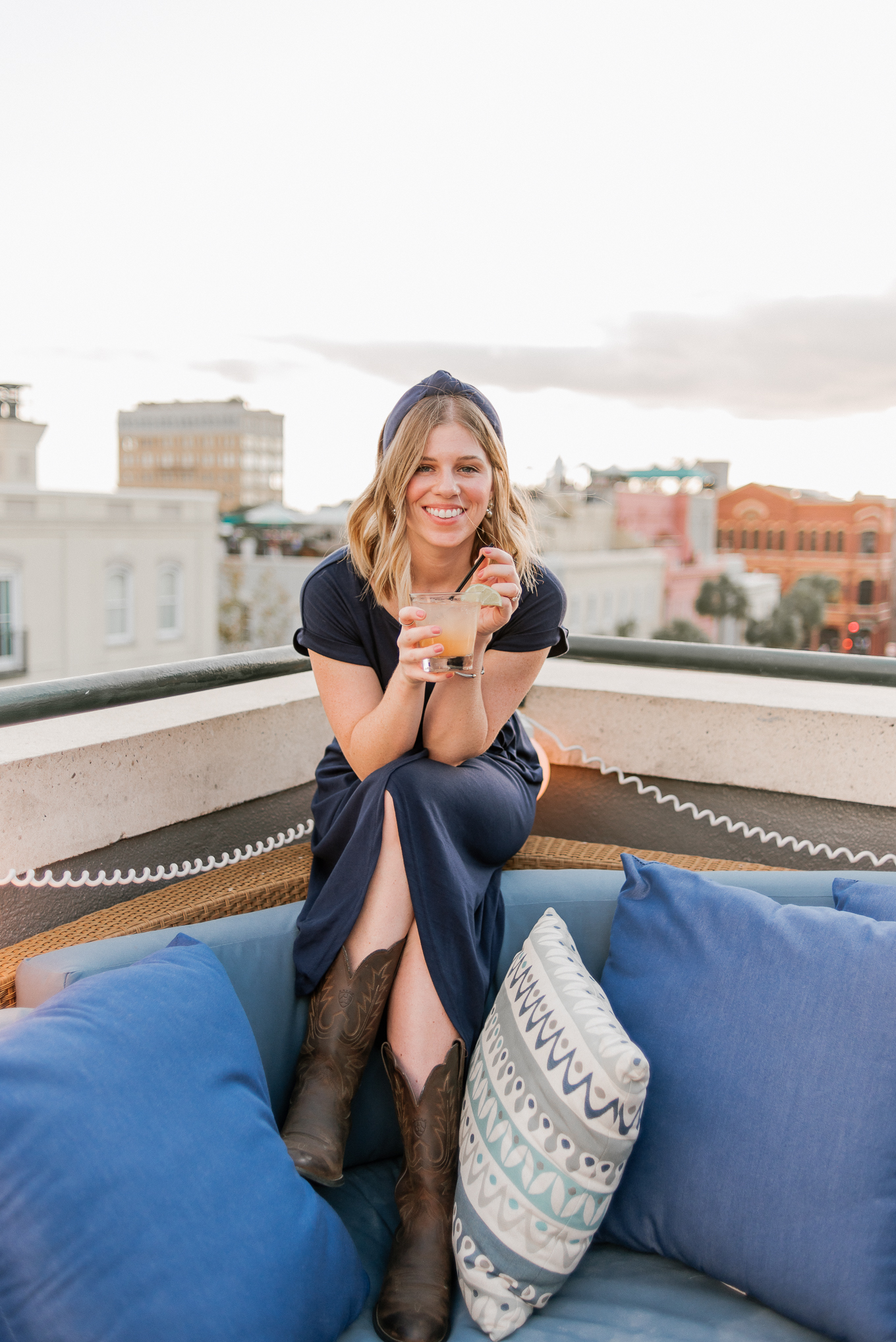 Back with some more Charleston content! In case you missed it, yesterday I shared why I love visiting Charleston in the fall and the cutest cruiser bike ever (plus a great outfit to wear when riding bikes).  Today, I'm here to share some of my favorite bars in the charming southern town.
Every time I visit Charleston it seems at least one new bar has popped up! As if there weren't already enough fabulous ones! Charleston is definitely not lacking in that department (or any department really).
All of the photos from today's post are from two new spots I checked out on this most recent visit. The Bar at the Spectator Hotel and HarbourView Inn Rooftop Bar – both amazing properties with very different vibes! So let's dive into the must visit Charleston bars…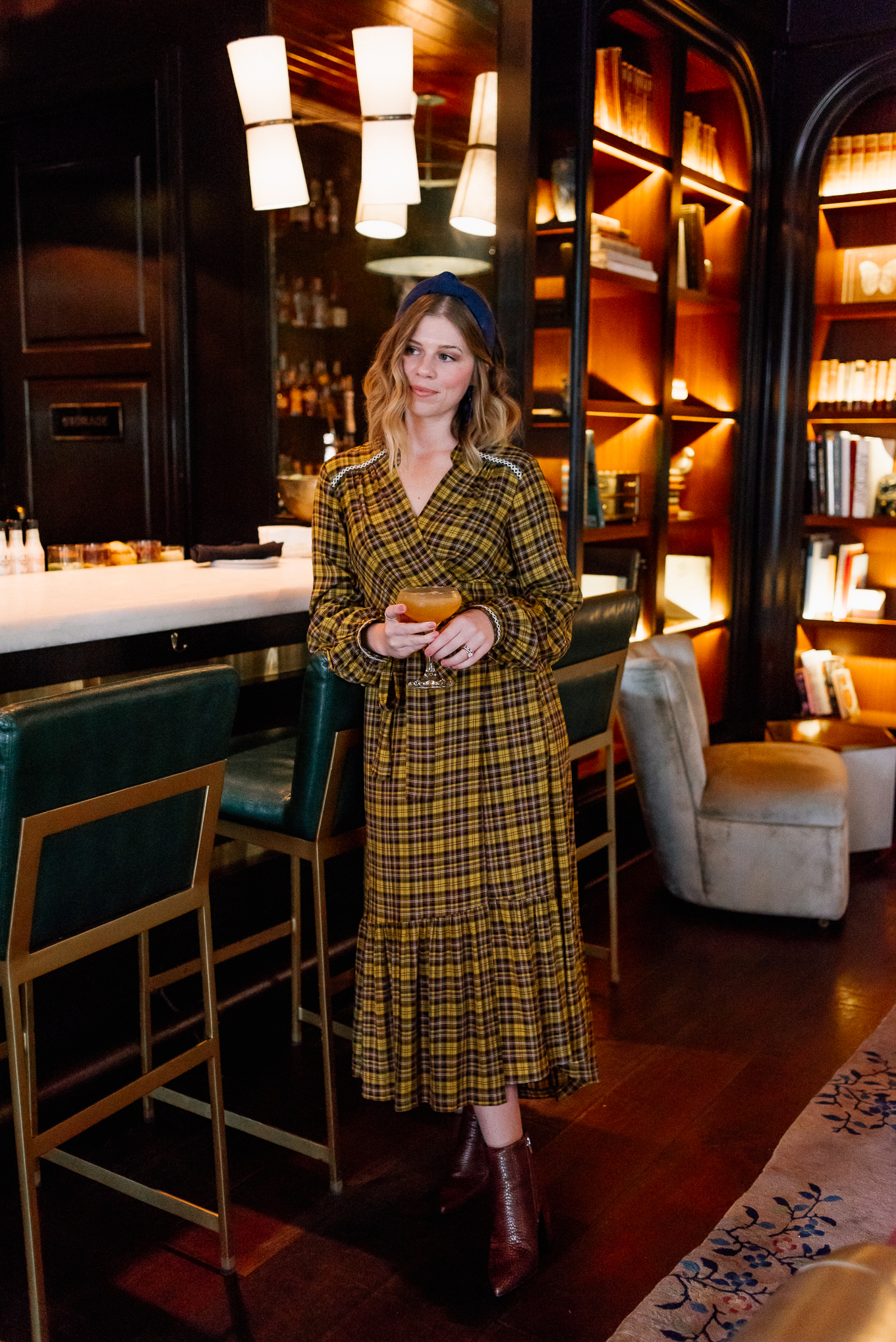 The Bar at The Spectator Hotel
This moody bar left me completely obsessed. From the color palette to the decor to the unique cocktails created by their cocktail artisan Allen Lancaster and sophisticated bar food. I loved it all and with all of the plans to bring Joshua back there soon.
This Prohibition-style bar is the perfect spot for date night, grabbing a drink with a group of girl friends, or to enjoy a cocktail before or after dinner out on the town. Grab a seat at the bar in one of their green leatherback stools for one of Allen's creations, cozy up in the corner on a beautiful velvet chair with a glass of wine, or fit your group on a rich leather couch.
Hours: Monday – Thursday 3pm – Close, Friday – Sunday 2pm – 12am
Address: 67 State Street
Charleston , SC 29401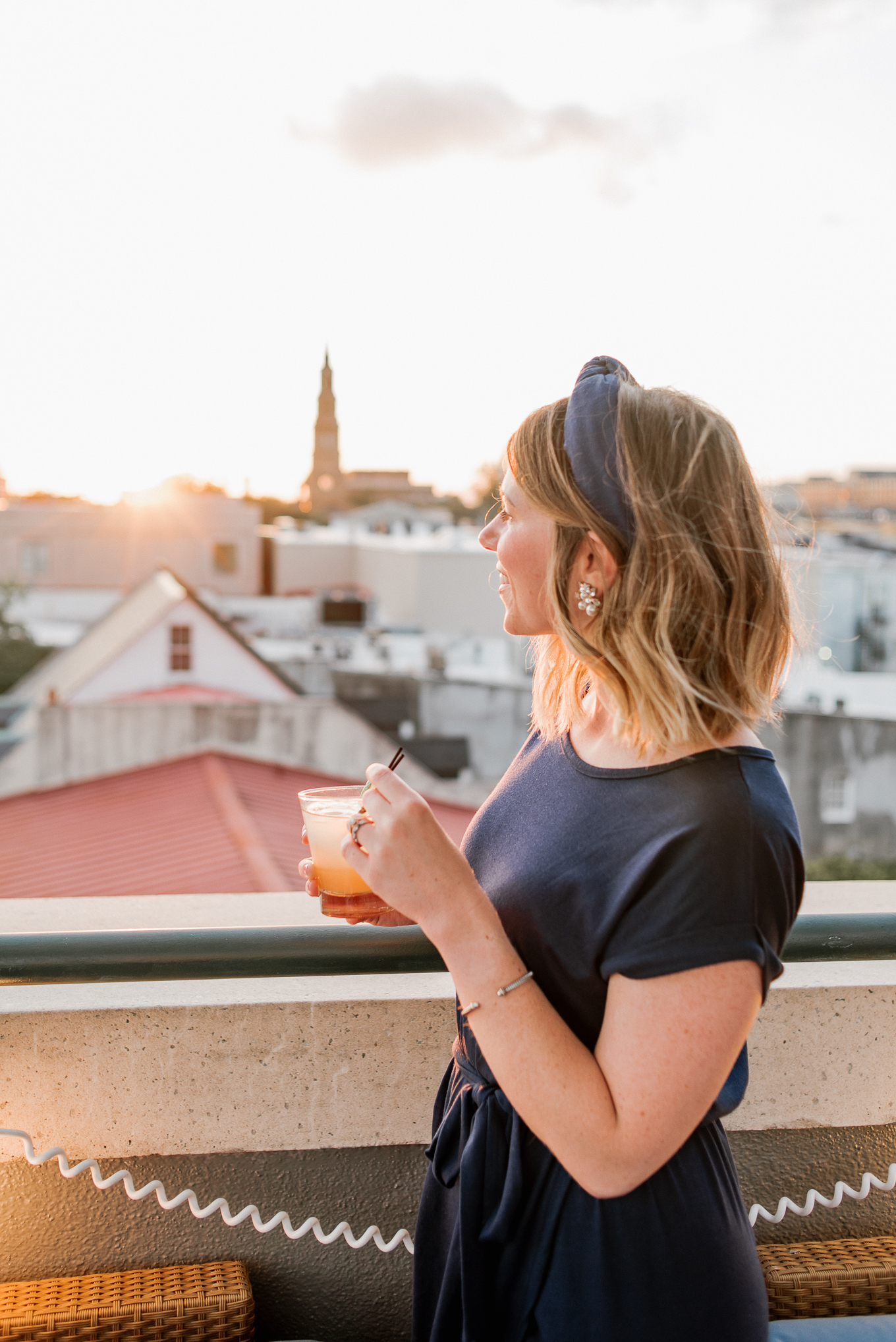 The Rooftop at The HarbourView Inn
If you want a view of downtown Charleston AND the water, this is the rooftop location for you! A casual space to spend your evening soaking up all the beautiful views Charleston has to offer. The space offers a variety of seating areas perfect for all sizes of groups.
If you happen to plan a visit later this fall or into the winter season the rooftop at The HarbourView Inn fire pits will keep you warm throughout the evening! Trust me, we tested these out and they really bring the heat! So my recommendation, grab your better half and cuddle up while you watch the sunset with a drink in your hand!
Hours: every night 5pm – 9pm
Address: 2 Vendue Range
Charleston SC, 29401
(843) 853-8439
More of the Best Charleston Bars
The Cocktail Club has been my go to spot for years now! My mom and I actually were actually introduced to the bar after dining at their restaurant below, Macintosh. While Macintosh is no longer a favorite of ours (they changed chefs) The Cocktail Club holds strong as a must visit for us.
This upscale lounge tucked into a historic 1881 building is dedicated to the art of the craft cocktail. They offer an extensive selection of house-made infusions, rare liquors, and farm-to-shaker beverages. Along with their drinks The Cocktail Club offers a menu of light fare.
If you want to step outside, you'll find a rooftop terrace that offers a more modern escape just steps from the bar stool you ordered your drink from.
Hours: Monday through Sunday 5pm – 2am
Address: 479 King Street
Charleston, SC 29403
THE PLACE for Moscow mules. Which are kind of famous in Charleston and an absolute must have! Not only a great place for Moscow mules (and other awesome cocktails) but also awesome food! As well as a pretty awesome atmosphere. The Rarebit has major mid-century vibes. Seriously one of the coolest decorated spots I've visited in Chucktown.
They offer happy hour Tuesday through Friday from 4:00 pm to 7:00 pm. Which includes those amazing Moscow mules I mentioned for only $5. As well as greyhounds. Additionally, their house red, white, and cava for $5 and $4 draft beers.
Hours: Sunday, Tuesday – Saturday 11am – 2am
Address: 474 King St
Charleston, SC, 29403
What are some of your favorite bars in the Holy City?