Sharing the best Charleston restaurants you absolutely must plan to visit on your next trip to the Holy City!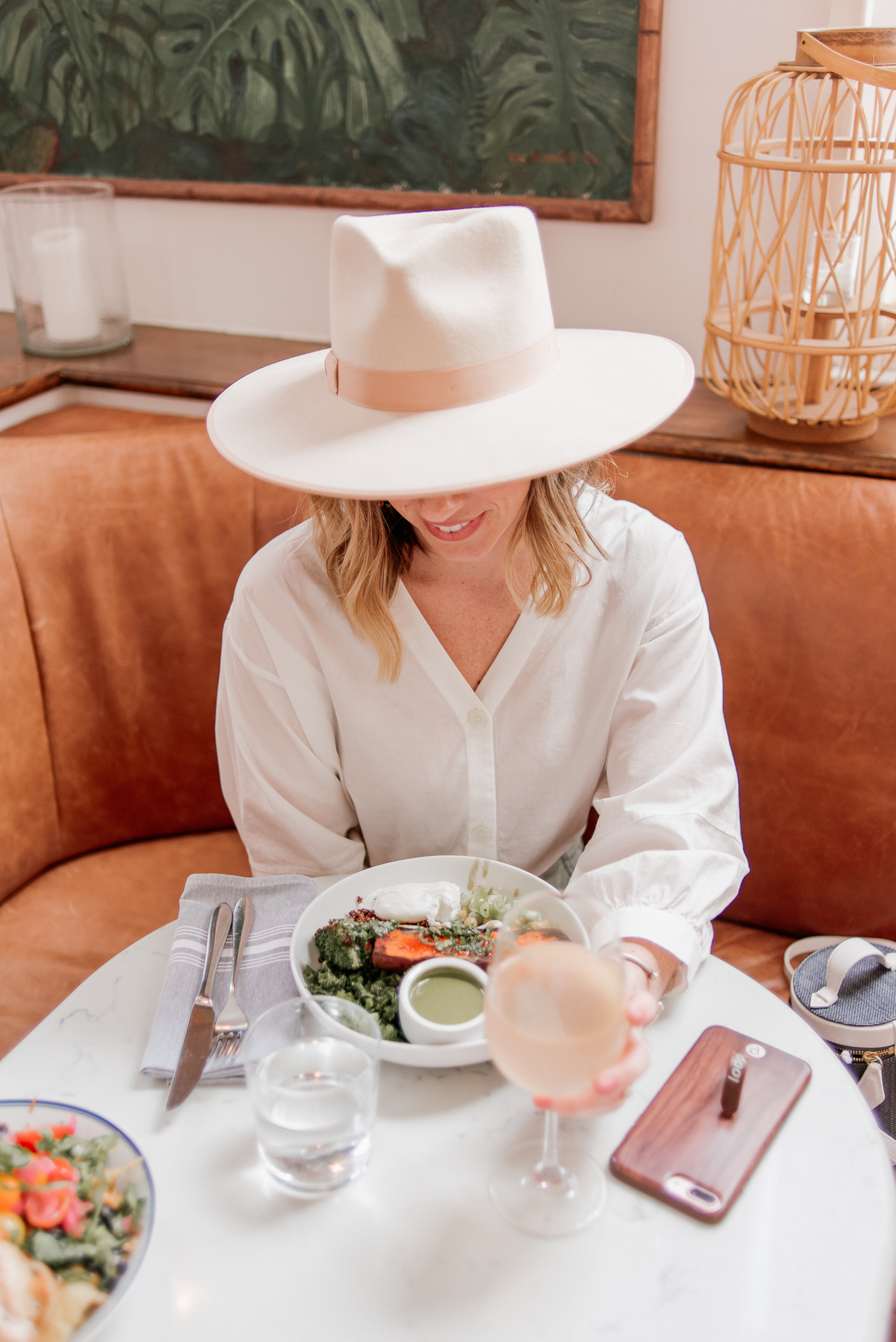 Surprisingly I receive more questions about Charleston then I do about Charlotte. The best places to eat, the must visit bakeries, things to do, and where to stay. Therefore, I've decided to put together a couple of posts to serve as resources for y'all visiting the Holy City (one of Charleston's nicknames). Recently, I shared the must visit Charleston bars – including one rooftop bar I absolutely fell in love with on a recent visit. 
My plan is to update these posts after each visit Charleston. Adding additional places that are new to me or have recently opened. So if you're headed to the charming South Carolina town be sure to check back often for this post (and the others to come) to help you plan your trip. With that being said, this post is all about the best Charleston restaurants!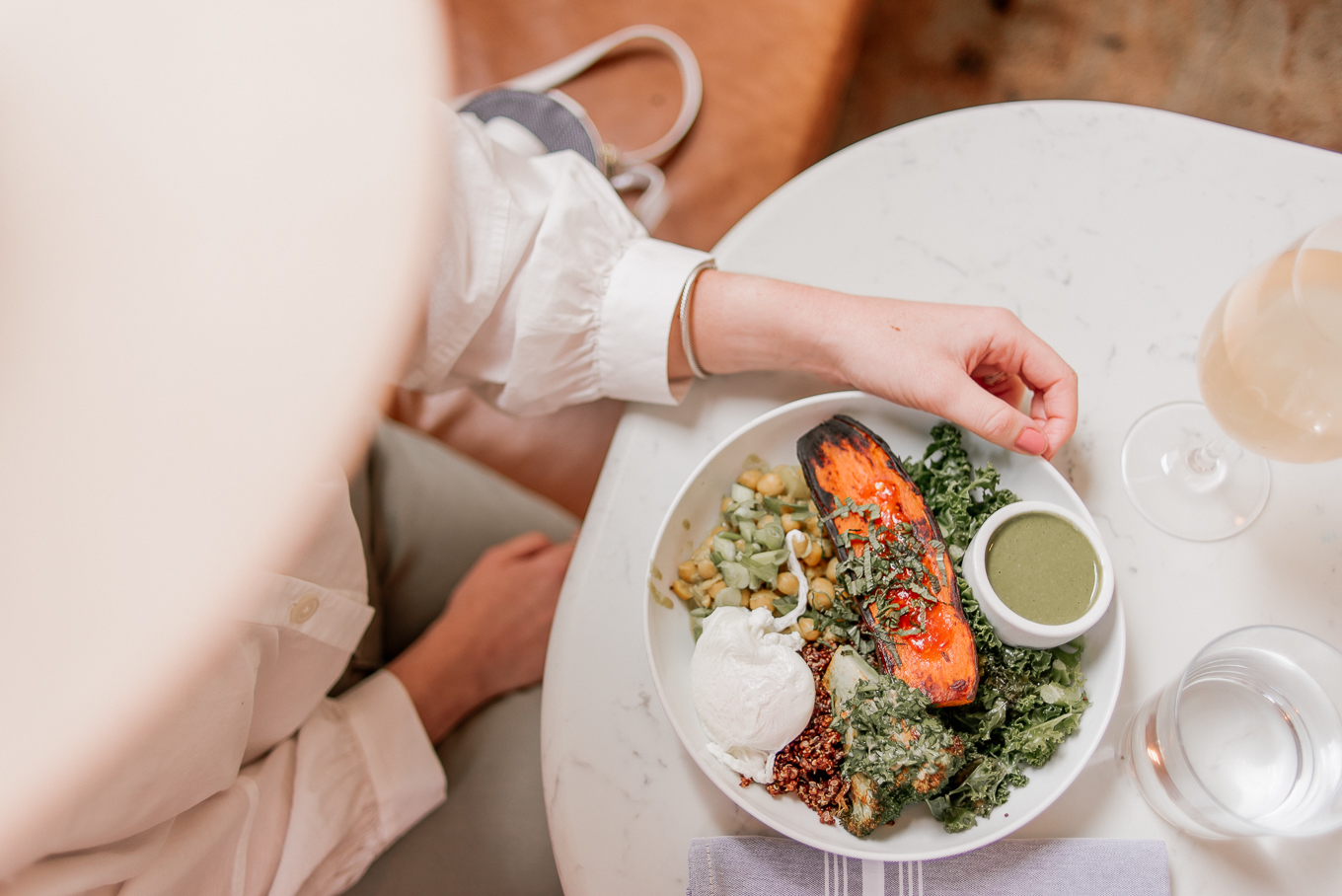 Best CHARLESTON Restaurants
Basic Kitchen – A casual atmosphere with laid back California vibes in my opinion. They offer the yummiest health conscious menu plus delicious home brewed kombucha. Additionally, daily smoothie that always sounds incredible but I am always too full for. If you're into clean, natural eating I promise you will not only love this spot but also have the hardest time deciding what to get.
Top recommendations: Basic Bowl, Vietnamese Steak Salad, Home Brewed Kombucha
Rue de Jean – This has been a go to spot for my mom and I for years! This French cafe & bar has a wide variety of dishes from fresh seafood to burgers + pomme frites to sushi. Rue de Jean offers a romantic atmosphere in the main dining room with a dimly lit space with candles on each table. While the bar provides a more casual atmosphere for meeting friends for a cocktail or dining on the patio. 
Top recommendations: Fried Goat Cheese Salad, Brasserie Burger, Pomme Frites
Indaco – This rustic Italian spot is quaint, charming, and delicious. A wonderful spot for date night or family style dinning with a group or of course, your family. Located right on King St. in the middle of all excitement it is a perfect spot to finish your day of shopping. Or to start your evening before hoping around to different spots for cocktails. 
Think wood-fired pizzas, hand-crafted pastas, housemade salami and cured sausages. With an amazing wine list focused on affordable Italian varietals.
Top recommendations: Fresh Baked Foccia Bread, Zucchini Pizza
Poogan's Porch – Tucked away on charming Queen Street, Poogan's Porch is one of Charleston's oldest independent culinary establishments. They offer a fresh approach to Lowcountry cuisine. Located in a beautifully restored Victorian house, Poogan's Porch is the perfect southern spot for brunch and dinner. Brunch is my top pick! 
​Be ready for a true southern experience when dining at Poogan's Porch. Think buttermilk biscuits, fried green tomatoes, pimento cheese fritters, and all the other classics. This spot is a Charleston hot spot and for good reason. A must visit when visiting the Holy City for the first time. Then every time after that! 
Top recommendations: Fried Green Tomatoes, Biscuits & Gravy, Shrimp & Grits
Callie's Hot Little Biscuit – A grab-and-go biscuit restaurant that has a line out the door 90% of the time! And for good reason! These biscuits are amazing – melt in your mouth kind of biscuits. Aside from the classics, Callie's has a little fun with biscuits like cheese & chive, black pepper bacon, shortcake, and several more. The perfect spot to grab breakfast/brunch on the go so you can have a picnic in the park or keep moving as you explore the charming streets. 
Top recommendations: Buttermilk Biscuit, Country Ham Biscuit, Birthday Biscuit 
Eli's Table – Eli's Table features a menu offering bold, worldly flavors while using fresh and local ingredients. Think southern classics with a new flare. This cozy restaurant is located on Meeting St. – close to all the excitement of Downtown Charleston. Another wonderful date night spot. 
Top recommendations: Prosciutto & Fig Crostini, Roasted Beet Salad, Shrimp & Grits